ACC Football Team Power Rankings Week 9: Virginia Tech Leads After Crazy Weekend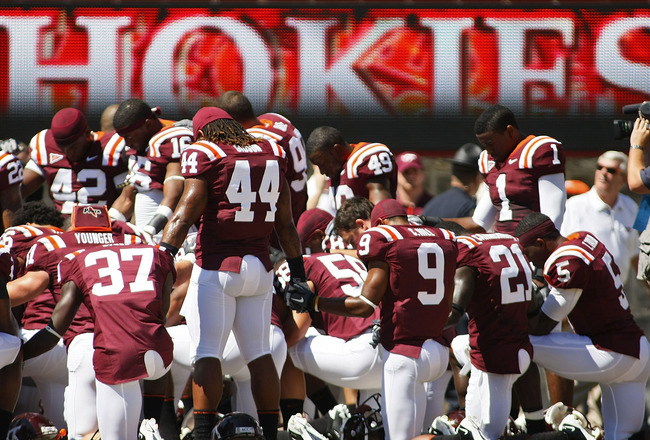 Geoff Burke/Getty Images
This past week was perhaps the most exciting weekend in the ACC so far this season.
FSU took to the road and was upset by N.C. State Thursday night. Miami lost to Virginia 24-19 and though the scored ended up close it still was a pathetic loss for the Hurricanes.
Clemson looked to be in a great position to make a push for the ACC Championship Game but were halted in their tracks quickly by a Boston College team who was riding a five-game losing streak.
Some how and some way Duke was able to upset Navy 34-31, a week after they were destroyed by Virginia Tech 44-7. Let's not forget how North Carolina had to come from behind to beat William & Mary 21-17.
There were upsets all over the place in the ACC last week and who knows what's in for store this weekend. This week Georgia Tech travels to take on Virginia Tech on Thursday night to kick off the week for the ACC. The Hokies were blessed that they didn't have to play last week because not doing so put them at the top of the conference yet again.
Every game from here on out has huge conference implications and this week is no different. N.C. State travels to Death Valley for a game against Clemson, North Carolina visits FSU and Maryland will look to add another upset to Miami's list this season.
We have all seen that you can't expect anything in the ACC, so who ever you think is a lock to win this weekend, don't count your chickens before your eggs hatch.
Week 1 | Week 2 | Week 3 | Week 4 | Week 5 | Week 6 | Week 7 | Week 8
12. Wake Forest 2-6 (1-4) LW- 11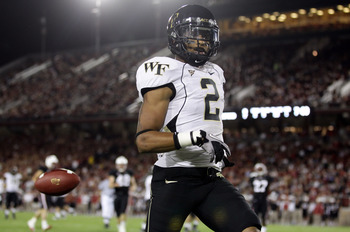 Ezra Shaw/Getty Images
Just when I thought it couldn't get any worse for Wake Forest, it does. Giving up 62 points to Maryland in their embarrassing 62-14 loss is just flat out pathetic.
This marks the third time on the year that they have given up more than 50 points in a game.
Jim Grobe may be in jeopardy of finding himself on the hot seat if his Demon Deacons can't get at least four wins on the season.
They have about two shots at winning another game and those come when they play Boston College next and at Vanderbilt to close out their season. For a while I would have said they could handle Boston College, now I'm not sure if they are even in the same league as them.
Next Game: vs. Boston College 11/6
11. Duke 2-6 (0-4) LW- 12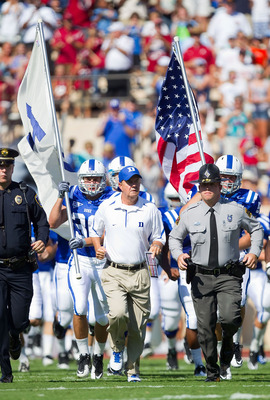 Brian A. Westerholt/Getty Images
I'm not to sure how this happens, but Duke upset Navy 34-31. This win comes a week after Navy derailed Notre Dame and Duke took a beating at the hands of Virginia Tech.
Regardless of how it occurred, Duke finally added another win to their record and they don't find themselves at the bottom of these weeks rankings.
Sean Renfree finally got back into a groove when he tied a Duke record by completing his first 16 passes. He also completed 28 of 30 passes which is another school record and added a total of four touchdowns (2 pass, 2 rush).
Virginia comes to town next and they are coming off a thrilling victory over Miami.
Next Game: vs. Virginia 11/6
10. Boston College 3-5 (1-4) LW- 10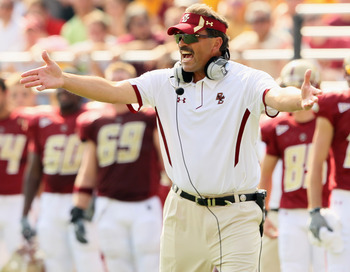 Elsa/Getty Images
Chase Rettig helped Boston College end their five-game losing streak by upsetting Clemson 16-10. He managed to keep his composure after throwing an interception that was returned for a touchdown on the third play of the game. His 36-yard touchdown pass to Montel Harris made the score 13-10 and put them up for good.
Harris finished with 142 yards on 36 attempts.
This week they have another good opportunity for a win when they travel to take on the struggling Demon Deacons.
Next Game: at Wake Forest 11/6
9. Virginia 4-4 (1-3) LW- 9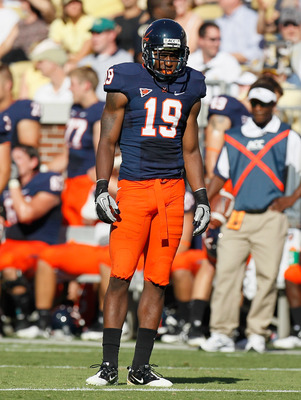 Kevin C. Cox/Getty Images
Virginia didn't just knock the wind out of Miami, but they also knocked Jacory Harris out of the game early and maybe for a longer period of time.
The 24-19 upset was a refreshing and emotional win for the Cavaliers. Head Coach Mike London even took a knee on the sideline to say a prayer after the victory.
"I knew our guys could do it, I have believed in them all season and they believe in themselves," said London. "I just couldn't help the emotions after the game was finally over. I needed to take a knee and say thanks to the Lord for this opportunity."
Keith Payne ran for two touchdowns and Marc Verica connected with Colter Phillips on a fourth-down pass for the first score of the game.
Next Game: at Duke 11/6
8. Georgia Tech 5-3 (3-2) LW- 8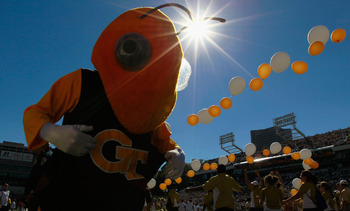 Kevin C. Cox/Getty Images
No one knows what Georgia Tech team is going to show up from week-to-week. This week is no different heading into the game against Virginia Tech.
We may see the dominating triple option offense that can't be stopped or the team that has to rely on Joshua Nesbitt and his passing ability. Eh, that last part is a bit scary.
If they don't play their best game of the season at Virginia Tech on Thursday night then they can kiss any hope in this game goodbye.
Next Game: at Virginia Tech 10/4
7. Clemson 4-4 (2-3) LW- 6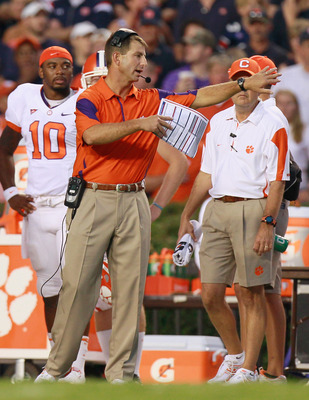 Kevin C. Cox/Getty Images
This season has truly been a roller coaster ride for Dabo Swinney and the Clemson Tigers. They were on a two-game win streak and had a great opportunity to stay in the hunt of the Atlantic Coast Division after N.C. State upset FSU on Thursday night.
Instead they fall further out of the race after a disheartening 16-10 loss to Boston College. There were plenty of chances to win this game or even tie it, but they were unable to take charge.
Now they would need a miracle of making it to the ACC Championship game and it starts this weekend when N.C. State comes to Death Valley. A win here would certainly give them some much needed confidence when they travel to Tallahassee the following weekend to take on FSU.
Next Game: vs. N.C. State 11/6
6. Maryland 6-2 (3-1) LW- 7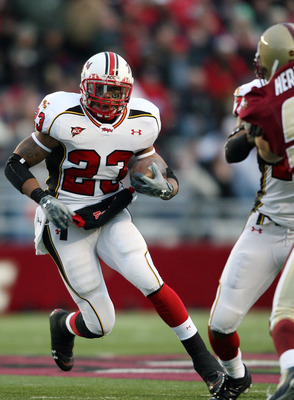 Elsa/Getty Images
Maryland has a chance to go from sleeper to contender in the matter of a week when they take on Miami this weekend.
Their offense put on a clinic in the 62-14 demolition of Wake Forest. Danny O'Brien threw a career-high four touchdown passes and was lifted early in the third quarter. He completed 13 of 20 passes for 168 yards.
They will be riding into Miami on a momentum high trying to make a statement to the rest of the ACC.
Next Game: at Miami 11/6
5. North Carolina 5-3 (2-2) LW- 5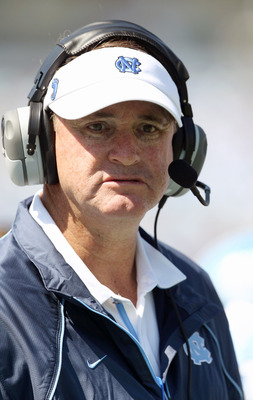 Streeter Lecka/Getty Images
Phew, talk about a close one for the Tar Heels. They almost became the second ACC team this year to lose to an FCS team.
William &, Mary led for most of the game until Johnny White scampered off for a 67-yard touchdown run that capped off their rally from 10 points down. White finished with a career-high 164 yards and T.J. Yates was 23 of 38 for 238 yards and two total touchdowns (1 pass, 1 run).
The Tar Heels need one more win to become bowl eligible and they are hoping it will come this weekend when they travel to Tallahassee for a game against the Seminoles. Right now they need a miracle to win their division, but they can certainly play spoiler to the rest of the ACC.
Next Game: at FSU 11/6
4. Miami 5-3 (3-2) LW- 3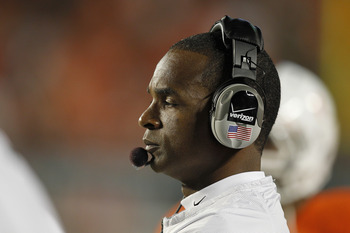 Joel Auerbach/Getty Images
The first person to blame whenever a team struggles is the Head Coach, in this case Randy Shannon.
I am sorry but losing to a Virginia team that had loss nine consecutive conference games is just inexcusable, especially when you're a team of this stature. Yes, Jacory Harris was knocked out of the game early, but a 24-19 loss shouldn't occur even with your back-up QB's in.
Stephen Morris did all he could to try and claw the Hurricanes back in this game but a 24-0 deficit was just too much for them to handle.
If they aren't careful they could fall victim to Maryland and Shannon may have a foot already out the door as Head Coach.
Next Game: vs. Maryland 11/6
3. Florida State 6-2 (4-1) LW- 1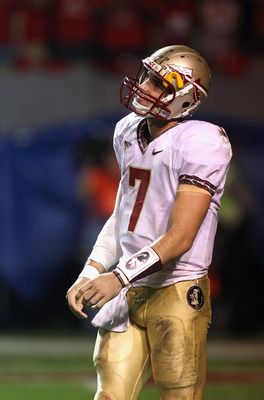 Streeter Lecka/Getty Images
They had the game in their grasps but fumbled their chances away. Most will blame Christian Ponder for losing them the game even though Ty Jones was in the wrong place at the wrong time.
Seminole fans can't put the blame on this one play in their heartbreaking 28-24 defeat at the hands of N.C. State. There were plenty of mistakes made by them all game. Dropped passes, offensive holding penalties, missed tackles; the lack of effort and determination, the list could go on forever.
The season is far from over and they still have a great chance of making it to the ACC Championship game. This is were they need to dig deep and find that inner strength to not give up and no be quitter no matter how bad that loss hurts.
Next Game: vs. North Carolina 11/6
2. N.C. State 6-2 (3-1) LW- 4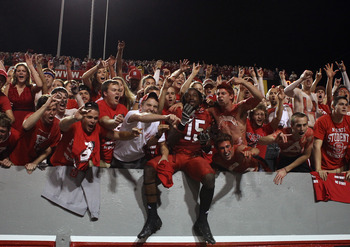 Streeter Lecka/Getty Images
N.C. State now controls their destiny after dispatching FSU 28-24 this past Thursday night.
It was a great game all around game for the Wolfpack. Russell Wilson made the big plays when needed. He finished with three rushing touchdowns and a key fourth and goal touchdown pass to put them up for good.
They still have a tough remaining schedule with four ACC games and three of them are on the road. This week they will be headed to Death Valley where Clemson will be out to ruin their confidence and ACC title hopes.
The only thing Tom O'Brien and his Wolfpack can do right now is take it one game at a time and don't look ahead.
Next Game: at Clemson 11/6
1. Virginia Tech 6-2 (3-0) LW- 2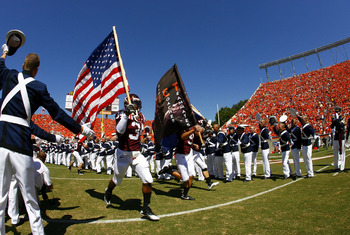 Geoff Burke/Getty Images
It doesn't get any better than having the week off and jumping from No.2 to No.1 in the rankings.
Not only did they improve to No.1 in the rankings this week but in-state foe, Virginia, gave them a little boost in the Coastal Division by upsetting Miami. Now instead of a one game lead they have a lengthy two game lead in their respective division.
With that lead they almost for certain now will be making a trip to the ACC Championship Game this season.
This Thursday night they will be taking on a struggling Georgia Tech team that's looking for a bounce back win.
Next Game: vs. Georgia Tech 10/4
Keep Reading