TCU vs. Utah and the Top 10 Must-See College Football Games in Week 10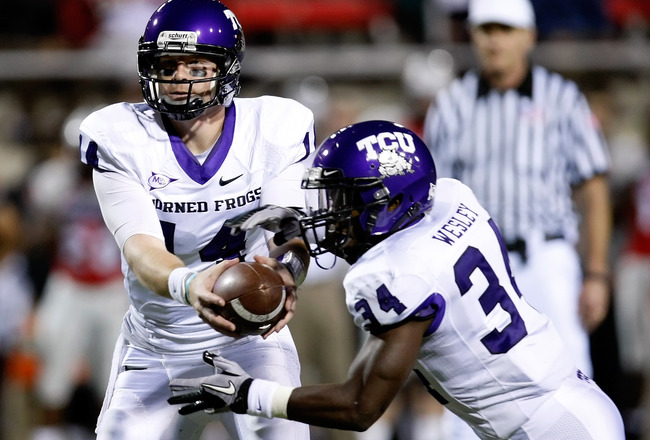 Ethan Miller/Getty Images
As the finishing line of the college football season is slowly coming into focus, the destiny's of many teams is being written with every snap they take.
For the top teams that are vying for a spot in a top bowl game, victory is not only a needed occurrence at this point, but "style" points and the way teams play become points of scrutiny.
Last weekend, two of the "top dogs" in Missouri and Michigan State were beaten up in their matchups. Oregon and Auburn who are on top of the rankings continued to show they can score—and score in bunches holding onto the top spots.
I went 8-2 in my picks in the Top Ten games on the weekend, including the selection of Iowa, Oregon and N.C. State to win their games. Danny V did not have the same success in the win-loss department but did pick Nebraska to knock off the Missouri Tigers.
This weekend there are some games that will shape up the National Championship picture; which remains cloudy; unlike last season which saw Texas and Alabama run away to their trip to the big game.
So go enjoy another weekend of the climactic, surprising and exciting world of college football!
Hawaii Warriors at No. 4 Boise State Broncos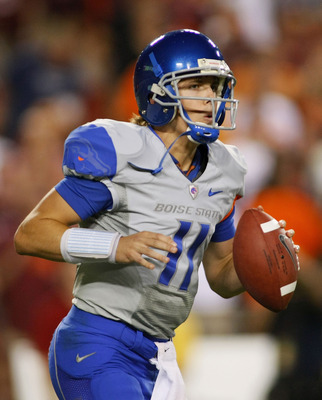 Geoff Burke/Getty Images
X-FACTOR:
Bryant Moniz has been an amazing player all season against the WAC as he currently leads the nation in total offense averaging 373 YPG. If he avoids turning the ball over, the Warriors will look a lot like the Colt Brennan team in '05-'06.
If Moniz gets it going early, then it will in fact be a game to watch and could be an upset in the making.
Matchup to watch:
Hawaii has had one of the best receiving cores in the nation this season led by Greg Salas and Kealoha Pilares. Going against the secondary of Brandyn Thompson, George Iloka, Winston Venable, Jerod Johnson and Jerrell Givens will be no easy task. Should be a fun matchup to look forward to.
Why Hawaii can win:
This has been the best offense in college football all season long, and they have been unstoppable up to this point. I cannot wait for them to score 40 points in the Hawaii Bowl, but until then, they must go up against the front four of Boise State that is maybe the best in the nation.
The dynamic nature of this offense will be a good test for the Broncos defense, and if they can make it a pure and utter shoot out, then maybe the Warriors can go back to the island victorious.
Why Boise State can win:
This Broncos team has been perhaps the best team in the nation all season long despite struggling on defense against Louisiana Tech last Tuesday. While Auburn, Oregon and possibly Utah/TCU winner may stay ahead of them for another week or two, it is only a matter of time before two of these four teams lose.
The SEC winner must lose twice for Boise to pass them, however, the Broncos would hopefully pass a one-loss Oregon team since they have taken care of them the past two seasons. First, Boise must hang 40-plus on national television.
For the Broncos, this game is one of the biggest tests that remains on the schedule along with the matchup with Nevada, but they must not overlook this Hawaii team, or they will be beaten.
FINAL SCORE:
Danny V's Pick: BOISE STATE 45 HAWAII 21
JFAV's Pick: BOISE STATE 42 HAWAII 28
Northwestern Wildcats at Penn State Nittany Lions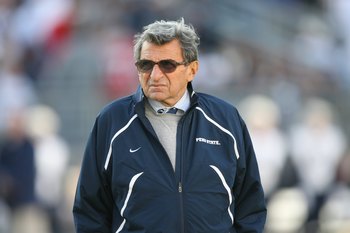 Hunter Martin/Getty Images
X-FACTOR:
Quentin Davie is one of the top linebackers in the Big Ten for NU, and he must show up against Evan Royster or else the 'Cats will be struggling and limping into their bowl game this season. There are still four games remaining, and they must improve their run defense.

Matchup of the Game:
The Wildcats tight end Drake Dunsmore better be able to get open against the tough linebackers of Penn State, and it will make the difference in this game. Dunsmore's success against the backers will be the key.
Why NU can win:
Penn State has all the momentum going their way right now as Evan Royster appears to be back as an All-American-caliber running back in last week's game.
However, do not count out the Cats as Dan Persa is still one of the most efficient quarterbacks in the nation. He has a few targets that have been great for them. Also, if they can create a turnover or two, this game may very well come down to who has the ball last.
NU wants to get some key victories coming up against some good Big Ten teams in Penn State, Iowa, Illinois and finally Wisconsin. Northwestern has shown in year's past that they can beat any team no matter where they are ranked so expect at least two wins in these four games.
Why PSU can win:
Who is Robert Bolden?
Penn State now has QB Matt McGloin under center. He had a fabulous game in his first career start and now with Royster going bonkers (150 yds, two TD), the Nittany Lions have quietly jumped backed into the Big Ten bowl picture. They can improve their stock for a decent bowl such as the Alamo or perhaps the Gator Bowl.
Joe Paterno will be looking to win his 400th career game in this one, and it will be a very happy day in Happy Valley if the legendary figure in college football is able to acheive this milestone.
FINAL SCORE:
Danny V's Pick: PENN STATE 30 NORTHWESTERN 23
JFAV's Pick: NORTHWESTERN 34 PENN STATE 27
No. 21 Baylor Bears at No. 17 Oklahoma State Cowboys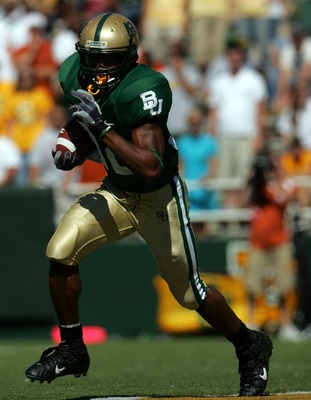 Ronald Martinez/Getty Images
X-FACTOR:
Robert Griffin III is a top level talent, but when it came down to who needed to step up versus the Longhorns and did, it was running back Jay Finley.
The Bears running back has been awesome the past few weeks, and if he continues this, then the Bears could find a way to sneak into the Big 12 Title Game.
Matchup of the Game:
Oklahoma State wide receiver Justin Blackmon goes up against the entire secondary of the Bears. The entire city of Waco, TX should triple-cover Blackmon because after his one game suspension, the Pokes All-American has been unstoppable this season.
Why OKST can win: They are very balanced as I have stated every week. They have been one of the best teams in the BCS as far as run-to-play ratio.
Mike Gundy always has a potent offense, it is just whether or not the defense plays as a Top 20 defense every week. I still question this defense, though they should come to play this weekend. Watch Kendall Hunter run baby run!
Why Baylor can win:
I love this Bears team so much that I think they will win eight games this season. They have everything you need on offense, however, this defense is still below average. The Pokes will do just enough to pull this one out.
This will be but another step towards what has been a magical season already for this Baylor team and would put the entire conference on alert.
FINAL SCORE:
Danny V's Pick: OKLAHOMA STATE 44 BAYLOR 35
JFAV's Pick: OKLAHOMA STATE 30 BAYLOR 23
No. 8 Oklahoma Sooners at Texas A&M Aggies
Dilip Vishwanat/Getty Images
X-FACTOR:
With Christine Michael out as the starting running back, Cyrus Grey better have a big game. But the real X factor is whoever is starting this game. Ryan Tannehill had a great game last weekend, and if he keeps it up, he will be running for Mayor in the city of College Station, Texas.
Matchup of the Game:
Aggies wide receiver Jeff Fuller against the entire Sooners secondary will be critical. I say the entire secondary of the Boomer Sooners because they will mix and match with whoever can cover this stud.
Oklahoma will be able to run the ball down the Aggies throats at certain times, so the Aggies must be able to find Fuller with ease.

Why Oklahoma can win:
I thought they were a top five this season, and although they still can be, I am just not buying it at the moment. This defense was dreadful against Mizzou. They got gashed against the run, and their corners are very weak in comparison to my top ranked teams in my very own BCS rankings.
Their offense is arguably the best in the Big 12 hands down. Murray, Broyles and Jones are all All-Americans in my books. Landry Jones has a shot of getting invited to New York if he can run the table.

Why TA&M can win:
Oklahoma is ranked 83rd in the nation against the pass because they do not have the stud corners that they need. They do have safeties who can lay down the thunder, but the Aggies have an underrated group of wideouts led by Fuller and Ryan Swope.
An upset will occur in College Station if the 12 man steps it up on defense. There are flaws in the Sooners game, and if they do not get up early, then this game will be a close affair.
FINAL SCORE:
Danny V's Pick: TEXAS A&M 28 OKLAHOMA 27
JFAV's Pick: OKLAHOMA 21 TEXAS A&M 10
No. 12 Missouri Tigers at Texas Tech Red Raiders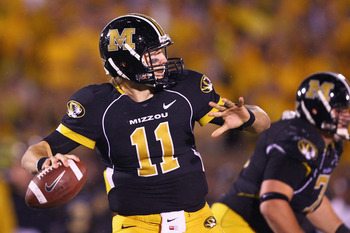 Dilip Vishwanat/Getty Images
X-FACTOR:
Whoever starts for Texas Tech at quarterback must play their best game of the season or else Mizzou will just feast on the offensive line that is subpar at best.
Matchup of the Game:
Mizzou corner Carl Gettis against Detron Lewis will be a huge matchup to look at this weekend. Lewis gets targeted early and often, so if he can be slowed down, this game may get ugly.
Why Missouri can win:
Outside of the recent game against the Huskers, the defense has been outstanding for Mizzou. They have been able to get great pressure up front, and Aldon Smith has been a nightmare to block in the past two games.
If Mizzu can get pressure on Tech like they did on A&M, then this will be an easy game for the Tigers. The Tigers are trying to show that they really were a top team in the Big 12, and a win over a stubborn and well-coached Tech team will be a good step.
Why Tech can win:
I am intrigued at how Gary Pinkel and this Tigers team reacts coming off its first loss of the season. Usually, Mizzou starts to tail off towards the end of the season. This could be a turning point game, which could show what kind of team these Tigers are.
If they can come up with a victory, then it would not be suprising for them to roll into a top bowl.
FINAL SCORE:
Danny V's Pick: TEXAS TECH 28 MISSOURI 27
JFAV's Pick: MISSOURI 35 TEXAS TECH 21
North Carolina Tar Heels at No. 24 Florida State Seminoles
Doug Benc/Getty Images
X-FACTOR:
An FSU running back should have a big game in this one, but it could be one of several. I am going to say Jermaine Thomas since he starts and since he is due for a big weekend. Ty Jones, Chris Thompson and even fullback Lonnie Pryor are four solid backs that will cause some havoc on any ACC team.
Matchup to watch:
UNC wide receiver Dwight Jones seems to be the hot target as of late since he is the only healthy/non-suspended one remaining. Going up against "G-5" aka Greg Reid and Xavier Rhodes will be something to look for.
Why UNC can win:
TJ Yates has been great all year long, and he has a few wideouts to throw the ball to. Despite losing Zack Pianalto for the season, they still have guys who can threaten the Noles secondary.
If the Heels can win the battle of field position right away in this game, they will pull off the upset against a Noles team that wet the bet last weekend. The Tar Heels have been free falling farther and farther from where they wanted to be at the start of the season, but a win against the Seminoles would be a shining light in a season of darkness.
Why FSU can win:
Christian Ponder is a talented quarterback that has shown that he has the talent to get it done for the Seminoles, but up to this point in his collegiate career, he has not brought Florida State to a place of prominence where they want to return too.
If they can get momentum heading in the right direction by the time they play the Gators, then the ACC could be theirs.
FINAL SCORE:
Danny V's Pick: FLORIDA STATE 34 UNC 17
JFAV's Pick: FLORIDA STATE 48 UNC 24
#18 Arkansas Razorbacks at #19 South Carolina Gamecocks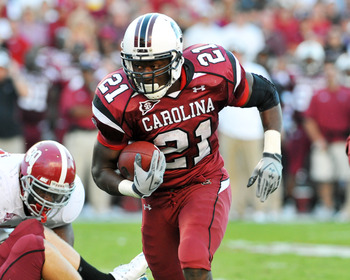 Al Messerschmidt/Getty Images
X-FACTOR:
Arkansas has been able to run the ball and Knile Davis has been an absolute baller for the Razorbacls. He has rushed for 431 yards in the past four weeks now along with 5 TD's.
Matchup of the Game:
Greg Childs is out for the season, and Joe Adams has been nagged by an ankle injury. If Adams is back for this weekend's game, him alongside DJ Williams and Cobi Hamilton will give the Gamecocks issues since they are without their best cover corner Chris Culliver.
Why South Carolina can win:
Marcus Lattimore had one heck of a game in his return against the Volunteers. When Stephen Garcia plays well, Cocky does not lose….EVER. When he struggles this team has their backs against the wall. I just question of they can get enough pressure on Mallett.
The Gamecocks will have a ruckus atmosphere at their disposal and will try to shake up Ryan Mallett early and often, and if they can cause some turnovers than they can get a key victory.
Why Arkansas can win:
Ryan Mallett is back and he has been amazing since he returned from his concussion. He has a bevy of playmakers and although they no longer have the best receiving core without Greg Childs, they still have plenty of options. Kniles Davis is the key in this game because if he can run the ball and control the line of scrimmage with the Pigs offensive line, then these pig fans will enjoy this game. It is critical that the DL shuts down the running game of SC.
It will get ugly if the Pigs are gashed by the run. However, pigs can fly with Mallett leading the way and this week they will be flying high with a defense that has been simply amazing the past few weeks. They can play with any team in the nation and they will prove why the SEC East still stinks.
FINAL SCORE:
Danny V's Pick: ARKANSAS 31 SOUTH CAROLINA 26
JFAV's Pick: SOUTH CAROLINA 32 ARKANSAS 31
#15 Arizona Wildcats at #13 Stanford Cardinal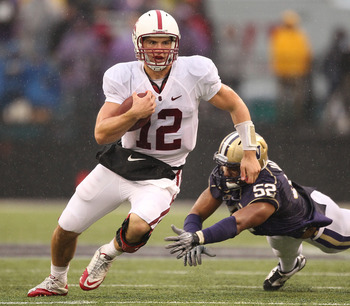 Otto Greule Jr/Getty Images
X-FACTOR:
Stepfan Taylor has been running very well against the opposition. If he can continue to run downhill, then this Cardinal team simply won't lose. You must shut down their running game.
Matchup of the Game:
Arizona wideout Juron Criner against Stanford corner Richard Sherman- This will decide a lot for the Cats, as they too can run the football, but I question Sherman's lack of height against a tall, lanky unstoppable wideout in Criner.
Why Arizona can win:
Their defense as a whole has been spectacular. They are loaded up front led by the best DE duo in the entire nation and they have a solid linebacking core. Even without Nick Foles, this Cats team has won me over via the eye test.
They have two studs in the backfield and an offensive line that has been really solid. They really do not have too many weaknesses right now. Their quarterback in Matt Scott is a bit of concern in this matchup. If Arizona can play that hard-nosed defense that they are capable of than they can win this one, and move closer to a possible January 1st bowl game.
Why Stanford can win:
Andrew Luck is the best quarterback in the nation not named Cam Newton, and he deserves to get into the Heisman race if he wins this game. He ran for nearly for 100 yards last weekend and he throws for 2 TD's and 200 yards every single week.
They use their tight ends very well and have a strong fullback in Owen Marecic who can do it all. Let's give some credit to the entire front 7 though led by: Matthew Masiflo, Brian Bulke, Sione Fua, Chase Thomas, Thomas Keiser, Owen Marecic, and Shayne Skov. Thomas and Keiser have been studs and have been able to put relentless pressure on every quarterback they have faced. That will be the difference in this game.
FINAL SCORE:
Danny V's Pick: STANFORD 31 ARIZONA 23
JFAV's Pick: ARIZONA 28 STANFORD 24
#3 TCU Horned Frogs at #5 Utah Utes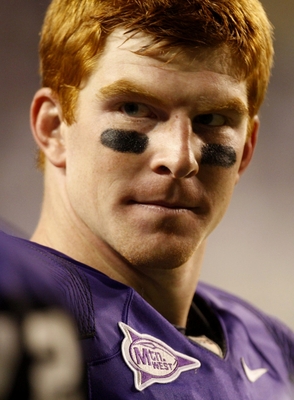 Ronald Martinez/Getty Images
X-FACTOR:
TCU RB Ed Wesley has been the most important player on this team, however this should be a game that is won by field position. PK Ross Evans must be able to kick some field goals because TCU lost to Utah the last time they were in Salt Lake City because they could not make a kick. Also, about that field position? Jeremy Kerley must bust one long run or else the Utes have this game won.
Matchup of the Game:
Utah running back Eddie Wide against TCU middle linebacker Tank Carder. If you lot snot flying over the field, then this game will be for you. Sure, both teams are the complete package but I can guarantee Utah will try to establish the run right away and if they can pick up a few first downs early on then Tank Carder and that stout 7 for TCU will be in a world of hurt. Watch out for safety Tejay Johnson who loves to come up and lay the bonesawing hit.
Why Utah can win:
This is easily the best non-AQ game of the entire season! These are arguably the two best teams in the entire nation! Forget Auburn, Oregon, Alabama, and Boise State for one night and watch two top ten teams give it their all in what should be one hell of a game. I want to see who has the hog mollies at the line of scrimmage because the Utes have had great OLines the past few years. I
f Utes running backs Matt Asiata and Eddie Wide can methodically run the ball down the Horned Frogs throats, then this game will be a nailbiter. The Utes have been sensation not at running the ball (27th in nation), but also at throwing the ball down the field ranking 33rd in the nation. They are as balanced as it gets and they are led by a 20 year old QB in Jordan Wynn. They have a few stud wide receivers in Jereme Brooks, Shaky Smithson and DeVonte Christopher.
this TCU team is freaking fast. Wayne Daniels, Tank Carder, TeJay Johnson are all All-American/NFL caliber players who can play on Sundays. The list does not end there as Tyler Luttrell, Jason Teague, and Alex Ibiloye lead a very dangerous secondary for the Frogs. And there nose tackle are filthy good as well led by Cory Grant and Kelly Griffin. To put it mildily, they are arguably the best defensive team in the entire nation. They are very deep and will rotate a bunch of guys every three-four plays. TCU would win the Big 12, ACC, Big East, and possibly the Pac10/SEC even.
Say what you want about this team, but they have been unstoppable for the past three seasons now. They are a top five program going back to 2008. Andy Dalton has been the main reason why since he has not turned the ball over when it matters most.
FINAL SCORE:
Danny V's Pick: TCU 24 UTAH 17
JFAV's Pick: UTAH 31 TCU 29
#6 Alabama Crimson Tide at #10 LSU Tigers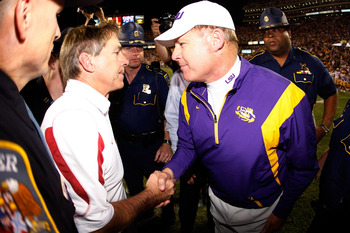 Chris Graythen/Getty Images
X-FACTOR:
LSU running back Steven Ridley will be the key in this one because LSU has to be able to run the ball down Alabama's throats in order to come out alive in this one. Alabama has as fast as a defense as there is in the SEC, so this should be an interesting matchup to say the least.
Matchup of the Game:
Matchup of the Game: LSU defensive tackle Drake Nevis against the Tide's running backs will be key. Also Julio Jones against Patrick Peterson has all NFL scouts drooling in this one. Remember, '70% of the world is covered by water, the other 30% is covered by Patrick Peterson".
Why Alabama can win: In Nick Saban we trust! The Tide keep rolling and If they can keep churning out first downs in the passing game, then they will pull this game out. Greg McEllory must find guys like Jones and Maze down the field. If the Tide can put continuous pressure on Jordan Jefferson and Steven Ridley, then they can nearly shutdown this LSU offense.
Why LSU can win: Jordan Jefferson is great when he avoids turning the ball over. It sounds like a broken record, but it is so true. They have a great wide out in Terrence Toliver, and Reuben Randle and Russell Shepard are highly touted players as well. One thing will always stay the same: LSU is loaded with talent at wide receiver and defensive line.
Defensive tackle Drake Nevis is a man-child and linebacker Kelvin Sheppard puts on the hit stick on some player every game. Going full head of steam against Mark Ingram and Trent Richardson makes this the number one game of the week. LSU must be able to throw the ball down field with success or else this game will get ugly. Also, they must get a huge play on defense/special teams in order to pull it out
FINAL SCORE:
Danny V's Pick: LSU 24 ALABAMA 23
JFAV's Pick: ALABAMA 31 LSU 30
Keep Reading

Utah Utes Football: Like this team?