College Football Rankings: 10 Hot Seat Coaches Who Need a Week 10 Victory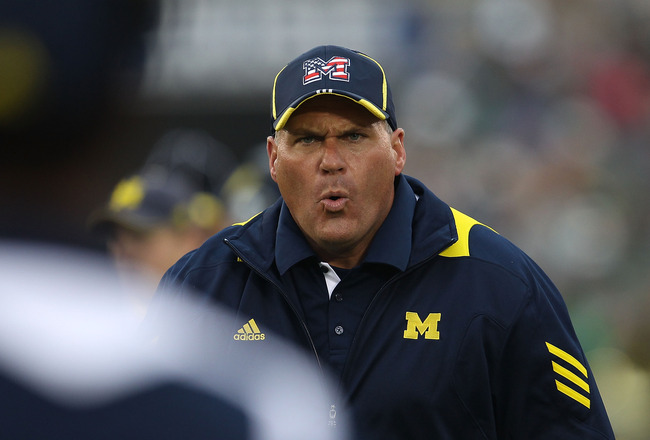 Jonathan Daniel/Getty Images
In Week 9 of college football, some head coaches redeemed themselves and others...well, let's just say their seats got a little hotter.
Rich Rodriguez and his Michigan Wolverines lost their third straight game.
Washington State looked terrible as usual.
And what happened to the Miami Hurricanes?
All the head coaches in college football will be looking for a win in Week 10, but who needs it the most?
10. Mack Brown, Texas Longhorns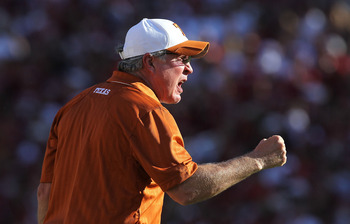 Ronald Martinez/Getty Images
Record: 132-31
Next Game: At Kansas State
Why He's on the Hot Seat: The Texas Longhorns have been the Jekyll-and-Hyde team of this college football season. Who beats the Nebraska Cornhuskers and then turns around and loses to Iowa State?
How He Can Cool Off: Mack Brown is a college-football legend, and his job is not in immediate jeopardy. That being said, he does need to pull out a winning season starting with a win over Kansas State.
9. Mark Richt, Georgia Bulldogs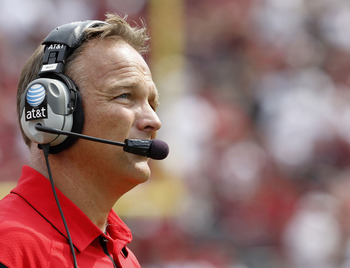 Mike Zarrilli/Getty Images
Record: 94-32
Next Game: Idaho State
Why He's on the Hot Seat: Here we have another coach whose record does not reflect how poorly his team is performing this season. The SEC East is still up for grabs this season, but that loss to Florida did not help Richt's case.
How He Can Cool it Off: A win over Idaho State will not be a stellar victory by any means, but it would be a start for Richt. If the Bulldogs can win out (which means upsetting No. 2 Auburn in a couple weeks), Richt could have a shot at keeping his job.
But it might be time for a change.
8. Houston Nutt, Ole Miss Rebels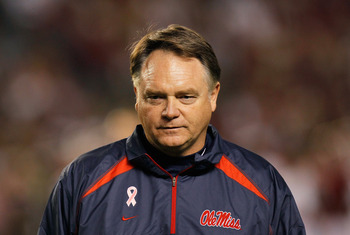 Kevin C. Cox/Getty Images
Record: 21-12
Next Game: Louisiana-Lafayette
Why He's on the Hot Seat: The Ole Miss Rebels find themselves at the bottom of the SEC West and they still have to play LSU and Mississippi State. The Rebels' most impressive win was over Kentucky.
How He Can Cool it Down: Pulling off an upset over LSU or Mississippi State would be a start. But things are not looking good for Coach Nutt.
7. Derrick Dooley, Tennessee Volunteers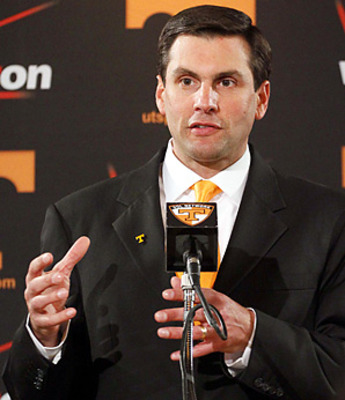 Record: 2-6
Next Game: At Memphis
Why He's on the Hot Seat: The Tennessee Volunteers are the worst team in the weakest division of the SEC. This might be Dooley's first year with the Volunteers, but come on!
How He Can Cool it Down: In Dooley's defense, five of his six losses came to ranked opponents. But how about winning one SEC matchup?
6. Dan Hawkins, Colorado Buffaloes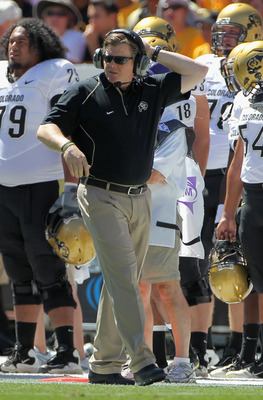 Doug Pensinger/Getty Images
Record: 19-38
Next Game: At Kansas
Why He's on the Hot Seat: The Buffaloes haven't been able to pull off a Big 12 win yet this season, and they still have Kansas State and Nebraska left on their schedule.
How He Can Cool it Down: If Hawkins can lead his Buffaloes to wins over Kansas and Iowa State, we might be able to forgive the inevitable losses to Kansas State and Nebraska.
5. Brian Kelly, Notre Dame Fighting Irish
Jonathan Daniel/Getty Images
Record: 4-5
Next Game: Utah
Why He's on the Hot Seat: The Irish have been on a downward spiral for years. The hiring of Brian Kelly hasn't helped matters much. Notre Dame lost last weekend to lowly Tulsa.
And the Irish still have to play Utah and USC.
How He Can Cool it Down: Start winning! Do something!
Let's be realistic here: The Irish will not pull off the upset over Utah and it would take some sort of miracle to beat USC.
So I guess Kelly needs the win against Army. But even that isn't guaranteed.
4. Randy Shannon, Miami Hurricanes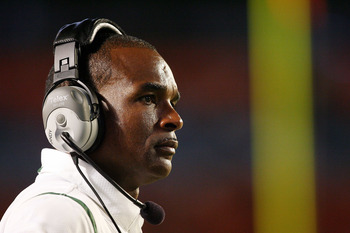 Doug Benc/Getty Images
Record: 26-20
Next Game: Maryland
Why He's on the Hot Seat: Seriously, what is going on with the Miami Hurricanes?
This is supposed to be one of the toughest football programs in the country and what do they do?
They turn around and lose to Virginia.
How He Can Cool it Down: The Canes need to win out to end their season, which is completely possible. They still have to beat Virginia Tech, but we all know that can be done.
3. Bill Stewart, West Virginia Mountaineers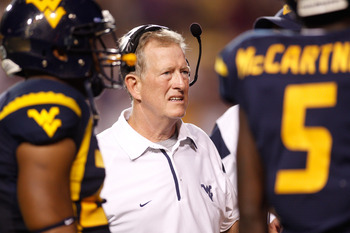 Chris Graythen/Getty Images
Record: 24-11
Next Game: Cincinnati
Why He's On the Hot Seat: The Mountaineers started their season strong, but they seem to have run out of gas. West Virginia should be at the top of the Big East, but their only conference win was over South Florida.
How He Can Cool it Down: Winning the rest of their Big East matchups could put the Mountaineers at the top of their conference and could save Bill Stewart's job.
2. Rich Rodriguez, Michigan Wolverines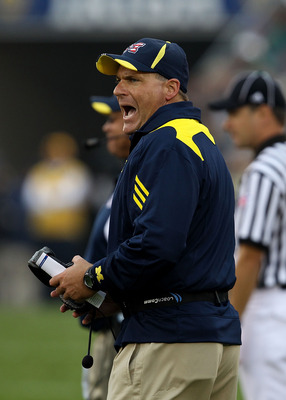 Jonathan Daniel/Getty Images
Record: 13-19
Next Game: Illinois
Why He's on the Hot Seat: Rich Rod's seat seemed to have cooled down at the beginning of the season as the Wolverines started out 5-0 going into their second Big Ten game. But now Rodriguez has me experiencing deja vu.
Three straight losses—to Michigan State, Iowa and a struggling Penn State—make it look like the Wolverines simply can't run with the big dogs in their conference.
How He Can Cool it Down: The Wolverines have a tough road ahead of them with Illinois, Wisconsin and Ohio State still left on their schedule. They will need to win at least two of their remaining games for Michigan to keep Rodriguez around.
1. Mike Locksley, New Mexico Lobos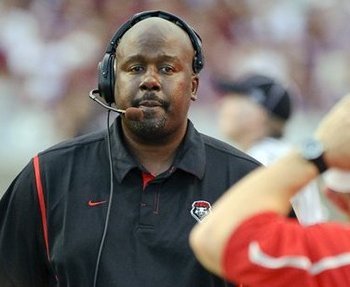 Record: 1-14
Next Game: Wyoming
Why He's on the Hot Seat: The Lobos are probably the worst team in college football and they are the reason we think the Mountain West is crap.
You can't win one game in the Mountain West Conference?
Seriously?
How He Can Cool it Down: I think I speak for the entire country when I say that I simply cannot wait to watch this New Mexico versus Wyoming matchup.
Locksley should pack his belongings and New Mexico should go ahead and hire Mike Leach.
Keep Reading

Michigan Wolverines Football: Like this team?