The 50 Best Mascots in College Football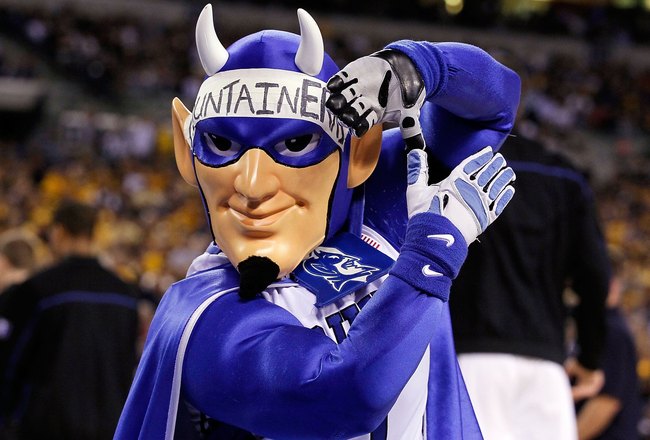 Kevin C. Cox/Getty Images
If you've ever attended a college football or college basketball game, the one thing that you may look for right off the bat is where each team's mascot is.
Okay, maybe not the first thing, but the mascot's job is to make sure it's visible at all times. They light up the crowd, they get them into a frenzy, and they have some fun while they're at it.
We know the ones that will crowd surf, the ones who will pick on the other team's mascot, and the ones who just like to liven things up.
They are an important part of college sports and an important part of a university's history.
So, with all that being said, here are the top 50 mascots in college football.
Honorable Mention: Navy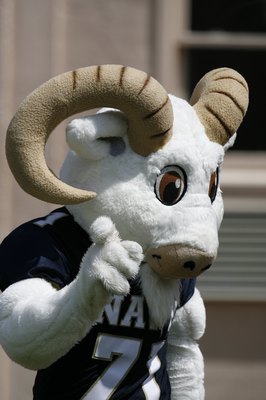 Kevin C. Cox/Getty Images
Bill the Goat is the official mascot of the Naval Academy. Have to throw some love to the armed forces, right?
No. 50: Swoop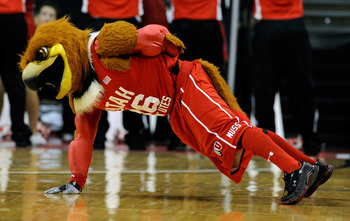 Ethan Miller/Getty Images
Swoop is the official mascot of the University of Utah Utes. And apparently, he can do one-armed push ups.
No. 49: Rameses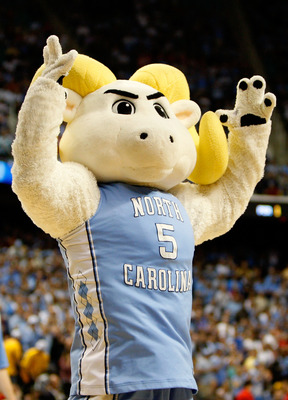 Streeter Lecka/Getty Images
The first appearance of Rameses was back in 1924 against the Virginia Military Institute. Except this one was real.
No. 48: Joe Bruin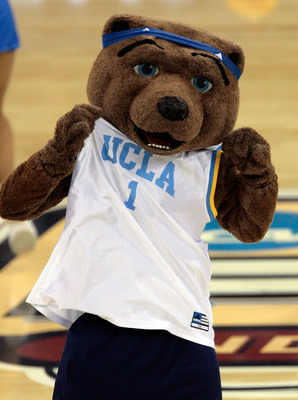 Win McNamee/Getty Images
Joe Bruin has been a big part of UCLA athletics, especially basketball.
No. 47: Otto The Orange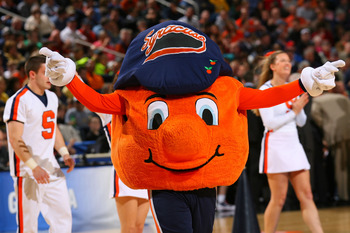 Rick Stewart/Getty Images
An orange with a smile, but I like the name Otto.
No. 46: Big Red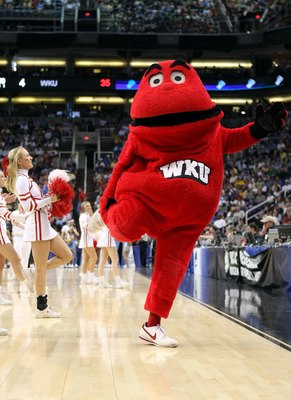 Stephen Dunn/Getty Images
I don't know why, but Big Red reminds me of a large, red version of Cookie Monster.
No. 45: Shasta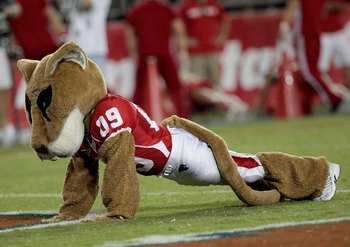 Thomas B. Shea/Getty Images
Shasta is the mascot for the University of Houston Cougars. And not the only mascot that likes to do push ups.
I wonder if they tell the people who dress up in the mascot uniforms that they're going to have to be in good shape for all the push ups they're going to end up doing.
No. 44: Louie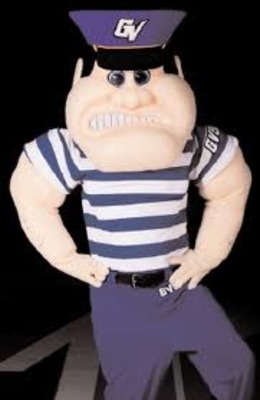 Louie is the mascot for Grand Valley State. Tell me he doesn't remind you of Popeye
No. 43: Sam The Minuteman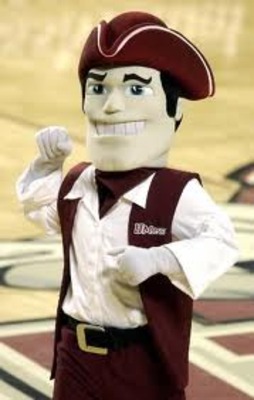 Nothing like a Revolutionary War soldier as your mascot.
But, I'm not going to hate on good ol' Sam the Minuteman.
No. 42: Big Al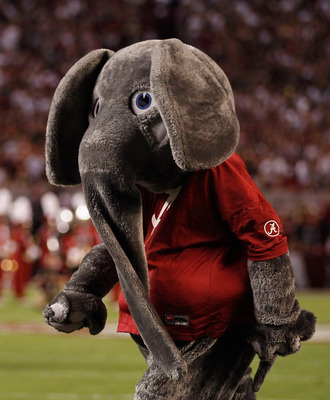 Kevin C. Cox/Getty Images
Big Al is a stud and we don't want to mess with elephants. They'll trample you.
That's where the elephant came from in the first place. A 1930s sportswriter heard the roar and rumble of the team taking the field and coined the term "here come the elephants".
No. 41: Sparky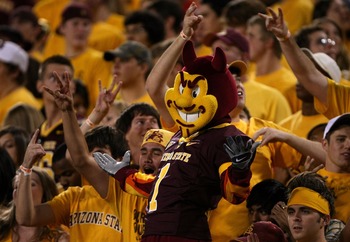 Stephen Dunn/Getty Images
I think he's one of the coolest mascots in town. Well, I think the only thing I'm gauging it on is his "devilish" grin.
Get it, "devilish grin."
Okay, lame joke, sorry. Moving on.
No. 40: Wildcat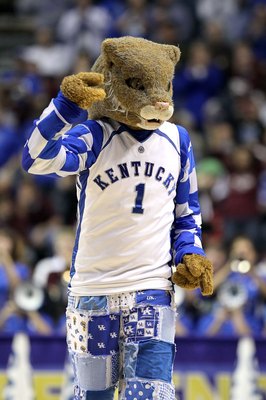 Andy Lyons/Getty Images
Something I didn't notice the first time I saw this picture.
Anyone else think Wildcat's pants look like scraps of cloth knitting together to make strange-looking pants?
Maybe it's just me.
No. 39: Jayhawk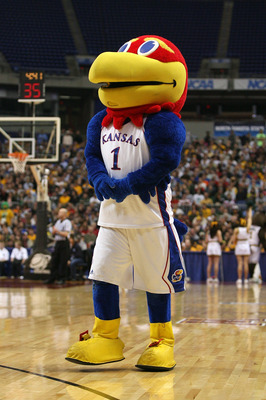 Jonathan Daniel/Getty Images
I think Jayhawk is aching for football season to be over with and for basketball season to hurry up and get here.
No. 38: Gators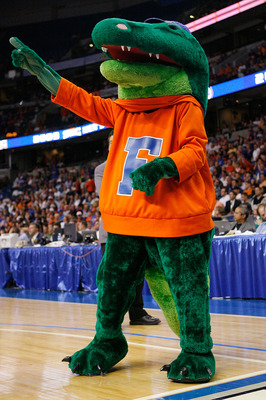 Chris Graythen/Getty Images
The Florida Gators have arguably one of the more recognizable mascots in college sports. Mostly because, well, it's a Gator.
No. 37: Paydirt Pete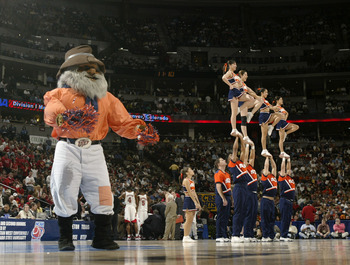 Brian Bahr/Getty Images
Paydirt Pete, one of the more original names on our list so far, is the mascot for the University of Texas El Paso Miners.
All he's missing is the pick ax.
No. 36: Pistol Pete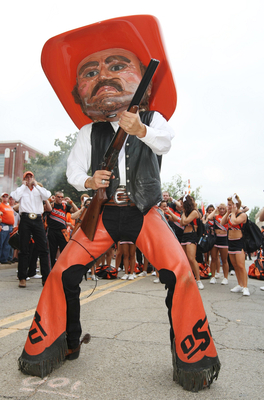 Christian Petersen/Getty Images
Oklahoma State isn't the only school to carry the name "Pistol Pete" as their mascot.
But am I the only one that, when I hear "Pistol Pete," I keep thinking of the name Pistol Pete Maravich? Just curious...
No. 35: Cosmo The Cougar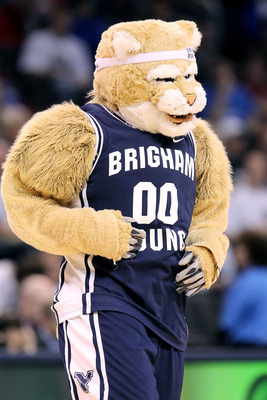 Ronald Martinez/Getty Images
Cosmo is one of the more athletic mascots out there.
No. 34: Boilermaker Special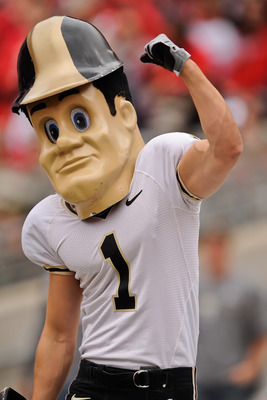 Jamie Sabau/Getty Images
While Purdue Pete is the mascot that is the most visible mascot for the Purdue Boilermakers, their official mascot is the Boilermaker Special which, according to Wikipedia, resembles a Victorian-era locomotive.
No. 33: Bulls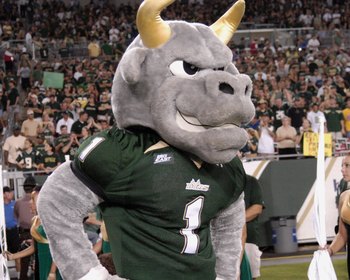 Al Messerschmidt/Getty Images
When you type in a Google search for the University of South Florida mascot, you see a picture of Jenn Sterger come up.
I thought for a second she was the new mascot until I realized it was the costume with the yellow horns coming out of its head that I was supposed to be looking for.
No. 32: Herbie Husker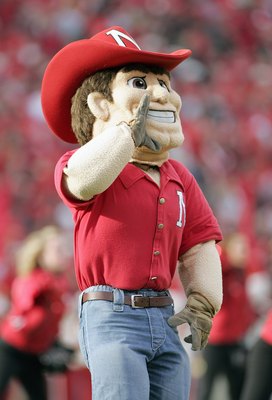 Brian Bahr/Getty Images
Herbie Husker, the official mascot of the Nebraska Cornhuskers. Looks like an everyday Cowboy to me.
No. 31: Big Green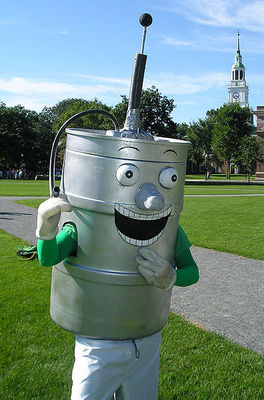 The only mascot in the country that is a keg. Way to go, Dartmouth College.
No. 30: Sebastian the Ibis
Doug Benc/Getty Images
The U has the mascot that looks like an angry duck. However you choose to look at it, it's still cool to me.
No. 29: Traveler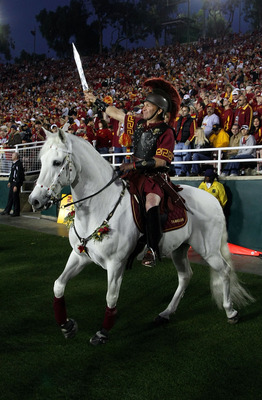 Stephen Dunn/Getty Images
USC fans know their knight on a white horse all too well.
Traveler makes his presence known at football games right from the very start.
No. 28: Smokey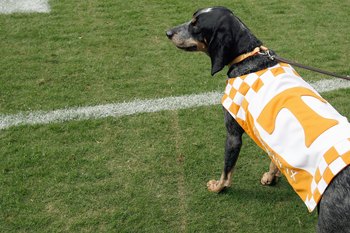 Kevin C. Cox/Getty Images
Nothing like a cool-looking hound as your mascot. I'm down with Smokey.
No. 27: Knitro
A. Messerschmidt/Getty Images
One of the coolest mascots I've seen on this list yet. Might not be the best, but I think I'll become a fan of Central Florida just because of Knightro.
No. 26: Duke Dog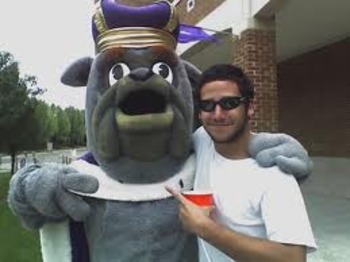 For whatever reason, the James Madison mascot reminds me of the dog from "Tom and Jerry."
No. 25 : Hokie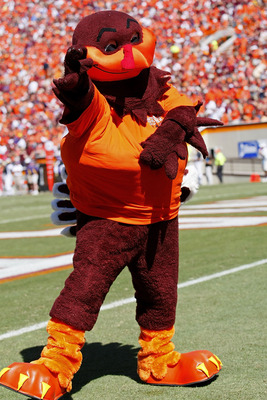 Geoff Burke/Getty Images
It's just a coincidence that James Madison and Virginia Tech are right next to each other?
If it wasn't I would have had James Madison in front of the Hokies for obvious reasons.
No. 24: Demon Deacon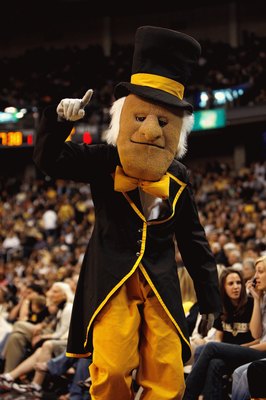 Streeter Lecka/Getty Images
The Wake Forest mascot is another one of those that I enjoy finding for lists like this.
Can't beat the yellow bow tie and the top hat.
No. 23: Cy
Cy is the defending champion of the Capital One Bowl mascot competition.
Something for Iowa State to hang their hat on, next to their upset win over Texas.
No. 22: Big Red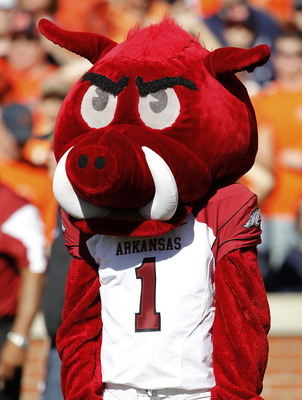 Mike Zarrilli/Getty Images
What's the difference between "Big Red" the Razorback and a wart hog? I'm curious.
No. 21: Boomer Schooner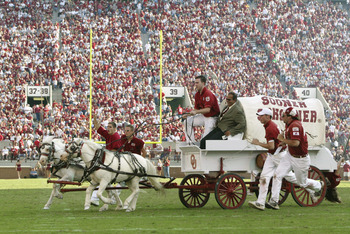 Brian Bahr/Getty Images
One of those live mascots that just brings history to life. Definitely give credit Oklahoma for that.
No. 20: Bucky Badger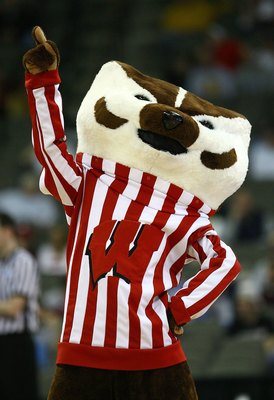 Jamie Squire/Getty Images
Bucky Badger has had some good times during this football season with wins over top-ranked Ohio State and then a one-point win over Iowa.
No. 19: Ralphie The Buffalo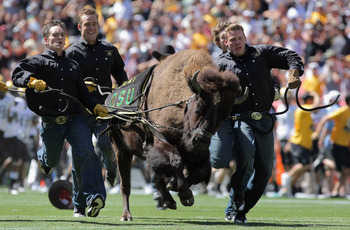 Doug Pensinger/Getty Images
I'm not sure who I feel more sorry for. Ralphie or the four guys around him that have to be the ones to stop him.
No. 18: Chief Osceola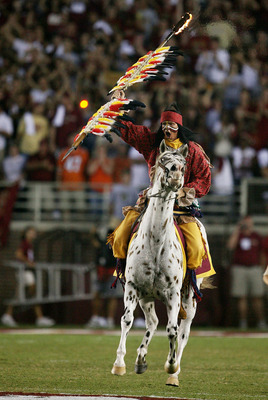 Doug Benc/Getty Images
Arguably the second most famous mascot on a horse, Chief Osceola, next to USC's Traveler.
No. 17: Buzz/Ramblin' Wreck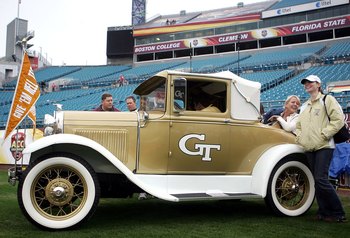 Marc Serota/Getty Images
While Buzz is the official mascot of Georgia Tech, Ramblin' Wreck is the real mascot that leads the team out onto the field.
Nothing like a classic car still getting the job done.
No. 16: Mountaineer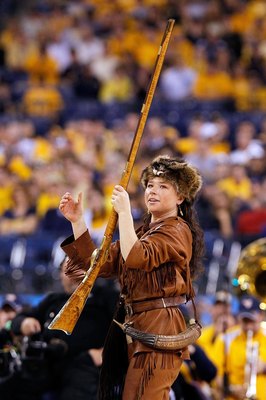 Kevin C. Cox/Getty Images
I know there's a male version of the West Virginia mascot, but I thought she was too attractive not to put up.
No. 15: Vili The Warrior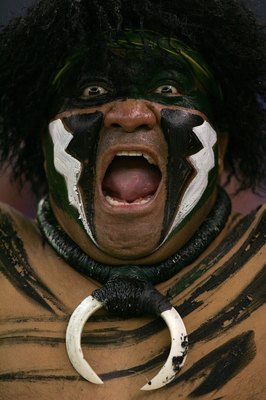 Matthew Stockman/Getty Images
If you've ever been to a Hawaii game or a game that Hawaii is in town playing another team, you know who Vili is.
Though he might seem crazy, I think he's incredibly entertaining. Isn't that a mascot's job?
No. 14: Masked Rider
Ronald Martinez/Getty Images
No. 13: Bevo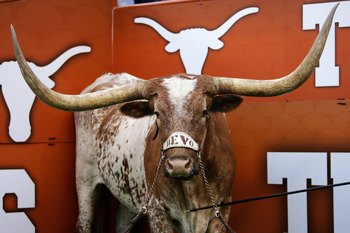 Brian Bahr/Getty Images
You can't say "Texas Longhorns" without mentioning Bevo.
Nothing like trying to keep an animal calm who could do some serious damage with one flick of his neck
No. 12: Colonel Reb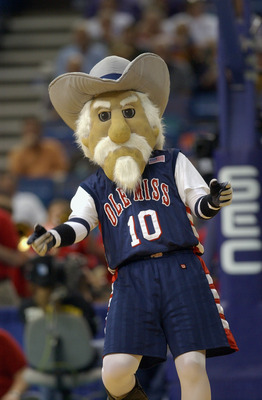 Doug Pensinger/Getty Images
I miss Colonel Reb already and I'm not an Ole Miss fan.
No. 11: Brutus Buckeye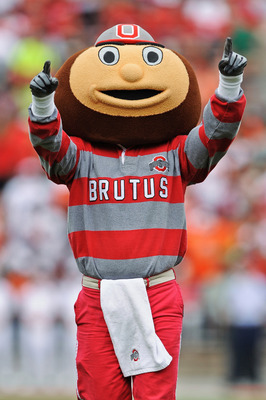 Jamie Sabau/Getty Images
Ohio State mascot "Brutus" has been a staple of THE Ohio State at just about every sporting event you can think of.
Not to mention he's one of the more famous mascots out there.
No. 10: Sparty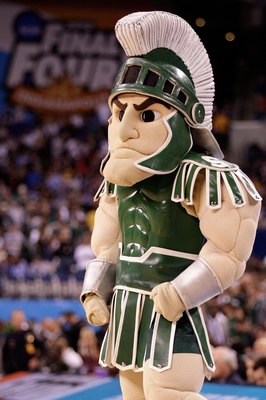 Andy Lyons/Getty Images
Every time I've seen Sparty, he always reminds me of the movie "Gladiator."
No. 9: Mike The Tiger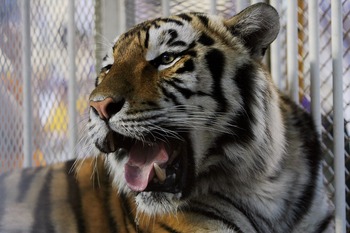 Doug Benc/Getty Images
The best live mascot there is, Mike the Tiger, for LSU.
No. 8: Uga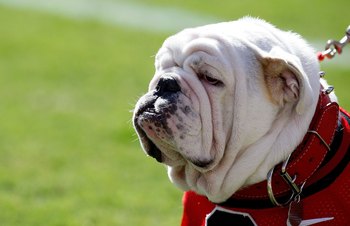 Kevin C. Cox/Getty Images
I've never been a fan of the Bulldogs as far as a dog goes, but I always like when schools do live mascots.
Props to Georgia on this one, not to mention being one of the more recognizable ones.
No. 7: Leprechaun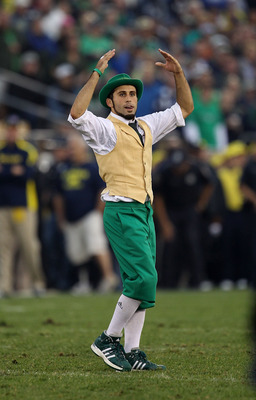 Jonathan Daniel/Getty Images
Someone is always after me lucky charms...
No. 6: Aubie The Tiger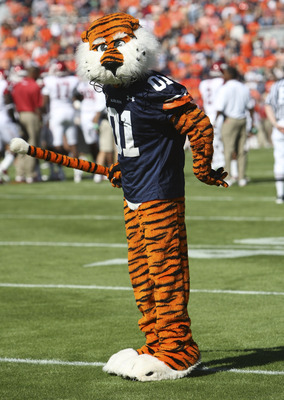 Mike Zarrilli/Getty Images
Aubie has had a lot to celebrate these days and is the mascot for the best team in the country, the Auburn Tigers..
No. 5: Stanford Tree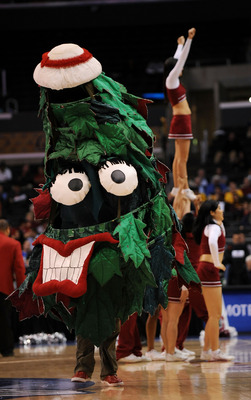 Harry How/Getty Images
For a mascot that looks so poorly put together, it doesn't make it any less recognizable, or obnoxious for that matter.
No. 4: Nittany Lion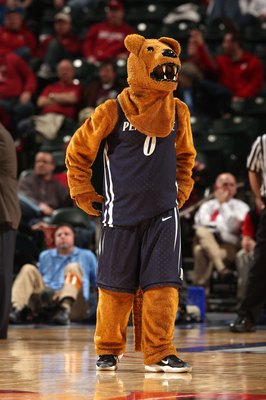 Jonathan Daniel/Getty Images
Penn State's recognizable Nittany Lion.
No. 3: General Scott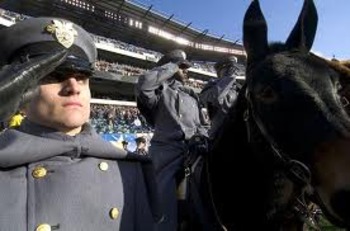 A mascot that's been around since the inception of the Army/Navy game back in 1899.
No. 2: Monte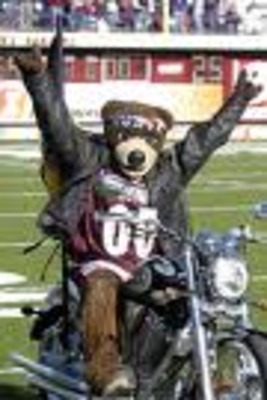 The official mascot of the University of Montana. A bear on a Harley. Awesome!
No. 1: Donald Duck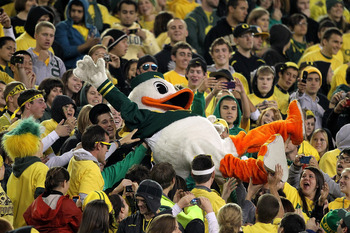 Jonathan Ferrey/Getty Images
The duck that loves to crowd surf. Nothing like getting the crowd involved, especially a crowd at one of the noisiest stadiums in the country.
Keep Reading