Oregon State-Cal: Three Reasons Why Beavers Will Have Successful Homecoming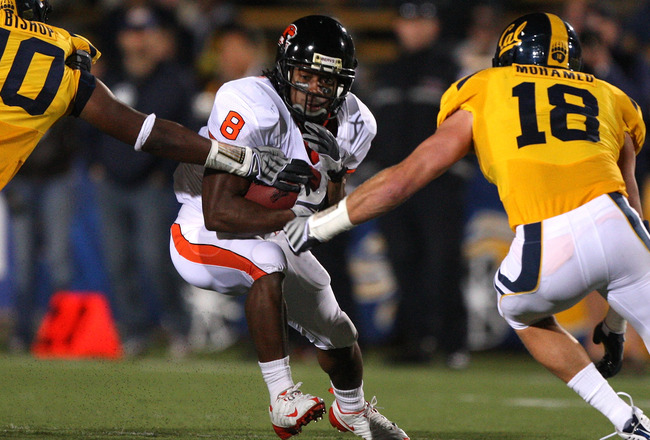 Jed Jacobsohn/Getty Images
Last season, Oregon State rolled over Cal after Bears' star running back Jahvid Best suffered a concussion while leaping into the end zone. The brothers' tandem of James and Jacquizz Rodgers had a career day, and will look to do so again this Saturday.
Both teams will enter Reser Stadium looking to define their seasons with success, having experience both successes and epic failures along the way.
The Beavers will enter the game having suffered their first conference loss in a double-overtime thriller against the Washington Huskies in Seattle. Cal will be coming off a decisive win against Arizona State, a team Oregon State defeated by just a field goal.
With all the momentum seemingly heading the Bears' way, here are three reasons Oregon State will steal the show on Homecoming afternoon.
3. Oregon State Owns Cal in Recent Years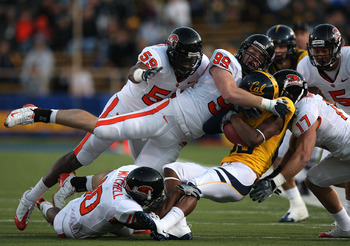 Jed Jacobsohn/Getty Images
Some teams just match up well against others, and seemingly in recent years, the Beavers have had Cal's number.
Jeff Tedford has a career 2-5 record against Oregon State as head coach of the Cal Bears. That's second worse in his tenure behind only USC at 1-6, something sure to be on his mind as he enters Reser Stadium Saturday. However, both wins against the Beavers have been at Reser, so the Bears have a little hope.
The Beavers will be looking to make a statement at home, and although their stadium doesn't house numbers like Ohio State, the place can rock with deafening sound.
Expect Oregon State to use their own turf (literally) to down Cal.
2. Ryan Katz Will Bounce Back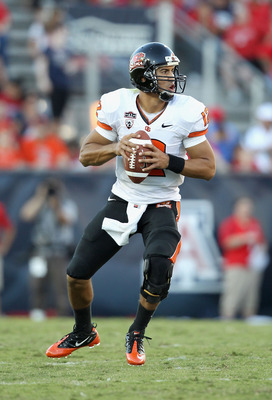 Christian Petersen/Getty Images
After a disappointing showing against the Washington Huskies, Katz will have a big game while picking apart Cal's secondary. The sophomore QB chose a poor time to have an off-game, right when he was starting to receive ample attention as a legitimate Pac-10 quarterback.
With James Rodgers out for the season, it will be up to Jordan Bishop, Markus Wheaton and Aaron Nichols to pick up the slack, a task they can fill efficiently.
Entering the game against Washington, Katz had just one interception in five games, he threw three against the Huskies. Katz saw a see of purple in Seattle, a mix of blitz's and zone coverage that confused him into making several mistakes. If he studied the video of the game, he should be able to read gaps and patterns more effectively against the Bears.
1. Defense Won't Overpower, Should Keep Pace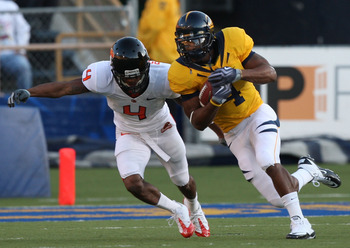 Jed Jacobsohn/Getty Images
By now we know the Beavers' defense hasn't been able to slow down anybody, but they may not have to against the Golden Bears if the offense provides some support.
If the defense can keep Cal under 30 points, they have a good chance at taking the game. Look for the defense to surrender near 400 yards again, but the offense should provide adequate breathing room.
The secondary will be the biggest concern since the Bears feature a balanced offense and a running attack that gathers nearly 200 yards per game. Stephen Paea will lead the defensive line against Shane Vereen, a talented, bulky junior coming out of the backfield.
If the running game of the Cal Golden Bears gets passed the line, they will find success against Oregon State's linebackers and secondary, so pressure will be on the line to keep the game relevant.
Game time is set for 12:30 pm PT at Reser Stadium on Saturday, Oct. 30th.
Keep Reading

Oregon State Football: Like this team?