College Football Week 9: Why Five Undefeated Teams Could Go Down
Jonathan Ferrey/Getty Images
Seven unbeaten teams remain in the FBS division of college football. Of those seven teams, six of them face road tests this weekend. TCU has a game that they should definitely handle at UNLV and Boise plays Tuesday night against Louisiana Tech at home. Other than that, I could see any of the other five struggle in their road games Saturday. Who will struggle and who will go down in these matchups this weekend? We are on the stretch run and each game gets more and more difficult to come out with a victory. The question is, who will pass their test Saturday and who will fail?
Auburn at Ole Miss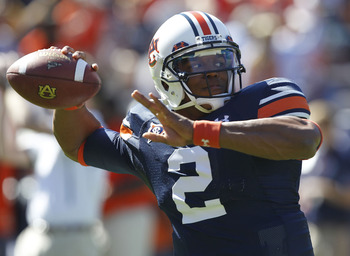 Mike Zarrilli/Getty Images
This one is the one that no one is really talking about, but I think the Rebels have a chance to keep it close. Yes, I think the Rebels defense will struggle handling Cam Newton and the Auburn rushing attack. But, Ole Miss was successful limiting Mark Ingram and Trent Richardson to a low rushing output, so they could have a little success.
The real reason I think Ole Miss can keep this game close is on the other side of the ball. Jeremiah Masoli and the Rebel offense has really improved as of late and they have been racking up a lot of yards. It has been noted that the weakness of this Auburn team is the defense, more specifically the secondary. Auburn struggled against Jordan Jefferson last week when he ran the football himself. I think Masoli's dual-threat ability keeps Ole Miss in this game.
Can Auburn avoid the curse of being the number one team? Houston Nutt has been known as a master motivator, especially when his teams are big underdogs like this. But, I think Newton pulls it out once again late in the game.
Prediction: Auburn 38, Ole Miss 28
Utah at Air Force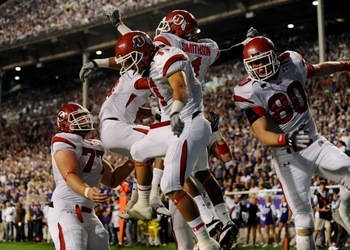 Ronald Martinez/Getty Images
Utah probably feels disrespected. Not only do they take a backseat to the automatic qualifying teams. But right now, they seemingly are taking a backseat to Boise State and TCU. Air Force played Oklahoma out of their minds earlier this season and they stuck around with TCU for about two and a half quarters, so they are used to playing highly ranked teams.
Air Force's offense is always going to make them difficult to prepare for. Utah has not proved anything yet. The big win for Utah was the overtime win in the opening game of the season against Pittsburgh. However, that was not the Pittsburgh team they are now. If Utah can go in and dominate Air Force, they might get a little more respect. They will definitely have a chance to prove themselves over the course of these next four games. Utah plays at home against TCU and then on the road against Notre Dame and San Diego State in the three weeks after this game with Air Force.
I really like Air Force's chances to win this game. Utah is going to have to show me something over these next for games for me to believe in them. I really think Air Force will catch Utah looking ahead to TCU. Utah has a huge game next week that, if both teams win, will be a monster matchup of undefeateds. But, I think Utah goes into that game with a loss as Air Force pulls off the upset.
Prediction: Air Force 27-23
Missouri at Nebraska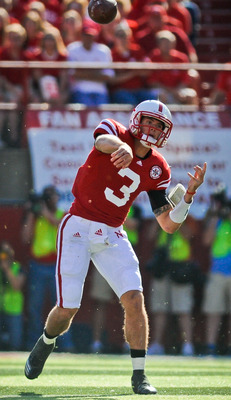 Eric Francis/Getty Images
Missouri is coming off their biggest win in years. Nebraska's offense got back on track last week at Oklahoma State. Nebraska's defense gave up a lot of points last week and should be looking to make a statement. All of these points, along with the fact that the game is in Lincoln, have me leaning toward the Cornhuskers.
Missouri is better defensively, but Oklahoma was still able to move the football and put up points. I think Nebraska will be able put up a lot of points against Missouri and I think the defense will rise to the occasion.
Missouri has a chance to prove themselves again, but I think Nebraska ends the Tigers' undefeated bid. A Nebraska wins also gives them the advantage in the Big 12 North race.
Prediction: Nebraska 35-24
Michigan State at Iowa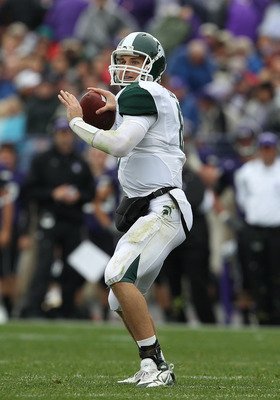 Jonathan Daniel/Getty Images
The Spartans have narrowly escaped two mediocre teams the last two weeks. Iowa is a step up in competition and will be looking to get revenge after a 31-30 loss last week to Wisconsin.
Michigan State has been sluggish the last to weeks in the early stages. They will not be able to do that against the Hawkeyes. Iowa's two losses came at the hands of one-loss teams. Iowa has not quite lived up to expectations, but their two losses could have been turned by one play.
I believe the Iowa defense is well equipped to stop the Michigan State offense and after a sub-par performance against Wisconsin they should be fired up. Ricky Stanzi should be able to exploit an improved, but still shaky, secondary. I like Iowa to knock off the Spartans, as I pick another undefeated to go down.
Prediction: Iowa 30-20
Oregon at USC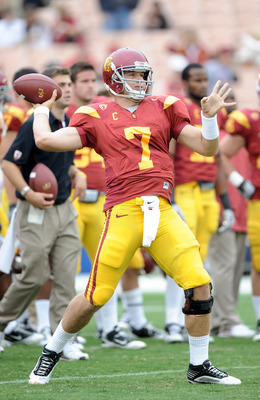 Harry How/Getty Images
The Ducks' offense has looked unstoppable all year. USC, although they have lost twice, has put up a lot of points as well. Both defenses have been suspect, so expect a shootout. Could a number one team go down for the fourth week in a row?
The quarterback matchup should be a really good one, as Darron Thomas leads Oregon and Matt Barkley heads up the Trojan offense. USC has the ability to run the football and control the clock to try to keep the Oregon offense on the sideline. The Trojans feature a trio of backs that will try to churn up yards and clock. One of the keys to this game is going to be the USC offensive line. If they can dominate the undersized Oregon defensive front, then the Trojans will be able to control the clock.
I think a number one team is going down again. Yes, it may seem crazy, but I think four undefeateds go down this Saturday. Oregon is going on the road, where they struggled on the road against Arizona State and did not play particularly well against Washington State on the road. I think Matt Barkley has a big game and Lane Kiffin gets his signature win of his first year at USC.
Prediction: USC 45-38
Chaos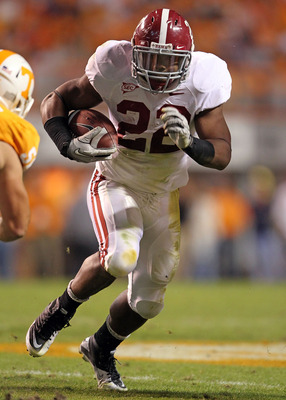 Andy Lyons/Getty Images
Get ready for chaos. I think all these games set up for these unbeatens to suffer their first loss. Auburn is the only one I see escaping with a victory Saturday. If these teams all do go down, it would leave only three undefeated teams in the FBS. As undefeateds continue to go down, the question of Boise State is going to continue to gain more steam. Unless they are unexpectedly knocked off, we are in for an argument-filled last month of the regular season. Either way, we are in for a great ending to the college football regular season. So many teams are still alive in the chase for Glendale. Outside of the undefeateds, one-loss teams like Alabama still have a great shot at Glendale. Strap in college football fans, it is going to be a wild ride.
Keep Reading