Big East Power Rankings Week 8: Syracuse Win In Morgantown Headlines Crazy Week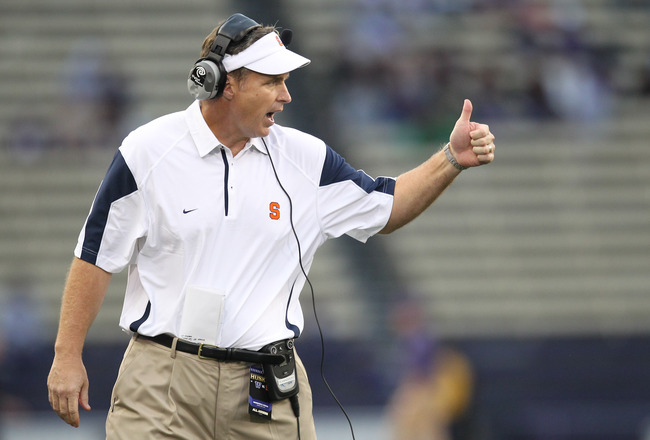 Otto Greule Jr/Getty Images
Fresh off my school-mandated bye week from sports writing (massive essays, midterms, etc.), I'm back with your unofficial-official Big East power rankings for Week 8.
Fortunately for weary me, now that we're a couple weeks into the Big East schedule, ranking the teams was relatively easy.
This week's power rankings are almost entirely decided based on who has beaten whom in conference play to this point. And, really, there's no other way to make sense of this considering what a great big bowl of mediocrity this conference has been.
No. 8: UConn Huskies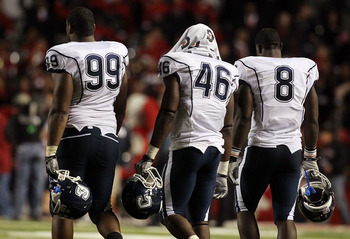 Jim McIsaac/Getty Images
Man, this season is spiraling out of control fast for UConn.
Cody Endres has been kicked off the team for an unspecified violation of university policy; the Michael Box era got off to an inauspicious start this week with the freshman going 4-for-12 for 35 yards and an interception before getting pulled in favor of Zach Frazer; and the Huskies got rocked, 26-0, by an improved Louisville team.
It's not going to get any easier for the 3-4 (0-2) Huskies, either. They get West Virginia on Friday night.
No. 7: Louisville Cardinals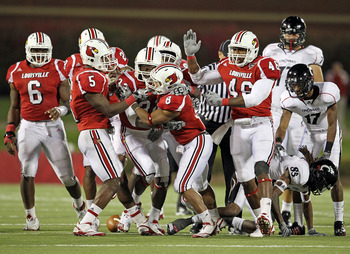 Andy Lyons/Getty Images
I maintain that the Cardinals are significantly better than they've been in recent years. Right now their record stands at 4-3 (1-1) and they're ranked in the Top 25 in both rushing yards and points allowed.
The problem is, right now, their best win of the season is (probably) UConn.
They played well in a loss to Cincinnati as well, but the Bearcats have struggled in their own right. I think there is a distinct possibility that the Cards climb into the middle of the conference by the end of the year, but for now they still have a lot to prove.
They'll have a chance to make a major statement on Saturday when they head to Pittsburgh.
No. 6: Cincinnati Bearcats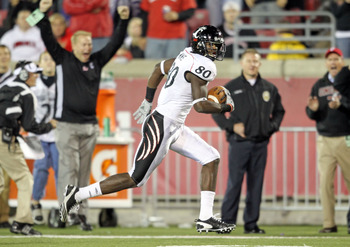 Andy Lyons/Getty Images
I'm still trying to make sense of Cincinnati this year.
They get off to an atrocious start, losing to Fresno State and NC State in games that were barely competitive. Then they give Oklahoma a legitimate scare, wallop Miami of Ohio, gut out a win over Louisville and, suddenly, I'm thinking they've turned a major corner.
All the gaudy offensive numbers the Bearcats have been putting up were drawing attention away from some serious problems, though—and they were exposed by the USF Bulls in Cincinnati on Friday night.
USF failed to score an offensive touchdown in either of their previous two games, against Syracuse and West Virginia. Against Cincinnati, though, their formerly lethargic offense put up 38 points, including four touchdowns from B.J. Daniels (two passing and two rushing).
The Bearcats defense has serious problems.
No. 5: Rutgers Scarlet Knights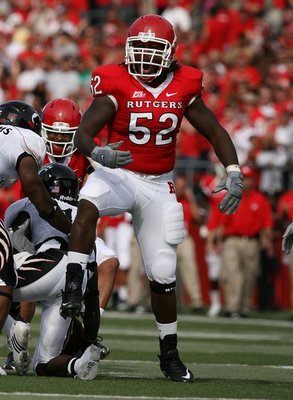 Get well soon, Eric LeGrand
First of all, a belated get well wish to Eric LeGrand. You never like to see guys get hurt like that and I sincerely hope he makes a full recovery.
With this situation still developing, it's hard for me to read too much into their loss to Pittsburgh this weekend. I can't imagine how tough it must have been to return to the gridiron just a week after witnessing a comrade suffer such a horrific injury.
The rest of the season should tell the tale for Rutgers. Unfortunately, even with the bye week, there isn't much of a break coming because the Knights travel to Tampa to take on USF next Wednesday night.
No. 4: USF Bulls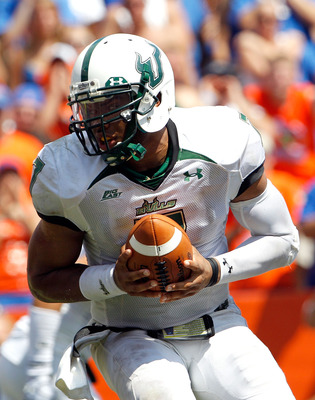 Sam Greenwood/Getty Images
Here's the question that's just hanging in the air, like the scent of some unknown food cooking that you can't quite discern: Did the USF offense finally wake up on Friday night, or is Cincinnati's defense really just that bad?
The Bulls offense looked pretty bad in the two weeks preceding their shootout with the Bearcats. To be fair, they were up against a couple very solid defenses in Syracuse and WVU; but failing to score an offensive touchdown in two straight games is still hard to believe.
No. 3: West Virginia Mountaineers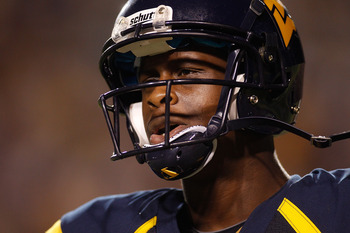 Chris Graythen/Getty Images
I really did not expect the Mountaineers to take a tumble this weekend.
Their loss to Syracuse snapped a 12-game home winning streak, an eight-game winning streak over the Orange and knocked West Virginia right out of the Top 25.
Geno Smith, who had looked like one of the two best quarterbacks in the conference coming into the week, looked confused the entire game. He threw three interceptions in the first half, completed only 20-of-37 pass attempts and the Orange defense sacked him five times.
After the first quarter, in which the Mountaineers offense put up 14 points and looked like they would roll, West Virginia was held scoreless. The Orange didn't even have to force a turnover in the second half to keep them off the scoreboard.
It's back to the drawing board for Bill Stewart, who may be noticing his seat's temperature rising now. West Virginia has a great opportunity to rebound this weekend, though, when they take on UConn.
No. 2: Syracuse Orange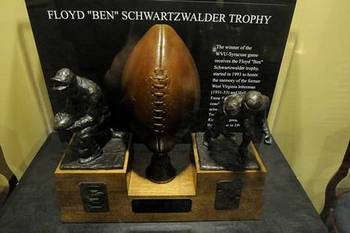 Scout's honor, if I'd skipped studying long enough to put together a power ranking last week, the Orange would have taken a mighty fall after their home loss to Pittsburgh.
I spent most of the week trying not to think about what was going to happen on Saturday when they traveled to Morgantown. Hell, I was so convinced that this game couldn't possibly go well that I actually overslept and missed all of West Virginia's scoring (fortunately, that was only about 20 percent of the game).
To say that the men in orange redeemed themselves after the Pitt loss might be a bit of an understatement, all things considered.
Winning in this nearly forgotten rivalry game and taking home the Ben Schwartzwalder Trophy is huge, in both practical and symbolic terms.
What better way to make a statement that your program, which was once the flag-bearer for the conference, is on its way back than to go into the home of the team that's dominated the league in your stead and win?
In all likelihood, the Orange are still a year or two away from realistically having a chance to capture a Big East trophy. For now, though, they can be content in bringing the trophy named for their greatest coach back home where it belongs.
No. 1: Pittsburgh Panthers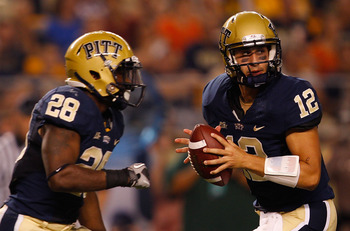 Jared Wickerham/Getty Images
Two weeks ago, the preseason favorites were all but left for dead.
Now, after two sound beatings of Syracuse and Rutgers, and a loss to West Virginia, the Panthers look to be back on top.
Tino Sunseri has gotten better every week (although the early season criticism was incredibly overblown, in my opinion). After lighting up two of the Big East's better defenses in consecutive weeks, he looks to be among the league's best. The offensive line seems to be improving, and suddenly Dion Lewis once again looks like the back who won the league's offensive player of the year award as a freshman last year.
Pitt fans would do well to not start thinking about BCS games just yet, though. Even with West Virginia's loss Saturday, the Backyard Brawl is never a gimme for either team and, realistically, just about anyone else in the conference could take them down, too.
Keep Reading

Syracuse Football: Like this team?