Top 50 Reasons College Football Is Better Than the NFL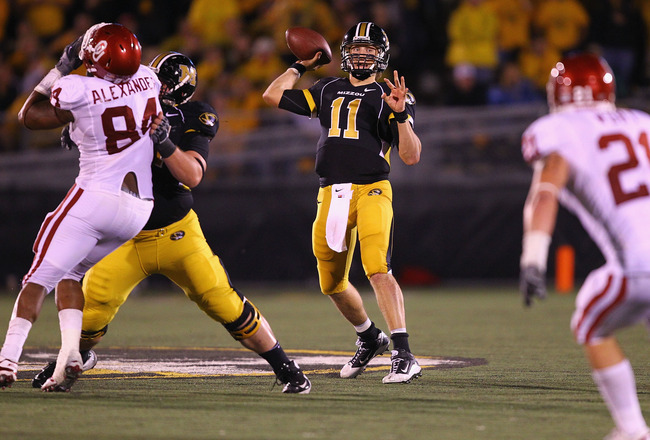 Dilip Vishwanat/Getty Images
This is an argument that takes place between college football fans and NFL fans around the country every single year.
The NFL fans will ask the college football fans when they'll let humans decide the championship game rather than computer. The college fans will wonder when the NFL will adopt a real overtime rule.
The debate will rage on and on with no end in sight, but that's how we like it.
Me, personally, I've been looking forward to this opportunity for awhile. College football fans, you can rejoice, because it's time for me to take your side. Because that's where I want to be.
There's nothing better than a Saturday afternoon or Saturday night sitting at our favorite teams' stadiums or tailgating a few hours prior to the game.
Throwing on the home jersey, smelling the great food that is synonymous with just about every tailgate in the country, and watching the best entrance in sports.
Not only that, but there are traditions, upsets, historic rivalries, marching bands, dotting the "i," and so much more that is a part of every single Saturday.
Sorry NFL fans, but here are 50 reasons why college football is better than the NFL.
No. 50: The Smurf Turf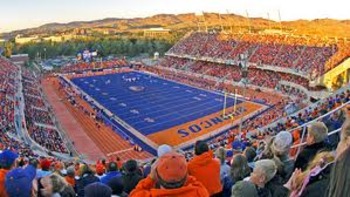 Ok, yes I know there are some college football fans that hate the Smurf Turf in Boise, Idaho but there isn't a college football fan anywhere that doesn't know about it.
No. 49: Homecoming

A tradition that was started by the University of Missouri back in 1911, the "homecoming" has been adopted by just about every school in the country.
No. 48: The Pink Visiting Locker Room at Iowa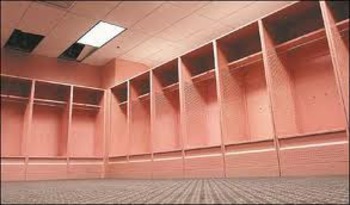 If you want to get in the heads of the visiting team, you'd do exactly what the University of Iowa did.
They painted the visiting locker room pink.
No. 47: Draft Parties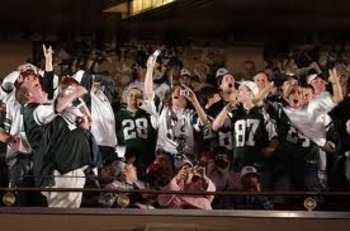 Ah yes, the NFL draft party. This is where a bunch of fans sit in a theater and do nothing but watch players stand up, go up to the stage, and take pictures with the commissioner.
Fun times.
No. 46: Out Of Control Ticket Prices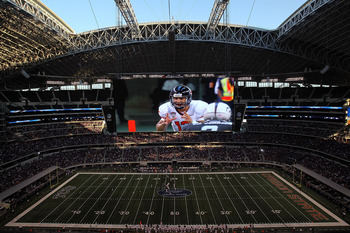 Ronald Martinez/Getty Images
I'm less likely to pay upwards of $250 for one ticket to go to a Dallas Cowboys game and that's for seats so high up that the players look more like ants.
So, I'll end up watching the enormous screen which means I just gouged for something I could have done at home.
No. 45: Play For a School, Not a Paycheck
David Purdy/Getty Images
Say what you want about agents trying to pay college players, but not every college player gets those advances.
That being said, most of these collegiate players play for the school name on the jersey, not the dollar signs on the paycheck.
No. 44: NFL Turning Into Flag Football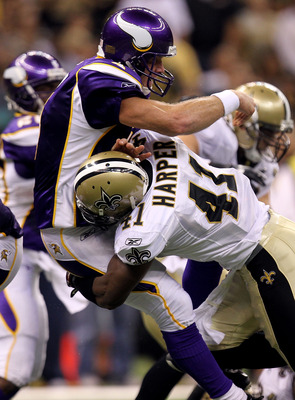 Ronald Martinez/Getty Images
The NFL has now adopted a rule where they will fine players for "devastating hits." Why don't we just give them flags so we can get it over with.
No. 43: No Terrell Owens Type Divas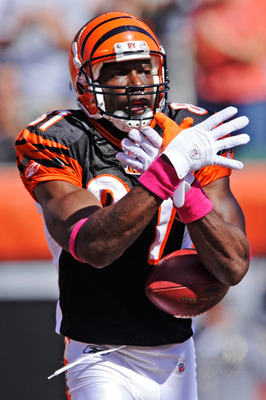 Jamie Sabau/Getty Images
Can anyone name a college football wide receiver that is the equivalent to Terrell Owens or, better yet, Chad Ocho Cinco?
Didn't think so...
No. 42: Weapons Aren't Allowed In Stadiums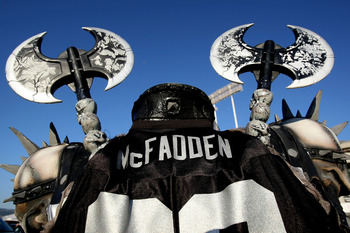 Jed Jacobsohn/Getty Images
Security in college stadiums usually make sure stuff like this doesn't make it in to their stadiums where NFL stadiums apparently encourage it.
No. 41: More Games to Watch On a Saturday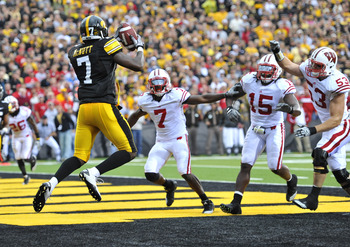 David Purdy/Getty Images
While there are at least 13 games during any given Sunday, only a few of those can be found on national networks. Most of those aren't even your best games of the week.
On the flip side, there are several national networks that will give you all sorts of choices and most of those, at least at the end of the day, are some of the best games on the schedule.
No. 40: Oregon Ducks Uniforms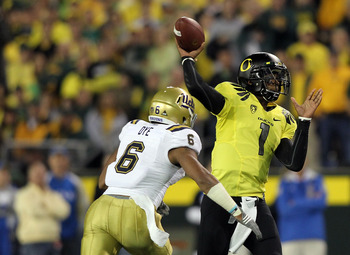 Jonathan Ferrey/Getty Images
God bless the University of Oregon for going ugly on their uniforms. At least they're original
No. 39: Players Leading The Band After The Games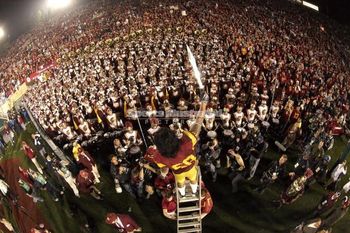 The tradition, mostly seen at USC among other schools around the country, are players leading their school's marching band after games.
There's nothing like a player climbing the ladder and leading the fight song.
No. 38: College Campuses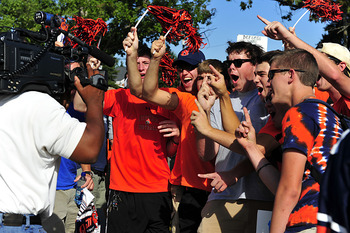 There's nothing like being on campus on game day.
The faces are painted, the pom poms are out, the students begin to walk toward the stadium.
No. 37: Keith Jackson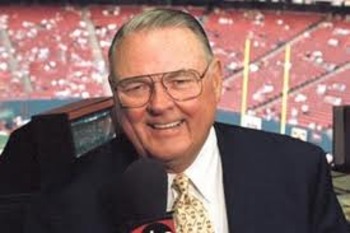 While Keith Jackson has moved on, there was no better voice to call a college football game. And no there's no comparison to John Madden, so let's not even go there.
No. 36: John Madden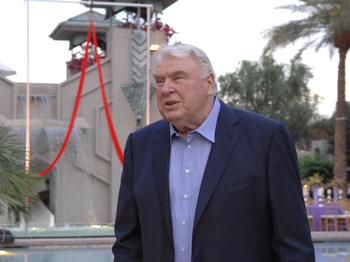 A. Messerschmidt/Getty Images
John Madden has seen his better days, but it's almost painful to listen to him now.
No. 35: No Owners to Singlehandedly Destroy Teams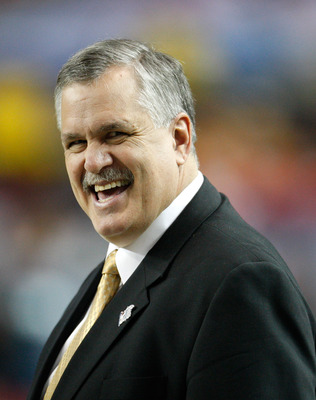 Mike Zarrilli/Getty Images
The Detroit Lions can thank Matt Millen for the job, or lack thereof, he did with the team. How did that work out?
No. 34: Lack of Field Goal Kickers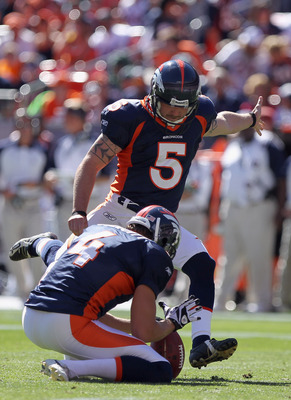 Doug Pensinger/Getty Images
I'm glad I don't have to watch a lot of college games that are decided by nine field goals from the kicker.
No. 33: Pre-Season Games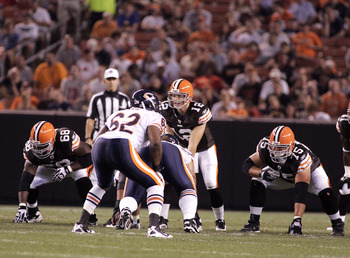 Justin K. Aller/Getty Images
There's nothing worse than NFL pre-season games, not to mention the length of them. It's like baseball's spring training.
No. 32: One Loss Could Mean Everything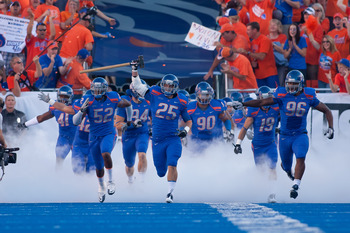 Otto Kitsinger III/Getty Images
In the NFL, you can go 8-8 and still make the playoffs.
In college football, an 8-8 season will probably leaving you sitting at home watching the bowl games.
One loss could be the difference between a national championship shot and just another bowl game.
No. 31: No Holdouts For More Money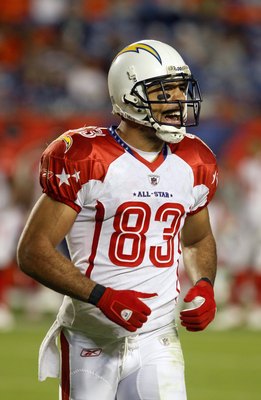 Scott Halleran/Getty Images
Under contract but still able to sit on the sideline and demand more money. It's nice to know that money is the determining factor.
No. 30: Less Coaching Turnover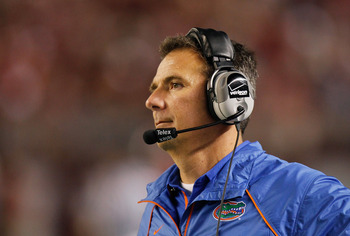 Kevin C. Cox/Getty Images
Urban Meyer, Steve Spurrier, Mack Brown, Bob Stoops, I could go on and one.
There isn't the coaching turnover in college football that there is in the NFL.
No. 29: Pride in Your Favorite School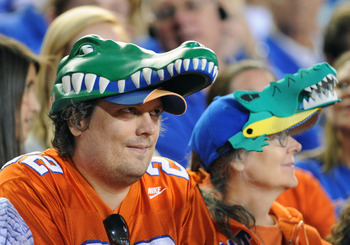 Al Messerschmidt/Getty Images
I'll give you an example at least where I live.
When it's Sunday, most of this town has Dallas Cowboy jerseys on. When it's Saturday, those same people have jerseys on from schools like Texas, Oklahoma, Ohio State, Texas A&M, Texas Tech, etc.
Here's the point. NFL fans will jump off bandwagons faster than they'll jump off their college bandwagon because there's more pride in their college team than their pro team.
No. 28: No Joke Of a Halftime Show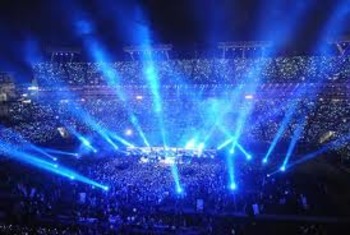 At some point, I'm hoping the NFL realizes that the acts they're putting together are just short of awful. I'm just glad college football hasn't stooped to that level.
No. 27: No Brett Favre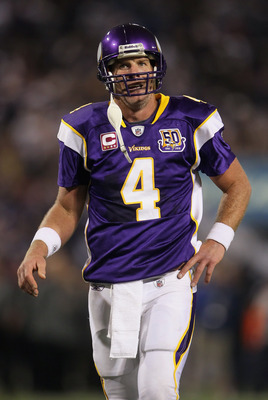 Jeff Gross/Getty Images
Saturdays are great days because we don't have to hear about Brett Favre or the pictures he sent to some sideline reporter.
Great day.
No. 26: The Option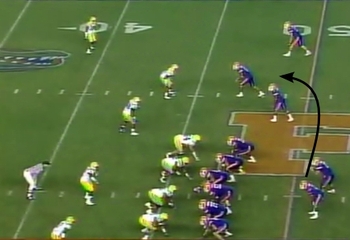 Nothing says college football like the option. It's not the NFL can't run it, the coaches just don't know how to make it work.
No. 25: Penn State's "White Out"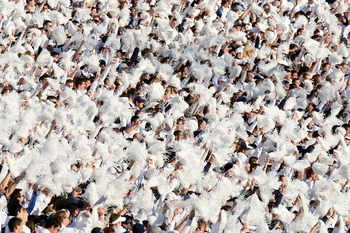 Hunter Martin/Getty Images
The "White Out" at Penn State University. Enough said.
No. 24: Virginia Tech's "Enter Sandman"
If this doesn't get you ready for a game, I don't know what does. Let's see the NFL give this a shot.
No. 23: A Legitimate Overtime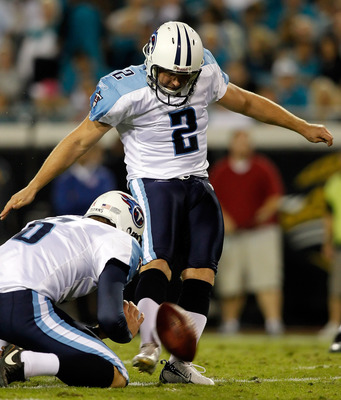 J. Meric/Getty Images
When overtime comes, college football actually does it the right way.
Each team with a possession, each team with a shot to get the win. Not a "first team to score wins."
No. 22: Stadiums With Their Own Personality
There are several college football stadiums that have more personality than every NFL stadium combined.
The Horshoe at Ohio State, Camp Randall Stadium at Wisconsin, The Swamp at the University of Florida, Tiger Stadium at LSU, The Big House at the University of Michigan.
Just a few stadiums that sell out just about every single game and each over 80-90 thousand fans.
No. 21: Bevo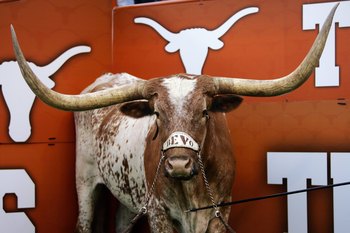 Brian Bahr/Getty Images
Is there a more recognizable mascot than the University of Texas' own, Bevo?
Know any NFL teams that can match it?
No. 20: Wisconsin "Jump Around"
There's nothing like going to Camp Randall Stadium and hearing "Jump Around" start playing. You don't have this much fun at an NFL game.
No. 19: The Tennessee Vols Navy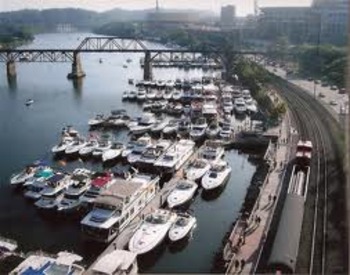 The "Volunteeer Navy" was started by former Tennessee broadcaster George Mooney back in 1962 when he didn't want to deal with traffic so he'd dock his boat there.
Since then, fans have done the exact same thing on game day.
No. 18: LSU Tiger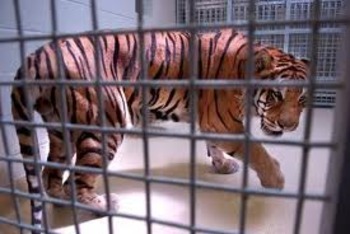 One of the best live mascots in all of college football is LSU's tiger, Mike.
No. 17: Red River Shootout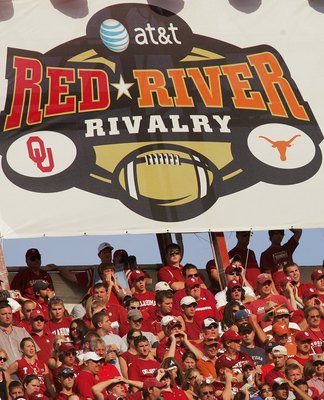 Ronald Martinez/Getty Images
There are good rivalries in the NFL, but when it comes to college football, there are the best rivalries that sports can offer.
Texas and Oklahoma are just one of those bitter rivalries as they go head-to-head in the Red River Shootout.
No. 16: Fans Rushing The Field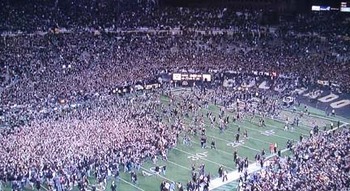 When an upset takes place, there's nothing better than being a student or fan being able to rush on the field and celebrate.
No. 15: 12th Man at Texas A&M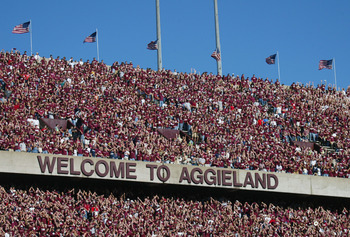 Ronald Martinez/Getty Images
Yes, the 12th Man. If you've ever been to College Station, Texas than you know what the "12th Man" is. But experiencing it is something entirely different.
No. 14: No Free Agency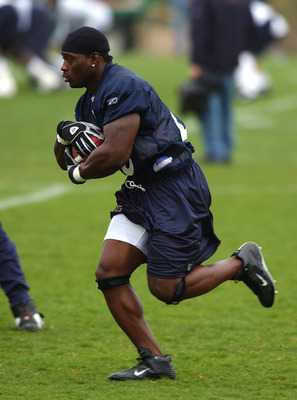 Jonathan Daniel/Getty Images
Free agency. A time were a professional athlete looks for the highest bidder before he signs with a specific team.
I know NFL fans will say "college recruits sign with the highest bidder too." Sure, some of them take gifts that they're not supposed to, but at least they don't threaten to hold out for an entire season.
No. 13: Marching Bands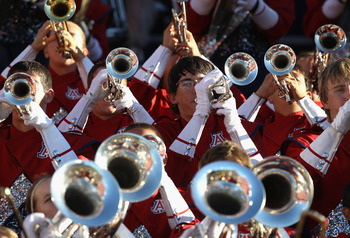 Christian Petersen/Getty Images
Part of the atmosphere of being at a college football game is hearing the marching band play not only before the game but at halftime.
No. 12: LSU Tailgates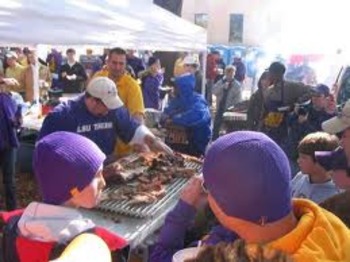 From what I've heard, because I've never taken part in one myself, LSU tailgates are the best around. They say "we didn't invent tailgating, we perfected it."
No. 11: Cheerleaders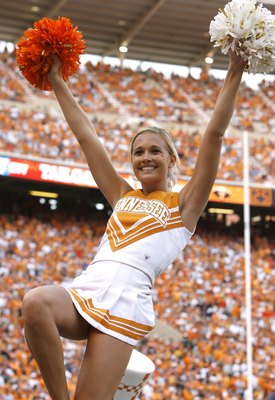 Joe Murphy/Getty Images
Say what you want about some of the NFL cheerleaders, there's nothing like a college football cheerleader. Especially in the south.
No. 10: Howard's Rock at Clemson University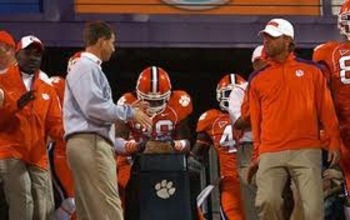 Before every game, it's a tradition for the Clemson players to tough the two and a half pound "Howard's Rock" before they take the field.
No. 9: Historic Stadiums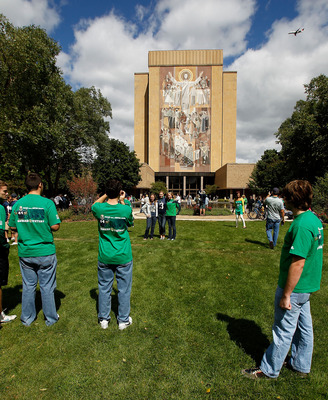 Jonathan Daniel/Getty Images
Visiting some of the most historic stadiums is what makes college football have that much more meaning behind it.
Taking in a game in South Bend, Indiana and seeing 'Touchdown Jesus' makes a trip complete.
No. 8: Passion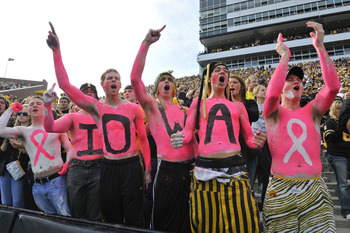 David Purdy/Getty Images
I know the NFL has it's share of 'painted faces' in the stands at the games, but there's more passion behind the average college football fan.
No. 7: The Upset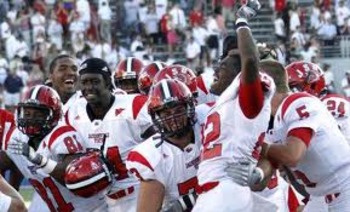 There are no upsets in the NFL, at least not ones that fans get excited about.
But, in college football, there are upsets like Jacksonville State's win over Virginia Tech or Appalachian State's upset win at Michigan a few years ago.
No. 6: USC Song Girls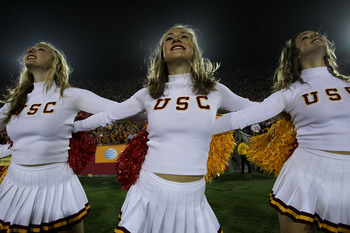 Stephen Dunn/Getty Images
Some college cheerleaders might be hot, but nothing gets it done like the USC song girls.
No. 5: Bowl Season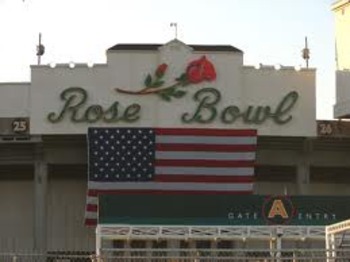 When college football gets into the months of December and January, it means bowl season. The Rose Bowl, Orange, Fiesta, Sugar, and every other bowl in between.
Basically, it just means more football to enjoy.
No. 4: Notre Dame "Play Like a Champion" Sign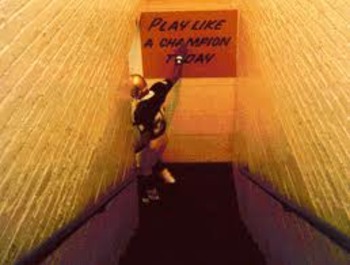 While "Howard's Rock" is synonymous with Clemson University, there's nothing quite like the tradition of the "Play Like a Champion Today" sign that the Notre Dame players touch before every game.
No. 3: College Gameday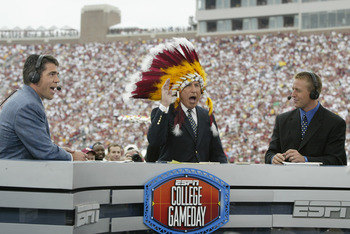 Craig Jones/Getty Images
A sign that it's college football season is the College Gameday crew rolling in to whatever campus they're going to be at during that particular weekend.
I don't see Fox NFL Sunday going out to different stadiums each weekend, do you?
No. 2: Dotting The "i" at Ohio State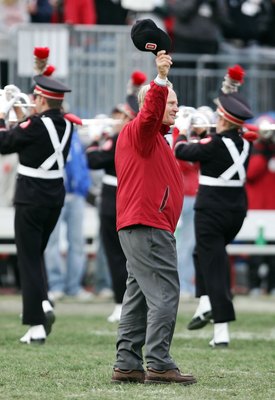 Harry How/Getty Images
Arguably the most famous of pastimes in college football is the dotting of the "i" at Ohio State.
But they don't give the honor to just anyone. Case in point, Hall of Fame golfer Jack Nicklaus got to do it back in 2006.
No. 1: Army Navy Game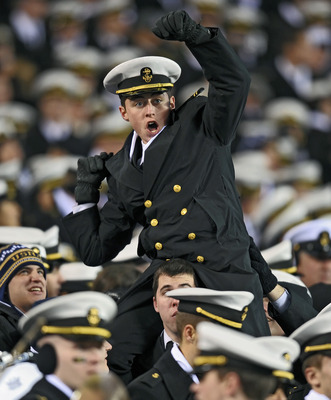 Drew Hallowell/Getty Images
The number one reason that college football is better than the NFL is the long standing rivalry between Army and Navy.
It's been held every year, with exception to 10 different years it wasn't held, since 1890. The longest game played between two teams in college football history.
This is the only game that gets the weekend all to itself. It's a game where you get to see the men and women of the armed forces in uniform cheering for their side.
Keep Reading