Iowa Hawkeye Football: Time To Go Back To the Drawing Board After Wisconsin Loss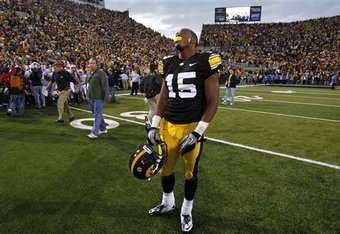 When it comes to football losses, I am a firm believer in two things. Firstly, I don't buy the argument that the other team didn't "deserve the win." Whoever got the win deserved it, and that is that.
Secondly, a loss is a team loss, just like a win is a team win. You can't point to one player or one squad and declare them the reason for the loss.
With that said, I will hold to those tenets here.
On Oct. 23, 2010, Wisconsin beat Iowa and the Badgers deserve the 'W'. Moreover, every player and coach on Iowa's roster gets credit for the 'L.'
However, all bad things come in threes, and there are three upsetting truths to face.
To begin with, this Iowa defense is not as good as we'd hoped it would be. I don't know exactly what the problem is. Are the three All-Big Ten defensive players that graduated from last year's squad really the difference between a top-10 group and the team that has let up 59 points in the last two weeks?
Is Jeff Tarpinian's injury affecting the defensive mojo that much? Is the absence of defensive coordinator Norm Parker making the difference?
I don't know the answer, but I do know that this year, multiple offenses have sustained multiple drives on a very proud Hawkeye defense.
Furthermore, the play clock management of the Iowa coaches was embarrassing. I am not absurd enough to call for any heads to roll over this, and, as always, there is nobody I would want at the helm of the Hawks other than Kirk Ferentz.
Yet, we have watched Ferentz and offensive coordinator Ken O'Keefe run the two-minute offense a number of times over the past 11 years. With only one or two exceptions that I can think of, they have typically done a terrible job.
Even Iowa's biggest play during the Ferentz era was the product of botched clock management. It just so happened that while Ferentz and O'Keefe were botching that, the LSU defense was making mistakes of its own.
Against UW, Iowa ran a quarterback sneak on fourth-and-one, and didn't seem to have a second play ready to go when the ball was spotted. In effect, they had to burn their last time out and that was the final mistake in a game full of mental and physical errors.
Finally, the special teams on the 2010 Iowa Hawkeyes are the embodiment of inconsistency. Moreover, the special team's playcalling on the 2010 Iowa team leaves something to be desired.
I think everybody in the stadium knew Wisconsin coach Bret Bielema was going for a fake punt on fourth-and-four with 6:24 left in the game, and Iowa up by six. Why didn't Kirk Ferentz?
In fact, after the Iowa special teams took an offside on a kickoff (!?!?!?), I thought to myself, "The Iowa special teams really haven't been consistent in every facet of the game since 2004."
Certainly, there have been up years on the kickoff return. However, at the same time the kickoff return has been up, perhaps the kickoff coverage has been down.
Back in 2004, I remember every single television announcer, in their usual tendency to repeat the same thing over and over, proclaimed, "You can't say enough about the Iowa special teams."
Now, here we are in 2010 and all things considered, I can think of quite a lot to say about the Iowa special teams, and most of it isn't good.
This is especially daunting when one considers that Michigan State is coming to Iowa City next weekend. MSU has arguably the best special teams in the Big Ten, let alone in the country.
And when I say "best" I mean kicking, punting, coverage and returns. They are at or near the top of the conference in every single category.
In the end, maybe I'm just frustrated. As frustrated as I can remember being since the 2008 game against Pitt; another game where Ferentz was out-coached by what I honestly consider to be an inferior head man on the opposing team.
Regardless, this is a team win for Wisconsin and a team loss for Iowa.
Kirk Ferentz often talks about how he and his staff approach the end of the season. They look over how everything went, and they reflect on what they could do differently to improve the team's performance in the future.
Maybe after this season, they need to go back to the drawing board regarding their special teams and two-minute offense philosophies.
This article is
What is the duplicate article?
Why is this article offensive?
Where is this article plagiarized from?
Why is this article poorly edited?

Iowa Hawkeyes Football: Like this team?