BCS Rankings 2010: Potential BCS Championship Games Worth Boycotting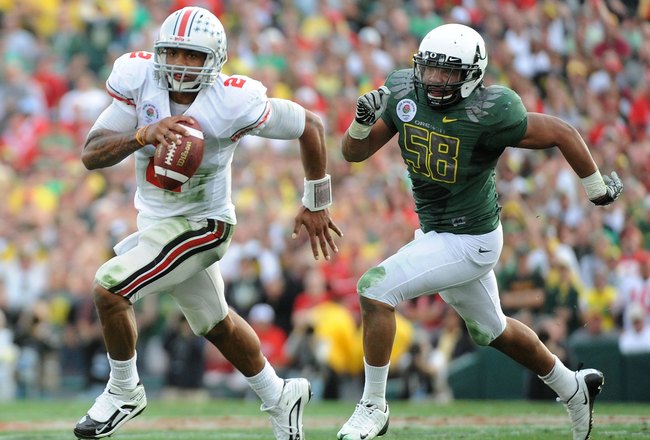 Harry How/Getty Images
With the first BCS Rankings being released earlier this week, it is time to start taking a glimpse into the future at possible National Championship Game possibilities.
It is easy to say that most favor a matchup between two big name BCS schools, for instance the 2010 game featuring Alabama-Texas, BCS busters TCU and Boise State could steal the limelight.
While many are looking at the best possible contests between the most elite schools this season, let's take a look at some matchups that could bring some disappointment to the overall college football fan.
Oregon vs. Boise State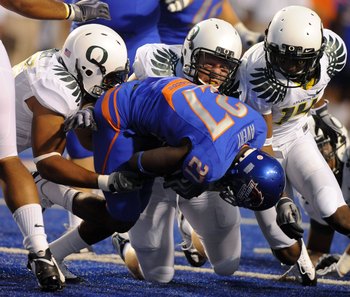 Steve Dykes/Getty Images
A rematch of the 2009 season opener between Oregon and Boise State? No Thanks!
While some would argue that this would be the place for Oregon to break the two-game losing streak to the Broncos, it doesn't hold the same appeal to others outside of the two fan bases.
It might be worth watching if punches are thrown...again.
Ohio State vs. Oregon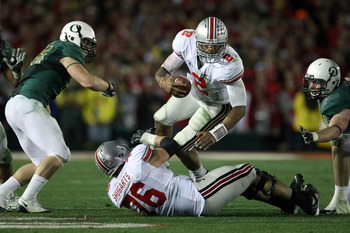 Stephen Dunn/Getty Images
This would be a rematch of the 2010 Rose Bowl, in which Ohio State took down the Oregon Ducks.
While a rematch could be exciting between the two powerhouse schools, it might just be all too familiar. Both teams feature almost the same squads as last year, which could make for a very repetitive rematch.
Sure, both schools have improved upon last year, but what would it prove between the two schools? If Oregon wins, their bowl series is tied. Ohio State wins, and it is just a mirror image of the Rose Bowl.
TCU vs. Boise State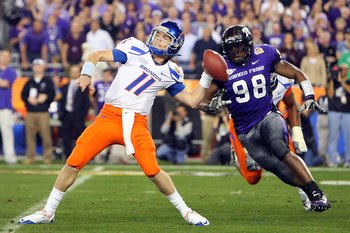 Christian Petersen/Getty Images
We have all seen this matchup in recent history and know how it plays out.
Boise State took down the Horned Frogs in last year's Fiesta Bowl, while TCU beat the Broncos in the 2008 Poinsettia Bowl, in what ended up to be very average contests.
Not to mention a Mountain West Conference vs. Western Athletic Conference National Championship Game only appealing to a small fraction of the country.
Michigan State vs. Ohio State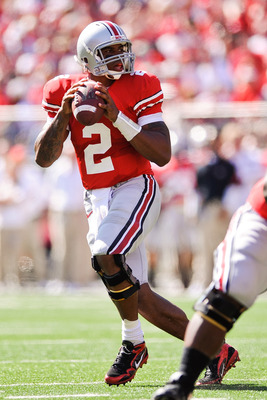 Jamie Sabau/Getty Images
If by some miracle chance the teams in front of Ohio State acquire losses and the Buckeyes move themselves back down the ranks and meet an undefeated Michigan State, what are the possibilities the whole country would be interested?
Think of it this way, it would be like the Dodgers and Angels meeting in the World Series. Three quarters of the country likely would not care.
Without a Big Ten Championship Game in place yet and the two not facing off in the regular season, there is a slim possibility.
Utah vs. Auburn
Mike Zarrilli/Getty Images
Utah vs. Auburn. Not much appeal there.
It would be great to see the Tigers reach the National Title Game but against the Utah Utes? This would not make SEC fans happy as they continue the chants for the No. 1 conference.
It would really be a no-win situation for the SEC. Auburn wins? Great, it beat a Mountain West team. Auburn loses? There goes the conference supremacy.
Oklahoma vs. TCU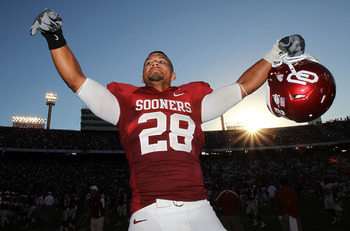 Ronald Martinez/Getty Images
While Oklahoma vs. TCU would be a regional favorite, it would be incorporating the wrong non-AQ team.
If Oklahoma is to play a member from a conference without an automatic bid, it should be the rematch of the 2007 Fiesta Bowl against Boise State—where the Broncos beat the Sooners in overtime, in what was one of the greatest BCS Bowl Games to date.
LSU vs. TCU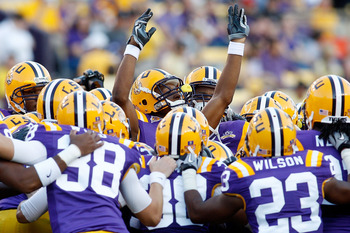 Chris Graythen/Getty Images
TCU has a higher probability to end the season undefeated than LSU because of their respective conference schedules, but if both were to run the tables, this matchup is a possibility.
It is hard to find any national appeal here in yet another SEC vs. Mountain West bout. Both schools have great followings, but outside of the respective fan bases, would the rest of the country buy into it?
Oklahoma vs. Ohio State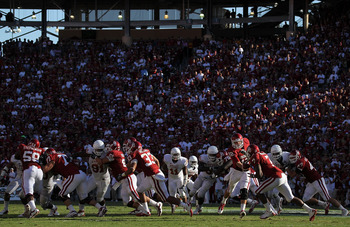 Ronald Martinez/Getty Images
Now, this isn't one for fans to throw out—but rather Vegas.
Vegas' head would likely explode seeing that since the inception of the BCS in 1998, Ohio State is 1-2 in National Title games, while Oklahoma is 1-3.
"Can they both lose?"
Keep Reading