Notre Dame Football: Power Ranking The Irish's Remaining Opponents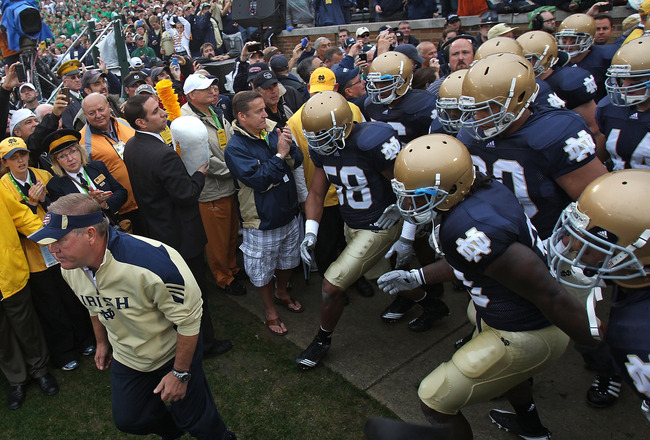 Jonathan Daniel/Getty Images
We've breezed past the halfway point of the season leaving just five games left in the 2010 campaign for the Fighting Irish. After an abysmal and frustrating 1-3 start, Brian Kelly's squad has righted the ship and reeled off three straight victories. The second half of the season was considered preseason to be the easier part of the schedule. Will that be the case?
Today we examine the five remaining opponents on the Irish schedule and rank them from last to first in terms of who will provide the toughest tests for the Irish. Can Notre Dame run the table to get to 9-3?
Let's take a look.
5. Tulsa (October 30)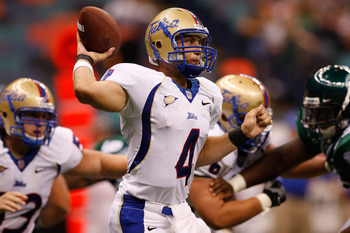 Chris Graythen/Getty Images
KEY STATS
Record: 4-3
Ranking: N/A
Best Win: Tulane
Worst Loss: East Carolina
Points Per Game: 38.4 (11th)
Rushing Offense: 221.6 (17th)
Passing Offense: 270.0 (27th)
Points Allowed: 28.9 (85th)
Rushing Defense: 113.1 (25th)
Passing Defense: 330.1 (120th)
The Golden Hurricane will make their first trip ever to Notre Dame Stadium in two weeks and it should be another cupcake along the lines of Western Michigan for the Irish to digest. Tulsa has a prolific offense led by quarterback G.J. Kinne that comes at you from every conceivable angle—if you were thrown a bit by the shifts Western Michigan employed a couple times in the first half just wait until you see Tulsa's offense. They can—and most likely will—find a way to put some points on the board against ND.
Unfortunately for them though, offense is only half the battle. For how prolific the Golden Hurricane's offense is the defense is the opposite. Oklahoma State is the only major conference team they've played this year and the Cowboys lit them up for 65 points.
This will be a stat-stuffer game for the Irish passing game. Tulsa's passing defense is ranked dead last in the NCAA and rest assured they haven't gone up against anyone like Michael Floyd.
Prediction: Notre Dame 55, Tulsa 27…The Irish find their way into the 50's for the first time since Willingham beat up on Stanford in 2002.
4. Army (November 20)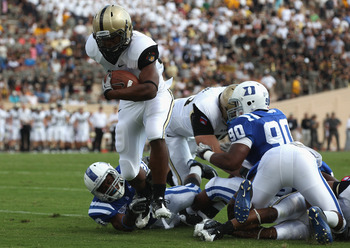 Streeter Lecka/Getty Images
KEY STATS
Record: 4-3
Ranking: N/A
Best Win: at Duke
Worst Loss: Rutgers
Points Per Game: 21.1 (96th)
Rushing Offense: 276.4 (8th)
Passing Offense: 109.5 (117th)
Points Allowed: 23.9 (61st)
Rushing Defense: 117.0 (28th)
Passing Defense: 196.9 (46th)
Army is on the rise under Rich Ellerson, who junked the pro-style attack he inherited and re-installed the triple-option. Before he arrived last year the Black Knights had been once of the most hapless teams in D-I, but this year the fight is back and they've been competitive in every game (their three losses are by 3, 7, and 3 points).
The key to their offense is ball control, something they do better than any team in the country. Army's currently ranked #1 in the NCAA in time of possession—a stat that Notre Dame is ranked 114th—which helps them limit opponent possessions and shorten the game.
An advantage Notre Dame will have is the fact that they'll have already faced Navy who employs the same attack. In fact, just like Navy coach Ken Niumatalolo, Ellerson learned at the side of former Navy Head Coach Paul Johnson. The Irish will essentially have had two weeks of preparation for the option by then instead of one.
Army has done a great job reestablishing itself as a respectable, competitive team and the results this season have been impressive enough to think they can finally give Navy a run for their money this December…but they're still miles away from keeping up with the Notre Dames of the world.
Prediction: Notre Dame 31, Army 13…A comfortable victory for the Irish on a cold November night in Yankee Stadium.
3. Navy (October 23)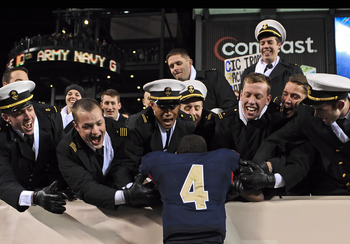 Drew Hallowell/Getty Images
KEY STATS
Record: 4-2
Ranking: N/A
Best Win: at Wake Forest
Worst Loss: Maryland
Points Per Game: 21.1 (96th)
Rushing Offense: 259.0 (9th)
Passing Offense: 109.5 (117th)
Points Allowed: 18.2 (22nd)
Rushing Defense: 163.0 (78th)
Passing Defense: 160.2 (9th)
The Middies have won 2 of 3 in this series since breaking their 43-game losing streak in 2007. Led by their dynamic quarterback Ricky Dobbs, the Midshipmen field another potent option rushing attack that the Irish must deal with.
Surprisingly though, Navy has stumbled out of the gate in a year many pegged them to be a potential Cinderella team. First came the embarrassing loss to Maryland to open the season, then they stumbled against Air Force for the first time since 2002. While the rushing game has been effective their offense hasn't put up a ton of points. Pretty much every game has been ugly—win or loss—but that doesn't mean they won't be ready to give the Irish all they can handle as they've done with regularity in recent years.
The Middies are light up front on defense which has led to some issues stopping the run. If the Irish are able to play disciplined and not beat themselves with turnovers then they should be able to exploit the size, speed, and talent gap.
Beating Notre Dame twice in three years has done a lot for Navy's confidence since they know what was impossible for 43 years can be done. At the same time though there is no chance the Irish will overlook them again in the near future—they've got the giant's full attention now.
Prediction: Notre Dame 34, Navy 20…Just like they reminded Boston College of its proper place in the relationship a few weeks ago, they'll do the same with the Mids.
2. Utah (November 13)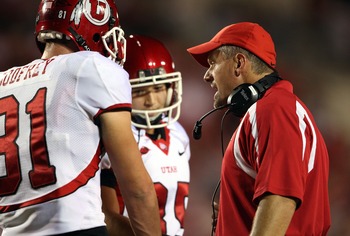 Andy Lyons/Getty Images
KEY STATS
Record: 6-0
Ranking: #9 in both polls
Best Win: Pittsburgh
Worst Loss: N/A
Points Per Game: 45.8 (4th)
Rushing Offense: 188.7 (32nd)
Passing Offense: 248.3 (39th)
Points Allowed: 14.0 (9th)
Rushing Defense: 97.3 (13th)
Passing Defense: 155.7 (6th)
Utah is the only team currently ranked on the rest of Notre Dame's schedule, checking in at #9 in both polls. Head Coach Kyle Whittingham has his Utes rolling once again with an eye on crashing the BCS party—and maybe much more than that if the cards break the right way.
The Utes are led by a stifling defense that's ranked in the top 15 in the three major statistical categories. After a heart-stopping overtime victory against Pitt in the season opener they've gone about flattening every team that has gotten in their way.
When you look at the entire body of work though, Utah may be a bit overrated. Their victory over Pitt looks weaker and weaker with each passing Panther loss and the Utes have yet to play anyone else that qualifies as even remotely good. When they arrive in South Bend they'll be in the final leg of a brutal three game stretch: at Air Force, vs TCU, and at Notre Dame. Meanwhile, Notre Dame will be fresh off a bye.
There's a good chance Utah will be exposed by the time they take the field against the Irish…but there's also a chance they'll be ranked in the top five. That ranking shouldn't make fans think the Irish are dead in the water though—after all, Notre Dame was an unsuccessful trick play away from defeating now #7 Michigan State on the road.
Prediction: Notre Dame 23, Utah 21…The Irish catch Utah at their weakest after two brutal games against Air Force and TCU and pull the "upset" at home.
1. Southern Cal (November 27)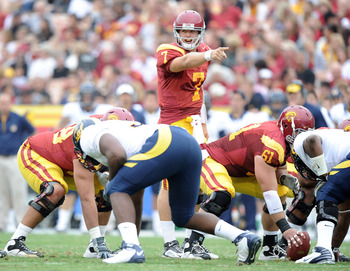 Harry How/Getty Images
KEY STATS
Record: 5-2
Ranking: N/A
Best Win: Cal
Worst Loss: Washington
Points Per Game: 37.4 (13th)
Rushing Offense: 213.0 (20th)
Passing Offense: 281.0 (21st)
Points Allowed: 24.3 (62nd)
Rushing Defense: 128.4 (39th)
Passing Defense: 274.0 (111th)
Make no mistake: even though Utah is far and away the highest ranked team on Notre Dame's schedule the dragon that must be conquered resides in Los Angeles. The Trojans' offense has started to roll after sputtering a bit early in the year. Matt Barkley is coming into his own as a passer aided by one of the most talented receiving units in the country. Meanwhile they're gaining yardage chunks at a time on the ground—the top two backs (Bradford and Tyler) are averaging 7.7 and 5.8 yards per carry.
The defense has been vulnerable—especially through the air—but it's still stacked with talent. There have been growing pains as the team adjusts to Monte Kiffin's scheme but they showed clear signs of progress last week when they smothered Cal. People have started to sleep on the Trojans, but remember their only losses came to top-tier conference opponents on field goals as time expired.
Southern Cal is the only team Notre Dame will line up against that undeniably has more talent all over the field. The final game of the Irish season will undoubtedly provide the sternest test and clearest indicator of just how far the team has progressed in Brian Kelly's first year.
Prediction: Southern Cal 34, Notre Dame 21…There's been progress in South Bend, but just not enough to take down Troy this year. All signs point to Lane Kiffin's day of reckoning coming next October 22nd in South Bend.
Keep Reading

Notre Dame Football: Like this team?