BCS Rankings Week 1: Who's Got the Inside Track for the BCS Title Game?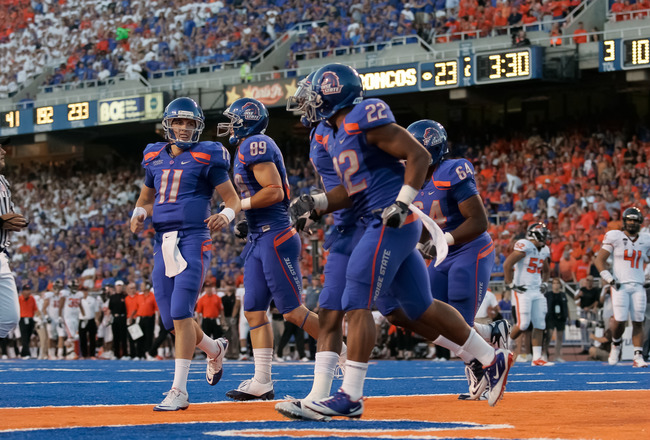 Otto Kitsinger III/Getty Images
Oh, my. What a crazy, crazy weekend in college football. There were a lot of crazy things that happened—including, by the way, that the No. 1 team in the country lost for the second straight week. Oregon, following a bye week, should move up to No. 1 in both human polls.
With only Boise State providing any sort of drama with meaningful games early in the season, we're now getting into the meat of teams' various conference schedules—and just look at the results.
Don't look now, but this is starting to look like that very chaotic 2007. If Oregon goes down next week, I think people will start yelling "Playoff! Playoff!" a lot louder.
The purpose of this week's article is to analyze the chances of several top teams that I think have the best chance to get into the BCS Title Game. As the season is advancing, I've now added a fifth category in addition to the four from last week. Hint: you don't want to be in the fifth category.
The categories are:
A) Controls its own destiny;
B) Win, probably in;
C) Needs some help;
D) Long shot;
E) Needs a miracle.
The highest possible number of teams that could go undefeated this season has now been reduced to SIX, down from seven last week (SEC Champ, Big 12 Champ, Oregon, Michigan State, Boise State, MWC Champ).
Understand this is not necessarily what I think SHOULD happen, this is what I think WILL happen. Enjoy!
Controls Its Own Destiny: Oregon Ducks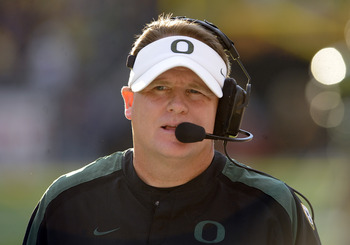 Steve Dykes/Getty Images
Oregon is the first team to get bumped up on the list this week, from grade B chances to grade A chances.
I didn't get TOO much hate mail from Oregon fans for my projections last week, when I ranked Oregon in the second category. Ohio State's loss opened up the national title race to a degree we haven't seen for a long time. While there are many potential beneficiaries of Wisconsin's intense home-field advantage, the clearest beneficiaries are the Ducks.
Much as I had stated for Ohio State last week, there is simply no way that the No. 1 team in both human polls can fall all the way to No. 3 in the BCS standings under any circumstances for the final tally. Oregon didn't play this week, but now they will wear that proverbial bull's-eye for the remainder of their schedule, unless, of course, they go down sooner than I expect.
Despite Oregon State's loss to Washington in double overtime, I'm still sticking with the Beavers for the upset. Oregon also has potentially dangerous games against California and Arizona before the civil war, but I expect them to win both games.
It's really simple for Oregon: Win, and they're in. That's all anyone can ask for.
Controls Its Own Destiny: Auburn Tigers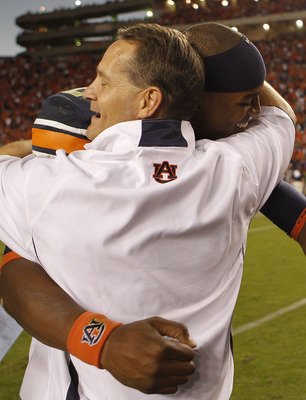 Mike Zarrilli/Getty Images
I hope you guys saw that game down at Jordan-Hare on Saturday, because it was a fun one. I only caught part of the game—but I saw enough to know the reason the Tigers won. As usual, it's all about Cam Newton.
After winning a shootout with the Arkansas Razorbacks this week, a huge showdown against a still-undefeated LSU looms next week. LSU is coming off a convincing win against hapless McNeese State, which somehow managed to lead early in the game but predictably faded down the stretch, succumbing to LSU's far superior depth and talent.
Auburn has the obvious thing going for it: It's an SEC team. And bottom line, there's just no way that an undefeated SEC team gets left out of the title game—ESPECIALLY if that team is Auburn, given the results of the 2004 season.
Auburn also has the advantage of having multiple remaining chances for statement wins, although following the South Carolina loss this week, Auburn's big remaining games might be reduced to two (LSU this week and Alabama at year's end in the Iron Bowl).
Auburn fans might worry, because they are Auburn fans, about getting snubbed—and I completely understand.
But bottom line, I don't think there is any way that an undefeated Auburn won't jump the teams ahead of it for the No. 2 spot. It isn't as clear-cut as Oregon's path, perhaps, but I think it's as close as any other team in college football has to that path.
Controls Its Own Destiny: LSU Tigers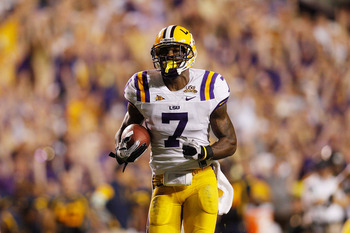 Chris Graythen/Getty Images
One of these two teams will fall from the top category next week—whether it is LSU or Auburn remains to be seen. The other will get a huge boost in every way, and will have removed one of two major obstacles remaining for a chance at the national title.
LSU, coming off a win against McNeese State, has a chance to make a statement by beating an Auburn team that seems to match LSU in every way except one—it has a much better quarterback. That said, they play the games for a reason, and LSU wasn't supposed to beat Florida last weekend, either (although Florida lost again this week, this time to lowly Mississippi State).
There's one final reason I believe LSU would jump Oklahoma, aside from being in the SEC...it's their coach. No, not because I think he is a great coach, in fact I think he's decidedly middling in all but one way.
The Hatter is maybe the luckiest man in college football, with squeaker wins against Tennessee and Florida already. I just have to believe that if LSU finishes the year undefeated, it will be as if the stars just aligned properly for the Tigers.
LSU's path will be clear next week...or they'll be on life-support. I can't overstate the importance of LSU-Auburn, which is clearly the marquee game next weekend (sorry, Big Ten fans).
Win, Probably In: Oklahoma Sooners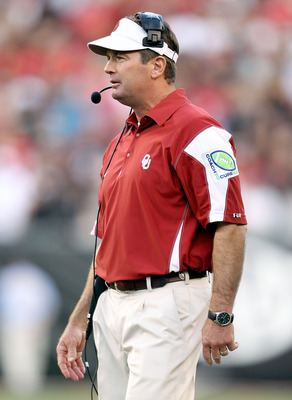 Andy Lyons/Getty Images
The Sooners, like the Ducks, move up a category this week, and it has less to do with them than what happened to the contenders around them.
When people say "undefeated champions from AQ conferences are a threat to OU," that doesn't actually include the likes of Michigan State, which started too far back in the polls to catch an undefeated OU. Equally important, Michigan State doesn't play Ohio State at all this year, so it doesn't get the chance to add to its case by beating a member of college football royalty.
So, for all intents and purposes, now that Ohio State has gone down, the Big Ten champ, even undefeated, poses no threat to an undefeated Oklahoma.
There is another reason, too: If you look at my rankings last week, you'll notice that I had OU below Alabama, and this week I've moved OU up a tier and above Alabama. The reason is the loss by South Carolina at the hands of Kentucky—the SEC East champ will now have, at minimum, two losses. In other words, they are basically there to play spoiler for whoever comes out on top of the Alabama-Auburn-LSU triangle.
Because it's the SEC, I still think an undefeated team goes ahead of the Sooners, so they'll need Alabama to take down whoever wins the LSU-Auburn game next week to get in. However, I no longer believe that a one-loss SEC team—even Alabama—will get enough of a boost from the SEC championship game to jump the Sooners.
Bottom line, Oklahoma moves up the pecking order and only needs a little bit more help to get in. Of course, they have to actually win out, starting with a road trip to undefeated Mizzou this week.
If they do run the table, they have a really good shot to make the dance. The Auburn-LSU winner OR Oregon takes a loss, and they are in.
Win, Probably In: Alabama Crimson Tide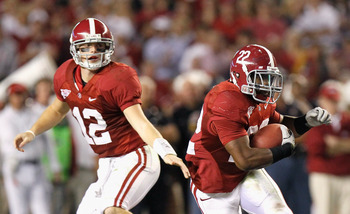 Kevin C. Cox/Getty Images
I still think Alabama is the best team in the country, especially following South Carolina's loss to Kentucky this week (same old South Carolina). I think it's an obvious case of, "On any given day, any team can beat any other team."
In addition, because it has yet to play two teams ranked ahead of it on the list, Alabama does not fall a category to "needs some help" this week—at least, not yet.
However, the South Carolina loss now looks a lot worse. On top of that, South Carolina now won't offer the same quality chance of redemption for Alabama in the SEC Championship. Alabama is no longer in position to jump Oklahoma, as I originally believed last week. Therefore, Alabama now needs a little bit more help than I thought.
Alabama can control two teams ahead of it—LSU and Auburn—because if it beats both, it has the head-to-head tiebreaker to make the SEC CG as the Western Division's representative. However, I believe Alabama now needs either Oregon or Oklahoma to lose in order to get in.
On the plus side...Ohio State and Nebraska did lose. So while OU jumped the Tide on this list, I do think that, on the whole, Nick Saban got a lot of the help he needed to make up for South Carolina's loss already. Just one more and the Tide can defend their title.
Needs Some Help: Boise State Broncos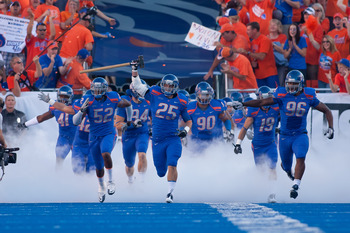 Otto Kitsinger III/Getty Images
Don't look now, but Boise State is suddenly in the National Championship conversation for real. Yes, they are in danger of getting jumped by the teams behind them in the BCS standings, and yes, they are hurt by the fact that Nevada went down at Hawaii in the late game (I stayed up watching it).
It means that the Broncos are back to not having any big-time conference games remaining—Hawaii, while it is a WAC-best 3-0 in conference play, already has two out-of-conference losses. The trip to Nevada is still the highlight of Boise's conference schedule, but it has lost a lot of its luster at this point.
This week, Boise romped over San Jose State on the road by a score of 48-0—about as convincing as it gets (and in case you were wondering, beat them by a bigger margin than Alabama did earlier this season...just saying). Heisman candidate Kellen Moore had yet another great performance.
The Broncos are the safest bet of all the teams to run the table, because yes, they do have the weakest schedule of all the remaining undefeated teams, and their track record under Chris Peterson suggests that they won't overlook their competition week to week.
However, there's no way that they go to the championship game ahead of an undefeated AQ conference team (which, again, does not include Michigan State; sorry, Spartans fans, but Boise will go ahead of you even if the Spartans go unbeaten in the Big Ten). Oregon, Oklahoma and potentially Auburn/LSU all go ahead of Boise for sure.
A one-loss SEC champion, as I've said before, almost certainly would jump the Broncos—especially if that team is the Crimson Tide, who I think will run the table. However, Boise has a realistic chance to go ahead of one-loss AQ teams. It certainly isn't guaranteed that they would—but it isn't beyond the realm of possibility, either.
On the whole, though, the Nevada loss doesn't hurt Boise too much because it's not as if their schedule was ever going to match up with the AQ teams anyway. Two major obstacles to the first non-AQ appearance in the BCS Title Game were removed this week, courtesy of Wisconsin and Texas.
Needs Some Help: Michigan State Spartans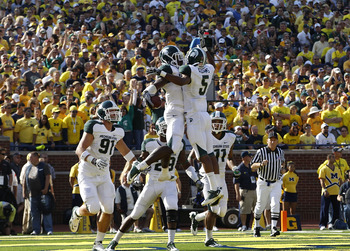 Leon Halip/Getty Images
Like Boise State ahead of them, Michigan State benefited greatly from the Buckeyes loss up at Madison this weekend. It was a nice present after the Spartans beat lowly Illinois at home this week by a score of 26-6 in a game that was closer than the final score would indicate. The Fighting Illini were in the game until about the fourth quarter, when the Spartans just continued to pull away.
I don't think that Michigan State can jump Boise, but they do jump TCU in my rankings this week because I'll acknowledge it's a possibility that I'm wrong and they might. As I've said about a million times already, the fact that they don't play the Scarlet and Gray hurts them a lot. If Wisconsin runs the table with their only loss at the hands of the Spartans, though, that will definitely strengthen MSU's case.
Still, Iowa controls the Big Ten race because it has yet to play the other three teams perceived in Big Ten country as elite: Michigan State, Ohio State and Wisconsin.
Oh, one more thing—Iowa plays all three of those teams at home.
Long Shot: TCU Horned Frogs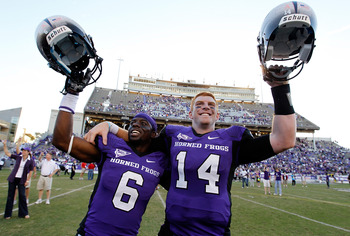 Tom Pennington/Getty Images
Most of what I said about Boise also applies to TCU, with one major exception: The Horned Frogs need the Broncos to go down at some point.
As I said last week, Andy Dalton and crew needed to win last year's Fiesta Bowl if they wanted to lead the non-AQ banner this year. They have the advantage of playing in the Mountain West, which is stronger than the Western Athletic Conference. But that's also a disadvantage: I don't think they'd jump Boise because the conference isn't THAT much stronger, but at the same time, it offers a potential pitfall game against Utah.
TCU needs Boise to go down. The Horned Frogs are less likely to go ahead of one-loss AQ teams simply because they don't have the same ridiculously successful recent history as the Broncos against big-time competition. Furthermore, while Virginia Tech won again this week, Oregon State lost and OSU was TCU's major out-of-conference opponent, so TCU lost a little bit more ground in the computers.
The Horned Frogs need everything to happen that Boise needs to happen...oh, and they need Boise to go down, too. That last part is so unlikely that it keeps TCU at "Long Shot" status.
Long Shot: Iowa Hawkeyes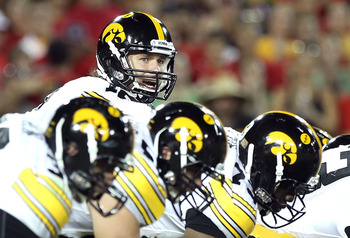 Christian Petersen/Getty Images
This week, the Iowa Hawkeyes make their first appearance on the list—primarily because I had an oversight last week (my apologies, Hawkeye fans).
As I mentioned on the MSU slide, Iowa still controls its own destiny in the Big Ten race. Because Iowa plays the other three major conference contenders this year, if it wins all three games it's virtually assured of winning the conference. Iowa would win the conference even if it drops a game because of the head-to-head tiebreaker advantage that it would enjoy.
The Buckeyes have looked really, really good defensively. Say what you will about Michigan's atrocious defense and special teams—the Wolverines offense is downright spectacular, whether it's Denard Robinson (who is now out of the Heisman race, at least in my book) or last year's boy wonder Tate Forcier under center.
Forcier led an impressive rally against the Hawkeyes, pulling to within seven points and needing only one more defensive stop for a chance to tie the game. The stop, of course, didn't come. Iowa methodically drove its way downfield and then kicked a field goal to go up by ten points to seal the game. In summary, I'm willing to write off this rather lackluster defensive performance against an elite offense on the road.
Iowa is a proven, experienced team, and shouldn't be discounted in the national title race altogether—at the very least, not yet, especially because they have three separate chances to make big statements against conference rivals and move up the polls.
It's a long shot, to be sure—but they aren't dead yet.
Teams That Need a Miracle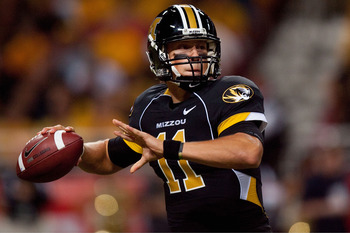 Dilip Vishwanat/Getty Images
Finally, here are some teams that I could somehow see entering the conversation, but I think they are done, barring something absolutely insane. These are teams that shouldn't be buried just yet, but whose national title hopes are on life-support, at best.
1) Missouri. Too low in the polls to start the year; not enough big games to climb high enough, especially now that Nebraska won't be in the top five when the Tigers play the Huskers. Big game with OU this week.
2) Oklahoma State. Same problem as Missouri, too low in the polls to start it off and not enough chances for statement games to move up.
3) Utah. Still undefeated, and still has that game looming with TCU to impress the pollsters. Even so, they're still a non-AQ that started low in the polls...not sure that's enough, even with a strong bowl history. Plus, they are joining the Pac-10 next year anyway, so people can just say, "Do it again next year and you'll get in."
4) Wisconsin. Big win over Ohio State, but having already lost to Michigan State they need help to win the Big Ten, much less get into the national title race.
5) Ohio State. I just don't see any way for the Buckeyes to get back into the race because they only have the Iowa game remaining. If they had managed to beat Wisconsin and Iowa, no Michigan State would have worked in their favor. But now, it's one less chance for redemption.
6) South Carolina. If South Carolina runs the table (that's a big IF) and if the SEC West champion is undefeated (that's also a big IF), then USC might have a chance to take down the No. 1 team for a second time this season in the SEC CG. Because it's so early in the year and it's shaping up to be a crazy year, with enough help, USC might somehow be able to sneak its way in as the top two-loss team. But that's highly unlikely.
7) Stanford. Has to run the table and hope Oregon loses twice, then cross its fingers and pray.
Conclusion: Prediction Time, BCS Week 1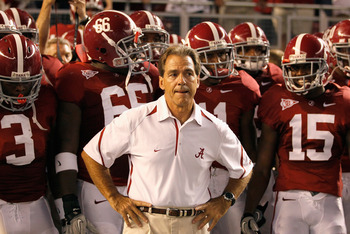 Kevin C. Cox/Getty Images
Life got a lot more interesting in college football this weekend, but I'm sticking with my preseason national champion for another day: it's still the Tide, because I think they'll beat both Auburn and LSU and then get the help they need from elsewhere.
Oklahoma looked much better this week, but they have looked bad in several games. So I'd expect them to take a loss.
I've been saying all along that I expect Oregon to go down against Oregon State, too.
If that plays out, then my championship pick can make the dance, where I have little doubt that they will successfully defend their title, barring the wackiest of miracles.
But now it's time to put my money where my mouth is—who makes the title along with Alabama?
Don't look now, but...I think it's Boise State. Keep in mind, even as a Boise fan, I'm taking Alabama to win the game. But this week, if you're making me pick who gets in, I think it's Alabama and Boise.
Keep Reading