West Virginia vs. South Florida Live Blog: Analysis, Game Notes, Reactions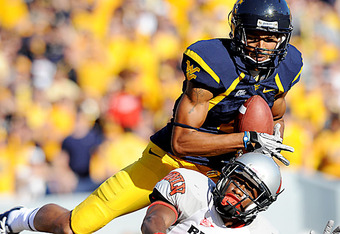 West Virginia wide receiver Brad Starks is looking to build off of his three touchdown performance against UNLV when the No. 25 Mountaineers take on South Florida on Thursday.

Tonight, the No. 25 West Virginia Mountaineers will start their Big East schedule with a nationally-televised contest against South Florida.
It should be an interesting game, considering the Bulls have been a thorn in the Mountaineers' side, holding them to less than 20 points in their last four matchups. Last year's 30-19 win over WVU made the Bulls 3-1 against them in their last four meetings.
I'm Michael Carvelli, one of Bleacher Report's WVU Featured Columnists, and a WVU football beat writer for EerSports.com. I'll be live blogging the game tonight from the comfy confines of the press box at Milan Puskar Stadium at Mountaineer Field in Morgantown.
Any questions or comments can either be submitted down in the comments section below or sent to me on Twitter @Carvelli3.
PREGAME NOTES
Running back Noel Devine (foot) and Josh Jenkins (knee) are both expected to be in the starting lineup against the Bulls.
The game is expected to be a defensive battle as both the Mountaineers (seventh) and South Florida (18th) are ranked in the top 20 nationally in total defense.
The WVU defense will be looking to stop BJ Daniels, the guy who killed them last season. In 2009, Daniels threw for 232 yards and three touchdowns and ran for an additional 104.
South Florida defensive coordinator Mark Snyder is the only coach that West Virginia will play this year that has a clue of what Geno Smith can do. Snyder was the head coach at Marshall last season, a game in which Smith played all but four or five snaps after Jarrett Brown went down with an injury.
Sorry, I stepped away for a while before the game was over. Had to get down to the field to get ready for the postgame festivities and then I started working tirelessly on my deadline and my recap of the game should be up sometime soon (hopefully) on EerSports.com, so you should probably check it out.
I just want to say thanks to anyone who read this and I'll see you guys right here next Saturday as the Mountaineers take on Syracuse in Morgantown at noon.
Also, I'm looking at trying to do a mailbag column where I will answer questions obtaining to Mountaineer football and basketball, as well as college football and basketball in general. So, if you would like to hear my opinions on anything just hit me up on Twitter (@Carvelli3) or send me an email at james.carvelli@mail.wvu.edu.
Thanks again for reading.
The Mountaineers seem very content with just running the ball for a few plays and then punting to South Florida. A lot of faith in the defense.
USF run defense is shutting down Noel Devine tonight.
Keith Tandy with his fourth interception of the season. FUN FACT: All of Tandy's picks this year have been off of tipped balls.
End of the third, WVU has a 20-6 lead. Time to say goodbye to the fans. Have fun beating traffic, I'll be here til about midnight.
First time in a while that the South Florida pass rush has been able to get to Geno.
BRUUUUUUUUCE. That's Bruce Irvin's fifth sack of the year.
Scooter Berry with the sack. The Mountaineers continue to have an easy time getting into the backfield.
20-6, WVU
Tyler Bitancurt 24 yard field goal.
Took a shot to Jock in the end zone, but it's incomplete. Bitancurt on for the FG.
Jumbotron just showed an ad for the Dominion Post's story on a mother who still can't believe her son was stabbed in downtown Morgantown. Great thing for recruits who are visiting to see, I'm sure.
WVU back in the red zone. Wouldn't be surprised to see a play-action pass out of the timeout.
Another great pass by Geno. Third down, looks to Brad Starks to convert and get the Mountaineers into field goal range.
Geno with a TON of time to sit in the pocket and finds Tavon. Beautiful play for the Mountaineers.
WVU going to Devine on first two plays of second half.
Took a short bathroom break. While I was gone, USF cut the deficit to 17-6 on a 47-yard FG by Bonani.
The Bulls putting together a nice drive here in the beginning of the half.
South Florida takes a page out of the WVU playbook there with a bubble screen on second down.
Corey Smith kicks off the second half with a touchback.
First half reflections: The offense looks good. Geno is really continuing to show what he has the potential to do. The defense, as they have been most of the year, is terrific. Nice to see Sands get his first pick and they're blitzing really well, getting to BJ Daniels a lot and making him make decisions.
Najee Goode's second sack of the day. And it's now halftime.
Also, Geno Smith just went CRAZY after that score. Love the emotion he's showing. He's a leader.
And right on cue, WVU scores. Pretty cool play, Geno pass to Jock who then tosses it back to Devine for the touchdown.
17-3, WVU
Robert Sands' first pick of the year almost goes back to the house. Mountaineers with the ball inside the ten with 40 seconds to go in the half.
Geno takes a sack on third down, forcing the Mountaineers to punt yet again.
This article is
What is the duplicate article?
Why is this article offensive?
Where is this article plagiarized from?
Why is this article poorly edited?

WVU Football: Like this team?