College Football Week 7 Picks: 5 Games Closer Than The Experts Think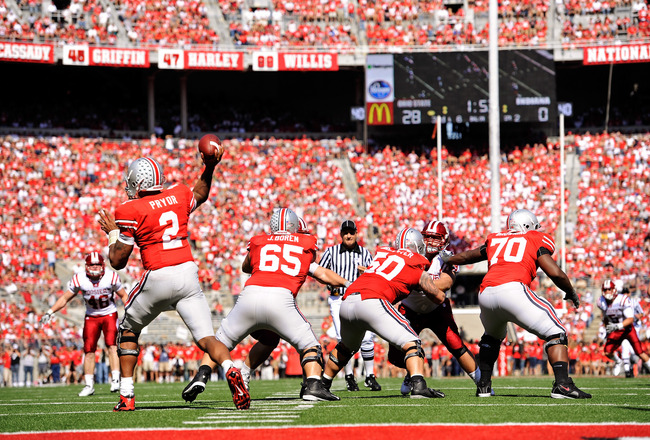 Jamie Sabau/Getty Images
The beautiful thing about College Football is the importance of the regular season and the chance for upsets each and every week. As the season really comes into focus and teams try to distance themselves from the pack, or makeup ground on opponents, upsets and nailbiters make each Saturday exciting. Last week Alabama fell after winning an incredible 18 straight.
Let's take a look at who may struggle or lose, even if the experts say otherwise.
TCU Horned Frogs Vs. BYU Cougars
Ronald Martinez/Getty Images
Consensus: TCU wins its 20th straight regular season game, pummeling an out manned Cougar team.
Why it will be closer than expected: The spread on this game is thirty points, and I expect BYU to make the game considerably closer than that. Sure they started the season with a win then four straight losses, but last week BYU got on track. Facing San Diego State's 23rd ranked rushing attack, the Cougars yielded only 53 yards on the ground. They will need that same effort to contain TCU's 7th ranked rushing attack.
Offensively, BYU has its work cut out for them against TCU's top ranked defense. Again, however, BYU was able to rush for 271 yards last week and will need to duplicate this kind of production to have any hope of hanging with TCU.
Also, don't underestimate the danger of looking ahead. TCU has games against Air Force and Utah after this one, and they may be caught looking ahead to next week rather than focusing on BYU.
Prediction: 41-24 TCU overcomes a slow start and dominates in the second half. Is this close? Not really, but closer than most people predict.
South Carolina Gamecocks Vs. Kentucky Wildcats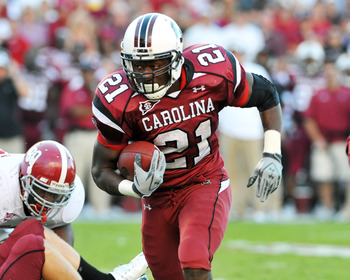 Al Messerschmidt/Getty Images
Consensus: Steve Spurrier's South Carolina Gamecocks roll over Kentucky a week after beating Alabama.
Why it will be closer than expected: South Carolina looked great last week against Alabama. Their defense was solid and their offense was as efficient as Spurrier has ever seen it. Stephen Garcia was accurate and the team was hyped. This week, there is no similar hype and there is reason to fear a letdown. It will be hard to recapture the emotion and fire of last week and look for Stephen Garcia to show his inconsistency again.
Kentucky, for its part, is better than its 0-3 record in the SEC indicates. They've lost close games to Mississippi and Auburn. Last week, a Herculean effort by Cam Newton was all that prevented the Wildcats from victory. The Wildcats showed their resiliency climbing back from a 24-7 hole to tie the game before losing on a late field goal. There is serious potential for an upset, especially at home.
Prediction: 34-27 Kentucky upsets South Carolina and derails their hopes for an SEC East crown.
Nebraska Cornhuskers Vs Texas Longhorns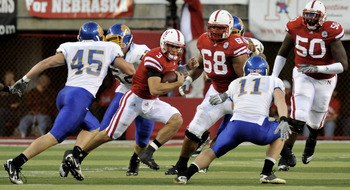 Eric Francis/Getty Images
Consensus: Looking to avenge last year's loss, Taylor Martinez and Nebraska drop Texas for a third straight week.
Why it will be closer than expected: The Nebraska offense has run all over opponents this season but face a Texas defense that is only giving up 102 yds/gm. Longhorn Defensive Coordinator Will Muschamp will crowd the line of scrimmage in order to contain Nebraska's running game. Despite a slow start this season, the Longhorns are still athletic and fast. Expect them to be more effective than any other team this season against the Cornhuskers' rushing attack.
They will look to make Martinez beat them in the air, where he is completing just over 50% of his passes, but has only thrown 66 times. If the Longhorns can limit Nebraska's success on the ground, they have a chance to win this game.
Offensively, they need to take the reins off of Gilbert and let him throw down field. He has a strong arm and can throw the deep ball (I saw him torch my high school team to the tune of 49-14). Open up the offense and let Gilbert go deep.
Prediction: 28-24 Nebraska overwhelms the Longhorns and avenges last year's loss.
Michigan State Spartans Vs. Illinois Fighting Illini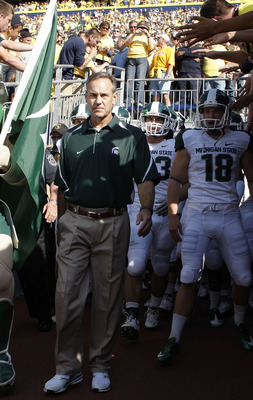 Leon Halip/Getty Images
Consensus: Michigan State is the real deal and will roll over an over matched opponent.
Why it will be closer than expected: In college football emotions drive teams. Michigan State has won three straight emotional games, beginning with their fake field goal win over Notre Dame. Three straight rivals and three straight big wins. It's difficult to carry that emotion throughout a season and they may be primed for a let down.
To their credit, the Illini have played well of late. They managed to contain Ohio State for much of the game two weeks ago and throttled Penn State last week. While MSU is considerably more difficult to contain offensively than Penn State, the Illini defense ranks 20th in the country and will have some success against Sparty. I expect this to be a relatively low scoring, grind-it-out, affair that you expect in the Big Ten.
Prediction: 16-13 Michigan State wins thanks to the efforts of kicker Dan Conroy.
Ohio State Buckeyes Vs. Wisconsin Badgers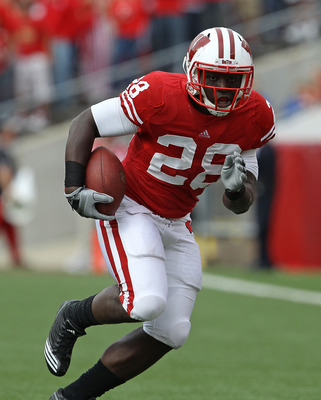 Jonathan Daniel/Getty Images
Consensus: Jim Tressel's efficient Buckeyes protect their new #1 ranking against the Badgers.
Why it will be closer than expected: Ohio State is mechanical and ruthlessly efficient. They make few mistake and capitalize on those the opponent makes. At Camp Randall Stadium, however, the Buckeyes will struggle. Wisconsin's home field is known for its rowdy student section and is a very difficult atmosphere for opposing teams. Ohio State's rushing attack, despite having two capable backs, is not as dominant in years past. They will be forced to rely on Terrelle Pryor to move the ball through the air. Though much improved as a passer, Pryor can struggle at times. If Wisconsin can mix in some blitzes they may have success flustering Pryor. Additionally, if Pryor is still nursing injury, he will be hesitant to take off and run. Pressure Pryor is the best way to hurt the Buckeye offense.
Offensively, with Wisconsin, you know what you're going to get. They will run the ball, throw the ball sparingly, and play relatively vanilla offense. That said, they're very good at being boring. John Clay and James White are both effective runners. Expect to see more of White than Clay because his speed will be more difficult for a fast Buckeye defense to contain than the slower Clay.
Prediction: 24-17 Wisconsin pulls off the upset and Madison parties. An efficient offense and a tough defense shut down Ohio State.
Keep Reading