BCS Rankings 2010: Which of the 13 Undefeated Teams Will Stay That Way?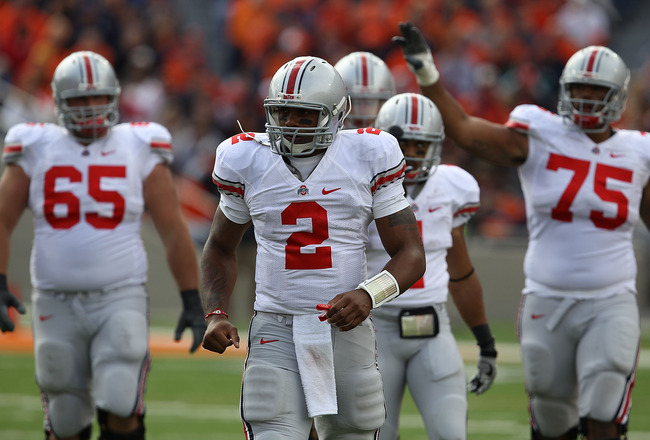 Jonathan Daniel/Getty Images
With the college football season almost seven weeks old, there are 13 teams that are still unbeaten.
There are two from the Big Ten, two from the SEC, two from the WAC, two in the Mountain West, one in the Pac-10, and four in the Big 12.
We're going to take a look at which one of these 13 teams—or maybe there are more than one—has the best chance to stay unbeaten the remainder of the season.
So, without further ado, let's get to it.
No. 13: Missouri Tigers
Dilip Vishwanat/Getty Images
The Missouri Tigers have the worst chance at staying unbeaten, especially if you look at their schedule over the next four weeks.
They have one game at home which will come against sixth-ranked Oklahoma. The other three will be on the road against Texas A&M, fifth-ranked Nebraska and Texas Tech.
I'll be shocked if they go through that gauntlet unbeaten.
No. 12: LSU Tigers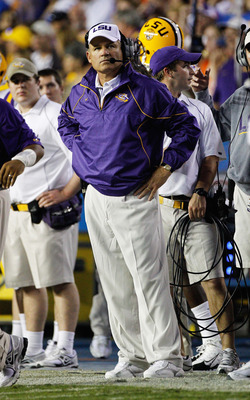 Sam Greenwood/Getty Images
LSU has come close to having at least two losses this season.
One against Tennessee thanks to a "too many men on the field" penalty against the Vols that led to a second-chance touchdown for the Tigers.
The second came this past weekend as they picked up another last-second touchdown to beat Florida at The Swamp.
However, with Auburn and Alabama still looming after their cupcake game against McNeese State, they won't win both of those.
No. 11: Oklahoma State Cowboys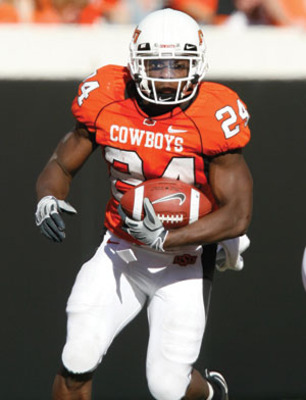 Most might say that Oklahoma State has had just one challenge all year, that coming against Texas A&M this past weekend.
They'll have another tough test as they head to Lubbock, Texas to take on Texas Tech, who is never an easy team to beat at home.
If they can get through that one, a home game against fifth-ranked Nebraska looms large.
No. 10: Auburn Tigers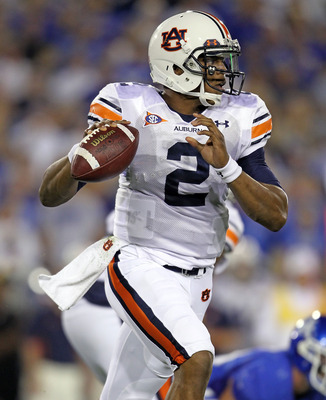 Andy Lyons/Getty Images
This was a tough pick for me to make, but with 12th-ranked Arkansas, ninth-ranked LSU, and eighth-ranked Alabama still coming up, I don't see them rolling through all three games unbeaten.
They may get their first loss this weekend against Arkansas.
No. 9: Nevada Wolfpack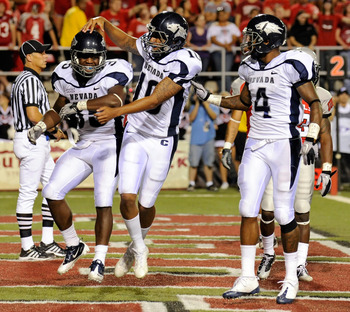 Ethan Miller/Getty Images
Nevada will be headed to the islands to take on Bryant Moniz, the nation's leading passer, and the Hawaii Warriors.
Though Colin Kaepernick has his team at 6-0, I don't think they'll come out of this one with a win.
No. 8: Michigan State Spartans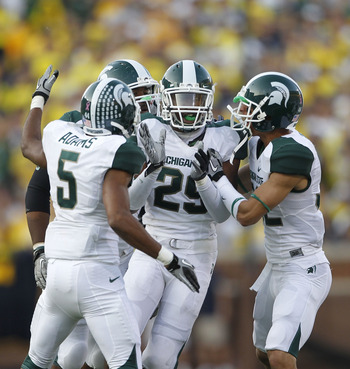 Leon Halip/Getty Images
The Spartans have gotten two big wins over Wisconsin and Michigan in back-to-back weeks, but they have one big game looming, assuming they get past Illinois and Northwestern, which will be on the road against 15th-ranked Iowa.
No. 7: Oklahoma Sooners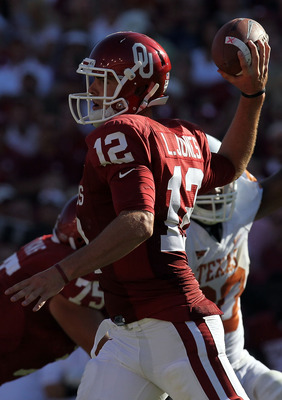 Ronald Martinez/Getty Images
The Oklahoma Sooners have been one of those teams that have snuck away with wins over the bad teams and blew out the good ones.
Let me break it down this way. They had a larger margin of victory over Florida State (30) than they did against Utah State, Cincinnati and Air Force combined (12).
With games against Texas A&M, Missouri, Texas Tech, Baylor and Oklahoma State looming, the Sooners' unbeaten streak will be coming to an end shortly.
No. 6: Oregon Ducks
Steve Dykes/Getty Images
The Oregon Ducks, through six games this season, haven't scored less than 40 points all season and have scored more than 50 three times.
But look at the top half of their schedule and you can argue that their only challenge was a home game against then ninth-ranked Stanford.
But looking at the back end of their schedule, they still have Arizona, Cal, Oregon State and USC looming.
No. 5: Utah Utes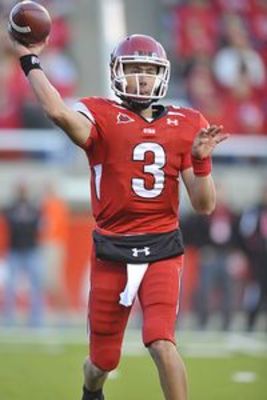 The Utah Utes have had the soft part of their schedule to begin the season and may not have a challenge over the next two games against Wyoming and Colorado State.
What comes after that are games against TCU, BYU, Air Force, Notre Dame and San Diego State. That's running a gauntlet that Utah won't come out of unscathed.
No. 4: Nebraska Cornhuskers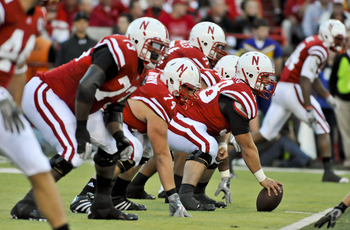 Eric Francis/Getty Images
The Nebraska Cornhuskers have one of the most exciting, not to mention fast, quarterbacks in college football in Taylor Martinez.
His legs have led them to some big points on the scoreboard. However, Nebraska's biggest games are still to come.
They still have Oklahoma State, Missouri and Texas A&M coming up with two of those coming on the road.
No. 3: TCU Horned Frogs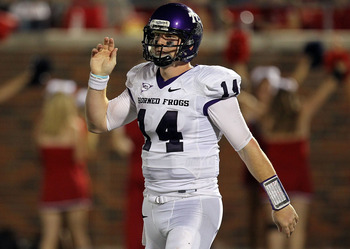 Ronald Martinez/Getty Images
The TCU Horned Frogs continue to look like they are for real, again, and they could be headed for yet another BCS bowl appearance.
However, the back end of their schedule will be the toughest by far, with games against Utah, Air Force and BYU still to come.
No. 2: Ohio State Buckeyes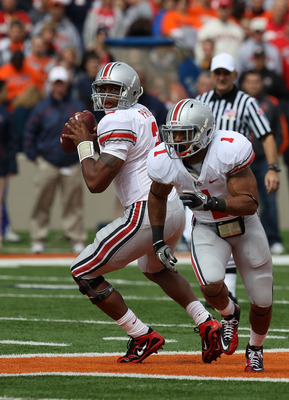 Jonathan Daniel/Getty Images
The back end of Ohio State's schedule doesn't look like the hardest schedule to overcome, especially for the nation's No. 1 team.
However, with road games against 18th-ranked Wisconsin and 15th-ranked Iowa, not to mention a showdown at the end of the season with Michigan, the Buckeyes could fall by the end of the season.
No. 1: Boise State Broncos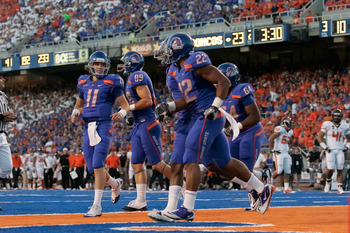 Otto Kitsinger III/Getty Images
The Boise State Broncos have the best chance of any of the 13 unbeaten teams to stay that way the rest of the season.
While they do still have matchups with Hawaii, Nevada and Fresno State remaining, two of those games will be played in the comforts of their own stadium. The only game that will come on the road will be against Nevada.
The way the Broncos have been playing, on both sides of the ball, the Broncos have the best chance at staying unbeaten and awaiting their fate for a shot at the BCS title.
Keep Reading