College Football Week 7 Picks: 5 Biggest Storylines In Football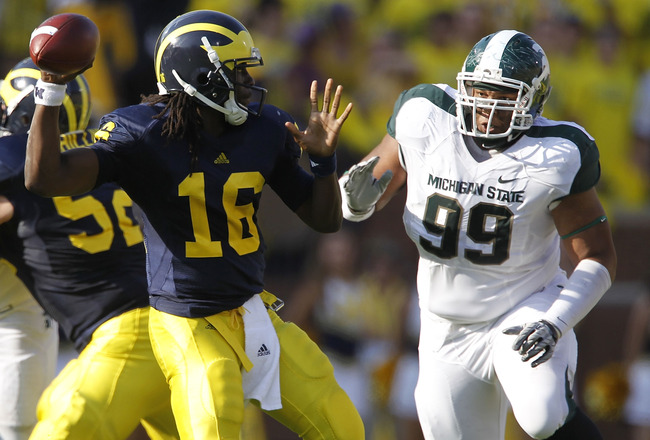 Leon Halip/Getty Images
The Big Ten dominates the College Football Week Seven storylines. There are only two games that feature two ranked teams, but there are opportunities for teams to climb the rankings or play the role of spoiler.
Alabama's surprising loss last week against South Carolina has opened the door for other teams to enter the BCS Championship mix.
Who will stay at the top of the SEC now that Alabama has been knocked off?
Michigan State won an emotional, important game on the road last week against Michigan, honoring the return of coach Mark Dantonio.
Will anyone stand out this week and become the clear-cut favorite to win the Heisman Trophy?
Can Ohio State win out for the rest of the season and secure a spot in the BCS Championship game?
Here are the five biggest games in College Football Week Seven.
5. Illinois at No. 13 Michigan State, 12:00 PM SAT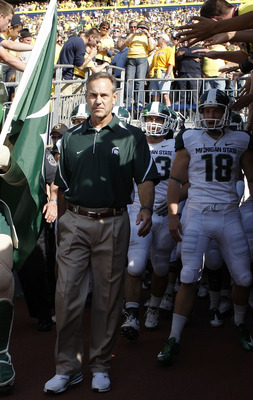 Leon Halip/Getty Images
Michigan State is coming off a huge win against Michigan last weekend. The return of the Spartans' coach, Mark Dantonio, sparked an emotional performance.
Will this weekend's matchup against Illinois be a let-down game?
Michigan State is now 6-0 and only have one ranked opponent ahead on the schedule in Iowa. So it is definitely possible that the Spartans could run the table.
However, Illinois will certainly not be a pushover. Yes they are 3-2, but both of their losses have come against ranked opponents (Ohio State and Missouri).
This could be the last year for Illinois' head coach Ron Zook. A road win against Michigan State may translate to job security for Zook, so expect the Illini to come out and play a tough game.
4. No. 15 Iowa at Michigan, 3:30 PM SAT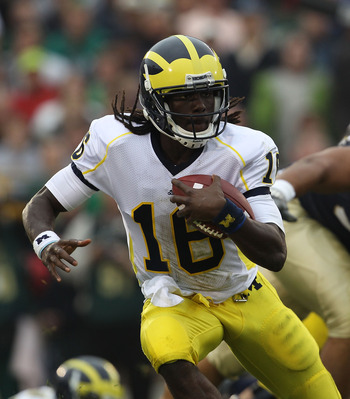 Jonathan Daniel/Getty Images
Can Denard Robinson bounce back after throwing three interceptions in a loss against Michigan State?
The Heisman Trophy candidate is by far the most exciting player to watch in college football. Last week's performance was certainly disappointing though.
The Iowa Hawkeyes have had two weeks to prepare for Robinson, which is bad news for the Wolverines.
Iowa's last game was a 24-3 win against Penn State. The Hawkeyes defense leads the nation in points allowed this year.
This game will come down to Denard Robinson versus Iowa's rushing defense. Michigan has the sixth best rushing offense in the nation, while Iowa has the second best rushing defense.
If Denard Robinson can have a great performance against this Iowa defense, he will make a strong case that he should win the Heisman Trophy.
3. Texas at No. 5 Nebraska, 3:30 PM SAT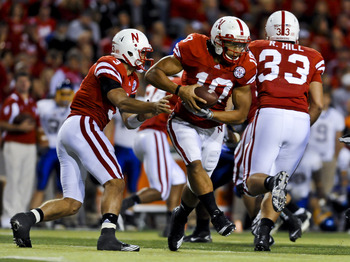 Eric Francis/Getty Images
The Nebraska Cornhuskers who are 5-0 are suddenly in the BCS Championship mix. They definitely need some help along the way, but it is very likely that Nebraska could win out.
The Texas Longhorns have struggled this season, but they may be the toughest opponent that Nebraska has had to play this year.
Texas is coming off back-to-back losses and are 9.5 point underdogs this weekend.
However, do not be surprised if Texas can pull off the upset. There is still a lot of talent on the team, and it will be interesting to see if Nebraska QB Taylor Martinez can continue his success against the Longhorn defense.
Martinez has rushed for 737 yards this year, as the Cornhuskers are second best rushing offense in the defense.
If Nebraska wants a chance to be in the BCS Championship game, the Cornhuskers better not take the Texas Longhorns lightly, or they will be upset at home.
2. No. 1 Ohio State at No. 18 Wisconsin, 7:00 PM SAT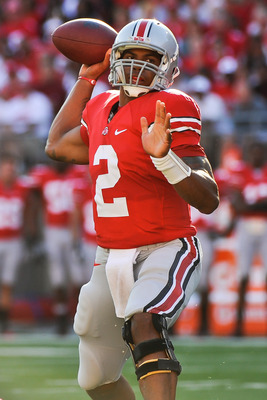 Jamie Sabau/Getty Images
Could this weekend be the second one in a row where the top-ranked team falls?
This may Ohio State's toughest obstacle on the way to BCS Championship game. After this Saturday night, Iowa is only ranked opponent featured on the Buckeyes schedule.
Terrelle Pryor is attempting to lead his team to the championship and win the Heisman Trophy. This is may be the biggest game that Pryor has ever played in.
The Buckeyes offense is certainly talented, but the defense has carried this team. They are only allowing 13.5 points per game this year.
In Wisconsin's only real test this season, they lost 34-24 to the Michigan State Spartans. The road does not get much easier for the Badgers, as they go on the road to play Iowa next week.
If Ohio State wins this Saturday, expect the Badgers to be perfect when they travel to Iowa on Nov. 27.
1. No. 12 Arkansas at No. 7 Auburn, 3:30 PM SAT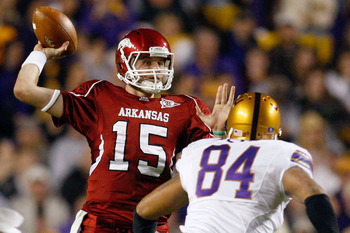 Chris Graythen/Getty Images
This is the most significant game of the weekend. The Auburn Tigers are 6-0 and are tied with LSU at the top of the SEC.
If Auburn can win against Arkansas, they will be undefeated when they host LSU next Saturday and have a chance to be No. 1 in the SEC.
However, the Arkansas Razorbacks have Ryan Mallett and third-best passing offense in the nation. This is a scary game for the Tigers, especially when they have been allowing an average of 21.3 points per game this season.
Many believe that Ryan Mallet will be the No. 1 pick in the 2011 NFL Draft, so this is a great chance for Mallett to improve his stock.
It may be too early to say that Auburn has a chance to be in the BCS Championship game, but it is certainly possible if they can defeat Arkansas this Saturday.
Expect this game to be high scoring, as it features two electric offenses.
Keep Reading