College Football: Five Teams That Should Be on Upset Watch for Week 7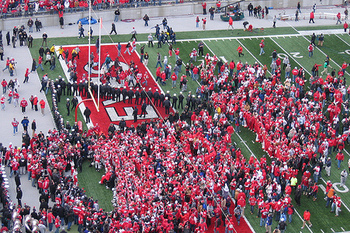 Last week saw the first batch of "true" upsets of the college football, and one thing can be certain, it won't be the last time we see a weekend like that. I was 2 for 5 last week on these upsets, including the Bama loss.
This weekend the new #1 has a tough road trip to a crazy Camp Randall, the new flavor of the week in the SEC has a trip to an underrated Kentucky squad, and Nevada takes a trip halfway across the US to play Hawaii.
So who should be worried?
Here are five schools that should be put on upset alert in week 7.
#1 Ohio State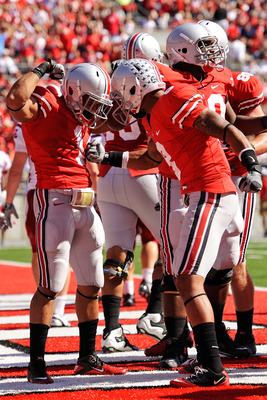 Jamie Sabau/Getty Images
The Buckeyes have only left the comfort of Columbus once this year, and the result was a scare in Champaign against the Illini.
This week Gameday is in Madison and the Badgers-Buckeyes game is in Prime-time, meaning that the pressure will be on for the number one team in the nation.
On paper the Bucks are better in many categories, especially defense. The key though will be how they respond on offense to the thousands of Badger fans screaming and carrying on during Buckeye possessions.
It worked back in 2003 when Bucky upset then unbeaten Ohio State at the Camp, but was not as affective against Pryor and company in 2008.
Look for this one to come down to John Clay and the Wisconsin running game, which should be ready for the challenge and an upset of the nation's top team.
#7 Auburn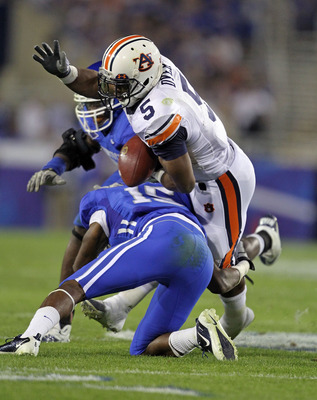 Andy Lyons/Getty Images
Auburn survived a scare in Lexington last week with a 37-34 win over the Wildcats. This weekend they return home to face an Arkansas team with a gun slinger named Mallett.
Last week the Tigers watched as KU QB Mike Hartline went 23-28 for 220 yards and a score. Ryan Mallett arguably has more talent and will surely put up more yards against the Tigers defense, which has been suspect at times.
The key may be the Razorback defense though. Last week Auburn QB Cam Newton ran for almost as many yards as he passed for. Look for them to key on him and keep his quick feet at bay as the Razorbacks look to remain in the SEC West race.
Arkansas gets the upset at Jordan-Hare.
#10 South Carolina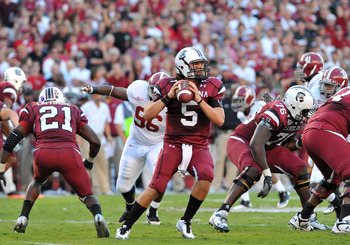 Al Messerschmidt/Getty Images
South Carolina finally got their signature win under Steve Spurrier last weekend with their upset win over top ranked Alabama. This week they leave the friendly confines of Columbia for a date with an upset minded Kentucky squad.
So far the Gamecocks have left home once. The result was a 35-27 loss in Auburn.
Kentucky is still seeking their first SEC win. Last week they came ever so close to handing Auburn their first loss of the 2010 campaign.
In this game the key is going to be how ready the Gamecocks are after such an emotional win just a week ago. If so, they should win the game.
But no so fast my friend! Kentucky needs this one in the worst way, and look for them to have confidence heading in after last week's performance. I look for Randall Cobb to step up and have a big game against SC as the Wildcats earn their first victory in SEC play.
#20 Oklahoma State
Christian Petersen/Getty Images
Oklahoma State is another team that has rarely left the confines of their friendly home, Boone Pickens Stadium. Last week they actually trailed UL-Lafayette at half-time before storming back to a victory.
This week they head to Lubbock to take on a Red Raider team that needs a home win badly, especially with the slate of games they have coming up.
QB Taylor Potts and the offense could have a field day against a Cowboy defense that gave up 35 against A&M despite forcing a bunch of turnovers.
Look for the Red Raiders to come out throwing early and often as they outscore a Cowboy team that has not faced a high level of competition thus far.
#24 Oregon State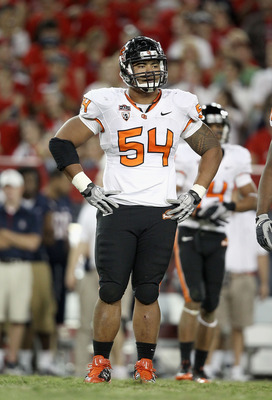 Christian Petersen/Getty Images
The Beavers have certainly played a tough schedule so far in 2010, with their only losses coming to top 5 teams TCU and Boise. This weekend they travel to Washington to face the Huskies.
Washington is what many would call a Jekyll and Hyde team. One week they appear to be as good as advertised, the next they fall victim at home to a team that they should beat.
The key here though is how the OSU passing game adapts to live without WR James Rodgers, who was lost for the year with a knee injury. Head coach Mike Riley is already warning his squad about how dangerous Washington is, especially as Huskie Stadium.
Look for the key in this one to be how badly Washington needs this one. At 2-3 if they lose this one, they may be looking at sitting at home for the holidays again in 2010.
Huskies steal one against a 1-dimensional Beaver team.
Other Notables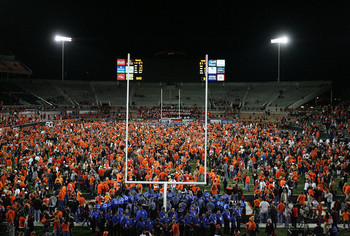 In addition to those 5 squads, there are a few other teams that may want to be careful entering week 7.
Michigan State is coming off of 2 huge conference wins over Wisconsin and Michigan. This weekend they face off against Illinois, who is coming off of their first win ever in Happy Valley. The Illinois run D is getting better each and every week, which could be a problem for a MSU team that likes to pound the ball.
Nevada is enjoying success that has never been experienced in their history. This weekend they fly to Hawaii to face a squad that can put up points in bunches. Nevada may escape this one, but look for it to be closer than the experts think.
Finally keep an eye on the Mississippi State-Florida game. The Gators have already lost 2 games in SEC play, and last year Dan Mullen's squad put up a very good effort against the Tim Tebow squad. The Bulldogs are better on offense now, and are looking to earn an important 5th victory of the season.
Keep Reading