Georgia Football: 10 Reasons Mark Richt Needs To Be Fired Now
Mike Zarrilli/Getty Images
The Georgia Bulldogs are off to an unimpressive 2-4 start this season, and Georgia fans have been left wondering, "What the heck has happened to our football team?"
Mark Richt has been the Bulldogs coach for ten years, and it looks a little like he is on his way down.
Georgia started this season ranked No. 23 in the AP preseason poll, and after a Week 1 pounding of Louisiana-Lafayette, the Bulldogs looked to continue their climb as they moved to No. 22.
But the success ended there.
Georgia then went on to lose four straight games to South Carolina, Arkansas, Mississippi State, and Colorado.
Last weekend, we saw glimmers of hope as the Bulldogs defeated Tennessee, but with some more difficult SEC matchups further down their schedule, it could be too late for Georgia to salvage their season.
So who is to blame?
The Bulldogs seem to have the talent, but something is terribly wrong with this program.
Could it be the coach?
We think so.
10. Last Season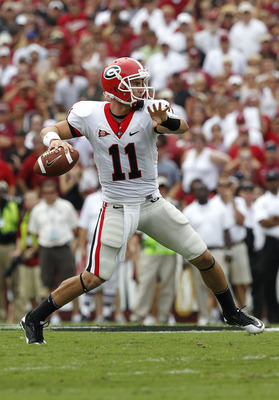 Mike Zarrilli/Getty Images
Last season (although not spectacular) started off much more promising than this one.
The Bulldogs at this point last season were 3-3, and this record might not seem much better compared to this season.
But last year, Georgia was able to defeat South Carolina and Arkansas.
9. SEC East
Mike Zarrilli/Getty Images
The SEC East is definitely the weaker of the two divisions in the Southeastern conference (the West is home to two currently undefeated teams as well as the reigning national champions the Alabama Crimson Tide).
During the preseason, it looked as though the Bulldogs would have no problem running through their schedule with maybe a little competition from the then No. 8 Florida Gators.
But they're off to a 1-1 start in this division, and they haven't met with Florida yet.
8. Tennessee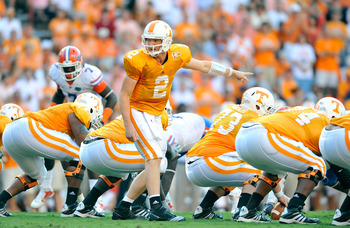 Grant Halverson/Getty Images
The Georgia Bulldogs' single SEC victory came in the form of a win over the Tennessee Volunteers.
The 'Dogs stomped the Vols, but defeating a team that is 0-3 in SEC play is anything but impressive.
7. Mississippi State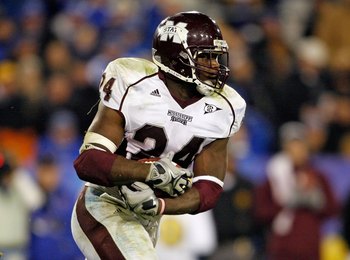 Andy Lyons/Getty Images
Mississippi State is by far the weakest team in the SEC West, but Georgia couldn't seem to pull off the win over the other Bulldogs in the conference.
This game should have been an easy win, but Georgia fell 24-12. Would this have happened five years ago?
Absolutely not.
6. Georgia Can Afford To Fire Richt
Mike Zarrilli/Getty Images
After this season, Mark Richt will have three years remaining on his contract, and some fans might be worried that the cost of buying him out would be too high. The buyout clause in many of these contracts is meant to protect coaches and give them a chance to prove themselves.
Many times, the buyout price would be about three times the coach's salary, making it in the school's best interest to keep the coach around until the end of the contract.
This isn't necessarily the case with Richt.
According to ESPN Insider, Georgia's contract with Richt only guarantees him about $6.86 million. That might sound like a lot of money, but if the clause guaranteed Richt three times his salary, the university would have to pay him $8.7 million.
5. Future Recruiting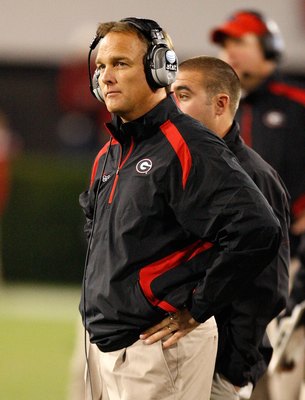 Kevin C. Cox/Getty Images
The University of Georgia has had quite a bit of success when finding the most talented high school recruits in the country, but if the Bulldogs can't find their way out of this slump, recruiting could take a hit in the future.
4. He Has The Talent!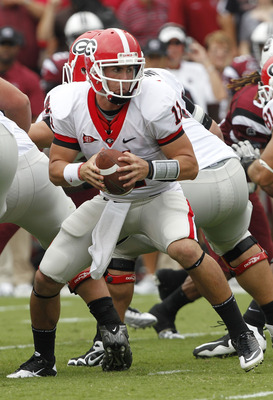 Mike Zarrilli/Getty Images
Speaking of recruiting, just look at the team that Georgia already has!
Aaron Murray?
Branden Smith?
Justin Houston?
The list goes on.
If these guys can't win, it has to be the coach.
3. He Fired Other Coaches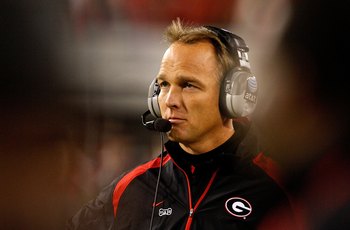 Kevin C. Cox/Getty Images
Prior to this season, Mark Richt cleaned house of his defensive coaching staff, and that seemed to help...
Oh wait.
2. Georgia Will Lose Money
Mike Zarrilli/Getty Images
We like to think that intercollegiate athletics are rich in tradition and teamwork, but let's get real here:
You can't build a powerhouse athletic department without large amounts of revenue. Most Division I schools rely upon their football (or basketball or both) programs to bring in the cash they need to be successful.
Good teams need good recruits. Good recruits want nice facilities. It's an endless cycle.
If the Bulldogs can't start winning soon, Georgia fans will start to lose interest, and the athletic program could be doomed.
1. Lack Of Respect From Players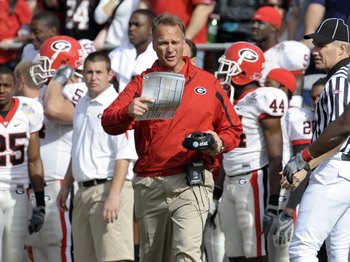 Al Messerschmidt/Getty Images
Mark Richt is a great man and a good coach, but there seems to be a lack of discipline concerning his football team.
11 players from his team have been arrested under his watch, and we have to wonder what kind of program he's running.
When players are getting in trouble left and right, it is a reflection of their motivation and their ability to prioritize.
Richt is not making football a priority for his players, and it's hard to win games when your players don't respect you.
Keep Reading

Georgia Bulldogs Football: Like this team?