2010 Heisman Trophy Rankings: Denard Robinson Clings to Narrow Lead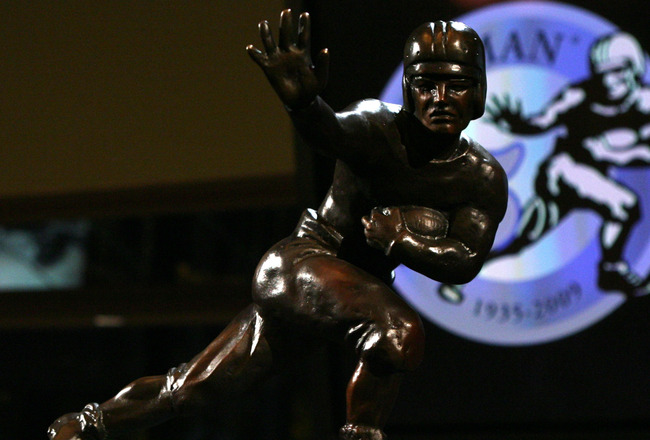 Chris Trotman/Getty Images
We're at the halfway point of the season, and it's time for the latest edition of Bleacher Report's 2010 Heisman Trophy Rankings, presented by Heismanpundit.com.
The Heismanpundit.com Heisman poll is made up of 13 Heisman voters from across the country. They vote for three players each week. Tabulations are made on a 3-2-1 basis, with three points awarded for a first-place vote, two points for a second-place vote and one point for a third-place vote.
In the past two years, the Heismanpundit poll was the most accurate in the country, picking five of the top six finishers in the Heisman vote in 2008 and the top four in 2009.
Members of the panel include: Mike Bianchi of the Orlando Sentinel, Teddy Greenstein and Brian Hamilton of the Chicago Tribune, Olin Buchanan and Tom Dienhart of Rivals.com, Jenni Carlson of The Oklahoman, Bruce Feldman of ESPN.com, J.B. Morris of ESPN The Magazine, Austin Murphy, B.J. Schecter and Stewart Mandel of Sports Illustrated, plus Dick Weiss of the New York Daily News.
Chris Huston, owner of Heismanpundit.com and a Bleacher Report contributor, coordinates and also votes in the weekly poll.
The poll is featured here on Bleacher Report each Tuesday during the college football season.
Here are the top players in the poll heading into Week 7...
No. 7: Taylor Martinez, QB, Nebraska—1 Point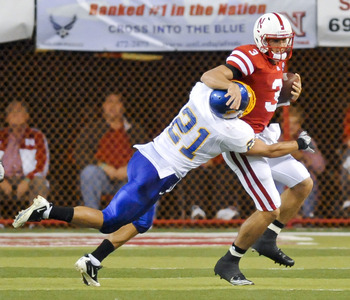 Martinez is averaging 10.8 ypc!
Eric Francis/Getty Images
Nebraska freshman quarterback Taylor Martinez checks in at No. 7 in this week's poll with one point.
Martinez is coming off a 241-yard, four-touchdown rushing effort against Kansas State (he also added 128 passing yards and a TD) and is on a torrid pace for the season. If he keeps it up, Ron Dayne's freshman rushing record of 1,863 yards is in grave danger.
He is fourth nationally in rushing at 147 yards per game, and his yards per carry average is an astronomical 10.8 and leads all of college football. It's no shock that the Husker offense is tops in the nation with 10 plays of 50 yards or more—Martinez is a big reason for that!
But can a freshman really challenge for the Heisman? Since 1999, both Michael Vick and Adrian Peterson have finished in the top three as freshmen. If Martinez can keep doing what he's doing and Nebraska stays undefeated, he might be hanging out on Broadway in December.
No. 6: Andrew Luck, QB, Stanford—4 Points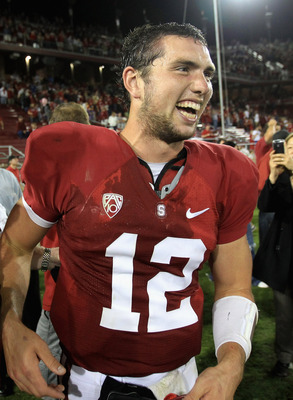 Luck broke USC's heart on Saturday
Ezra Shaw/Getty Images
Stanford quarterback Andrew Luck is sixth in this week's poll with four points.
Luck showed his leadership skills this past weekend by calmly leading Stanford to a game-winning field goal drive to beat USC. That's the kind of performance Heisman voters love.
He threw for 285 yards and three touchdowns against the cursed-by-Luck Trojans and now leads the Pac-10 in passing efficiency.
To have a chance at the Heisman, though, he'll need the players ahead of him to slip up and for Stanford to win out. While he's already the favorite of many to be the top pick in next year's draft, Luck still has a ways to go before becoming a favorite amongst Heisman voters.
Look for a strong finish to the season for Luck, but he'll need a lot of good fortune to get to New York.
No. 5: Cameron Newton, QB, Auburn—9 Points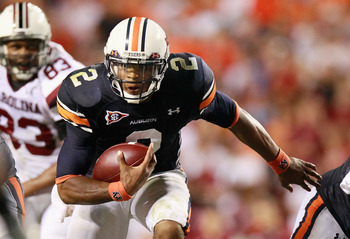 Newton is running wild
Kevin C. Cox/Getty Images
Auburn quarterback Cameron Newton gained some ground this week, tallying nine points.
The 6'5", 250-pounder continues to shine and remains the candidate with the most upside in this race. He is coming off 210 passing yards and 198 rushing yards (with four touchdowns) this past weekend against Kentucky.
He has clearly emerged as the only remaining SEC candidate with a real shot at winning the Heisman. It helps that he is second nationally to Kellen Moore in passing efficiency and also 17th in rushing. Oh, and he leads the SEC in rushing too.
He can make a strong move in the race with big games the next two weeks against Arkansas and LSU. If he leads Auburn to an undefeated season and keeps performing at this high level, he'll have a great shot at the Heisman.
No. 4: Terrelle Pryor, QB, Ohio State—14 Points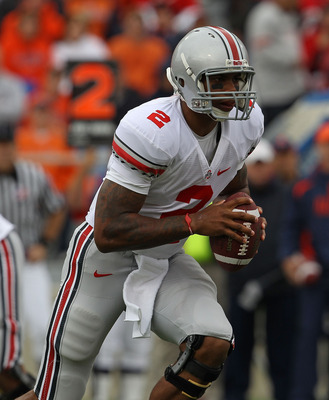 Pryor had a career passing day last Saturday
Jonathan Daniel/Getty Images
Ohio State quarterback Terrelle Pryor is fourth this week with 14 points, including two first-place votes.
Pryor bounced back this past weekend with a fine performance against Indiana, and—though he is fourth in this week's poll—he maintains his status as the player most likely to actually win the Heisman.
He really kicked it up a notch in the air, throwing for 334 yards and three touchdowns on 24-of-30 passing. Due to a tender thigh, he did little running and ended up with negative-19 yards on the ground.
Pryor gets a chance to highlight his candidacy on Saturday with a high-profile game against Wisconsin. Now that the Buckeyes are No. 1, teams will be trying even harder to knock them off their perch.
If Pryor can keep Ohio State on top and keep performing at his current high level, he'll be tough to beat in this race.
No. 2 (tie): LaMichael James, RB, Oregon—16 Points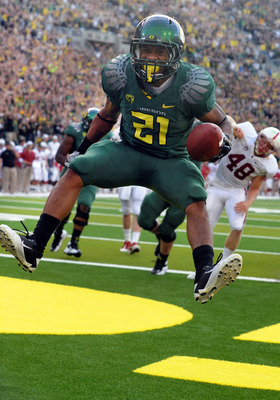 James leads the nation in rushing
Steve Dykes/Getty Images
Oregon sophomore running back LaMichael James is tied for second in this week's poll with 16 points, including two first-place votes.
James' Heisman hopes were helped by Alabama's loss, as Oregon moves up in the rankings and now has a clear shot at a BCS title game berth.
The speedster rushed for 136 yards and two touchdowns on 25 carries and added an 84-yard reception for a score against Washington State. He now leads the nation in rushing yards per game at 169.6.
James is the only running back left in college football with a chance at winning the Heisman in 2010. His production is very good, but not yet where it will need to be in order to overcome the players in front of him, so he needs to increase his output in the next couple weeks.
The key to his Heisman hopes might lie in how he plays in the two end-of-season showdowns with Arizona and Oregon State.
No. 2 (tie): Kellen Moore, QB, Boise State—16 Points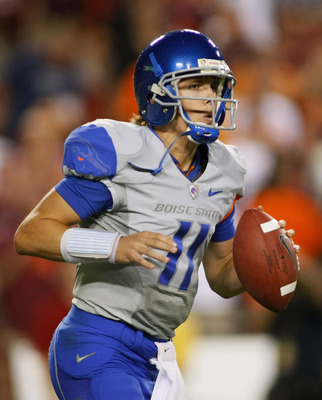 Moore has 14 TD passes and just one pick
Geoff Burke/Getty Images
Boise State quarterback Kellen Moore bounces back up in this week's survey, totaling 16 points and four first-place votes.
Five game into the season, Moore's production has been outstanding. He now leads the nation in passing efficiency with a rating of 183.28.
After a 267-yard, three-touchdown performance against Toledo, he now has a remarkable 14-to-1 touchdown-to-interception ratio, which is entirely in keeping with his 39-3 ratio from last season. In the last 19 games, he has thrown 53 touchdown passes with just four interceptions.
Unfortunately for Moore, Boise State won't seep back into the public consciousness until November (though the BCS rankings next Sunday will create some buzz).
In the meantime, he's doing what he has to do—putting up great numbers and winning impressively.
No. 1: Denard Robinson, QB, Michigan—18 Points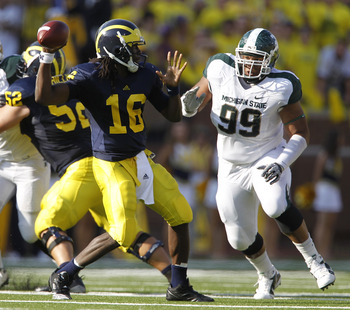 Robinson threw three interceptions against the Spartans
Leon Halip/Getty Images
Michigan quarterback Denard Robinson holds on to the top spot in this poll for the fifth week in a row, totaling 18 points and five first-place votes.
This is a significant drop from last week, when he captured all 13 of the first-place votes (and 39 points) from the Heisman panel.
Still, neophyte Heisman observers have been too quick to dismiss Robinson from the race after his three-interception performance in a loss to Michigan State this past Saturday. Discerning viewers should note that he still put up good numbers on the day and kept his march toward the magical 2,000/2,000 mark alive.
Throwing for 217 yards and rushing for 84 is hardly a poor performance, and if he continues to produce the rest of the way, few Heisman voters will remember or care about the couple bad throws he made against the Spartans.
We'll know a whole lot more about Robinson's Heisman hopes after this Saturday, when the Wolverines take on Iowa. At this point, it is not critical for Michigan to actually win (though it would help), but we do need to see Robinson prove that he can put up good numbers against a good defense while singlehandedly keeping his team competitive.
Full Poll Results
(first-place vote in parentheses)
1. Denard Robinson, QB, Michigan—18 points (5)
2. (tie) Kellen Moore, QB, Boise State—16 points (4)
2. (tie) LaMichael James, RB, Oregon—16 points (2)
4. Terrelle Pryor, QB, Ohio State—14 points (2)
5. Cameron Newton, QB, Auburn—9 points
6. Andrew Luck, QB, Stanford— 4 points
7. Taylor Martinez, QB, Nebraska—1 point
Keep Reading