Big East Power Rankings Week 6: Syracuse and Rutgers Start League Play With Wins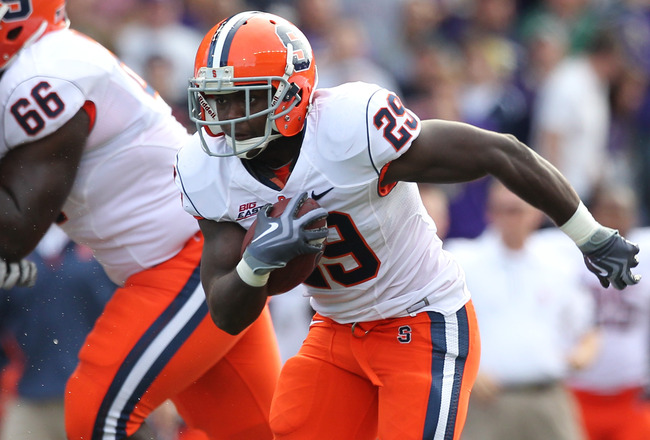 Otto Greule Jr/Getty Images
It's already week six and it's almost hard to believe we're already nearing the halfway point in the season.
Big East conference play finally kicked off this weekend, meaning we're finally about to learn where the eight programs in this disappointing league really stand. In the last few days we've received just a small taste of what's to come and if you consider unpredictability to be the spice in a great football recipe, then this was a weekend to be savored.
No. 8: UConn Huskies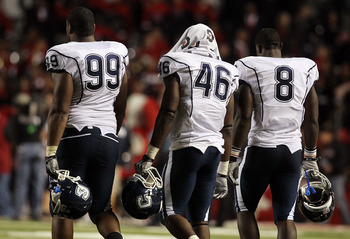 Jim McIsaac/Getty Images
It's become apparent that I gave UConn far too much credit last week, following their win over Vanderbilt.
They showed flashes of being the team I expected them to be on Friday night—but those moments were almost completely contained to the second quarter in the Huskies' loss to Rutgers.
UConn has officially staked their claim to having the conference's worst defense, after giving up 453 total yards to an offense that, until Friday night, looked absolutely anemic.
No. 7: Rutgers Scarlet Knights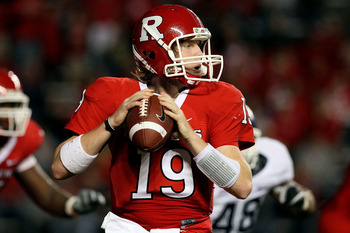 Jim McIsaac/Getty Images
I'm not making the same mistake that I made with UConn last week and overvaluing their win. The Knights move out of the basement, just to make room for the Huskies, but they've still got a lot to prove. After all, they're still only a week removed from losing on their home field to Tulane—an embarrassment that will continue to dog them all year.
Chas Dodd looks like a significant upgrade over Tom Savage at quarterback, but we knew even before this weekend that UConn's secondary was highly suspect. He'll have to pass much tougher tests before he can realistically be anointed as Rutgers' savior.
Up next is a solid looking Army team, who just trounced Tulane this week.
No. 6: Louisville Cardinals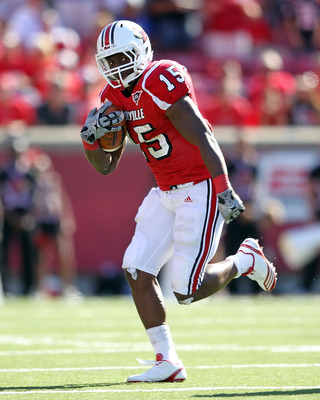 Andy Lyons/Getty Images
The only reason the 'Cards don't rank higher this week, after their impressive 56-0 thrashing of Memphis, is that the Tigers are a bad, bad team.
Even so though, Louisville has looked better and better each week and it certainly seems like Charlie Strong's rebuilding project is moving along ahead of schedule.
We will learn a lot more about Louisville next week, when they kick off the Big East portion of their schedule Friday night against Cincinnati.
No. 5: USF Bulls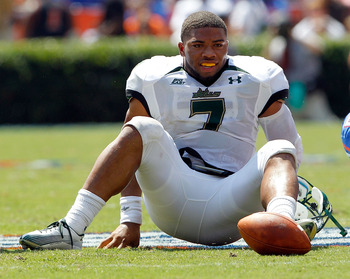 Sam Greenwood/Getty Images
If there were any doubts left that B.J. Daniels' is not meant to be a pure, pocket passer, then they should have been laid to rest this weekend.
The Bulls opened up conference play with a home loss to the Syracuse Orange – a team who had never beaten them– thanks mostly to the offense's inability to move the ball. The Bulls only managed 219 total yards and three points on offense, with their only touchdown coming on a 94-yard kickoff return by Lindsey Lamar.
Daniels went 9-for-23 for 124 yards and two interceptions. The overriding problem facing this team right now is that Skip Holtz ostensibly wants to turn one of the most dynamic running quarterbacks in the country into a pocket passer. To this point, this ill-conceived plan of his has only managed to castrate what could have been an extremely dangerous offense.
If the Bulls are going to be contenders this year, Holtz may want to consider just letting Daniels play his game.
No. 4: Pittsburgh Panthers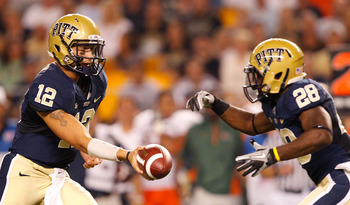 Jared Wickerham/Getty Images
It was just another embarrassing loss for Pitt this weekend, this time to Notre Dame. The on-the-field product I've witnessed the last several weeks makes me think they might have a claim to last place, but I'm keeping them around the middle of the league mostly because losing to Utah, Miami and Notre Dame isn't nearly as bad as losing to Temple or Tulane.
They'll have a chance to win back some respect this weekend, when they head into the Carrier Dome to take on Syracuse. But, on the other hand, it could just as easily turn into another embarrassing mark on their record.
No. 3: Cincinnati Bearcats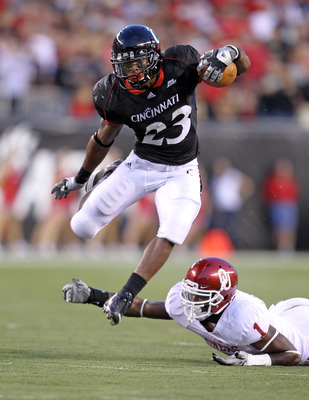 Andy Lyons/Getty Images
In a league that's disappointed like the Big East, even a good, sound beating of a decent looking MAC team can do wonders for your position in the power rankings. Although, that description may be a bit of an understatement in the case of Cincinnati's thrashing of Miami of Ohio this weekend.
Cincy compiled over 600 yards of offense and held Miami to only 269. Zach Collaros completed 14-of-17 passes for 216 yards and three touchdowns; and Isaiah Pead ran for 197 yards and a touchdown on just ten carries!
The 45-3 final score was the same as the lead that the Bearcats took into halftime. They were able to put the game on cruise control in the scoreless second half, using mostly backups.
With this performance, two weeks after their impressive near-victory against Oklahoma, it's starting to look like the Bearcats might be on their way back.
No. 2: Syracuse Orange
Frank Ordoñez / The Post-Standard
Just five games into year two of the Doug Marrone era, milestones are already beginning to pile up.
After this weekend's win over USF, the Orange are 4-1 for the first time since 1999 and it was also their first Big East road win since 2007.
Although the first few wins were clearly against weak opponents, and even with the question marks around USF, it is now clear that this isn't the same Syracuse team that we've seen in recent years. In the weak Big East, it seems safe to say that the Orange are once again a team to be reckoned with.
No. 1: West Virginia Mountaineers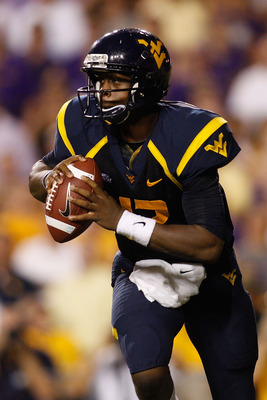 Chris Graythen/Getty Images
Same story with West Virginia-- just a different week. The Mountaineers have a firm hold on the top spot in this ranking and that may not change any time soon.
They trounced a bad UNLV team this weekend, 49-10, but they really taught us nothing new. Geno Smith was again solid, completing 12-of-16 pass attempts for 220 yards and three touchdowns. Noel Devine ran for 84 yards and two touchdowns on an absurd three carries.
The Mountaineers kick off Big East play Thursday night when USF comes to town. The Bulls come into this one with a chip on their shoulder after losing to Syracuse for the first time and could potentially give the Mountaineers a solid test.
The Bulls have beaten West Virginia three times in the last four years, including a 30-19 win last season in Tampa. If I had to guess though, I'd say that the Mountaineers are ready to get some revenge and will hold on to their no. 1 spot.
Keep Reading