College Football Power Rankings: Pac-10 Quarterbacks After Week 6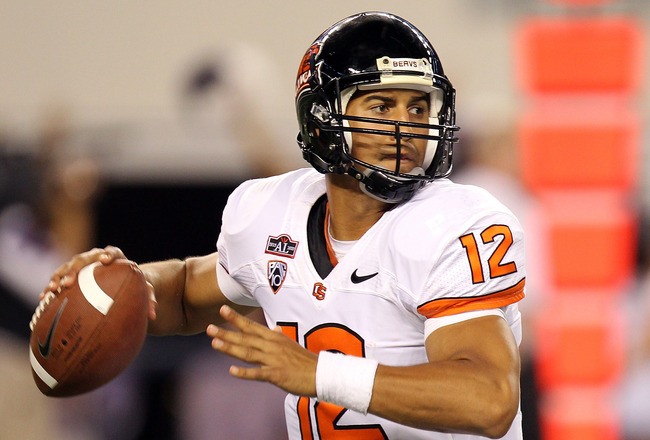 Ronald Martinez/Getty Images
Week 6 of the 2010 college football season is officially in the books. With upsets like South Carolina over Alabama in the SEC, the Pac-10 had some excitement of its own this past Saturday.
Overall, it was a good week for Pac-10 quarterbacks as they faced off for conference supremacy.
The following is the sixth installment of a weekly feature power ranking the Pac-10 quarterbacks based solely on their performance in Week 6.
10. Kevin Riley, Cal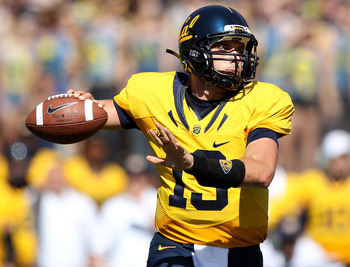 Jed Jacobsohn/Getty Images
The California Golden Bears crushed the UCLA Bruins 35-7 in conference play this past Saturday, improving to 3-2 overall, 1-1 in Pac-10 play on the season.
Kevin Riley completed nine of 16 passes for a 56 percent completion rate, 83 yards, one passing touchdown, and one rushing touchdown.
While Riley's numbers don't have the star appeal, Jeff Tedford and Co. relied heavily on the rushing attack to pull off this conference win.
9. Kevin Prince, UCLA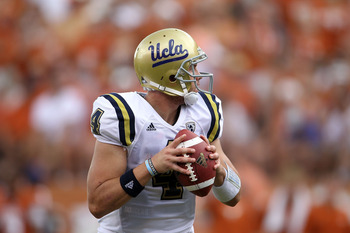 Ronald Martinez/Getty Images
The UCLA Bruins were showing improvement after three straight wins, but got completely dominated by the Cal Bears in a disappointing road loss.
Kevin Prince returned after sitting out in Week 5 due to injury, completing 13 of 31 passes for a 42 percent completion rate, 99 yards, one touchdown, and one interception.
The struggling Prince was also minus-32 yards on the ground against the tough Cal defense.
8. Jeff Tuel, Washington State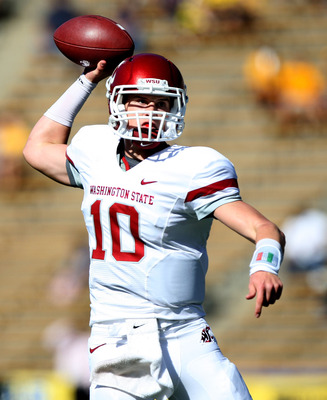 Jed Jacobsohn/Getty Images
The Washington State Cougars extended their conference losing streak with a loss to the Oregon Ducks in Week 6. Despite the losing record, the Cougars are showing improvement, especially at quarterback.
Jeff Tuel completed 25 of 40 passes for a 62 percent completion rate, 245 yards, one touchdown, and one interception.
Tuel has consistently put up respectable numbers each week, showing that at least he can hang with the big boys, something the majority of his team cannot say.
7. Jake Locker, Washington
Otto Greule Jr/Getty Images
Coming off a big upset road win, the Washington Huskies fell to the Arizona State Sun Devils on a rainy night in Seattle.
Jake Locker completed 23 of 38 passes for a 61 percent completion rate, 209 yards, and one touchdown. Locker also added six yards on the ground for a rushing touchdown.
Locker was shut down by the fierce Arizona State defense most of the game, accounting for a lesser performance after last week's season-best at USC.
6. Nate Costa/Darron Thomas, Oregon
Nate Costa
Otto Greule Jr/Getty Images
The Oregon Ducks picked up another conference win against the Washington State Cougars in Week 6 to continue their undefeated streak to 6-0.
Considering the situation for Oregon in Saturday's game, the duo of quarterbacks will be used in this ranking.
Starting quarterback Darron Thomas left in the second quarter with a right shoulder injury, completing eight of 12 passes for 153 yards and one touchdown up until that point.
Backup quarterback Nate Costa came in for the injured Thomas, completing 13 of 15 passes for 151 yards and one touchdown.
Costa also added 84 yards on the ground and one rushing touchdown.
5. Steven Threet, Arizona State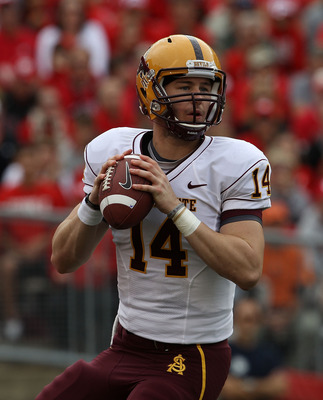 Jonathan Daniel/Getty Images
The Arizona State Sun Devils picked up a much-needed conference win at Washington in Week 6 after dropping their last three games.
Steven Threet improved after committing seven interceptions in his last two games, completing 21 of 34 passes for a 62 percent completion rate, 288 yards, two passing touchdowns, and one interception.
In the improved performance, Threet also rushed for one touchdown.
4. Matt Barkley, USC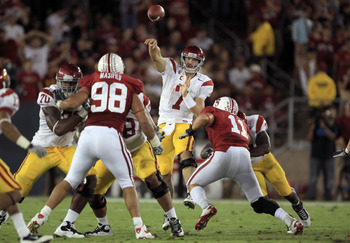 Ezra Shaw/Getty Images
After starting the season 4-0, the USC Trojans have dropped two consecutive conference matchups, the latest being a close loss at Stanford.
Matt Barkley completed 28 of 45 passes for a 62 percent completion rate, 390 yards, and three touchdowns. While passing for a season high for passing yards, Barkley also added 33 yards on the ground.
3. Andrew Luck, Stanford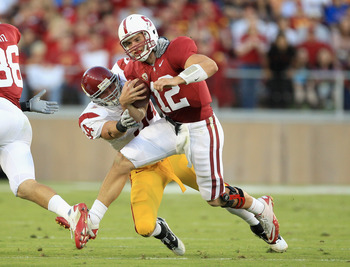 Ezra Shaw/Getty Images
The Stanford Cardinal squeaked by the USC Trojans at home with a last-second field goal to win and place them at 5-1, 2-1 in the conference.
In a game that was the duel of the starting quarterbacks, Andrew Luck continued to deliver and prove his Heisman case.
Luck completed 20 of 24 passes for a season-high 83 percent completion rate, 285 yards, and three touchdowns. He also added 40 yards on the ground.
Coming off four interceptions in the past two games, Luck did not falter against the Trojans in the air.
2. Nick Foles, Arizona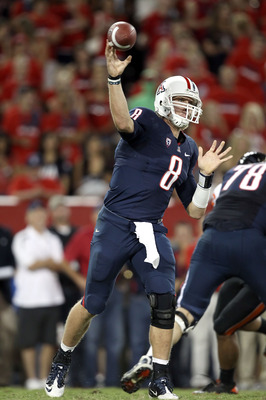 Christian Petersen/Getty Images
Although the Arizona Wildcats were upset at home by Oregon State, their starting quarterback was not to blame.
Nick Foles completed 35 of 46 passes for a 76 percent completion rate, 440 yards, and three touchdowns. Both his total passing yards and touchdowns were season highs.
Foles threw one interception to the Beaver defense. He has now had one interception in each game this season, but he did everything he could to lead the Arizona offense.
1. Ryan Katz, Oregon State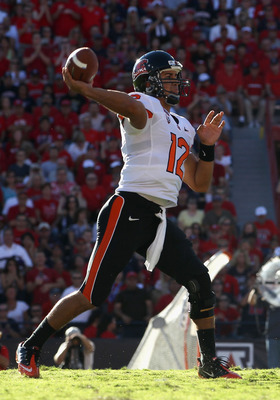 Christian Petersen/Getty Images
The Oregon State Beavers continued to improve off their shaky start to the season with a huge upset win over the No. 9 Arizona Wildcats.
Ryan Katz rolled off his excellent play in Week 5, hosting Arizona State, to make a statement in Tucson.
Katz completed 30 of 42 passes for a 71 percent completion rate, 393 yards, two passing touchdowns, and one rushing touchdown. Both his completion rate and total passing yards are season highs.
Although Katz threw one interception, he continued to wow Beaver fans in hostile territory. It's as if he flipped a switch before the Arizona State game, going from mediocre quarterback to one of the top in the conference.
Keep Reading