ACC Week 6 Power Rankings: Are FSU and Virginia Tech Heading For a Showdown?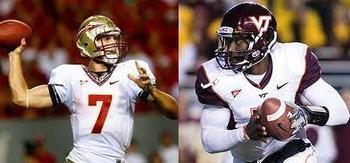 Christian Ponder and Tyrod Taylor have their teams positioned well in the ACC.
After a rough start to the season for the Atlantic Coast Conference, its teams are in full assault on finding redemption.
Week five showcased four telling in-conference matchups and a pair of out-of-conference battles.
Where does each team fall in this week's ACC power rankings and which ones are still in position for a run at the ACC's championship game?
12: Duke Blue Devils
Coach David Cutcliff and the Blue Devils have struggled to find rhythm
Streeter Lecka/Getty Images
Duke football has played the 2010 season like, well, the Duke football of old.
The Blue Devils are 1-4 with conference losses to Wake Forest and Maryland. A week five bye brought some needed rest as the Devils prepare for back-to-back conference games against Miami at home and at Virginia Tech
Looking at the upcoming schedule, Duke will have its work cut out for it to find another win during the 2010 season.
11: Wake Forest Demon Deacons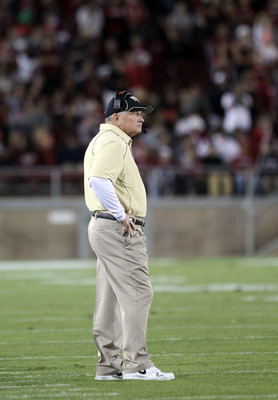 Can Head Man Jim Grobe get the Deacons back to respectable?
Ezra Shaw/Getty Images
Wake Forest has lost four consecutive games including two critical conference matchups.
The Demon Deacons have failed to beat either of their triple option opponents--Georgia Tech and Navy--in back-to-back weeks, so Wake will have to find itself defensively before traveling to Blacksburg to face Virginia Tech next week.
That game versus the Hokies begins a five game ACC gauntlet for Wake, which is struggling to find a way to finish out close games.
10: Virginia Cavaliers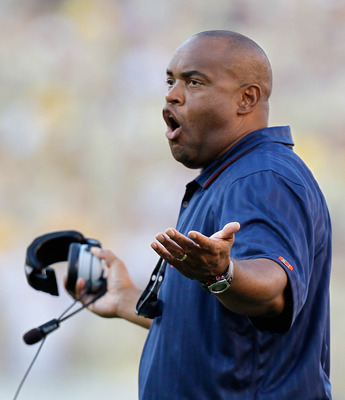 Head Coach Mike London looks to rebuild at UVA
Kevin C. Cox/Getty Images
The Virginia Cavaliers are off to a rough start in conference play, dropping their first two games by an average of 16 points.
Things don't get any easier with UNC and Miami coming up, though a non-conference breather with Eastern Michigan is sandwiched in between.
The Cavs have a chance to finish strong, though, and a Virginia bowl berth is not out of the question.
9: Boston College Eagles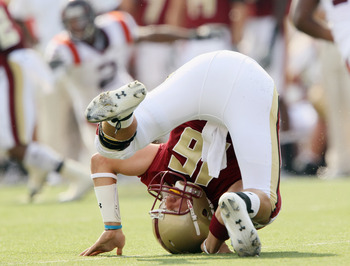 Boston College finds themselves on the wrong end of the ACC standings
Elsa/Getty Images
Boston College is reeling after three consecutive losses by an average of 21.3 points each.
Things don't get any easier as the Eagles must travel to Florida State next Saturday. However, the softest part of the schedule is toward the end and it's never wise to count BC out.
Despite an offense that is struggling, the Eagles have enough talent to play with most teams in the league.
8: Clemson Tigers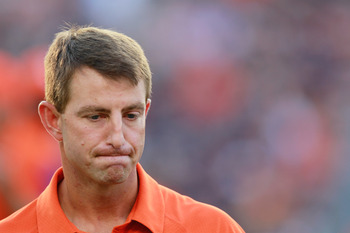 Clemson Coach Dabo Sweeny is finding the ACC much tougher without CJ Spiller
Kevin C. Cox/Getty Images
The Clemson Tigers had just 91 yards rushing as they dropped their third consecutive game, 21-16, to North Carolina.
Even though the Tigers are tied for last in the Atlantic Division, they have showed flashes of competitiveness against a solid slate of foes, including two ranked teams in Auburn and Miami.
Clemson will look to get its first ACC win next week against Maryland.
7: Maryland Terrapins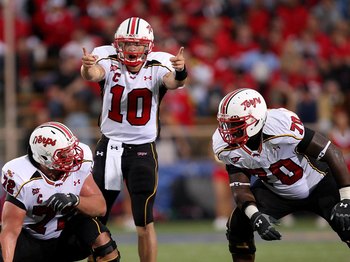 The Terrapins are 4-1 and undefeated in the ACC. Can that last?
Ezra Shaw/Getty Images
Maryland is sitting near the top of the ACC's Atlantic Division standings and the Terrapins control their own future. That's more than can be said for almost every other team in the conference.
With that stated, their lone conference victory is over Duke and they have not yet beaten any other BCS conference opponents.
The Terrapins travel to Clemson and to Boston College in the next two weeks. Even though they are undefeated in the conference, the Terps still have a long way to go before they can be considered a serious conference contender.
6: North Carolina Tarheels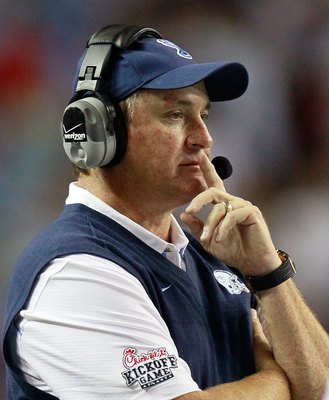 Despite what has been constant off the field distractions, HC Butch Davis has his Heels on a 3 game winning streak.
Kevin C. Cox/Getty Images
North Carolina started the season 0-2 and it looked like its on-field play was ready to take a nose dive in unison with its well-documented off-the-field problems.
But after a week two loss to Georgia Tech, UNC has rebounded with three consecutive wins, including an ugly 21-16 slobber-knocker against Clemson this week.
Though the Heels are now 1-1 in conference, their schedule gets tougher with three-straight conference games on the road coming up. It might be tough for UNC to get through the slate unscathed considering the myriad of obstacles it must overcome.
5: Miami Hurricanes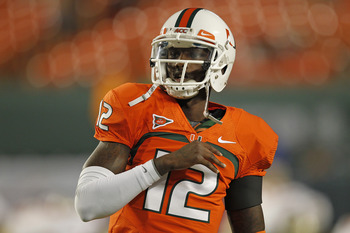 QB Jacory Harris and the 'Canes look to bounce back after taking their first ACC loss.
Joel Auerbach/Getty Images
Miami and head coach Randy Shannon have yet to prove they belong at the top of the ACC.
With sky high expectations for 2010, Miami has struggled to live up to the preseason hype.
After this week's home loss to in-state and conference rival FSU, the Hurricanes sit at 1-1 in conference.
Miami's next 6 games are against ACC teams, and include division contenders North Carolina, Georgia Tech, and Virginia Tech.
Next week the 'Canes travel to Duke, then follow that by hosting UNC in what is sure to a key game for the Coastal Division's future outlook.
4: Georgia Tech Yellow Jackets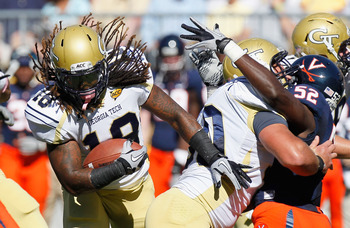 B-back Anthony Allen finally got going for the Jackets with 195 yards and 3 TDs vs. UVA.
Kevin C. Cox/Getty Images
What is scary for the ACC and eerily similar to last year?
Georgia Tech is 3-1 in conference with an offense just starting to find its mojo. After losing four players to the NFL the Yellow Jackets have struggled to find consistency on either side of the ball in their first four games.
But after a solid win over Virginia, Tech has put itself in a position to control its Coastal division destiny.
With consecutive conference wins under its belt, Georgia Tech will host out of conference foe Middle Tennessee next week before conference games against Clemson, Virginia Tech, Miami and Duke.
The Jackets may be gearing up for another run at the conference title.
3: North Carolina State Wolfpack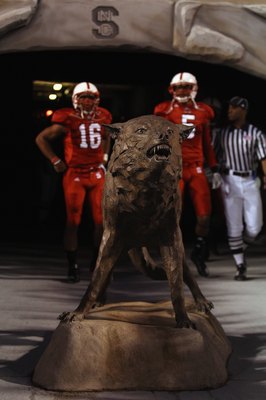 The NC State Wolfpack are in the hunt for an ACC Championship game birth.
Streeter Lecka/Getty Images
At 5-1 overall, and 2-1 in the ACC, North Carolina State has surprised everyone.
Behind the dynamic play of quarterback Russell Wilson and a tough, disciplined team ethos that mimics that of their former Marine Corps officer head coach Tom O'Brien, the Wolfpack have shown the makeup of a team that refuses to be easily beaten.
Next week the Pack travel out of conference to face the East Carolina Pirates, before coming back in conference with five games to finish out their season.
That conference slate starts by hosting Atlantic Division leader FSU, then traveling to Clemson. These two games will likely show whether NC State has what it takes to go to Charlotte and represent the division in the Championship game.
2: Virginia Tech Hokies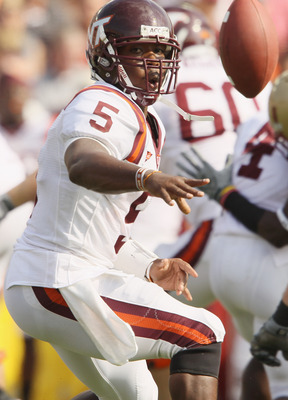 After a nightmare start, Tyrod has VT back in form just in time for an ACC run.
Elsa/Getty Images
As much as the rest of the ACC and every Hokie fan would like to forget the first two weeks of the 2010 season, Virginia Tech has sling-shotted back to win four straight--including their first two conference games.
Sitting unmarred in the ACC, the Hokies hold the future of their conference fate solely in their own hands.
With upcoming home games against the ACC's winless duo of Wake and Duke, VT should be sitting pretty at 4-0 in conference when they host Georgia Tech on national TV, Thursday night, Nov. 4th.
That game will begin the Hokies' run through their back-loaded ACC schedule which pits them at UNC, at Miami, and home against rival Virginia.
1: Florida State Seminoles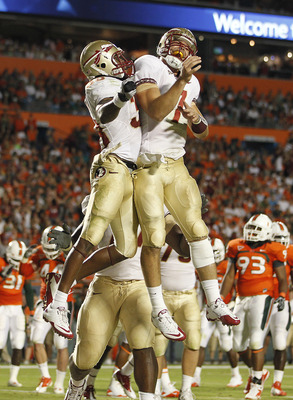 FSU and QB Christian Ponder bask in the joy of defeating conference & state rival Miami.
Joel Auerbach/Getty Images
There is no question who the top team in the ACC is right now.
Florida State went into Miami and took the wind right out of the Hurricanes' sails, defeating them 45-17 and capping a three-game conference win streak.
Whatever team wants to get to Charlotte for the Atlantic Division title will have to go through the nationally-ranked Seminoles to do so.
Christian Ponder and the 'Noles host Boston College next week before gearing up for what should be a fantastic Thursday night division showdown against Russell Wilson and NC State on Oct. 28th.
Keep Reading