College Football Power Rankings, Week 5: Pac-10 Wide Receivers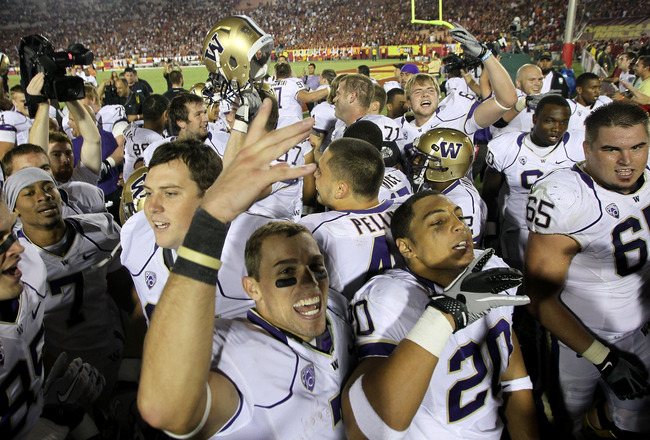 The match-up between Washington and USC pitted the top two receivers in the Pac-10 against one another.
Stephen Dunn/Getty Images
This Saturday will mark the first time this fall that all the teams in the Pac-10 will be in action against one another.
As such, every prominent receiver in the conference will have his spot in the rankings on the line.
The inaction of Arizona and Cal this past weekend means the likes of Juron Criner and Marvin Jones won't be moving up or down, but will have to come through big time this coming weekend if they are going to hold onto a lofty position on the list.
Without further ado, here's the Pac-10 wide receiver power rankings for week 5.
10. Griff Whalen, Stanford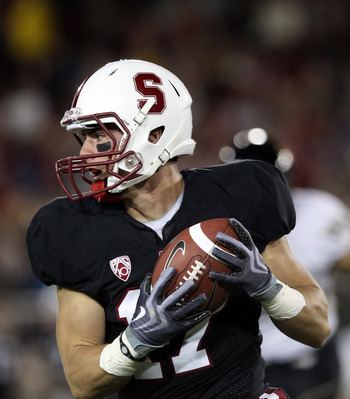 Stanford's Griff Whalen helped to get the Cardinal off to a fast start against Oregon, though the lead didn't exactly hold up.
Ezra Shaw/Getty Images
This week's merit badge for inclusion on the list goes to Stanford's Griff Whalen.
The six-foot junior from Ohio staked the Cardinal to its initial lead against Oregon with his first touchdown of the season.
He finished the game with five catches for 78 yards and that lone touchdown, bringing his season totals to 19 catches, 233 yards, and, again, one score.
Whalen replaces teammate Doug Baldwin in the rankings this week, but he'll have to keep up the good work against USC this Saturday if he wants to stick around.
Last week's ranking: not ranked
9. Kerry Taylor, Arizona State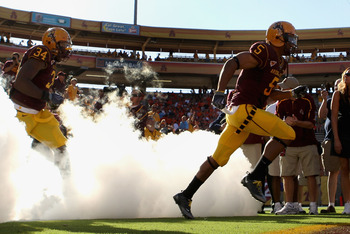 Kerry Taylor came up catching once again vs. OSU, but it wasn't enough for the Sun Devils to come away with a W.
Christian Petersen/Getty Images
Arizona State's game against Oregon State was very much reflective of the Sun Devils' entire season thus far.
Kerry Taylor and the rest of the team plays well enough to keep the game close, but the Devils are ultimately undone by turnovers.
Though Taylor wasn't the best receiver for ASU last Saturday, he was still solid, with four catches for 66 yards.
Solid enough to maintain his spot at number nine in the rankings.
Last week's ranking: ninth
8. Gerell Robinson, Arizona State
Gerell Robinson has all the tools to be a top-10 wide-out in the conference.
The golden helmet sticker for Arizona State this week belongs to Gerell Robinson.
The six-foot-four junior from Phoenix finally asserted himself this week, picking up 73 yards and a touchdown on four grabs against Oregon State.
With his size, speed, and skill, Robinson should find himself on this list for weeks to come, assuming Steven Threet can get the ball where it needs to be.
Last week's ranking: not ranked
7. Jared Karstetter, Washington State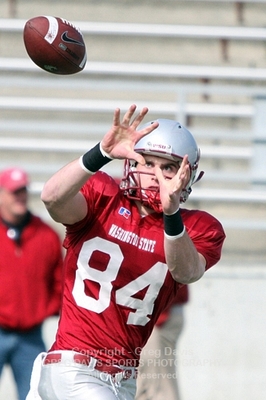 Jared Karstetter is on his way to being a rankings mainstay after making a repeat appearance on the list.
Like most members of the Pac-10 wide receiver power rankings, Jared Karstetter did just enough this week to keep the same spot that he had last week.
Karstetter's five catches for 72 yards helped to keep Wazzu in the game against UCLA, though they certainly weren't enough to put the Cougs over the conference hump against the Bruins.
Last week's ranking: seventh
6. Marquess Wilson, Washington State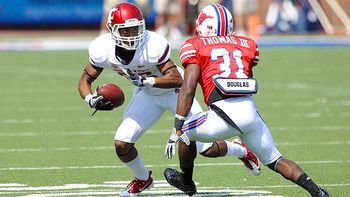 Just a true freshman, Marquess Wilson is at the head of the Pac in receiving yards.
Meanwhile, Karstetter was leapfrogged, on both his own team and in the power rankings, by Marquess Wilson.
After debuting in the fifth spot in the week three rankings, Wilson took a week off before reasserting himself with five catches for 118 yards at the Rose Bowl against UCLA.
As the league-leader in receiving yardage, it'd be a crime not to include Wilson now and, if he keeps up the good work, from here on out.
Last week's ranking: not ranked
5. Marvin Jones, Cal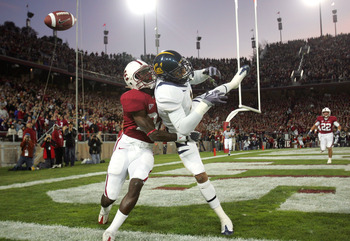 Marvin Jones will be back in action this week against UCLA and the vaunted secondary of the Bruins.
Ezra Shaw/Getty Images
Marvin Jones gets to keep his spot in the middle of the rankings by virtue of not playing last Saturday due to Cal's bye week.
He'll have a great opportunity to creep his way up the list with the Golden Bears hosting the Bruins in Berkeley this weekend.
Last week's ranking: fifth
4. Jeff Maehl, Oregon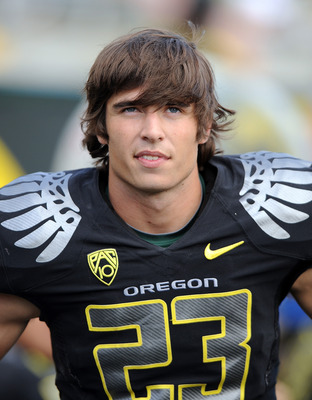 Jeff Maehl was instrumental in Oregon's comeback win over Stanford.
Steve Dykes/Getty Images
Keeping with the theme of "stagnation", Jeff Maehl returns at the fourth spot with three catches for 50 yards and a touchdown against Stanford.
Modest as his numbers this week may be, Maehl remains the best receiver on the best team in the Pac-10, and doesn't get many opportunities to shine, with the focus of the Ducks' offense remaining on the ground.
Last week's ranking: fourth
3. Juron Criner, Arizona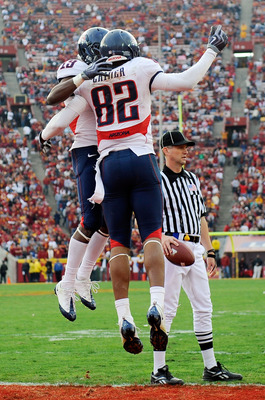 Juron Criner and the Wildcats are hoping to celebrate early and often against Oregon State.
Kevork Djansezian/Getty Images
Juron Criner's meteoric rise up the rankings took a break this past week, as Arizona had Saturday off.
But never fear. Criner and the Cardiac 'Cats will be back to football at home against Oregon State this coming weekend.
Last week's ranking: third
2. Ronald Johnson, USC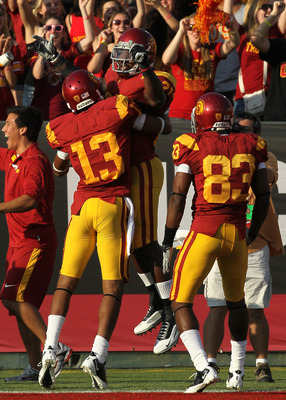 Ronald Johnson performed well against U-Dub on Saturday, but it was not enough to put him on top.
Stephen Dunn/Getty Images
The race for the top spot in the rankings between Ronald Johnson of USC and Jermaine Kearse of Washington was a close on this week.
With the Trojans and the Huskies going head-to-head, Johnson and Kearse both performed well.
Johnson, in particular, accumulated 109 yards on six catches, certainly good enough to hang onto one of the top spots in this week's list.
But not quite enough to take over the number one ranking.
Last week's ranking: second
1. Jermaine Kearse, Washington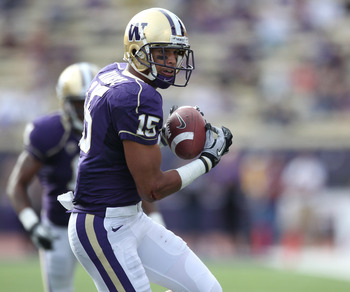 Jermaine Kearse did just enough for the Huskies to hang on to the top spot.
Otto Greule Jr/Getty Images
To be fair, Jermaine Kearse was (slightly) outperformed by RoJo on the field this past Saturday.
Like Johnson, Kearse hauled in six passes, though his 92 yards were a full 17 fewer than Johnson's.
However, Kearse earns the tie-breaker by virtue of his team winning, on the road no less.
Last week's ranking: first
Keep Reading

USC Football: Like this team?