Florida Gators' Five Biggest Lessons Learned from the Week 5 Blowout at Alabama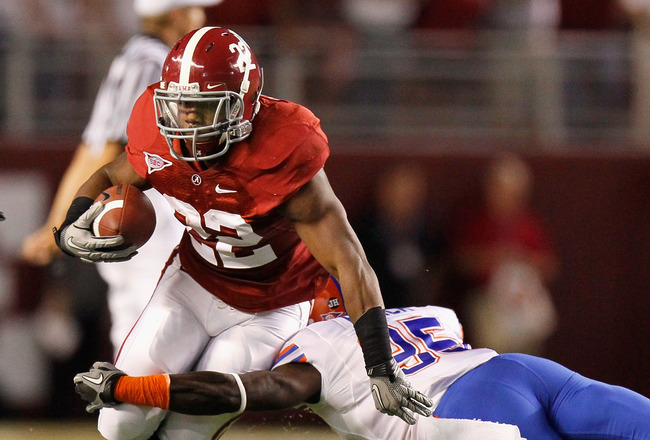 Kevin C. Cox/Getty Images
For a loss that was supposed to happen, that sure felt bad, didn't it?
A host of mistakes by the coaches, the players, and possibly the fans' expectations left a very bad taste in the collective mouths of the Gator Nation. In a game that Alabama didn't need help winning, Florida made it easy by coughing up the ball and blowing assignments.
The panic button doesn't have to be hit; Florida is not on fire like Georgia is right now.
The Gators are probably still favored to win the SEC East and rematch Alabama/play Cam Newton for a chance at a BCS bowl. The Gators are very, very long shots to make the national championship at this point, though.
If this year was "Championship or bust!" for you, you might want to switch teams right now to avoid disappointment. If you understood that the Gators weren't great this year, then everything should be fine.
If you are looking at the offense and wondering how the hell any of those guys are supposed to grow into title contenders, then you're like me, and alarms may be going off in your head.
In destroying Florida, Alabama exposed Florida as a team just barely above LSU on the "wow we're lucky we have this record" scale. Unlike LSU, who lucked into their record through voodoo or some other black magic, the Gators lucked into it with weak scheduling.
I'm not sure which way is scarier to be a fan of, either.
Florida fans can take at least five things from the Alabama gam,e though. Unfortunately, only one is something you want to hear.
Steve Addazio is Not Good

Things that don't work against Alabama, Vol. 1

I wasn't ultra-disappointed with the playcalling, except for the way the red-zone offense was handled.
However, Florida is now 20 weeks into the Addazio offense, and has only shown life against scrub defenses. His offense is not dynamic enough to stick with teams that can score and play defense.
Florida has enough talent to scrape by most of the SEC, but when it comes to Alabama, the team that Florida must beat to get back to the national championship, Addazio has zero answers.
I'm not calling for him to be fired. I don't even want him to resign.
He's a great recruiter, and prior to his promotion, was a good offensive line coach. However, he's juggling too many duties right now, and everything is suffering.
Florida's offensive line is regressing each week. Despite being the largest, most talented group in the nation, the Gators can't get a consistent rushing attack.
Last year, in Addazio's first season as offensive coordinator, they couldn't pass protect. In 2008, when Addazio could focus on the group, they did both really well.
2006 and 2007 were good years for the offensive line as well.
Between his unit slipping, and the offense as a whole disappointing, it's probably time to pull in the reigns on Addazio's control of the team.
John Brantley is a Disappointment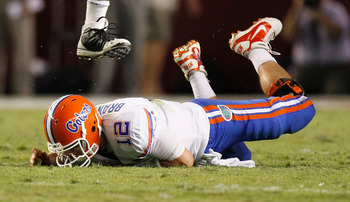 Kevin C. Cox/Getty Images
Yes, I realize that he's only five weeks into his career.
I also realize that he's not Tebow. However, he is off to the second-worst, non-freshman start of any UF quarterback in the 2000s. Only Jesse Palmer, and his 49.7% completion percentage, had a worse efficiency rating.
What makes it worse is that Palmer's first five games, despite the terrible accuracy net less than a two-point difference between Brantley's rating.
Some of it is the system; UF isn't set up for a dropback passer. Most of it is because Brantley hasn't performed well in his role as a dropback passer.
I'll have more on this later in the week, but so far, Brantley is quite a bit behind Leak, nowhere near Tebow, and not even in the same universe as Grossman's start as a collegiate passer.
The Rushing Game Needs a Running Quarterback

It doesnt have to be #15, but the quarterback should look like this

Florida cannot find any consistency on the ground.
For four years, the consistency was Tebow. He handled the bulk of the carries in all, but his freshman season, where he was still the No. 2 back and the hard yards guy.
Without the option, Florida is a limited rushing team.
Brantley occasionally "runs" the option. That is in quotes because, have you seen him try to run an option?
It's horrible.
Addazio shouldn't call that play, and Urban really should consider not recruiting traditional pocket passers, as it does not work within Florida's offense.
Florida needs the option with the players it has, and the zone/pulling blocking scheme that the line is supposed to use. In an offense built on misdirection, by removing a rushing quarterback, Florida is limiting itself to only one direction: straight into the nose tackle, and then right down to the dirt.
That's not to say Burton is the answer. I'm not going to knock him for his pedigree.
I already think he's better than the three stars he was given by recruiting services. However, he's not a starting quarterback right now, even as inept as John Brantley has been.
Chas Henry Is The Gators Best Player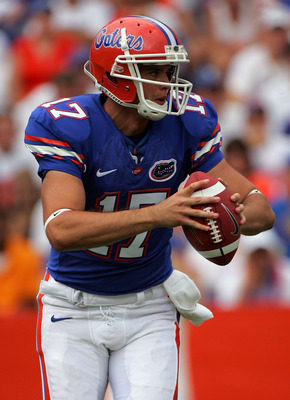 The Gators MVP through week 5
Sam Greenwood/Getty Images
This is sad, with a dash of hope because, in all honesty, Chas Henry may be the best special teams player in the nation.
The Gators haven't done much right all season, but Henry consistently pins teams deep with his huge punts.
Against Alabama, Caleb Sturgis was unable to go due to a back injury so Chas Henry stepped into the place kicking role. He was 2-for-2 on his chances, scoring the Gators' only points on the night.
He also had a 75-yard punt that was downed at the 2-yard line. There may have never been a better punt in NCAA history.
Again, this isn't something the Gators should be bragging about. It's more of a MAC/Sun Belt thing to be happy with your punting situation.
However, if the Gators' offense is going to continue to fail, it's nice to know that the opposing offenses will consistently start inside of their own 20, making it harder to score on the Gators' mostly stingy defense.
Cam Newton Is The Best Player in The SEC

If only...

I know this has nothing to do with Florida, directly, but it kills me.
The Tebow successor who left after Urban effectively blackballed him has returned to destroy the SEC.
Tell me if this sounds familiar.
Right now, he's the most efficient passer in the SEC, and second in the nation. He's his team's leading rusher and leading touchdown scorer.
He's also impossible to bring down and masterful at converting third downs.
Yep, that's Tebow. Err... actually that's Cam Newton at Auburn this year. He's the only real threat to derail Denard Robinson's Heisman campaign, and would be a great redemption story.
Too bad Florida missed out on all of that.
Keep Reading

Florida Gators Football: Like this team?