Unlucky Bucky: Wisconsin Badgers Run Into Tough Michigan State Team, Fall 24-34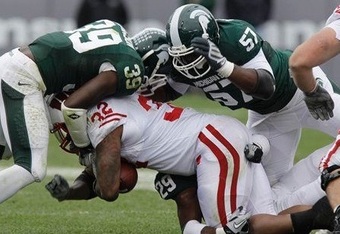 John Clay #32, Stopped Short In Second Quarter Against Michigan State

Entering Saturday, the Badgers (now 4-1) had not shown any indication of what team they were going to be. Are they a dominant running team, or an efficient passing team? Are they a hard nosed defensive squad, or do they bend but not break?
All of these questions were answered Saturday against Michigan State (5-0).
In what should be a very embarrassing loss, the Badgers fell to MSU in what was largely a disrupted day for them offensively.
John Clay, who is considered among the nation's elite running backs, did little to hold that acclaim.
Their game on offense can best be summed up best by their last offensive play. With 1:08 to go in the fourth quarter, quarterback Scott Tolzien (11-25, 127 yards, 1 touchdown) threw an incomplete pass, on 4th and 17.
Now, I'm not about to shoulder the blame of this game on Tolzien, but Wisconsin's third down passing (when a quarterback shows his mettle and worth) was ineffective at best.
The Spartans put down the Badgers with an 84-yard drive, culminating with a gut call to go for the score up three, 27-24 at that point, from the one-yard line. The Badgers bit on the play fake as they had the touchdown before, and allowed the Spartans to convert the play for a score to finish this game, 34-24.
The Badgers offensive looked off, as tight end Lance Kendricks was almost non existent until the latter part of the third quarter, and now-recovered wide receiver Nick Toon showed just how rusty he was, grabbing just one catch for 28 yards.
The biggest storyline to come out of this game?
The continuing ankle issues with Clay.
His ankle made him hesitant, whether it be to make his cuts, or to drive through a defender. For the Badgers, he's going to really need to get healthy and if he plays as limited as he did today, the offense will depend a lot more heavily on the lone bright spot of the game, true freshman running back James White (10 carries, 98 yards, 2 touchdowns).
The Badgers will need to use this game as their gut-check moment if they hope to make any real noise in the Big Ten. Their run defense was fooled on multiple occasions with cutbacks and misdirections, but was almost the saving grace for the game, stuffing the Spartans on a key 4th-and-1 earlier in the game.
Again though, the Badgers' offensive woes left the defense wondering "why even bother?" as they punted the ball after a quick three and out, punting to the Spartans' 49.
Another game, another big returns week for the opponent of the Badgers. It's becoming a theme for the Badgers, as they've now allowed two games with return touchdowns, today's coming in what would likely be a tipping point for the Spartans.
I'm not going to pretend the touchdown return didn't happen, but i'll still ponder the "what-ifs". What if the Badgers didn't allow that return? What if the score was that much closer? Would the Badgers' gameplan have changed?
There are some highlights to this game, and some positives to take away from the loss, however.
White continues to be effective in the time he receives on the field, and it's likely Tolzien won't be passing 11-25 anymore.
Tolzien was among the most efficient passers in the nation, but it's safe to assume that standing (and reputation) will take a considerable hit.
Today, the no. 11 Badgers played the No. 24 Spartans, and looked like they should be swapping AP Poll spots.
As I've said before in a previous article, the Badgers' out-of-conference scheduling of powderpuffs may be partially to blame here. They can't expect to blow out a team like Austin Peay by a score of 70-3, then go into Michigan State at East Lansing, and rinse/repeat. It's just a bad setup.
If the Badgers have any real chance in the Big Ten this season, they didn't exactly inspire confidence today against MSU. A good rebound game should come next week, as the Badgers return home to the friendly confines of Camp Randall Stadium in Madison. They'll take on the Minnesota Golden Gophers.
This article is
What is the duplicate article?
Why is this article offensive?
Where is this article plagiarized from?
Why is this article poorly edited?

Wisconsin Badgers Football: Like this team?