College Football's Lovable Losers: The 10 Best Teams with Losing or .500 Records
College football is a truly passionate sport.
Fans of prominent teams often find themselves rooting just as hard for upsets as for their favorite teams.
Fans love when an upset goes in their favor to move up in the polls or knock some annoying "mid-major" from disrupting their national championship dreams.
Sometimes they just want to see a hated rival crash and burn. Preferably to an FCS team and definitely at home.
Sometimes they just get greedy and want a little of each.
Rabid fans might even go so far as to take one of these suffering squads under their metaphorical wing.
At this point in the season, a number of teams are shrugging their shoulders and saying, "Bowl game or bust!"
Others are just looking to play spoiler and blemish a powerhouse's perfect record.
As the college football season nears its midway point, let's have a look at 10 of the best of the rest.
No. 10: UNLV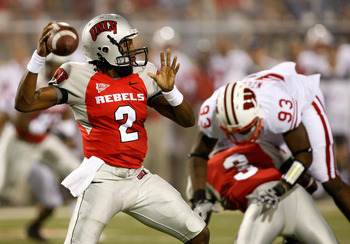 Ethan Miller/Getty Images
Current Record: 1-3
The Runnin' Rebels' record may not look great. After taking on the likes of then No. 12 Wisconsin and then No. 20 Utah, your team's might not either.
Not to mention having to face Idaho's Nathan Enderle, aching for revenge following one of the worst showings in the Vandals' star quarterback's career.
The Rebs did bounce back last week with a 45-10 victory over New Mexico and have an excellent chance for some national recognition this weekend, taking on scrappy No. 25 Nevada.
The rest of the MWC schedule looks winnable sans a probable death trap vs. TCU, though the Horned Frogs do travel to UNLV's home turf.
Quarterback Omar Clayton has been serviceable, throwing 41-for-81 gaining 531 yards and four TDs with no INTs to his credit.
Michael Johnson and Phillip Payne lead the receiving threat with 279 and 219 yards respectively.
The UNLV offensive line has been surprisingly stout, not only allowing their quarterbacks time to pass, but also giving up just six sacks to their opposition's 13.
The Runnin' Rebels may find themselves trucking into a bowl come the post-season if their play continues at this level.
No. 9: Georgia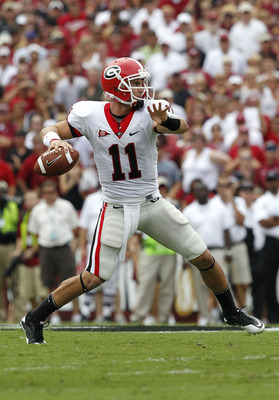 Mike Zarrilli/Getty Images
Current Record: 1-3
No A.J. Green? Big problem.
File "selling game-used jersey" under, "Seemed Like a Good Idea at The Time" and you have Georgia sitting at 1-3 and the bottom of the SEC East.
There's still hope for the ol' silver britches as A.J. Green returns this weekend. Quarterback Aaron Murray and Green need to sync up quickly as they travel to Boulder, Colorado to face the Buffaloes.
A chance to lose to a Dan Hawkins-coached Colorado squad is possible as the Buffaloes will be celebrating their 1990 national championship.
Taking advantage of the hype and a little bit of rust on Green's part may result in an eye-raising upset.
This does not bode well for you, Georgia.
Murray has been accurate while throwing for 879 yards and five TDs.
Running back Washaun Ealey hasn't exactly lit the world on fire with 198 yards rushing through three games. Kicker Blair Walsh has 31 points to his credit.
Then there's the flip side of the coin. After plunking Louisiana-Lafayette 55-7, Georgia has been on a three-game tumble.
First at South Carolina, then Arkansas, and finally Mississippi State. The Bulldogs rank a lowly 73rd in the nation in scoring offense.
A.J. Green's return may finally ignite the Bulldog offense, and Georgia could fight their way to a winning record and with a bowl invite in hand. One player does not a team make, however.
If Georgia can knock off the Buffs in Boulder, that'll be a start and will give them a nice shot in the arm heading into SEC play.
No. 8: Middle Tennessee State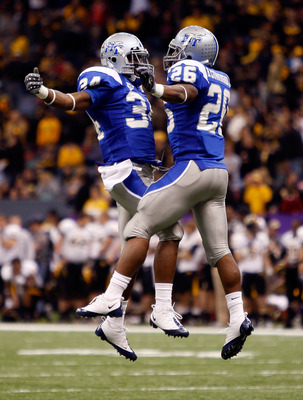 Chris Graythen/Getty Images
Current Record: 2-2
Sitting at the top of the Sun Belt rankings with Troy, the Blue Raiders look like the only team in the conference that could give the Trojans a run for their money.
Conveniently enough, that argument will be put to rest this weekend. MTSU heads to Alabama to meet the "Men of Troy" in what may very well be the Sun Belt Conference title game.
MTSU's season thus far has a "middle of the road" look to it no matter how it's spun. A loss to pitiful Minnesota, a sluggish bout with Austin Peay, a close loss to Memphis and finally a conference win over Louisiana-Lafayette.
Quarterbacks Logan Kilgore and Jeff Murphy have thrown for a combined 928 yards and three TDs (all Kilgore's).
Running back Phillip Tanner has been productive, churning out 309 yards and five TDs while his counterpart, D.D. Kyles, has accumulated 220 yards on the ground and notched four TDs.
Ranked 48th amongst FBS teams in scoring offense and 67th in scoring defense, the team needs something to set them apart from the rest of the pack.
The Blue Raiders need a win this weekend. If they lose, they'll yet again be a bridesmaid to Troy, but still bowl-bound.
No. 7: Hawaii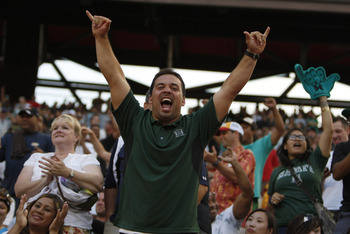 Kent Nishimura/Getty Images
Current Record: 2-2
Hawaii started off 2010 by hosting the freshly probated USC Trojans. Hawaii eventually fell to USC in a game that rivaled only a few NCAA Football 11 exhibitions.
The Warriors' schedule has been a rollercoaster with losses to Southern Cal and Colorado while notching wins against Army and hapless Charleston Southern.
Hawaii has shown off their firepower by outscoring their opposition 146-115 so far this season.
Quarterback Bryant Moniz can be thanked for much of that. Moniz has thrown for 1,337 yards and 11 TDs this season. Three Warriors have over 300 yards receiving this year with two eclipsing the 400-yard mark.
Much like successful Warrior squads of the past, the 2010 version favors the air game averaging 405.5 yards per game through the air. With numbers like that, who needs defense?
Hawaii will test the mettle of WAC secondaries this year and will likely stay home for the holidays. By playing in the Hawaii Bowl, that is.
No. 6: Troy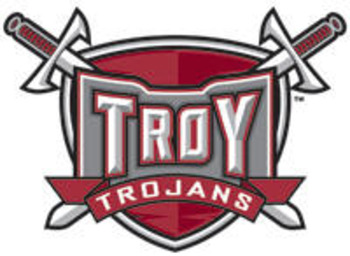 Current Record: 2-2
Since their first season in the FBS, Troy has always proven to be a foe that never backed down. The four-time Sun Belt Champions have been involved in shootouts from game one in 2010.
Ranked sixth in the FBS in passing yardage, the Trojans nearly knocked off Oklahoma State and UAB losing those contests by a mere four point total.
Victories over Bowling Green and Arkansas State fuel the fire for this bunch led by quarterback Corey Robinson. Robinson has been money for the Trojans throwing for 1244 yards and eight TDs.
He is complimented by running back DuJuan Harris who averages 6.3 yards every time he touches the football.
Linebacker Xavier Lamb plays more like a lion leading an opportunistic defense that has picked off seven opposing passes. Lamb himself has accounted for 34 TKL (19 solo, 4 TFL), a sack and two PBU.
Troy's Achilles' Heel appears to be second half adjustments. While outscoring their opposition 91-58 in the first half of games this season, the Trojans have been outscored 72-45 in the later portion.
The Trojans have a very manageable Sun Belt schedule on their way to a likely fifth conference title. A road game to No. 20 South Carolina looms as an opportunity for a late-season stunner in the SEC.
No. 5: Idaho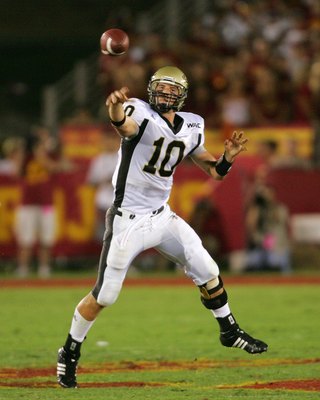 Kevin Terrell/Getty Images
Current Record: 2-2
Idaho head coach Robb Akey doesn't take his position lightly. He knows how to get the most out of his talent. Look at his quarterback.
Nathan Enderle was highlighted by The Manning Award for bouncing back from a loss to Nebraska to posting a personal best 83% completion percentage (25-for-30).
The Vandals aren't about to take any guff from their opponents, either. Shutting out North Dakota 45-0 was a great start before Enderle and Idaho waltzed into Nebraska's Memorial Stadium.
After losing 38-17 to the Cornhuskers, Idaho notched a 30-7 win over UNLV before losing a heartbreaker last week to Colorado State.
No. 25 Nevada and potential "BCS Buster" Boise State need to watch out for the Vandals as they will make some noise in the WAC on their way to a bowl.
No. 4: Central Michigan
Current Record: 2-2
With a little bit of luck, the Chippewas wouldn't even be in this discussion. A 13-10 loss to surprising Temple and Northwestern's Dan Persa leading his team to a thrilling 30-25 victory is all that stands between Central Michigan and perfection.
Quarterback Ryan Radcliff and company aren't interested in dwelling on the past. Radcliff looks to continue polishing his MAC-leading pass efficiency against Ball State this weekend.
The Chippewas are in excellent hands thanks to his duo of skilled receivers, Cody Wilson and Kito Poblah. Both have added two TDs and 573 yards to the CMU yardage total.
Running back Paris Cotton also has skills that pay the bills as he has rushed for 342 yards on 59 attempts (5.8 YPC) while scoring five TDs.
Linebacker Matt Berning is largely the reason that CMU is 15th in scoring defense. The bruising defender has tallied 35 TKL (24 solo, 6.5 TFL), one sack and one forced fumble.
An Oct. 9 showdown against Virginia Tech looks to be the only large test standing in the way of another appearance in the MAC Championship and eventual GMAC Bowl invite.
No. 3: Notre Dame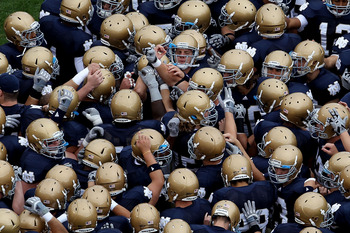 Jonathan Daniel/Getty Images
Current Record: 1-3
High expectations for a new coach and Notre Dame. We meet again.
When Brian Kelly left his energetic Cincinnati Bearcats, and apparently taking their talent with him, Irish fans were psyched up and why not?
Kelly climbed the ladder, he's had success at the "mid-major" level and if the Fighting Irish can't have Urban Meyer, how about the next best thing?
The Fighting Irish's record looks eerily similar to the end of Charlie Weis' tenure. The current state of Notre Dame isn't all on Kelly's shoulders.
Losing talent like Jimmy Clausen and Golden Tate will show no matter who is at the helm. Notre Dame may yet turn things around, but they need a spark.
The Irish's remaining schedule does have its roadblocks in Southern Cal (maybe), Utah and perhaps even Navy or Pitt. Kelly doesn't have an easy go against Boston College this weekend, either.
Notre Dame is rather productive through the air ranking seventh nationally (315.5 YPG). Unfortunately, giving up an average of nearly 28 points while only scoring an average of 23 is going to net you, well, a 1-3 start.
Looking back to 2009, it's easy to remember Jimmy Clausen's frustrated face after each heart-breaking loss.
Brian Kelly has that look about as he begins his inaugural season in the shadow of Touchdown Jesus.
Still, the Irish have fought toe-to-toe with most opponents. If Kelly can bring his charges to compete with, and even beat Boston College, he'll have a rallying cry.
Notre Dame likely makes a bowl, but it'll be close.
No. 2: Georgia Tech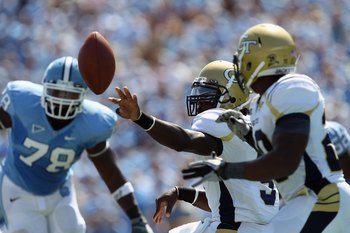 Streeter Lecka/Getty Images
Current Record: 2-2
What happened to you, Ramblin' Wreck of Georgia Tech?
First, the Jackets stung South Carolina State only to fall the next week to Kansas. A team that hadn't scored a single point in three quarters, or any touchdowns at all, scored 28 points on Tech and sent the Yellow Jackets packing.
After squeaking out a victory over a crippled North Carolina squad, Tech fell victim to North Carolina State.
It's easy to love Georgia Tech especially if you're a fan of option-based football.
Joshua Nesbitt leads a crew rushing 320.5 yards per game while throwing for only 80 on average. That's Tech football and strangely enough, it wins.
Nesbitt, the clear leader of the team and Heisman dark horse, has 362 yards and six TDs to his name along with 316 yards and three TDs passing.
He's been aided by running backs Anthony Allen (267 yards), Orwin Smith (154 yards, 2 TDs) and Roddy Jones (101 yards, 3 TDs).
Most would agree that the ACC is in shambles. It's hard to take Virginia Tech seriously after a crushing loss to Boise State followed by the infamous loss to James Madison in Blacksburg. Yet the Hokies still sit atop the Coastal Division.
Tech has just as much of a chance as anyone else to claim the conference let alone their division.
This weekend's match up against Wake Forest should tell us quite a bit about the 2010 Yellow Jackets.
No. 1: Kansas
Current Record: 2-2
Turner Gill surely didn't see his first season in the Big 12 conference starting like this.
Scoring only three points in the first game was bad enough. Couple that with a loss to an FCS team in Lawrence and the college football world sat stunned.
Many had Gill's Jayhawks written off after week one.
The next week, Kansas toppled then-No. 15 Georgia Tech 28-25 and the college football world did a double take. Maybe this Gill fellow isn't such a bad coach after all.
The Jayhawks had the unenviable task of taking on the Southern Mississippi Golden Eagles at home. Nobody likes being in Hattiesburg early in the season. Not even the big boys.
Kansas is fresh off of a 42-16 whipping of New Mexico State ready to show the Big 12 and the nation what they can do.
Quarterback Jordan Webb has stepped up throwing for 625 yards and five TDs while running back James Sims is getting into rhythm with 290 yards and three TDs on the ground (5.5 YPC).
The Jayhawks' defense centers around linebacker Dustin Springer who has notched 34 TKL (14 solo, 5 TFL), a sack and a PBU.
Kansas clearly believes in Gill. If a coach can turn a national laughing stock into a Top 15 team-beater in one week, it's a wonder just what Gill will be able to accomplish the remainder of the year.
The Jayhawks avoid Texas and Oklahoma, but take on Texas A&M and Oklahoma State. Luckily, those two are in the comfortable confines of Lawrence. Could Kansas make Nebraska truly earn their final Big 12 North title?
Stay tuned.
Football news, reviews and much more awaits! Follow Brandon on Twitter (@eightlaces) for the all the latest and other general football goodness.
Keep Reading

Notre Dame Football: Like this team?