Ohio State Football: Predicting The Score Of Every Buckeye Big Ten Game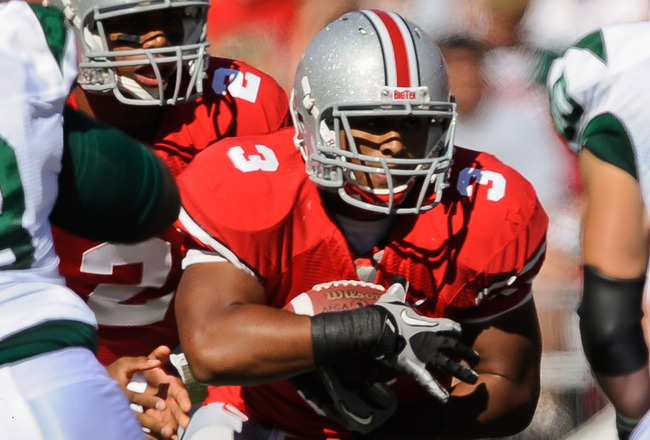 Jamie Sabau/Getty Images
The real season begins Saturday for the Buckeyes.
After cake-walking through mid-majors like Ohio, Marshall, and Eastern Michigan, Ohio State will face off against actual challenges like Iowa and Wisconsin.
The gauntlet begins with Illinois this Saturday. While Ron Zook and the Illini have struggled the last few years, they still pose a bigger threat than most of the Buckeye out-of-conference teams.
Ohio State can build on how they absolutely obliterated their opponents through the opening weeks. They also handled a highly-ranked Miami team.
As the Bucks begin Big Ten play, it looks like many can be blowout wins like what has transpired during most of the out-of-conference season. Teams like Purdue, Indiana, and Minnesota aren't too much better than the MAC and C-USA squads Ohio State played.
But it will have its challenges as well. Iowa is extremely talented, Wisconsin is solid, and Michigan is unexpectedly good.
With that said, how well can the Buckeyes do in the Big Ten this year? As of now, anything but an undefeated season would be a bust.
Game 1: @ Illinois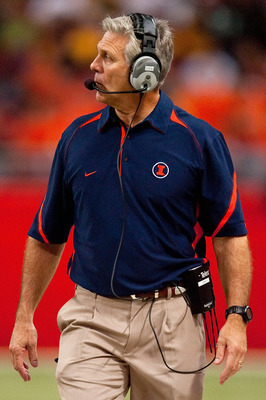 Dilip Vishwanat/Getty Images
Illinois had an extra week to prepare for Ohio State. It won't be enough.
The Illini began the year by almost knocking off Missouri, but almost fell to MAC opponent Northern Illinois 28-22 two weekends ago.
If they barely beat a MAC team, how can they expect to play with the No. 2 team in the country?
After all the momentum Ohio State has built up through the first weeks of the season, a blowout should be expected.
Coach Jim Tressell did warn his players against becoming complacent, though, pointing Ohio State being 10-9 in their last 19 matchups against Illinois.
But usually there isn't this much separation in talent. Terrelle Pryor and the Buckeyes should roll.
Ohio State 49, Illinois 20
Game 2: Vs. Indiana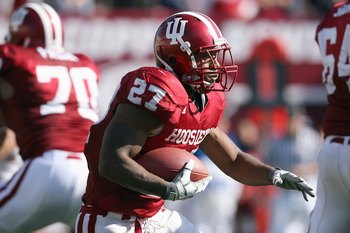 Andy Lyons/Getty Images
Think the Buckeyes had the easiest out-of-conference schedule? Check out the Hoosiers' slate.
Towson, Western Kentucky, and Akron made up the beginning of Indiana's season. The Hoosiers easily cruised through the three games, like they should have.
But now they have to play with the big boys. Indiana faces Michigan this weekend before heading to Columbus is two weeks.
It could be a long two weeks for the Hoosiers. Michigan is rolling and so is Ohio State.
This should be another cake walk for the Buckeyes. Pryor and the offense continue to pile points, while the defense begins to get back on track.
Another week, another blowout.
Ohio State 45, Indiana 23
Game 3: @ Wisconsin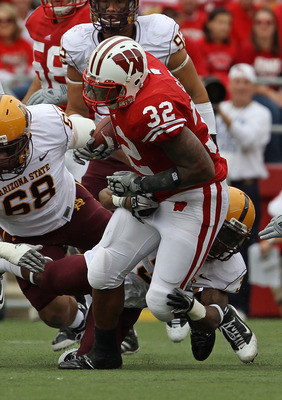 Jonathan Daniel/Getty Images
Here it is, the first actual test of the Buckeyes season.
Wisconsin is a very good team that is currently 4-0. The team barely squeaked by Arizona State a few weeks ago.
All the easy games could help or hurt the Buckeyes. Either they'll come into this game in full form or they'll struggle because of the lack of adequate preparation for the Badgers.
Wisconsin's balanced attack could give the defense trouble. John Clay is a powerful runner that will be charging into the Buckeye defense all day.
Scott Tolzien also can move the ball through the air. The game will be the first real test for a struggling defense.
But the offense should be too much. This game will be close, but Ohio State will pull ahead
Ohio State 20, Wisconsin 15
Game 4: Vs. Purdue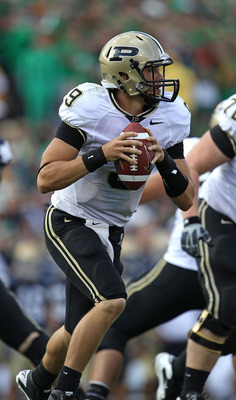 Jonathan Daniel/Getty Images
This one will be interesting.
Look at all the factors going into this one: Purdue ruined Ohio State's season last year, Purdue just lost to MAC team Toledo, and Ohio State is in top form.
Oh, and it's the Buckeyes homecoming game.
Not a good formula for the Boilermakers. Pryor and the Bucks won't soon forget the pain of the 26-18 loss last season.
With a national title on their mind, expect the Buckeyes to prepare extra-hard for this one given the problems they had last season. The offensive line especially will look at what Purdue's defensive line did so effectively last season.
But once again, this should be a beat-down. Ohio State is head and shoulders above the Boilermakers.
Ohio State 41, Purdue 16
Game 5: @ Minnesota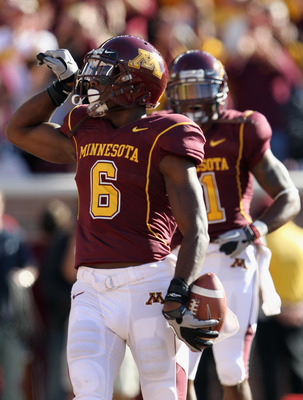 Jamie Squire/Getty Images
This is going to get ugly.
Minnesota lost to North Dakota and Northern Illinois during their non-conference games. Just read that sentence again.
This one will be over fast. Pryor and the Bucks will pour on the points on the hapless Gophers.
Ohio State 51, Minnesota 10
Game 6: Vs. Penn State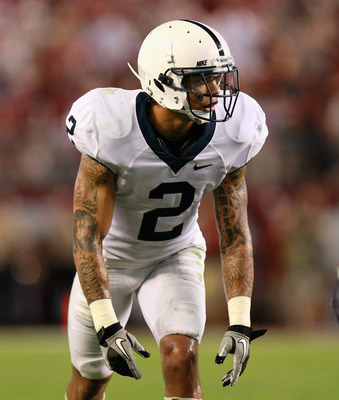 Kevin C. Cox/Getty Images
After two more easy games against Indiana and Minnesota, Ohio State will once again face a real opponent in Penn State.
Running back Evan Royster is one of the best in the NCAA and could pose problems for the Bucks. Ohio State's run defense is stout, so they should keep him in check.
Quarterback was the Nittany Lions biggest question at the beginning of the year. Rob Bolden has progressed. By the time Ohio State rolls around, Penn State could have some consistency in their pass game.
The Nittany Lions' defense is always dangerous. Pryor and the others won't have as much success as usual.
Plus, Penn State - Ohio State is always a close slugfest. Don't expect this one to be too high scoring. The Buckeyes eventually pull through
Ohio State 20, Penn State 16
Game 7: @ Iowa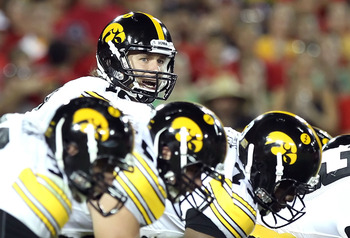 Christian Petersen/Getty Images
Don't let Arizona's win over Iowa fool you. This team is for real.
The game will be the toughest of the Buckeyes' season. From top to bottom, the Hawkeyes don't have any glaring weaknesses.
Ricky Stanzi has shown strides as a quarterback and Adam Robinson's emergence gives the Hawkeyes a viable rushing attack.
Like usual, Iowa has a tough defense. The defensive line leads the way with Adrian Clayborn eating offensive tackles on a weekly basis.
This game will be just as tough for the Buckeyes as their Hawkeye matchup from last season. Both teams a year older with another year of experience.
The score will be close and the winner most likely will be determined on the final drive, just like last season.
But the Buckeyes are too set on the task at hand. They want the national championship and Iowa is an obstacle in that path.
Ohio State 17, Iowa 16
Game 8: Vs. Michigan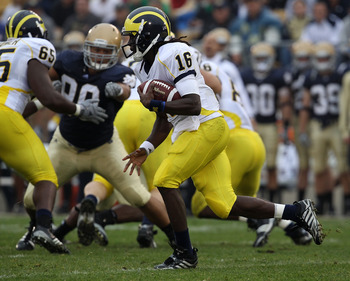 Jonathan Daniel/Getty Images
This looked like an easy win at the beginning of the year. Not anymore.
Michigan is the darling of the college football world right now. Rich Rodriguez finally has the players to run his system.
Denard Robinson has the shredded decent defenses (Notre Dame, Connecticut). How he'll fare in the bloody Big Ten is yet to be seen.
If he can continue his slashing runs and effective passing, Robinson could be a huge threat to the Buckeyes defense.
It will be like facing a smaller version of their own quarterback, and it's obvious how much trouble Pryor gives defenses.
But with Ohio State having a top defense and top coaches, the team will figure out Michigan. The game will be closer than expected, but Ohio State will pull through to secure the undefeated Big Ten Championship.
Ohio State 31, Michigan 24
Keep Reading

Ohio State Football: Like this team?