The Texas Longhorns' Five Most Heartbreaking Losses of the Past 10 Years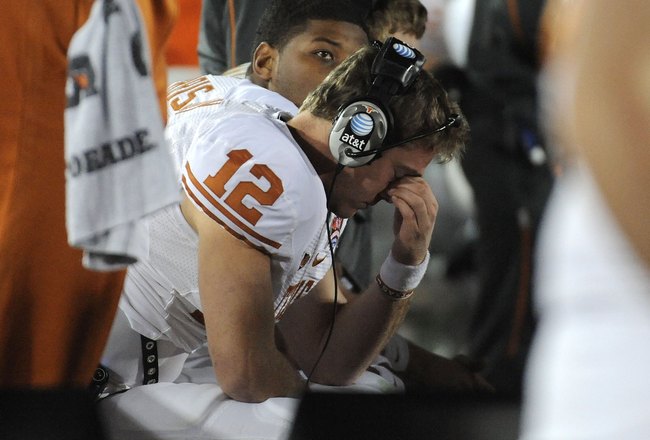 Harry How/Getty Images
The Texas Longhorns, while composing one of the best records in the NCAA over the past 10 years, have still suffered some pretty heartbreaking losses.
From the most recent loss to UCLA to the dramatic finish at Texas Tech to the national championship game last year, this slideshow will highlight some of the most recent losses that have left Texas fans heartbroken.
Without any further ado, here are the five most heartbreaking losses of the last 10 years.
5. September 26, 2010: UCLA 34, Texas 12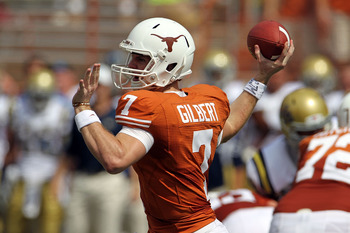 Ronald Martinez/Getty Images
Facing the No. 1 defense in the nation, the UCLA Bruins came into Austin and rushed for 264 yards en route to a 34-12 victory.
Coming into this game, the goal for UCLA was just to make it through unscathed. Even with its offensive struggles, Texas was just too good, too strong, and too outstanding on defense—but it was not so.
UCLA ran the ball at will against Texas. Running back Johnathan Franklin came out with 114 yards rushing himself. The Longhorns helped the Bruins out with four first half turnovers, allowing the Bruins to jump out to a surprising lead that they would never relinquish.
Texas just looked sluggish on offense and could not get anything going. Garrett Gilbert, the quarterback of the future who showed promise in the national championship game a season ago, could not muster up the same success this game. UCLA handed the Longhorns their worst defeat since the Bruins beat the Longhorns 66-3 in 1997.
This will go down as one of the more embarrassing losses in recent Texas history.
4. November 11, 2006: Kansas State 45, Texas 42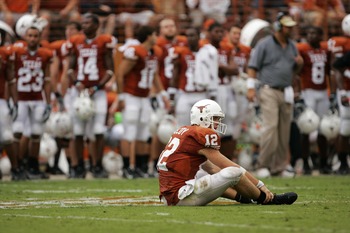 Brian Bahr/Getty Images
Colt McCoy plunges in for the one-yard touchdown on the game's first drive—let the blowout of Kansas State begin.
Hold that thought: McCoy was injured on the play, and the Longhorns were done after that.
Gone, too, were their chances of repeating as national champions, as Josh Freeman led Kansas State to a 45-42 victory over the 11th-ranked Longhorns.
Replacing McCoy in this game was freshman Jevan Snead. Snead went 13-of-30 in this game, passed for 130 yards and one touchdown, and was sacked five times. Give credit to the Wildcat defense, who constantly applied pressure to Snead to force him into bad throws.
Kansas State also made some disastrous plays, as two punt mishaps allowed Texas to start two drives inside the five-yard line. The Longhorns got within a field goal of tying the game when they scored a touchdown with 1:36 left, but Jordy Nelson recovered the ensuing onside kick, and the Longhorns lost their national title hopes.
This loss was devastating because the Horns had a real shot at repeating as national champions.
3. December 1, 2001: Colorado 39, Texas 37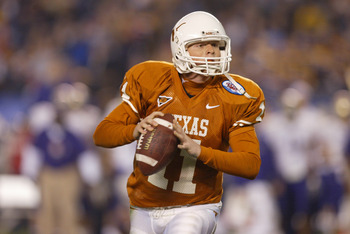 Jeff Gross/Getty Images
December 1, 2001, will forever go down in burnt orange history as arguably the most heartbreaking loss in Texas history.
Texas fans came into this game with no reason to doubt victory, as the Longhorns had defeated Colorado 41-7 earlier in the season. Texas scored after an 85-yard drive with a Cedric Benson run on their first possession of the game, taking an early 7-0 lead.
Chris Simms had an awesome season, but then with a chance to put the Horns up two scores, from the Colorado 22-yard line, he threw an interception that was returned all the way to the Texas 12.
Colorado had a 10-7 lead early in the second quarter when Simms threw his second interception of the game, allowing Colorado to go ahead 17-7. He managed to lead Texas to a field goal to cut it to 17-10. Simms then fumbled in his own territory, allowing Colorado to recover and score yet another touchdown, putting them ahead 22-10.
With just four minutes left in the half, Simms was intercepted, and it was returned for a touchdown. He was then injured, and Major Applewhite was forced into the game to the delight of many Texas fans.
On just his third play, Applewhite threw a 79-yard touchdown pass to B.J. Johnson, and the deficit was only 29-17 at the half.
Leading 36-23, Colorado tried a fake punt on 4th-and-4 that was intercepted by Roderick Babers that was returned for a touchdown. Texas only needed to stop the Buffaloes, but a roughing the punter call kept the Horns from getting the ball back, and they were defeated 39-37.
With a national championship on the line, Chris Simms could not come through, and Major Applewhite's comeback was too little, too late.
2. November 1, 2008: Texas Tech 39, Texas 33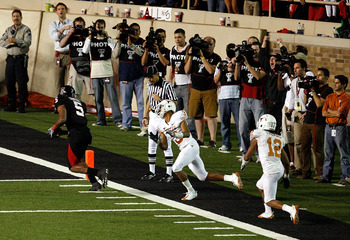 Jamie Squire/Getty Images
The No. 1-ranked Longhorns were leading the No. 7 Red Raiders by a point in the closing minutes of the game.
Graham Harrell threw a risky pass that Michael Crabtree caught, and he broke a tackle and took it into the end zone for the game-winning touchdown.
If Crabtree had been tackled and had not scored, Tech probably would not have had enough time to call a timeout to set up a field goal.
Blake Gideon had a chance to thwart the Red Raiders' final drive with a chance to intercept a tipped pass that should have made for an easy interception, but he was unable to come up with it, allowing Harrell to connect with Crabtree for the game-winning touchdown.
The Longhorns were the No. 1 team in the land with serious national championship aspirations, but they were unable to come up with the win in Lubbock in what many would call the most heartbreaking loss in Texas history.
"Football is a tough game," Texas coach Mack Brown said after the game. "Tonight was their night. We need to be classy in defeat and give them credit for what they did."
In his mind, he had to be thinking of the missed opportunity for another national title.
1. January 7, 2010: Alabama 37, Texas 21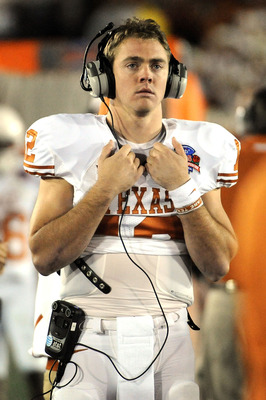 Harry How/Getty Images
The Longhorns entered the national championship game after winning an exciting Big 12 championship game over Nebraska.
Colt McCoy was leading the Longhorns on a long drive inside Alabama territory on the opening drive of the game when, on a quarterback keeper, Marcell Dareus hit McCoy and forced him from the game. McCoy lost all feeling in his shoulder and was unable to return to the game.
Freshman quarterback Garrett Gilbert was called upon to lead the Horns to the national title, and he was just unable to do it. The rushing attack of Heisman Trophy winner Mark Ingram and Trent Richardson was just too much for the Longhorns to handle.
Gilbert went on to complete 15 of 40 passes for 186 yards with two touchdowns and four interceptions.
The numbers for this game do not look great, but Gilbert played a nice game, even bringing the Longhorns back to within three points before they would turn the ball over. He twice found wide receiver Jordan Shipley for a touchdown when the Horns were in desperate need of a score.
One analyst pointed out the stat line did not actually show how well Gilbert played, saying, "The wide receivers dropped a number of passes that should have been caught."
As a freshman against the No. 1 defense in the country, Gilbert settled down and found a way to keep the Longhorns in the game. He even had the ball late in the fourth quarter with a chance to win the game.
Alabama and Mark Ingram were just too much to handle without Colt McCoy, and because of an injury the Longhorns suffered a national championship loss in what was the most disappointing loss in school history.
Paul Ferguson is a Writing Intern at Bleacher Report. Email him at paulferguson2@att.net
Or follow him on twitter at: @paulwall5

Keep Reading

Texas Longhorns Football: Like this team?