2010 Heisman Trophy Rankings: Denard Robinson Maintains His Lead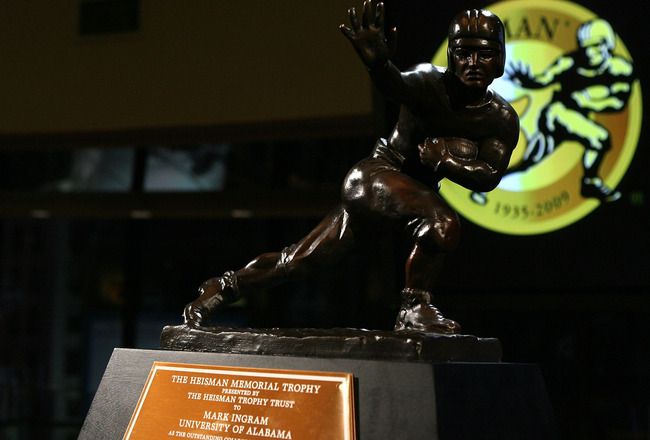 Chris Trotman/Getty Images
It's time for the latest edition of Bleacher Report's 2010 Heisman Trophy Rankings, presented by Heismanpundit.com.
The Heismanpundit.com Heisman Poll is made up of 13 Heisman voters from across the country. They vote for three players each week. Tabulations are made on a 3-2-1 basis, with three points awarded for a first-place vote, two points for a second-place vote and one point for a third-place vote.
The past two years, the Heismanpundit poll was the most accurate in the country, picking five of the top six finishers in the Heisman vote in 2008 and the top four in 2009.
Members of the panel include: Mike Bianchi of the Orlando Sentinel, Teddy Greenstein and Brian Hamilton of the Chicago Tribune, Olin Buchanan and Tom Dienhart of Rivals.com, Jenni Carlson of The Oklahoman, Bruce Feldman of ESPN.com, J.B. Morris of ESPN the Magazine, Austin Murphy, B.J. Schecter and Stewart Mandel of Sports Illustrated, plus Dick Weiss of the New York Daily News.
Chris Huston, owner of Heismanpundit.com and a Bleacher Report contributor, coordinates and also votes in the weekly poll.
The poll is featured here on Bleacher Report each Tuesday during the college football season.
Here are the top players in the poll heading into Week 5.
6th: Cameron Newton, QB, Auburn—1 Point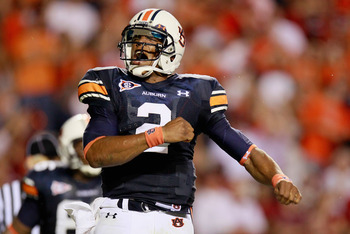 Cameron Newton is one of the best dual threat QBs in the country
Kevin C. Cox/Getty Images
Auburn quarterback Cameron Newton checks in at No. 6 this week with one point.
Newton has made quite a splash for the Tigers and is proving to be one of the best dual threat quarterbacks in the country.
He leads Auburn in rushing with 485 yards, and he has another 683 yards through the air. His pass efficiency rating is a stellar 182.47.
He is coming off a monster game in a win against then-No. 12 South Carolina. Newton rushed for 176 yards and three touchdowns and also passed for 158 yards and two scores.
If he keeps this up, he'll be moving up in this survey very soon.
5th: Andrew Luck, QB, Stanford—2 Points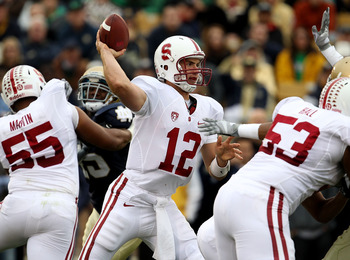 Andrew Luck beat Notre Dame last week, now it's on to Oregon
Jonathan Daniel/Getty Images
Stanford quarterback Andrew Luck picks up two points from the panel this week and holds down the fifth-place spot.
Luck has the Cardinal in the top 10 of the rankings after leading them to a win over Notre Dame last Saturday. He threw for 238 yards and a touchdown against the Irish and had several timely scrambles.
On the year, he has 912 yards passing with 11 touchdowns and just two interceptions. His pass efficiency rating is 169.52.
He has a chance to make a huge Heisman statement on Saturday as Stanford travels to Eugene to take on No. 5 Oregon. If he can lead the Cardinal to a win there, he'll move up into the upper echelon of candidates.
4th: Mark Ingram, RB, Alabama—3 Points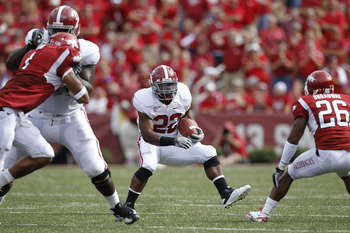 Ingram ran for 157 yards vs. Arkansas
Joe Robbins/Getty Images
Alabama running back Mark Ingram is fourth this week with three points.
It's amazing how much lost time Ingram has made up. After missing the first two games, he has come back with a vengeance, rushing for 308 yards and four touchdowns in the last two games. He is averaging an amazing 9.3 yards per carry.
Ingram put Alabama on his back against Arkansas, rushing for 157 yards and two touchdowns (including the game-winner) on 24 carries.
While Ingram probably doesn't have a shot at actually winning the Heisman again, he still can affect the race. More big games like last week will ensure that.
3rd: Kellen Moore, QB, Boise State—18 Points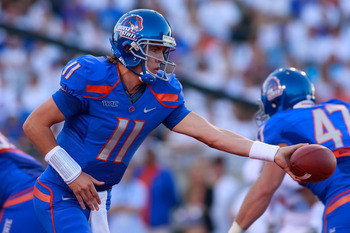 Moore threw three TDs against Oregon State
Otto Kitsinger III/Getty Images
Boise State quarterback Kellen Moore once again holds down the third-place spot in the ranking. He picked up 18 points and one first-place vote from the panel.
Moore showed why he's one of the best passers in the country with a fine showing against Oregon State last Saturday. He was 19 of 27 for 288 yards and three touchdowns (with no picks) versus the Beavers. Every pass he completed seemed to be perfectly placed and he managed the Broncos offense to perfection.
On the year, he has 873 passing yards with eight touchdowns and just one pick. Over the last 17 games, he has 47 touchdown and just four interceptions. Those are incredible numbers.
Unfortunately, we won't see much of Moore in the national spotlight for a while, as Boise State hits conference play and the caliber of his opponents goes down significantly.
On the other hand, he's unlikely to move from this spot unless some other player emerges, which means he's got a good shot at the Heisman if the players ahead of him falter.
2nd: Terrelle Pryor, QB, Ohio State—20 Points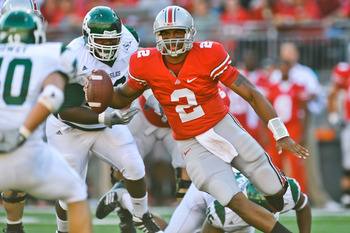 Pryor accounted for six touchdowns against Eastern Michigan
Jamie Sabau/Getty Images
Ohio State quarterback Terrelle Pryor checks in again at the No. 2 spot with 20 points and three first-place votes.
Pryor is coming off his most productive day, as he threw for 224 yards and four touchdowns against Eastern Michigan, while also adding 104 yards and a score on the ground. Oh yeah, and he caught a touchdown pass, too.
On the year, Pryor has 939 passing yards with 10 touchdowns and just two interceptions. He has also rushed for 269 yards and three touchdowns.
Pryor probably won't be tested until the Buckeyes travel to Wisconsin on October 16. In the meantime, he'll feast on lesser Big Ten opponents like Illinois and Indiana.
Despite his current status at No. 2 on this list, he is still probably the best bet to eventually win the Heisman.
No. 1: Denard Robinson, QB, Michigan—34 Points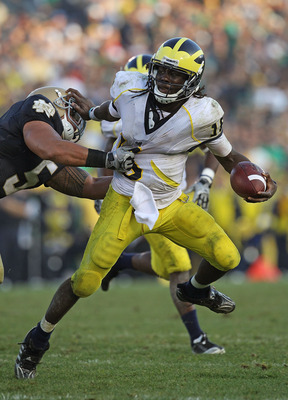 Denard Robinson once again leads the Heisman poll
Jonathan Daniel/Getty Images
Michigan quarterback Denard Robinson leads the survey for the third-straight week. He picked up nine first-place votes from the panel and increased his point total from last week from 31 to 34.
All this is despite missing most of the game versus Bowling Green due to a minor injury to his knee. What voters probably saw was how much he did in so little time in that game, as he rushed for 129 yards and two touchdowns on just five carries. One of his scores was of the spectacular variety, as he weaved through the Bowling Green defense on a nifty 47-yard jaunt. He also went 4 for 4 passing for 60 yards before leaving the game.
Robinson still leads the nation in rushing, as he has 688 yards and is averaging 172 yards per game. He is on pace to rush for over 2,000 yards. If he can become the first player to both rush and pass for 2,000 yards in a season, he is a lock to win the Heisman even if Michigan loses several games.
The biggest obstacle to the Heisman for Robinson appears to be his health. He's going to take a beating this year given how much he handles the ball. If he misses any more games, his numbers will suffer and so will his chances at the Heisman.
Voters will be taking a close look at him on Saturday when Michigan takes on Indiana. If he's the same old Shoelace, then he'll remain the front runner for the most prestigious award in sports.
Full Poll Results
(first-place vote in parentheses)
1. Denard Robinson, QB, Michigan -- 34 points (9)
2. Terrelle Pryor, QB, Ohio State -- 20 points (3)
3. Kellen Moore, QB, Boise State -- 18 points (1)
4. Mark Ingram, RB, Alabama -- 4 points
5. Andrew Luck, QB, Stanford -- 2 points
6. Cameron Newton, QB, Auburn -- 1 point
Keep Reading