College Football Hot Seat Rankings: Tim Brewster Is So Done at Minnesota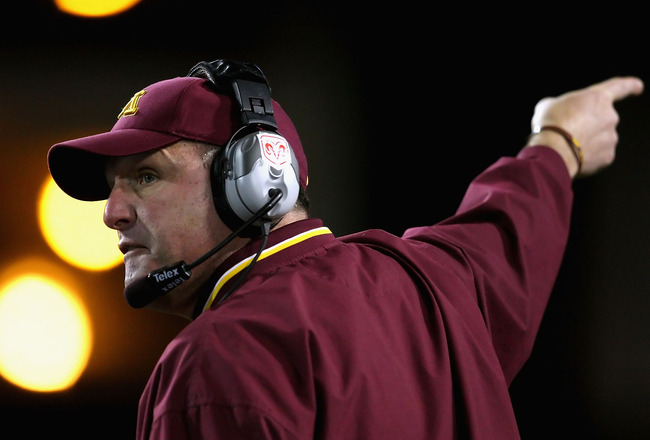 Christian Petersen/Getty Images
It seems nowadays, winning games isn't enough to get you off the hot seat.
There are still fans and experts who think Colorado's Dan Hawkins, Illinois' Ron Zook and even Michigan's Rich Rodriguez are still on the coaching hot seat.
But all three currently have winning records, and for now, that's enough to say they are safe. Can that change? Of course, but today none of them deserve to be on the hot seat.
One thing is clear about the hot seat, a history of winning doesn't count for much if you're losing now. Welcome to the hot seat for a second straight week Mark Richt.
The rankings are on a scale of 1-5 with 5 being the worst-case scenario.
10. Butch Davis, North Carolina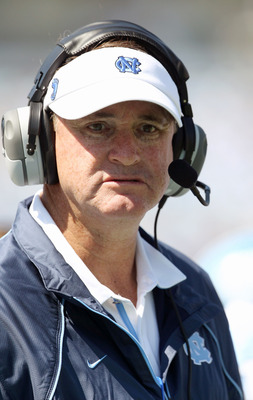 Streeter Lecka/Getty Images
A slim victory at Rutgers takes a little pressure off Butch Davis and he's almost worked his way off this list.
However, the Tar Heels off-the-field issues may still lead to his resignation or firing when this season is over.
North Carolina should pull to 2-2 as Davis and Tar Heels take on East Carolina this weekend. We'll learn more about Davis' future as UNC starts playing more ACC games.
Hot Seat-ometer: 1 (on a scale of 1-5)
9. Ron English, Eastern Michigan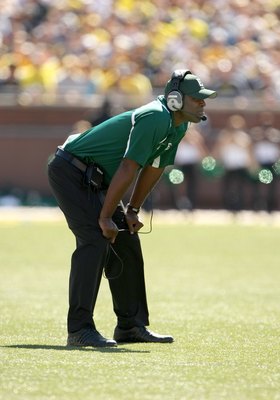 Stephen Dunn/Getty Images
Ron English is still looking for his first victory since arriving at Eastern Michigan. His Eagles are 0-4 this season and 0-16 in his tenure.
This past weekend's 73-20 loss at Ohio State was an example of how poor the talent pool is in Ypsilanti, Mich.
He took over a program in shambles, but Eastern Michigan never had a winless season Jeff Genyk's five seasons.
English is probably safe for another year, but he needs a few wins bad.
Hot Seat-ometer: 1.5 (on a scale of 1-5)
8. Dave Wannstedt, Pittsburgh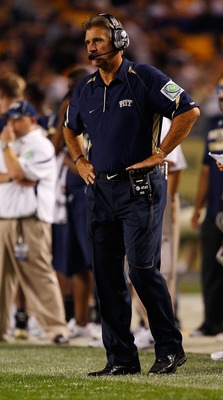 Jared Wickerham/Getty Images
Following an abysmal performance Thursday night (a 31-3 loss to No. 16 Miami at Heinz Field), Wannstedt is definitely on the hot seat.
The Panthers were considered a dark horse to make the BCS Championship and almost everyone's pick to win the Big East. OK, the BCS thing is over, but the conference title is still a real possibility if Pitt can turn its offense around.
Wannstedt has been in this position before at Pitt and persevered. He was also in this position in the NFL with the Bears and Dolphins and each time he lost his job.
Hot Seat-ometer: 2 (on a scale of 1-5)
7. Steve Fairchild, Colorado State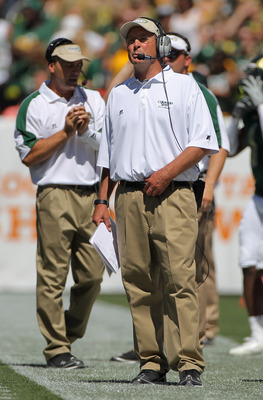 Doug Pensinger/Getty Images
Steve Fairchild helped his cause this week with a 36-34 upset victory over Idaho. The win also ended a 12-game skid dating back to last season.
Fairchild isn't out of the woods, but it seems most people in Fort Collins like him.
This week's game with No. 5 TCU at home is a real chance for Colorado State to make a statement. It would also help Fairchild's national reputation.
Hot Seat-ometer: 2.5 (on a scale of 1-5)
6. Butch Jones, Cincinnati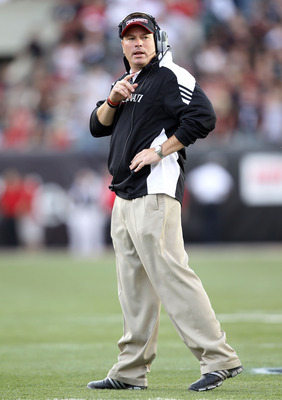 Andy Lyons/Getty Images
Butch Jones' job is pretty safe, but opening up his Cincinnati tenure 1-3 is still enough to get him on the list.
This is the same Cincinnati program that won back-to-back Big East championships and Brian Kelly didn't leave the cupboard bare. However, he didn't leave much defense.
Cincinnati played inspired against No. 8 Oklahoma and a break could have meant a huge upset.
If Jones builds on this performance, the Bearcats could play their way back into a Big East championship.
Hot Seat-ometer: 2.75 (on a scale of 1-5)
5. Todd Dodge, North Texas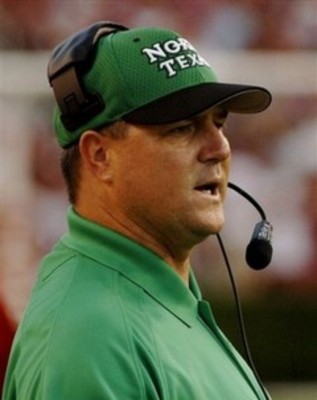 Injuries have been a major part of North Texas' woes this season, but the Mean Green put all of that behind them and pulled out a 21-17 victory over the Howard Schnellenberger coached Florida Atlantic Owls.
For the beleaguered Todd Dodge, a win in Fort Lauderdale is a signature victory.
Dodge's son, Riley, played a big part in North Texas' first victory of 2010 by completing two touchdown passes to Darius Carey.
Dodge's future is still murky, but right now the Mean Green are in first place in the Sun Belt Conference.
Hot Seat-ometer: 3.5 (on a scale of 1-5)
4. Mark Richt, Georgia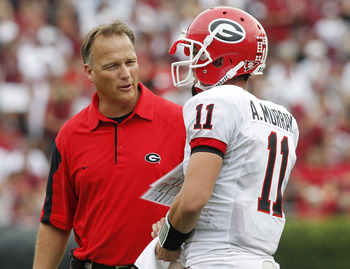 Mike Zarrilli/Getty Images
After opening SEC play with three consecutive losses, Mark Richt's seat may be hotter than this. But giving him the benefit of the doubt, and the fact the next three coaches are definitely getting fired, Richt may spend the rest of the season at this spot (or even worse) if things don't change quickly.
The 24-12 loss to Mississippi State is the most embarrassing defeat so far this season.
After going 8-5 last year, expectations were higher coming into this season. Some even considered Georgia a serious contender for the SEC East.
That's pretty much out of the question now and Georgia could be facing a 6-6 season and a lot of disgruntled fans.
Hot Seat-ometer: 4 (on a scale of 1-5)
3. Paul Wulff, Washington State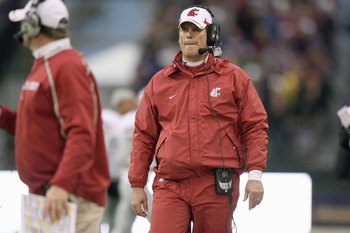 Otto Greule Jr/Getty Images
For 15 seconds, Washington State led Southern Cal 7-0. Then everything returned to normal for Paul Wulff and the Cougars.
USC scored the next 21 points en route to a 50-16 victory in Pullman, Wash., Saturday.
Where does this leave Wulff, who entered the season on shaky ground? More than likely on the unemployment line before the end of the season. OK, maybe he finishes the season on the sidelines, but Washington State is going to make a change.
Hot Seat-ometer: 4.75 (on a scale of 1-5)
2. Mike Locksley, New Mexico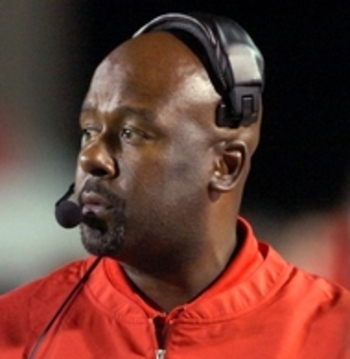 Mike Locksley almost got off this list last week after reports surfaced that New Mexico was going to fire him and bring in former Texas Tech coach Mike Leach.
Instead, those rumors have been squelched by both sides (for now) and Locksley has still won just one game since he arrived last year.
With all of the off-the-field issues surrounding Locksley and the total dysfunctional situation with this team, Locksley is lucky to still be working.
Hot Seat-ometer: 5 (on a scale of 1-5)
1. Tim Brewster, Minnesota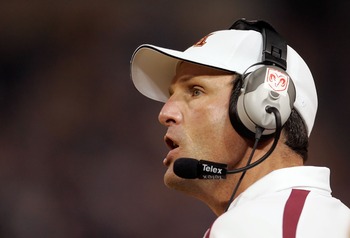 Jeff Gross/Getty Images
Most Minnesota fans have already started the wish list for replacing Tim Brewster, who is now 15-27 since arriving in 2007.
Former Gopher standout and former NFL head coach Tony Dungy is on top of most of the wish lists. But would Dungy really make that move?
Brewster has to know his days are limited. Trailing Northern Illinois 20-13 at halftime the crowd started chanting "Fire Brewster."
It might be in the best interest of everyone at Minnesota to make a move now and get a head start on finding a replacement in 2011.
Hot Seat-ometer: 9 (on a scale of 1-5)
Keep Reading

Minnesota Golden Gophers Football: Like this team?