Heisman Trophy Watch List: Does Denard Robinson Still Top the List?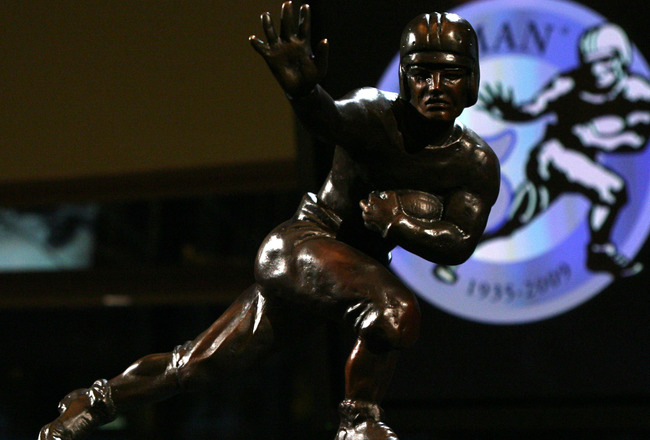 Chris Trotman/Getty Images
It was a wild week four in college football. Alabama had to rally late to earn a victory on the road at Arkansas. Kellen Moore led Boise State to another win on the blue grass and Texas was pounded by UCLA.
The most breathtaking moment of this weekend's action happened early in the day. Michigan's phenomenal quarterback Denard Robinson went down with a knee injury. Robinson appeared to be okay but did not return to the game. Before getting hurt, Robinson was a perfect four of four on pass attempts, ran for 129 yards on five carries and had two touchdowns.
While Ann Arbor held their collective breath and crossed their fingers as Robinson clutched his knee in pain on the sideline, one has to wonder if there wasn't a certain joy shared around the nation, especially in the Buckeye state.
Robinson is still the Heisman favorite after week four but the gap is closing.
Here are 10 players chasing after Denard Robinson and the 76th annual Heisman trophy.
Welcome to The Party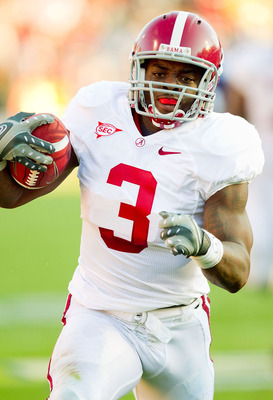 Brian A. Westerholt/Getty Images
5 players just outside the top 10
1. K. Hunter (RB) Oklahoma St. – 473 rushing yards, 6 rushing TD's, 157.7 rush yds/G,
2. T. Richardson (RB) Alabama – 356 rushing yards, 4 rushing TD's, 89 rush yds/G, 126 receiving yards, 1 receiving touchdown.
3. C. Kapernick (QB) Nevada – 924 passing yards, 7 passing TD's, 451 rush yards, 8 rushing TD's
4. D. Thomas - (RB) Kansas St. – 628 rushing yards, 6 rushing TD's, 157 rush yds/G, 16 RecYds
5. J. Blackmon (WR) Oklahoma St. – 24 receptions, 431 receiving yards, 8 receiving TD's
10. Matt Barkley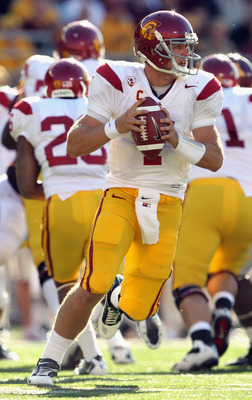 Jamie Squire/Getty Images
The sophomore quarterback has led USC to a 4-0 record and has twelve passing touchdowns to just four interceptions. Barkley has feasted on a soft early schedule throwing for 235 yards per game.
USC will open up conference play with a home game against Washington. The Huskies handed Barkley his first loss as a starter last season in Seattle. Barkley will get a chance to avenge the loss and go head to head with Washington quarterback Jake Locker.
Locker was thought to be the consensus no. 1 quarterback heading into next April's draft but he has struggled this season. If Barkley is able to outplay Locker in a head to head matchup it will not only help his Heisman stock it will undoubtedly improve his draft stock.
With games against Oregon and Stanford still on the schedule, Barkley has a few more chances to show he belongs amongst the nation's elite.
9. Cameron Newton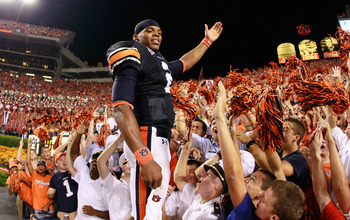 Kevin C. Cox/Getty Images
It might be time to call him the comeback kid! For the second consecutive week, Newton led Auburn to a victory after trailing by double digits.
Last week it was against Clemson, a game the Tigers would win in overtime. This week it was a 35-27 victory over no. 12 South Carolina.
Newton scored all five of Auburn's touchdowns. He threw for two and ran for three. He finished the game with 158 yards passing on 16 completions and 176 yards rushing on 25 carries.
Newton has scored 14 touchdowns in leading his team to a 4-0 start. The 250-pound plus quarterback is a devastating runner and has made a great deal of plays with his arm as well.
If Newton continues to perform at a high level his Heisman stock will rise and Auburn will have a real chance at winning the SEC title.
8. Landry Jones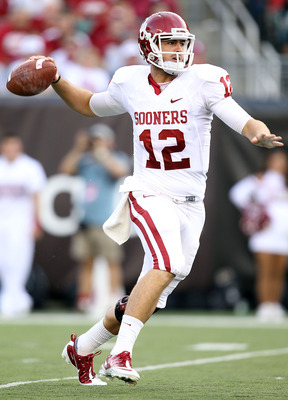 Andy Lyons/Getty Images
Landry Jones and the Sooners offense runs like a well-oiled machine. Jones completed a career high 36 passes against Cincinnati for 370 yards and two touchdowns. No. 8 Oklahoma won the game 31-29.
Jones has gone for over 350 yards passing twice in four games. The first was in a game against Florida St. Jones went 30 for 40 throwing for 380 yards and four touchdowns.
On the year, Jones has 1,221 yards passing which amounts to 305 yards per game. He has also thrown nine touchdown passes to three interceptions.
Oklahoma is the favorite to win the Big 12 and if they run the table they could end up playing for the national title.
First, they must survive the Red River Shootout in Dallas next weekend. Jones should find plenty of holes in a Texas defense that was beaten up by UCLA on Saturday.
7. Russell Wilson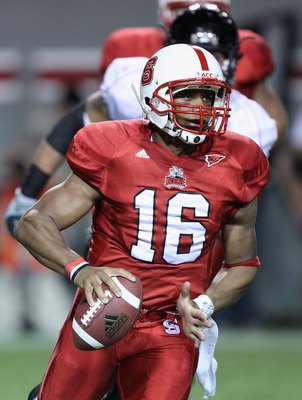 Streeter Lecka/Getty Images
The only undefeated team in the ACC is N.C. State and they are led by a true talent at quarterback.
All Russell Wilson did in his first three games is throw for eight touchdown passes, 744 yards and lead the Wolfpack to a 3-0 record.
Saturday, the road got a little tougher but Wilson was up to the challenge of playing defending ACC champion Georgia Tech. Wilson threw for a career-high 368 yards and three touchdowns. He would add another score on the ground and lead N.C. State to a 45-28 victory.
This is the best start N.C. State has had in eight years. Next week the Wolfpack host Virginia Tech.
Wilson and the Wolfpack are still under the radar but a few more victories and Russell Wilson will be hard to ignore.
6. Andrew Luck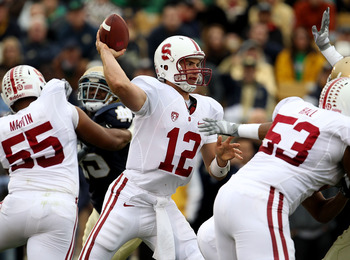 Jonathan Daniel/Getty Images
Saturday's game was the worst for Andrew Luck this season. He threw for 238 yards and one touchdown but was picked off twice. It was the first time Luck turned the ball over all season. Stanford won the game 38-14 over Notre Dame and remains unbeaten.
The mediocre effort might be cause for concern because next week's game at Oregon is probably the toughest game of the season for the Cardinal.
Luck will need to be at his best if Stanford hopes to stay unbeaten. A big win at Oregon and Stanford would become the favorite to win the Pac 10. This will be Luck's best chance to show off his arm to the Heisman voters.
5. LaMichael James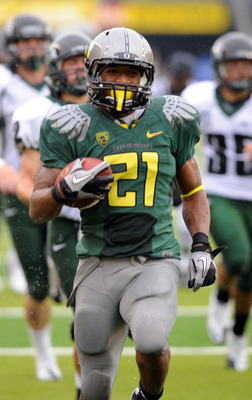 Steve Dykes/Getty Images
LaMichael James has rushed for an average of 158 yards per game in three starts for Oregon.
James ran for 134 yards on 16 carries and one score in a win at Tennessee. He followed that up with a 227 yard effort against Portland State. Then against Arizona St. he would carry the ball a season high 28 times for 114 yards.
James is an electrifying and dangerous game-breaker who averages 8.2 yards per rush. All four of his touchdown runs this season have been over thirty yards.
Next up for the Ducks is a matchup at home with Stanford. James will have an opportunity to show off his dazzling speed in primetime. Can James make this his fourth straight 100 yard effort?
4. Ryan Mallett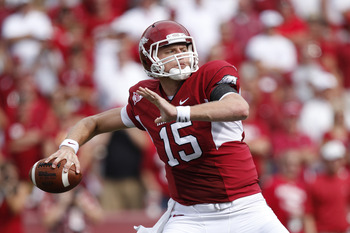 Joe Robbins/Getty Images
How a week can change everything. Last weekend Ryan Mallett was climbing up draft boards and his team was ranked no. 10 in the polls. Then Alabama came to town and messed everything up.
Mallett started the game looking sharp. It took him two passes totaling 74 yards to score the Hogs first touchdown. He would put Arkansas up ten right before the half with a 1 yard touchdown run. It was all downhill from there.
Mallett threw two bad fourth quarter interceptions and Alabama snuck out of Fayetteville with a victory.
Mallett finished the game with 357 yards passing but it was his three interceptions that had the bigger impact on the outcome of the game. His second interception of the game led to a Mark Ingram touchdown that ended up being the game clincher.
Arkansas still has some big games left on the schedule but the loss to Alabama will make it tough for Mallett to get back into the thick of the Heisman race.
3. Mark Ingram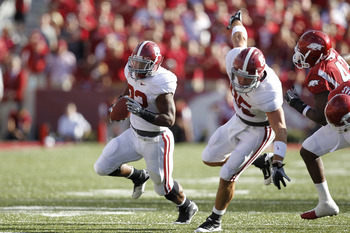 Joe Robbins/Getty Images
Only one man in the history of college football has won multiple Heisman's, and that was Archie Griffin. He may soon have company. Mark Ingram missed Alabama's first two games because of knee surgery. In the two games he's played, he has scored four touchdowns and rushed for 308 yards.
Last week, he totaled 151 yards on just nine carries at Duke. It was impressive but some wondered how his knee would hold up against a tougher opponent and carrying a larger load.
Ingram responded by running for 157 yards on 24 carries and scored twice, in a come from behind victory at Arkansas. Ingram's first touchdown was a 54 yard run in the first quarter but it was his second that proved to be the biggest of the game. Ingram operating out of the wildcat scored a 1-yard touchdown run that put Alabama ahead for good.
Ingram and the Tide's next game is at home against Florida. It is Ingram's first time playing at home this season and it should be another big game for the junior running back.
2. Kellen Moore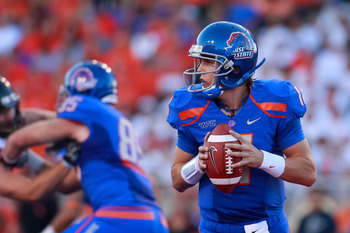 Otto Kitsinger III/Getty Images
Moore has twice played without error on a national stage. In the season opener, Moore was 23 of 38 for 215 yards and threw for 3 touchdowns and did not have a turnover. With less than two minutes in the game he led the Broncos downfield and threw the game winning touchdown.
On Saturday night, he was equally as brilliant in a win over Oregon State. Moore completed 19 of 27 passes for three touchdown passes and 288 yards. Most importantly Moore did not turn the ball over.
For the year, he has thrown for 873 yards and eight touchdown passes. Of all the contenders who saw action this weekend, Moore's stock was raised the most.
Unfortunately for Moore there will not be any more opportunities to beat a highly regarded opponent this season. He will have to lead the Broncos to a spotless record and put up other worldly stats to have any chance at winning the Heisman.
1. Terrelle Pryor
Jamie Sabau/Getty Images
Terrelle Pryor continues to amaze and put up big stats. He started Saturday's game with a 53 yard run for a touchdown. He followed that up by throwing four touchdown passes all to Dane Sanzenbacher. Pryor seemed to be on a mission to really impress Heisman voters. The quarterback would also catch a 20 yard touchdown pass.
Pryor would finish the game completing 20 of 26 passes for 224 yards. He rushed for 104 yards on seven carries.
In total, Pryor had 348 all-purpose yards and the Buckeyes would win 73-20.
Pryor has thrown for ten touchdown passes and run for three more in four non conference victories. He will look to add to his season totals next weekend when Ohio State opens up conference play at Illinois.
Keep Reading