Mock This Mockery: Defense Dominates The 1st Round Of the 2011 NFL Draft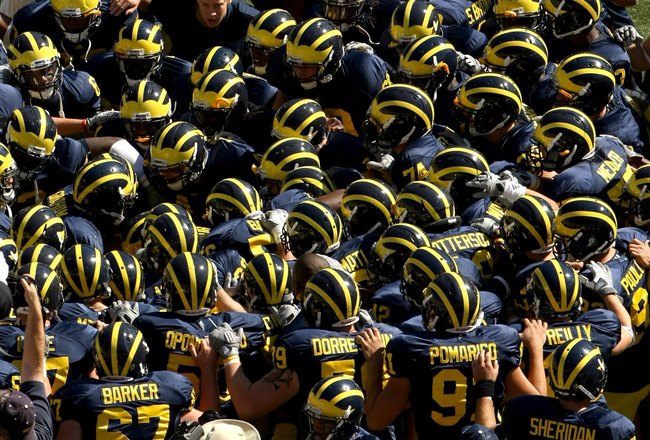 Stephen Dunn/Getty Images
I originally thought the upcoming NFL draft would be dominated by quarterbacks, but after watching the quarterback play more closely of the probable first rounders, and as other new NFL quarterbacks have emerged as serviceable starters for transition years while bad teams fill in the gaps with more talent, it seems as though safer, defensive need-based picks are going to be the most common theme in 2011's first round.
Because so much money is guaranteed to top five picks, it makes the most sense for teams to go with the safer picks, as opposed to the high-risk, high-reward players, like Matt Stafford, Alex Smith, JaMarcus Russell, Charles Rogers, Ronnie Brown, Reggie Bush, Braylon Edwards etc.
That's not to say that you won't find any quarterbacks or Wide Receivers taken in the top five, you just won't see it as often.
Now, projecting the draft order this early is just about as difficult as projecting the actual draft picks.
I'm projecting the order based on 1) ESPN's current NFL Power Rankings and 2) My own personal prognostication on how teams will end up.
No. 1: Carolina Panthers: Andrew Luck-QB Stanford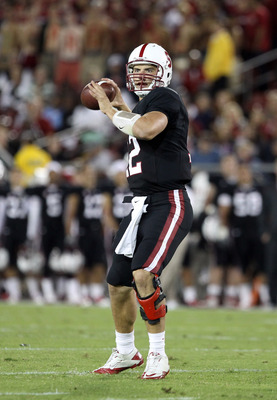 Ezra Shaw/Getty Images
This is a big hit to the Buffalo Bills, who would desperately love to pick up Andrew Luck.
Luck is easily the most polished quarterback in this year's draft, assuming he comes out.
He's got significant more touch and mobility than Mallett, better size than Jake Locker and better accuracy than both.
While the Bills are certainly going to be disappointed by not being able to pick up Luck, the Panthers have been much more inconsistent at quarterback than Buffalo and are actually in more dire need at this position.
This would be a good pickup for Carolina.
Because of significant lack of talent all over the defense, and the feeling of extreme want for Luck by the Bills, don't be surprised if the Panthers are able to trade down and look to improve their defensive front.
No. 2: Detroit Lions: Patrick Peterson-CB LSU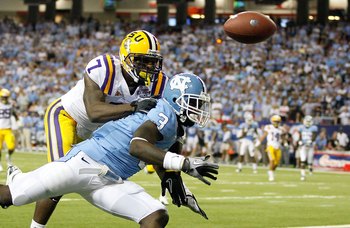 Kevin C. Cox/Getty Images
Patrick Peterson is the highest rated corner back in this year's draft, which is a place the Lions are desperate for improvement.
They will take Peterson to be their shutdown corner of the future, and will all of a sudden have a very serviceable secondary in a couple years, and can look later to solidify and add depth at linebacker and possibly the defensive line.
As far as need goes for the Lions, I'd rank it as CB, OT, WLB/ILB.
Because there aren't any great OT or LB prospects that should be taken this early, the Lions will either need to trade up, look for a gem later, or wait on these positions in later drafts.
I would not be surprised if they trade current picks, future picks, or a combination of both for the Pats' Oakland pick and try for someone like Gabe Carimi in the middle of the first round, and then look for linebackers later.
No. 3: Cincinnati Bengals: Robert Quinn-DE UNC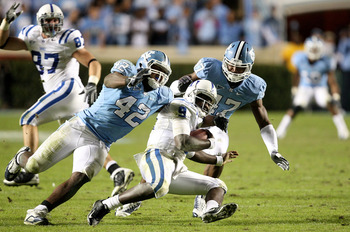 Streeter Lecka/Getty Images
The Bengals aren't as far away from playoff contention as they may seem, nor is their defense as bad as it seems now.
They've got two very talented corners, good talent at linebacker, they just cannot get any semblance of a pass rush right now.
I would expect just about any other team with this need to go with Da'Quan Bowers, as he currently leads college football in sacks, but I'm almost convinced that the Bengals prefer to add talented players with off-the-field issues to their team, and Robert Quinn is certainly that.
The Bengals also could use help at both quarterback and wide receiver, as Ochocinco and Owens are getting up in age, and are both of questionable character that could conceivably have a melt-down at any time.
I could see them going with either Jake Locker or AJ Green here as long-shot picks.
No. 4: Buffalo Bills: Marcel Dareus-DT/DE Alabama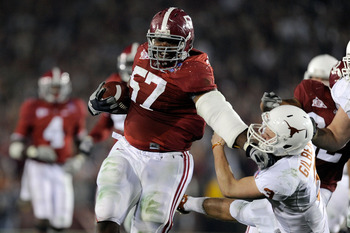 Kevork Djansezian/Getty Images
As it's well-noted that the Bills would love Andrew Luck, the fact remains that Ryan Fitzpatrick has played admirably this year, and is at least a good transition quarterback if they don't love the other two probable first rounders.
They need help in a lot of places, especially at stopping the run, as they rank last in the NFL in that department.
While they have certainly played much better since switching back to a 4-3 defensive front, I have no reason to believe that they aren't going to go back to the 3-4 once they are able to get the right personnel in place.
That makes Marcel Dareus the perfect fit, as he already plays in a 3-4 at Alabama, and would be an excellent fit.
Furthermore, he would also help their pass rush, helping the Bills improve in that department as well.
It's also possible that Buffalo could go with either Nick Fairley or Steven Paea for interior run defense, especially if they decide to stick with a 4-3 scheme.
No. 5: San Fransisco 49ers: Prince Amukamara-CB Nebraska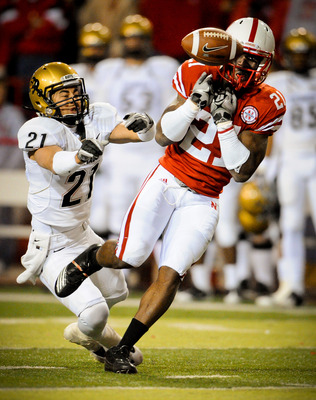 Eric Francis/Getty Images
Coming from the defensive background that he prides himself, I fully expect Mike Singletary to continue to develop and add to his already solid defense (assuming he still has a job come draft time).
They could use help at CB, but are decently solid elsewhere.
The 49ers obviously need a new quarterback, but Troy Smith seems serviceable while they fill in the gaps elsewhere, and evaluate other needs.
If he and/or the 49ers GM feels pressure to win now, less they find themselves in the unemployment line, then I could see them making a desperation move and grabbing Jake Locker here at QB.
Especially with a potential shutdown corner on the defense (a position that doesn't come around everyday, or even every draft), next year could be very promising when their young, talented (mostly comprised of first round picks) offensive line further develops and regains its health, given their horrendous division.
It's also possible, if not probable that one of the first round quarterback prospects falls to the middle or end of the opening round, which would give them an opportunity to trade up and grab one then.
No. 6: Denver Broncos: Da'Quan Bowers-DE Clemson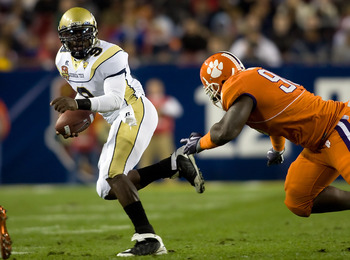 J. Meric/Getty Images
Bowers is probably the most coveted player for the Broncos in this draft, so they would be absolutely ecstatic if they were able to get him all the way down at No. 6.
Paired with Dumervil, once he comes back next year, the Broncos may soon threaten the Colts as having the most feared pass rush in the NFL.
Ideally, they'd also like to get another weapon for Kyle Orton, but there's no way they look beyond this draft's best pass rusher if he's available.
No. 7: Arizona Cardinals: Jake Locker-QB Washington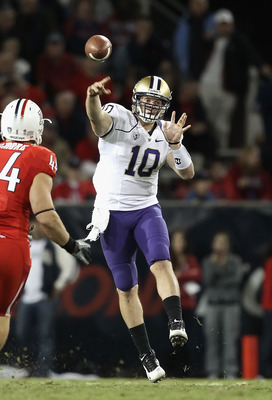 Christian Petersen/Getty Images
The Cardinals need help in several positions, and could go a couple ways with this pick.
They'd certainly love help on the defensive line, as well as another talented corner, but there's no denying their need at the most important position.
And more than just about any other team looking for a quarterback, they have the talent at the skill positions to help move along a young QB's development, as well as playmakers who won't require the most accurate QB for success.
They'll probably give Beanie Wells one more year to develop into the player they thought he'd become, before they start looking in another direction for running back.
Otherwise, I could see them trading down and grabbing Ingram later with this pick.
If they don't want to roll the dice with Locker here, Nick Fairley or Stephen Paea probably makes the most sense to help them shore up their interior defensive line.
No. 8: Dallas Cowboys: Anthony Castonzo-OT Boston College
Elsa/Getty Images
The Dallas Cowboys clearly need help at both corners, and on the offensive line.
They have abundant talent at the skill positions, and Tony Romo is more than an adequate quarterback, and is capable of winning some playoff games still.
The defensive line could also use some help.
With by far and away, the top two corners off the board, Dallas will need to add some youth to their aging offensive line, grabbing the top OT prospect in the draft.
He should help their poor run game immediately, and will later help give Tony Romo more time in the pocket so he can distribute the ball to the Cowboys excess talent at WR.
It's also possible that they will go with either Gabe Carimi, who might be the best pass blocker in this class, or Nate Solder, who might be the best run blocker.
No. 9: Minnesota Vikings: Gabe Carimi-OT Wisconsin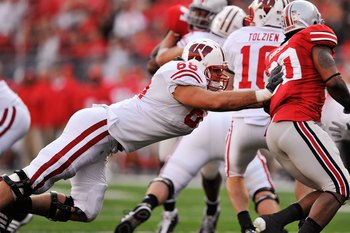 Jamie Sabau/Getty Images
The Vikings don't have the same needs as most of the other teams in the top 10, who really just lack talent throughout.
They certainly need help at corner, more depth for their aging offensive line, another pass rusher, as Jared Allen seems to have lost a step this year, and obviously a new quarterback.
They, maybe more than any other team needs a quarterback.
They are too close to being a Superbowl contender, and they don't want to waste more of Adrian Peterson's prime than they already have thus far.
I could really see them going with any of the available top prospect needs here.
Because they'd be reaching too much, and taking too big a gamble on Ryan Mallett this early, I see them taking the best, safest prospect on their board here in a position of need.
With that said, don't be surprised if they grab either Mallett or Ryan Kerrigan here.
No. 10: Houston Texans: Janoris Jenkins-CB Florida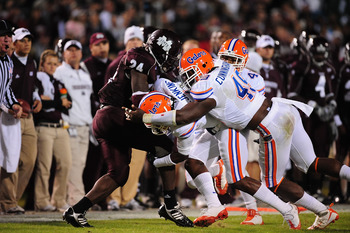 Rick Dole/Getty Images
The Texans have to find a way to improve their pass defense, as they are last in the NFL in giving up yards through the air.
Despite the two best corners already off the board, Jenkins is a great pickup at No. 10, and has the ability and tools to be the best cover corner on a playoff team.
It's possible that they could also look to add more of a pass rush, but their coverage is flat out embarrassing at times.
This is a need pick, and they won't be reaching much to get him here at No. 10.
No. 11: Miami Dolphins: Nick Fairley-DT Auburn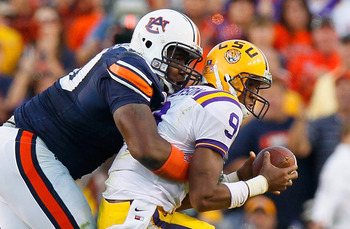 Kevin C. Cox/Getty Images
Miami clearly needs help at both running back and run defense on the interior.
Ronnie Brown and Ricky Williams have clearly taken a step back, and will only slide further as they age, and running backs don't age gracefully.
On the other hand, they have one of the best pass defenses in the NFL, but still need help getting a pass rush.
I expect them to grab Nick Fairley here for that reason.
He's probably not as good of a run stopping DT as Stephen Paea, but he's a better pass rusher, so he's probably a better fit, and with his 6'5 frame, he has more versatility to also play in their 3-4 as either DE or NT.
Ingram makes a ton of sense here as well for the Dolphins, and has the upside to one day become one of the elite running backs in the NFL.
The Dolphins have already demonstrated their lack of confidence in Chad Henne, so there's an outside chance they could reach for Ryan Mallett here.
No. 12: Cleveland Browns: AJ Green-WR Georgia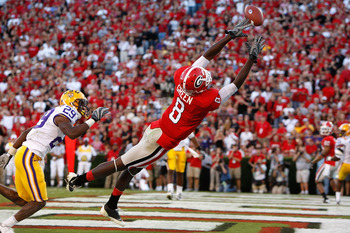 Kevin C. Cox/Getty Images
The Browns need help in all kinds of places, but for now, it appears that they have found solid options at running back, quarterback, and most of their offensive line, which are three of the toughest places to build usable talent.
Now, they could use help on the defensive line, and in the secondary, but if AJ Green is available at this point, Colt McCoy will probably be doing a jig.
Most mock drafts I've read have him going much earlier in the draft, some even top five, but it's hard to see any of these earlier teams taking him given their needs.
If Green is already gone, Cleveland would be happy with other needed talent on the defensive line with Stephen Paea.
They also have other options to improve their pass rush at this point, and they can grab either Ryan Kerrigan or Allen Bailey.
No. 13: St. Louis Rams: Julio Jones-WR Alabama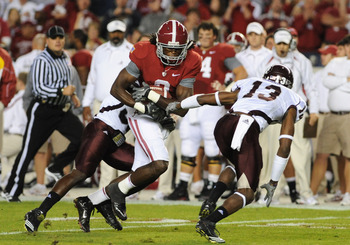 Al Messerschmidt/Getty Images
I doubt that St. Louis keeps this pick. They desperately need help at WR, and could also really use a change of pace running back.
With AJ Green gone, there are several other solid options for their new, young QB, but none of which are worth reaching this high to get.
Players like Julio Jones, Michael Floyd, Ryan Broyles, and Justin Blackmon, and several others, if they decide to come out will be available in later rounds for them to pick up.
If they love Julio Jones, they might have to trade down to the latter part of the first round to grab him.
Their offensive line hasn't been very good, as they rank 25th overall in sacks allowed, but their linemen are very young and have yet to fully develop.
There are more pressing needs on the offensive line than at OT, but there doesn't appear to be a lot of first round talent between the tackles in this draft.
My guess is that they either try to trade up and grab AJ Green, or they trade down for extra picks, and grab WR talent later in the draft.
After picking up Mardy Gilyard last year and with the emergence of Danny Amendola, I have a feeling that they want a big, possession receiver who will help them move the chains; if that receiver is also a big play threat, then even better.
They could also use some help in the secondary, and at WLB, so it's possible that they grab Akeem Ayers, Von Miller at LB, or DBs Aaron Williams, Brandon Burton or Rahim Moore.
No. 14: Washington Redskins: Nate Solder-OT Colorado
Doug Pensinger/Getty Images
It's true, the Redskins need help all over the place.
They've got issues in the secondary, on the defensive line, at WR, and at running back.
They'd love to be able to draft an AJ Green or Mark Ingram, but more than anything, they are desperate for offensive line improvement.
Like noted earlier, there is WR talent to be found later in this draft, but when they've got as many issues with both run and pass blocking, they need to add as much talent as they possibly can.
Shame on Washington if they don't add the best available OT, so long as one of the top four are available.
No. 15: New England Patriots: Ryan Kerrigan-DE Purdue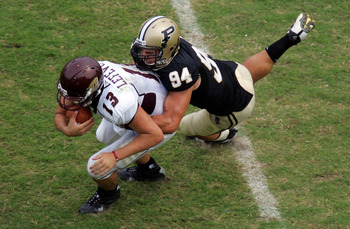 Ronald Martinez/Getty Images
Oakland would have an opportunity to have one of the better defenses in the NFL, IF THEY OWNED THIS PICK.
The Patriots secondary isn't very good, but one of the reasons why is because they struggle to get consistent pressure on the quarterback.
They do still need a significant upgrade at running back, but Belichick rarely reaches early in the first round for skill position players.
Truth be told, he rarely uses his first round picks.
Assuming he keeps this pick, they will grab either Ingram or a pass rusher, like Kerrigan or Allen Bailey.
Kerrigan might be the most underrated, and talented defensive player in this draft.
He currently plays for a bad team in a conference with the biggest and best offensive lines, and receives the most attention from blocking schemes.
In the midst of all this adversity, he is 2nd in the nation in sacks, and 1st in the nation in tackles for a loss.
He almost single-handedly beat Ohio State last year, and has been productive his entire career.
He's certainly not a speed rusher, but he plays with excellent technique, and is extremely big and physical, and will help in both run defense and improve their pass rush.
Think a bigger version of LaMarr Woodley, although he probably doesn't have the skill set to play OLB.
No. 16: Tennessee Titans: Ryan Mallett-QB Arkansas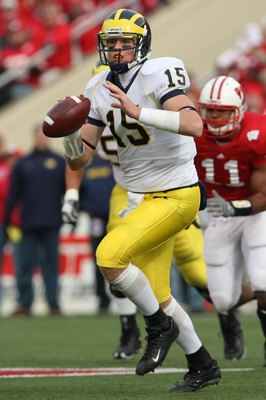 Jonathan Daniel/Getty Images
Obviously, there's a division between Vince Young and Jeff Fisher.
Kenny Britt appears to be a legitimate No. 1 big-play receiver, Chris Johnson is Chris Johnson, and the Titan's offensive line is arguably the best there is in the NFL.
Tennessee is solid against the run, but is definitely lacking against the pass, so it's plausible that they grab Aaron Williams at corner here.
The only thing is it's rare to find quarterbacks with this much potential this late in the draft.
Mallett is just about the prototypical pocket passer.
He it huge, has a rocket for an arm, and comes from a pro offense in college—so he's more prepared than most of his college contemporaries.
The downside is he struggles at time with accuracy, touch, mobility, and his throwing mechanics, as he trusts his arm too much instead of focusing on his throwing form, which leads to the inaccuracy.
But all this can be coached.
The Titans can't go much longer without adding more talent in the secondary, but a good quarterback could make this offense nearly unstoppable, and there's a good chance they will be able to trade up for a corner early in the second round or late in the first.
#17 Kansas City Chiefs: Aaron Williams-CB Texas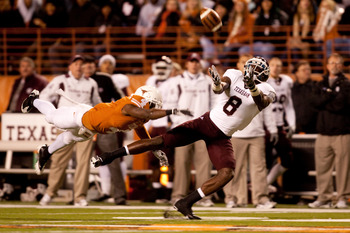 Darren Carroll/Getty Images
Kansas City has done a nice job over the past few years developing their defensive line, their offensive skill positions, and brought in a very serviceable quarterback.
Now it's time that they invest in their secondary.
The Chiefs are ranked 12th in run defense, but are a lowly 25th against the pass. Drafting Aaron Williams would go a long way in fixing this problem.
They are aging and need more athleticism at linebacker, so Akeem Ayers also makes sense here, and would be a tremendous talent to pick up this late in the draft.
#18 Jacksonville Jaguars: Adrian Clayborn-DE Iowa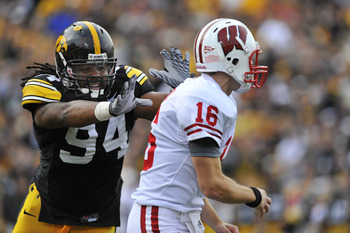 David Purdy/Getty Images
Clayborn has had a tough senior season at Iowa.
He hasn't had the same production this year versus last, and his Hawkeyes did not live up to their lofty preseason expectations.
Regardless, Clayborn is an excellent combination of size, speed, and has an endless motor.
He's great against the run, as well as a tremendous pass rusher - something that has evaded the Jaguars all these years.
They've got so many holes, it's amazing they're as good as they are.
One thing at a time.
They need to start looking for a new quarterback, are still below average at wide receiver, and are below average at both run and pass defense.
Clayborn will help establish more of a pass rush, as well as give some run support.
#19 Tampa Bay Buccaneers: Allen Bailey-DE Miami(FL)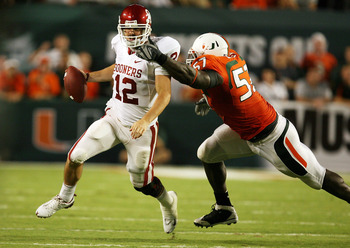 Doug Benc/Getty Images
Tampa Bay has a strong pass defense, but they strongly lack in run defense.
Perhaps worse than this, they cannot pressure the quarterback.
Out of all 32 teams, only the Bengals have fewer sacks.
The Bucs also need help at wide receiver and linebacker, and getting Akeem Ayers this far down would be a steal, and they could still use him as a pass rusher, so taking him is a very possible option.
#20 Chicago Bears: Derek Sherrod-OT Mississippi State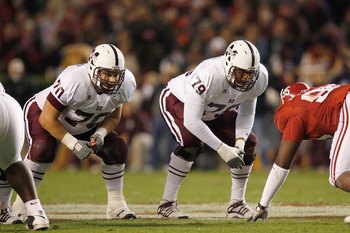 Kevin C. Cox/Getty Images
The Bears would love to add a big-play WR for Jay Cutler, as well as some more help in the secondary or on the defensive line.
But right now they HAVE TO work on the offensive line.
They could also go for OT Demarcus Love from Arkansas or C Rodney Hudson from Florida State.
Don't be surprised if they look to add to the offensive line with multiple picks in the first four rounds.
#21 Seattle Seahawks: Mark Ingram-RB Alabama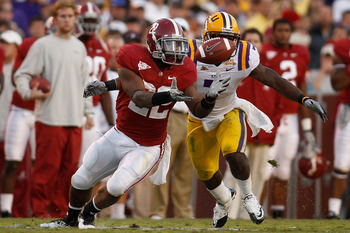 Chris Graythen/Getty Images
The Seahawks desperately need help in several places.
After investing in their offensive line last year, they could look again to further solidify it with whomever is left at this point between OTs Derrick Sherrod from Mississippi State and Demarcus Love from Arkansas.
In some order, Seattle needs to look for OL, CB, RB, and QB.
At this point in the draft, the top talent at these positions are either gone, or there isn't a good enough prospect to pick up this high, other than at RB.
The Seahawks will be lucky if Ingram is still around here, and will probably pick him up in a second, given the opportunity.
They are in dire need of improvement in the secondary, but it would be foolish to pick any of the available corners this early with all their other needs, and the talent that's left on the board.
Plus, they have to expect that Earl Thomas will only continue to improve, and they can still look for corners later in the draft.
#22 Indianapolis Colts: Drake Nevis-DT LSU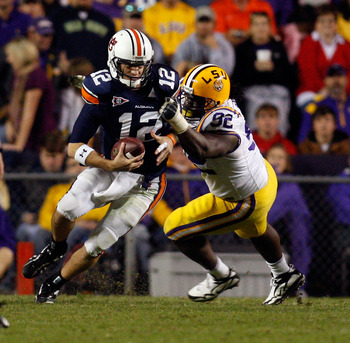 Chris Graythen/Getty Images
The Colts have been ravaged by injuries this year, but once they get their injured players back healthy next year, the only place they really need to address is the rush offense and the rush defense.
They've needed a big, dominant DT for a long time, and Nevis will do the job nicely.
The Colts will still need to address needs on the offensive line and at running back, but with Ingram gone already, no other running backs make sense.
Demarcus Love could be a real possibility here as well, and the Colts are notorious for drafting players in the first round that will help out Peyton Manning.
#23 NY Giants: Demarcus Love-OT Arkansas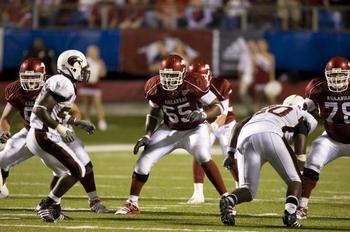 Statistically, the Giants are arguably the best team in the NFL.
They rank in the top 7 in the NFL rush offense and defense, as well as pass offense and defense.
Eli Manning has seen too much pressure, and throwing too many interceptions in the process, so it also makes sense that they look to add to their offensive line strength with their first pick.
The thing is their offensive line just isn't that talented.
If they could get a big upgrade, they should do it.
Plus, they will get the best player available.
If there was a better option at corner, they'd also love to add one here.
#24 Baltimore Ravens: Brandon Burton-CB Utah
Stephen Dunn/Getty Images
Baltimore doesn't have a whole lot of holes, but they do have some long-term questions at corner still.
They are at the point where they can start drafting for luxury, because of all the talent they have throughtout.
Eventually they will need to replace Ray Lewis at ILB, Terrell Suggs at OLB, Ed Reed at S, and Derrick Mason at the slot receiver.
There doesn't appear to be a quality heir for Ed Reed, which is somewhat worrisome given his health status lately.
OLBs Von Miller of Texas A&M and Jeremy Beal of Oklahoma are possibilities here as well.
#25 Atlanta Falcons: Brandon Harris-CB Miami(FL)
Kevin C. Cox/Getty Images
Atlanta still needs a little help in the secondary, especially considering Josh Freeman and Drew Brees are in their division.
Freeman doesn't have the stats or the weapons yet, but he can throw the ball with the best of them.
It's also possible that as Tony Gonzalez continues to get older, they could look to find his replacement and grab ND's Kyle Rudolph at TE.
Matty Ice would love another weapon at wide receiver to go with Roddy White, so that's also a possibility here.
#26 Pittsburgh Steelers: Stefen Wisniewski-OG Penn State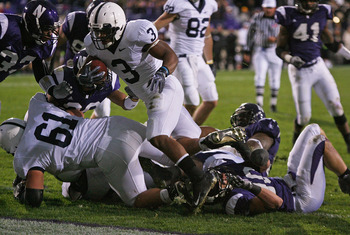 Jonathan Daniel/Getty Images
Despite other needs, the Steelers still have to address their porous offensive line.
There's a lot of expectation that they will take Maurkice Pouncey's brother Mike here, but he's played so poorly this year that he doesn't have first round value anymore.
Florida State's Rodney Hudson is also an option here, but they'd almost certainly move him from OC to OG.
If they want Mike, he'll likely be available in later rounds.
There's an outside chance that they could wait on picking Pouncey, Hudson, or Wisniewski, and hope that OG Steve Schilling of Michigan is available in one of the later rounds, and address other needs here.
It's unlikely that they will have the financial flexibility to re-sign LaMarr Woodley, so they might try to move up or stay put and try to pick up a pass rushing DE that will be able to play OLB in a 3-4 scheme.
Cam Jordan and Cam Heyward are the most likely options here, but they don't seem to be great fits at OLB in a 3-4.
#27 Philadelphia Eagles: Von Miller-OLB Texas A&M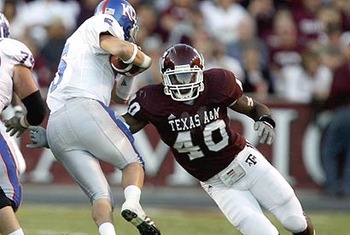 Philadelphia doesn't have any blatant holes, but they aren't great at linebacker.
With Miller, they will take the best player available while addressing a pseudo-need.
You can never have enough depth on the defensive or offensive lines, so adding someone here is a great possibility, although there isn't a ton of 1st round talent left at these positions.
#28 New England Patriots: Alshon Jeffery-WR South Carolina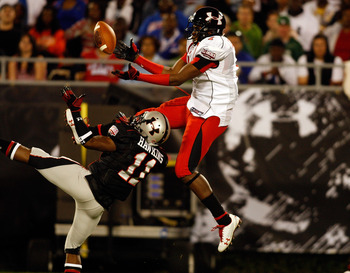 J. Meric/Getty Images
Let me start by saying that I think one of three scenarios will occur for the Pats.
1) They trade one of their first round picks for extra picks, and grab the best available pass rusher (most likely)
2) They take Ingram with their first pick and the best remaining pass rusher with their second first-round pick (next most likely)
3) They take the best available pass rusher with their first pick, and a wide receiver with their second pick (least likely).
Even though the third scenario I offered is the least likely in my mind, it's a compromise between 1 and 2, so that's how I'm going about this.
Assuming Alshon Jeffery comes out, he would be a really nice pick up for the Pats. They don't have a deep threat or a big, possession receiver.
Jeffery isn't the fastest receiver, but he's fast enough, and he's got great hands and great size.
WR Michael Floyd from Notre Dame is also a possibility as a big, possession receiver with excellent hands.
There's an outside chance that the Pats add depth and youth to their offensive line, but there seem to be more pressing needs.
If this is the route the Pats decide to go, don't be surprised if they use one of their second round picks on RBs DeMarco Murray from Oklahoma or Daniel Thomas of Kansas State.
#29 New Orleans Saints: Cameron Heyward-DE Ohio State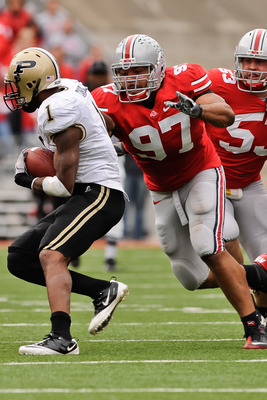 Jamie Sabau/Getty Images
The Saints have had injury issues at running back, but hopefully for them that isn't going to be a long term problem.
Age is becoming an issue for them on the outside of their defensive line, and they need help with their run defense.
Heyward isn't going to be a great pass rusher in the NFL, but he's very serviceable there, and is great against the run. He's a very quality pickup this late, and can learn a lot from fellow Buckeye Will Smith.
#30 San Diego Chargers: Michael Floyd-WR Notre Dame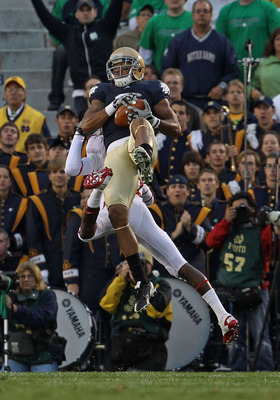 Jonathan Daniel/Getty Images
The Chargers are in a unique position here, and surprisingly have quite a few needs.
Despite their pass rushing success, they still need a replacement for Shawn Merriman.
They also need a cover corner, with the loss of Antonio Cromartie.
With the absence of quality first round talent at either of these positions, the Chargers will have to reach a little and draft Michael Floyd to replace the presumably departing Vincent Jackson.
It's important to keep Phillip Rivers happy, and to surround him with talented weapons.
#31 Green Bay Packers: Joseph Barksdale-OT LSU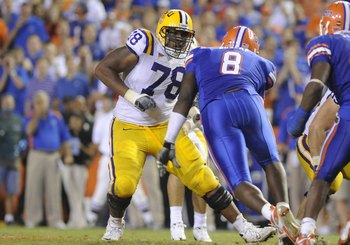 Al Messerschmidt/Getty Images
The Packers have done a much better job this year at protecting Aaron Rodgers, but they're still not great, and they need improvement with their run blocking.
Adding depth on the O-line is extremely important, as they're pretty thin on the O-line.
They also need help at corner with the release of Al Harris and given Charles Woodson's age, so Ras-I Dowling from Virginia could also be a good pickup here.
Looking into getting another running back to take some of the load off of Ryan Grant next year will be something the Packers will want to explore.
#32 NY Jets: Rahim Moore-S UCLA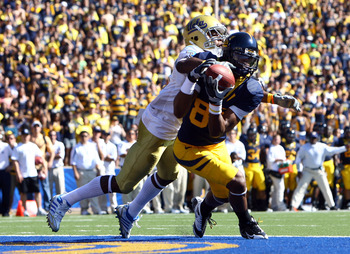 Jeff Gross/Getty Images
With the injury to Kris Jenkins for the second year in a row, it's likely that the Jets will look to add depth to the defensive line in this draft, but not necessarily here.
The Jets have the best duo of corners in the NFL, but they have only been okay at safety so far.
They will combat this by taking the most talented safety in the draft.
They don't have a lot of holes, so most of their picks are going to be luxury picks.
Keep Reading

New England Patriots: Like this team?