West Virginia at LSU Live Blog: Analysis, Reactions, Notes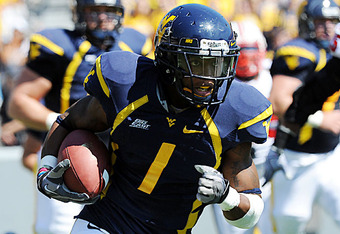 Tavon Austin has emerged as one of West Virginia's top offensive threats early on in 2010.

Saturday night in Baton Rouge, No. 22 West Virginia will see their first true test of the 2010 season against the No. 15 LSU Tigers.
I'm Michael Carvelli, one of Bleacher Report's Featured WVU Columnist as well as a Mountaineer football beat writer for EerSports.com, and I will be live blogging throughout the game starting around 8:30, just 30 minutes before kickoff from Death Valley.
If this goes over well, I might continue doing this from up in the press box for the rest of the home games this season.
If you have any questions or comments throughout the game, you can either just put them in the comments section or send me a mention on Twitter @Carvelli3.
---
NOTES:
The first three games of the season have been somewhat of a coming out party for a trio of sophomores for the Mountaineers. Quarterback Geno Smith led WVU back from a 21-6 deficit to Marshall a couple of weeks ago, orchestrating two drives of more than 90 yards to force overtime before West Virginia pulled away in overtime.
Wide receivers Tavon Austin and Stedman Bailey have emerged as a couple of legitimate pass catching threats for the Mountaineers. Austin comes into the LSU game with a team-high 21 catches and 281 yards while Bailey has caught nine balls for 132 yards. Both of them have two touchdowns apiece.
After failing to record a sack in their first two games of the year, the Mountaineers picked up eight against Maryland last Saturday. Junior college transfer defensive end Bruce Irvin led the team with three, while senior defensive end Scooter Berry had two.
Senior cornerback Brandon Hogan will be a game time decision in the LSU game. Hogan was suspended prior to the Maryland due to a drunk driving arrest.
Junior right guard Josh Jenkins will be out of Saturday's game with a knee injury. Defensive end Julian Miller is questionable and linebacker Pat Lazear and tight end Tyler Urban are both listed as probable.
Well, thanks for reading my thoughts. Until next time, this is Michael Carvelli signing out from my living room couch.
With the loss, the Mountaineers move to 3-1 on the season. But I do still think that they are way ahead of any other team in the Big East.
I have to say, I do think that West Virginia was the better team tonight. LSU looked much worse and out of sorts than the Mountaineers were. If not for Patrick Peterson and Stevan Ridley, they had no shot.
Really starting to question both the playcalling and the offensive line of WVU even more so than I was heading into this week. When Devine came out with the foot injury, it seemed as if they didn't know how to act and had no clue who to turn to offensively.
Solid performance by the WVU defense. They were the reason that the Mountaineers had any chance of being in the game tonight.
Well, all LSU needs to do at this point is just run it out. Stevan Ridley deserves the game ball for the Tigers. The only reason that their offense was able to get anything going against the Mountaineers tonight.
The LSU pass rush was in Geno's face that entire drive. On his two pass attempts I don't think anyone touched anybody from LSU.
Stew trying the keeps the troops up, but maybe he should have a talk with the offensive line.
Stupid run on second down.
Wow, the pass rush was on Geno like crazy. Almost a safety.
Geno with a chance to make up for his struggles with another monster drive here.
4th down again for LSU. Like I said earlier, which offense wants to win it?
12 penalties for LSU tonight, West Virginia should be winning this game.
The crowd looks awfully nervous right now.
Jarrett Lee is in at QB and the fans are pumped.
The ESPN guys actually got it right, Geno should've stayed confused and then just do a direct snap to Noel. Would've picked up the first I bet.
OH MY GOD! Geno wasn't under center.
And it's fourth down...again.
Monster, monster third down here. If WVU is going to convert once, here's when.
This could be another one of those huge 90 yard drives to win the game for Geno Smith, can he do it again?
That throw was, as Charles Barkley would say, turrible. LSU fans aren't happy with the way Jefferson has played at all.
Ridley picks up the big 3rd-and-1 for LSU. Now they need to just ride him the rest of the way.
West Virginia doesn't convert two field goals, should be 20-20 now.
Russ Shepard has been a little quieter than I expected him to be today for some reason.
This article is
What is the duplicate article?
Why is this article offensive?
Where is this article plagiarized from?
Why is this article poorly edited?

WVU Football: Like this team?