West Virginia Football: Bill Stewart Leads Mountaineers Into Death Valley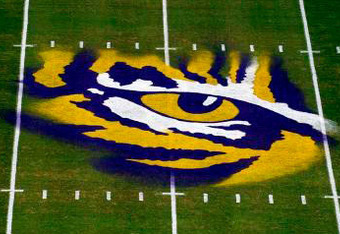 Finally, the months of anticipation are over, and West Virginia University will face Louisiana State University on Saturday in Baton Rouge, Louisiana.
Kick-off is set for prime time, 9pm, and will be televised by ESPN2 to a national audience. The stage does not get much bigger than this, early in the season.
Both Bill Stewart of WVU and Les Miles of LSU entered the 2010 season needing wins to quiet dissension in their fan bases.
Stewart replaced the highly successful Rich Rodriguez. Rodriguez's popularity while at WVU was off the scale. The contempt Rodriguez endured after his departure from WVU, is a direct correlation to his popularity.
Miles replaced Nick Saban, who, like Rodriguez, was highly successful and well liked by the LSU faithful.
Both Rodriguez and Saban left their respective schools for more lucrative offers from other teams. Rodriguez went to Michigan, and Saban went to the Miami Dolphins.
Unlike Stewart, Miles has won a national title in his tenure at LSU, defeating the Ohio State Buckeyes to win the national title following the 2007 season.
The irony is had Rodriguez' 2007 WVU team beaten Pitt on December 1, WVU, not LSU, would have faced off against OSU for the national title.
Though Miles actually won the national title, many LSU fans still gave credit to Saban. The team Miles coached to the title game was stocked primarily with players that Saban had recruited.
It is worth mentioning that Stewart has recruited very well since he was hired at WVU. It is well documented that Stewart has signed the two highest rated back-to-back recruiting classes in WVU's history.
Still, Miles has out done Stewart on the recruiting trail; LSU signed decidedly higher ranked classes than WVU.
Both WVU and LSU field strong defenses in 2010.
The LSU defense enters the game ranked fifth in scoring defense giving up 11.5 points per game. The WVU defense enters the game ranked ninth in scoring defense giving up 12.7 points per game.
The Tigers hold the edge on defense; suffice to say that both are stout.
Jeff Casteel of WVU and John Chavis of LSU are the defensive coordinators for their teams.
Chavis employs a conventional 4-3 alignment for his defense. Casteel employs an unconventional odd stack 3-3-5.
Casteel's alignment often confuses quarterbacks from opposing teams that rarely see the formation. Casteel is a master of disguising his intentions through alignment.
Both Jeff Mullen of WVU and Gary Crouton of LSU have felt the sting of disapproval from their respective fans. Mullen and Crouton are the offensive coordinators for their teams.
Offensively, both the Mountaineers and the Tigers are tied at 61st for scoring offense with an average of 28.7 points per game. How they reach that average is completely different.
Jordan Jefferson's, LSU's starting quarterback, stat line reads 33 completions on 57 attempts for 344 yards and two touchdowns, with a completion percentage of 57.9. Jefferson's quarterback rating through three games is 113.1.
The Tigers like to run the football in 2010; LSU has run for 609 yards so far. Stevan Ridley is their top rusher with 55 carries for 318 yards and two touchdowns; Ridley averages 5.8 yards per carry on the season.
Mountaineer quarterback Geno Smith boasts the following stat line—71 completions on 101 attempts for 800 yards with seven touchdowns and a 70.2 percent completion percentage. Smith's quarterback rating through three games is 157.7.
With Smith as the starter, the Mountaineers are a passing team.
The Mountaineers also like to run the football in 2010. WVU has run for 544 yards so far. Noel Devine is their leading rusher with 73 carries for 354 yards and two touchdowns. Devine averages 4.8 yards per carry.
Devine also represents the active leading rusher in the FBS. Devine has a propensity for performing his best on the biggest of stages. Devine will have to continue that trend for WVU to come out of Louisiana with a victory.
To obscure the debate, both teams' offensive strengths compete directly with the opposing teams defensive strengths.
LSU fields the best defensive secondary that WVU may see all year. The Tigers can match WVU's speed at receiver, and both corners are good in man-to-man coverage.
The WVU defense may not be the best the Tigers will face this year, they are stout against the run. LSU will be surprised at the speed the Mountaineer defense possesses.
Team speed may be an edge for WVU, not that the Mountaineers are faster than LSU, the Tigers may not respect the speed that exists on the Mountaineer roster.
Coming into the 2010 season WVU had been horrid on kick-off coverage the past two seasons. Stewart addressed the situation in the offseason with a complete realignment of the special teams coaches.
In essence, Stewart replaced himself as special teams coach and distributed the responsibilities throughout his staff. The plan has worked to date. What was once an Achilles heel is now a strength.
These two teams are more evenly matched than it might first appear. As with any game against evenly matched opponents, the game will go to the team that wins the turnover battle.
In their past two games, WVU has not protected the ball as well as expected. The Mountaineers are currently minus-four in turnover margin on the season.
WVU must win the turnover battle to have a chance in Death Valley.
Further, for WVU to pull the upset in Baton Rouge, the offensive line must control the line of scrimmage. The offensive line must provide Devine holes to run through and Smith time to throw the football.
On the other side of the ball, WVU's defensive line must also control the LSU offensive line. The Mountaineers must shut down the LSU running game and force Jefferson to beat them with his arm.
Noel Devine and Jock Sanders returned for their senior season at WVU. They did not return to lose at LSU.
LSU opponents are 1-25 in their last 26 night games in Death Valley.
Bill Stewart has a motto, "Respect everyone, fear none." As Stewart and company will enter Death Valley Saturday night, the LSU faithful see another victim for the slaughter.
Tiger fans will quickly learn that Mountaineers do not go down without a fight.
This article is
What is the duplicate article?
Why is this article offensive?
Where is this article plagiarized from?
Why is this article poorly edited?

WVU Football: Like this team?