Florida Football: Five Quick Fixes for the Gators' First-Half Woes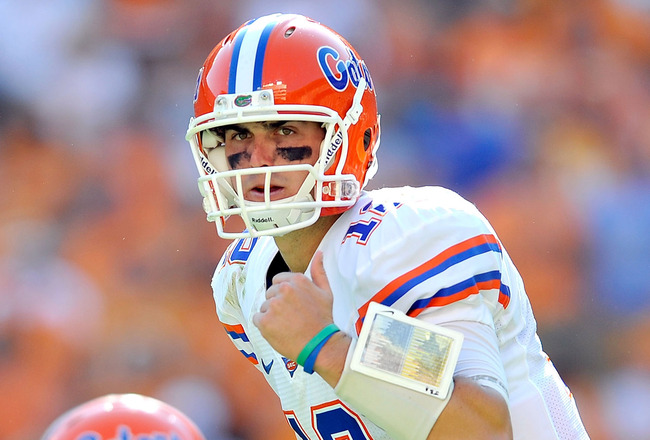 Grant Halverson/Getty Images
The Florida Gators still have not hit their offensive stride yet, or at least what we expected it to be this season.
The biggest issue for Florida is starting the game off slow, as if Urban Meyer hit snooze until halftime.
Florida took 18:11 to put points on the board against Tennessee, and it was the fourth time this season the Gators have gone at least 17 minutes without scoring.
The Gators have used their talent and depth to overcome these horrendously slow starts, but it's not going to cut it once the competition turns it up a notch.
Here are five things the Gators can do to open things up and generate some early points to kick the first-half swoon.
You can follow Brad on Twitter. Tune in to the weekly Swamp Talk podcast Tuesday's at 7 p.m. with Brad and co-host Wil Bradley, or download for future listening.
5. Run Outside More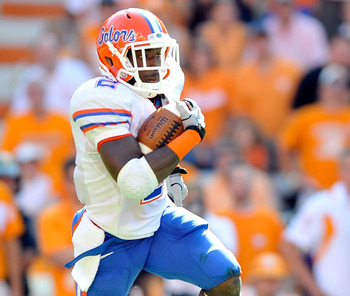 Grant Halverson/Getty Images
Right now, the Gators' offensive line isn't up to par, and that is part of the reason the offense has struggled to get off to a fast (or even halfway mediocre) start in the first half.
But one area where the line seems to excel is in sweeps and pulls to the outside, where the linemen get out in space and block.
It also fits well with Jeff Demps' skillset because, you know, he is pretty fast.
It would also help wear down the opponent's defensive line, and then the Gators can pound the ball with Mike Gillislee and Emmanuel Moody.
4. Take Some Shots Downfield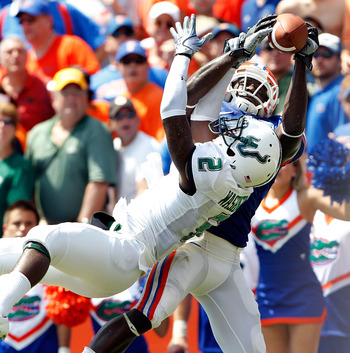 Sam Greenwood/Getty Images
Any Gators fan who is complaining about the offense seems to point to the conservative playcalling of Steve Addazio.
It's fine if you want that to be your overall approach, but you have to mix things up every once in a while to keep the defense on its toes.
The best way the Gators can do that is to take a few shots downfield right from the get-go. John Brantley made some nice throws last week, and he showed the ability to make plays when the team needed him. So, let him unleash a few deep balls to try to hit a quick strike early.
The receivers are showing improvement from week to week, and nothing gets a receiver, or a team, going more than a big play.
It will also open up the short game and the running attack.
3. Put Playmakers in Space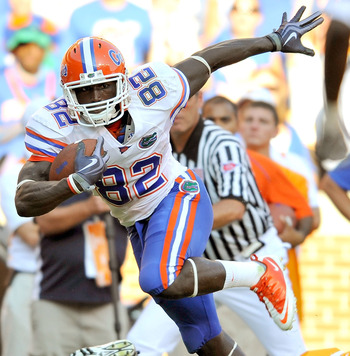 Grant Halverson/Getty Images
Every week, the opposing team talks about how they have never played a team with the athleticism and speed of the Gators.
It's true, at least we assume it is. We don't really know because this athleticism and speed isn't being put in open space or in mismatches to make things happen nearly enough.
On any given play, the Gators should be able to create a few of these mismatches. If Brantley gives these guys the ball on a short play, the rest of the work is up to the playmakers. They may not make the defense miss on every play, but the odds are certainly in their favor.
Enough of those types of plays and the defense won't know whether to play up close or give up a lot of room, and then the mismatches are truly exposed.
2. Get Creative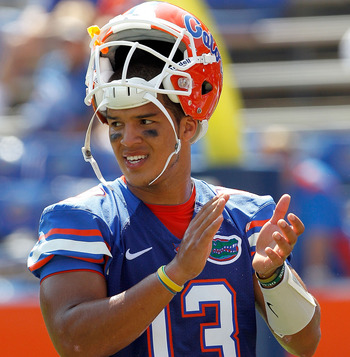 Sam Greenwood/Getty Images
Urban Meyer can be a creative and savvy playcaller. Just look at the gutsy fake punt he called last week. Judging by his 8-for-8 record on fake punt calls, he knows just the right time to get creative and think outside the box.
He has done some creative stuff in the past, like Tim Tebow's jump pass. It's time to incorporate a little more creativity into the offense to open things up and spark some excitement.
How about letting Trey Burton throw the ball when he lines up at quarterback, instead of having him always pull a "Tebow?" Maybe let ex-quarterback Jordan Reed do the same thing. Or, have both of them on the field and do some trickery. I don't know if Demps can throw the ball, but putting him in the Wildcat might not be a bad idea.
I'm not saying go overboard. Just throw in a little dose of the unorthodox to keep the defense guessing. It couldn't hurt to liven up things a little bit.
1. Try a Little Hurry-Up Offense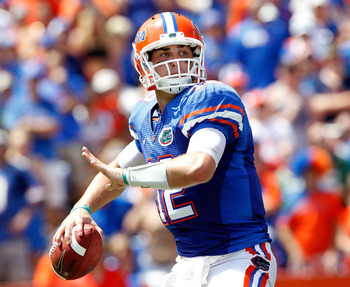 Sam Greenwood/Getty Images
One thing the offense really needs to do is develop a rhythm. Every time Florida makes a nice play it seems like it is followed by something that kills any sort of momentum that was about to build, whether it's a timeout, waiting too long to call the play, or something else.
If Florida came out and ran the hurry-up offense for a drive or two, it would go a long way toward developing this rhythm. I'm not always a big fan of the idea of scripting the first set of plays before the game, but in the case, it might be a good idea.
Take the thinking and indecisiveness out at the beginning of the game, and just focus on trying to build some momentum.
It would take away those pesky timeouts or trying to beat the snap clock, which has happened way too much in the first three weeks.
It may not be the usual way that Florida does things, but if the Gators are going to try to kill this first-half slump, it might not be a bad idea to try some new things.
Keep Reading

Florida Gators Football: Like this team?