Oregon Ducks Football: Five Reasons They Are Not No. 1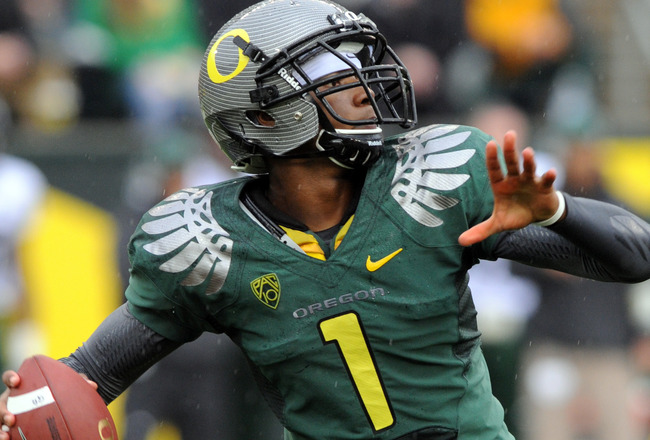 Steve Dykes/Getty Images
The Oregon Ducks and their fans eagerly awaited the release of the new AP Poll following another blowout win Saturday. Surely a team that averages more than 60 points a game would get more love from the coaches than, say, Boise State or TCU.
This was not the case.
The AP Poll were released this weekend with no change in the top five teams, followed by dismay from Oregon fans screaming they should be higher, like usual.
I know that as an Oregon featured columnist I should rabidly support the fans' outrage, but this time I do not. In my opinion, the Ducks, who are still ranked No. 5 in the polls, are exactly where they should be.
Here are five reasons why Oregon should not be ranked number one. See if you can find the pattern.
Alabama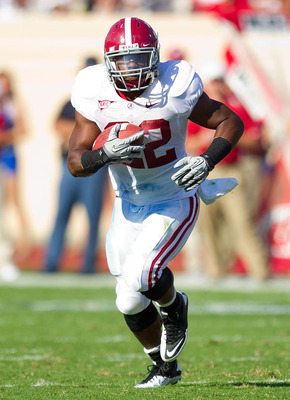 Brian A. Westerholt/Getty Images
The preseason No. 1, and still in that position, Alabama has shown everything necessary to keep their top ranking. Three wins, including one over a ranked and always-tough Penn State, showed the nation Alabama was for real.
The Crimson Tide scored 36 points per game in their first two games, even without their Heisman-Trophy-winning running back Mark Ingram. In Ingram's first game back this weekend, the All-American managed 151 yards and two touchdowns on just nine carries.
It's clear that, for now, Alabama is the unanimous No. 1. This will be put to the test the next three weeks as Alabama faces three top-15 teams, including games on the road against Arkansas and South Carolina. Until then, the discussion of No. 1 is no discussion at all.
Oregon can score 100 points per game, but until Alabama loses, Oregon will not move ahead of the preseason favorites.
Ohio State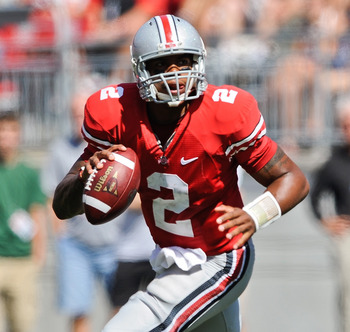 Jamie Sabau/Getty Images
Similar to Alabama, Ohio State has been ranked No. 2 since the first AP Poll came out. The Buckeyes' Heisman-caliber quarterback Terrelle Pryor, who shunned the Ducks' recruiting efforts, is now doing what he can to secure their ranking.
Usually a team's first three games don't tell you much about what's to come due to the easy non-conference games played. Ohio State put all that hearsay to rest when they took on then-12th-ranked Miami two weeks ago. Though the Buckeye defense looked somewhat shaky in giving up 24 points, their offense was hitting on all cylinders and led the team to an easy victory.
The Buckeyes can get comfortable, as their No. 2 ranking is seemingly secure for weeks to come: Ohio State won't face another real test until they visit Wisconsin on October 16.
The second half of Ohio State's season is clearly the tougher part of their schedule, but for now the Buckeyes sit exactly where they should be. A preseason No. 2 ranking, a 3-0 start, and a quality win over Miami have Ohio State in a well-deserved position ranked ahead of Oregon.
Boise State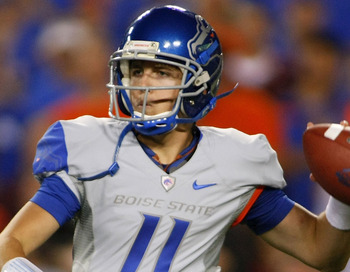 Geoff Burke/Getty Images
Short and sweet, just like Boise State's season. Stars of the "game of the week" in Week 1, Boise State defeated a Top 10 Virginia Tech squad right out of the gate.
Yes, the Broncos only won by three, and yes, the Hokies also lost to James Madison, but a win is a win. The computers and BCS formula don't matter yet; all coaches can do is look at "what have you done for me lately."
Boise State is the only team currently ranked in the Top 10 to have beaten another Top 10 team this season. Though the rest of their schedule features cupcake after cupcake, that stat alone is enough to secure the Broncos' No. 3 position for now.
For possibly the first time ever, Oregon fans will surely be cheering on in-state rivals Oregon State this week when they face the Broncos in Boise. A win for the Broncos could shatter any hope Oregon has of leapfrogging Boise State at any point this season.
TCU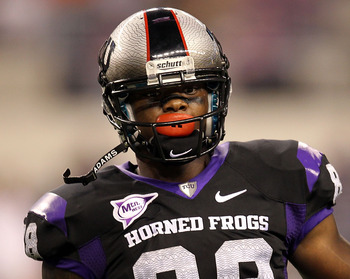 Ronald Martinez/Getty Images
And we have yet another mid-major. Although I am not convinced of the quality of either non-BCS school, I have no grounds to vault Oregon ahead of Boise State or TCU.
TCU is ranked in the top ten in the country in points scored, points allowed, and rushing offense. The Horned Frogs are simply obliterating their opponents. Even though two of their wins have come against perennial slouches Tennessee Tech and Baylor, they do hold a quality win against a ranked Oregon State team.
Once again, the Beavers are driving Duck fans crazy.
TCU, like Boise State, has just one more test before an undefeated season becomes inevitable: a game November 6th at Utah.
As much as I like to complain that teams from the Mountain West Conference should never be ranked ahead of someone from the Pac-10, a win over a ranked opponent gives TCU the needed edge over Oregon.
Oregon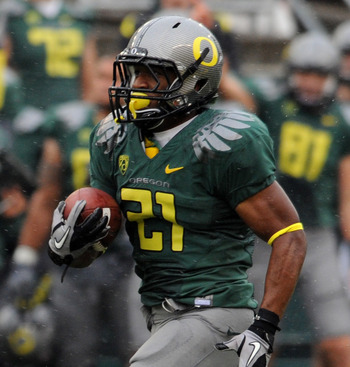 Steve Dykes/Getty Images
Don't get me wrong; Oregon has played great at the start of the season.
Currently, the Ducks have the top scoring offense and the top defense in the nation. Add a rushing offense that is second in the nation in yards per game and you have a seemingly unstoppable team.
Scoring over 60 points per game is extremely impressive, even for a team that hasn't played the greatest caliber of opponents. However, that's the reason Oregon has moved up six spots since the preseason, jumping undefeated teams like Florida, Oklahoma, Nebraska, and Texas.
Oregon looks like a great team, no question about it, but their opponents' combined record of 2-7 is keeping the Ducks from leaping into the AP's No. 1 spot.
Oregon begins a tough Pac-10 schedule this week, facing Arizona State. ASU coach Dennis Erickson has a 5-1 record at home against opponents ranked in the top five. A strong start to the Pac-10 season could lead to more love in the polls for the Ducks, as teams like Boise State and TCU face an easy conference schedule.
Oregon can score as many points as they want, but the top five teams will and should remain the same, until one of the top four falters or Oregon starts beating quality teams.
Keep Reading

Oregon Ducks Football: Like this team?