College Football: 25 Players Who Have Been Flying Under The Radar This Year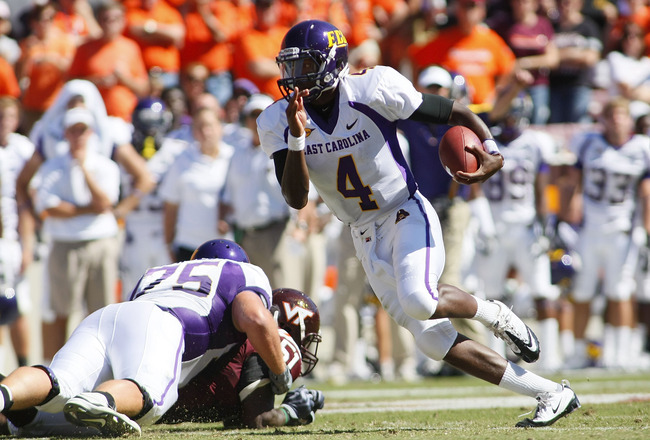 Geoff Burke/Getty Images
College football is as much a popularity contest as it is a playing field for deciding who's a player and who gets played. The big names are easy to find on a stat sheet because networks like ESPN, Fox Sports, and ABC have no trouble pointing you in their direction. However, there are plenty of guys making a name for themselves on the college gridiron, minus the helpful hype.
These guys play every bit as hard on Saturday, sometimes with just as spectacular a result, but it doesn't seem to be enough to get their names in print or their highlights on a reel. Some play for big boys, others don't, but they are all worthy of a special mention for what they've been able to do for their respective teams so far this year.
In advance, it must be said that this slide/video show is peppered with a few I-AA standouts because, well, don't they deserve some recognition too?
Feel free to add your own names in the comment section; clearly this presentation can't name every guy who deserves a nod.
Mike LeShoure, RB: Illinois

2009 Highlight Reel of Junior Tailback, Mike LeShoure

If you are an Illinois fan, the name Mike LeShoure isn't new to you. He wears No. 5 for the Fighting Illini—a number made famous by former running man, Rashard Mendenhall. He's finally ready to make a name for himself as he has rededicated himself to getting fitter, faster, and better this past offseason.
His hard work has paid off so far: he is not only the No. 6-ranked tailback in the country, but he has also helped carry Illinois to a 2-1 record this season.
2010 Stats: 58 carries, 398 yards, and three touchdowns (6.86 yard per carry).
Dominique Davis, QB: East Carolina

Dominique Davis' hail mary wins game for ECU.

The East Carolina Pirates fell short against the Virginia Tech Hokies this past weekend, but that doesn't change the fact that Dominique Davis (the former freshman phenom for Boston College) is one heckuva quarterback.
He's the new face of Pirate football after the departures of both the head coach, Skip Holtz, and his star quarterback, Patrick Pinkney. So far, Davis has done a fine job of developing under Ruffin McNeil's offense, and has excelled at being a strong leader on the field for his teammates.
If nothing else, the young man is fun to watch on Saturday.
2010 Stats: 85/129 for 890 yards, nine touchdowns, and three interceptions. Thirty-five carries for 132 yards and three touchdowns.
Kealoha Pilares, WR: Hawaii

Kealoha Pilares goes off on USC.

Kealoha Pilares...go ahead, say it again, Kealoha Pilares. It's a mouthful, I grant you, but it was said all night in the Hawaii Warriors debut against the USC Trojans. The senior receiver went off for 176 yards and three touchdowns that night. He was, in a word, AMAZING! Unfortunately, for him, the Warriors defense wasn't quite as glorious, as his team lost the game.
Pilares continues to put up stellar numbers in Hawaii's high-powered air attack. While he's not the tallest receiver on the field (he stands 5'10"), he's got just enough physicality and strength to be a challenge for just about any defensive back he's liable to face on game day.
2010 Stats: 17 receptions, 397 yards, and five touchdowns.
Jarvis Phillips, DB: Texas Tech

Jarvis Phillips 87-yard interception returned for touchdown.

Jarvis Phillips is only a freshman, but he's already turning some heads in the Big 12. Unless you're a fan of the Red Raiders or happened to be watching the Texas Tech loss to Texas last Saturday night, you might have missed him. I'll give you a hint, he was that blur running Garrett Gilbert's errant pass back for a touchdown.
Phillips has a way to go to truly become a legitimate force on defense, but he's already made a name for himself in the Texas Tech secondary by snagging four interceptions this year—that leads the nation.
2010 Stats: 10 tackles, three passes defensed, four interceptions, and one touchdown.
Andrew Pierce, RB: Delaware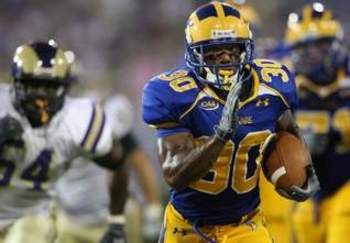 I know what you're probably thinking, the FCS doesn't count—it's like junior-varsity football to the big-boy FBS, right? Well, there are more than a few fans and I-AA players who might take offense at that statement. Considering what both UMass and Jacksonville State have been able to do this season, I'd be inclined to agree.
I-AA has players too—they might not be eligible for all the accolades, but they have players all the same—and Andrew Pierce is a player. He's been tearing it up for the Blue Hens this year and he's only a freshman—wow!
2010 Stats: 55 carries, 484 yards, and four touchdowns.
Mario Harvey, LB: Marshall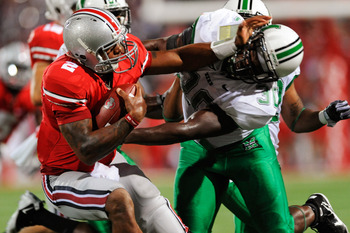 Jamie Sabau/Getty Images
Aside from the unflattering facial he appears to receive from Ohio State quarterback, Terrelle Pryor, Mario Harvey has been an absolute beast for the Thundering Herd this season. His impressive showing against the West Virginia Mountaineers during a Thursday night game (where he amassed 17 tackles, two sacks, and two forced fumbles) brought him to the attention of many who didn't already know his name—he's continued to impress.
The senior linebacker weighs in at a touch above 240 lbs, but has clocked a 4.35 forty—there aren't too many players who can get away from his grasp. He's a definite weapon on defense, and it won't be long before others take notice of his skills as well.
2010 Stats: 39 tackles, six tackles for loss (minus 29 yards), four sacks (minus 24 yards), and two forced fumbles.
Ryan Kerrigan, DE: Purdue

Highlights of Ryan Kerrigan's performance against Michigan in 2009.

While he's on a ton of 2010's watch lists for his great defense, Kerrigan has been equally talented at flying under the radar. Few outside the Big Ten know how good he truly is; that's a shame because he has been a beast for the better part of his college career. He's not flashy, but he continually gets the job done.
His name was on the tongues of many NFL scouts last season, but he opted to stay in West Lafayette to complete his senior year: he felt he had some "unfinished business" to take care of for the Boilermakers—he wants to help get them get to a bowl game. They are off to a good start at 2-1, and there is little doubt that Kerrigan has played a key role.
2010 Stats: 23 tackles, eight tackles for loss (minus 34 yards), three sacks (minus 21 yards), and two forced fumbles.
Taylor Martinez, QB: Nebraska

Taylor Martinez makes his debut against Western Kentucky.

His name isn't nearly as hyped as that of a similar quarterback with eye-popping numbers, but he's been almost as impressive for Big Red this season. Taylor Martinez, aided in large part by a phenomenal Nebraska defense, has helped the Cornhuskers to a 3-0 record. He looks locked in on the football field as he slices and dices through everything that has been thrown his way.
It's only a matter of time before he starts getting more respect from those outside Omaha but, for now, he is more than happy to toil in obscurity—let the other guys get the hype.
2010 Stats: 28/43 for 392 yards, one touchdown, and one interception. Forty carries for 462 yards and eight touchdowns.
Mario Kurn, DE: San Diego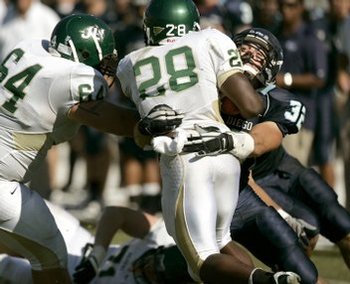 Earnie Grafton / Union-Tribune
He's not the biggest or the best player on the field every week, but he makes a strong case for that role as he has dominated the competition so far this year.
Mario Kurn's size won't blow you away—he's playing defensive end but, if he were on an FBS team, he'd be about the size of a strong safety. However, that hasn't stopped him from being aggressive and making plays wherever the Toreros need him to—he's a gamer.
He loves to play football and it shows in his attitude and play on the field.
2010 Stats: 18 tackles, eight tackles for loss (minus 52 yards), seven sacks (minus 49 yards), and one forced fumble.
Jordan White, WR: Western Michigan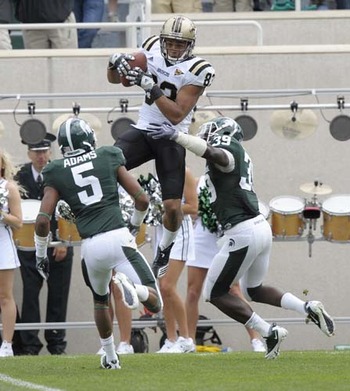 Jordan White leaps over Michigan State defenders to make the catch.
Western Michigan is in the MAC, in case you weren't aware. Even though there are many teams in that conference that are recognized by the average fan, most people completely blank on Western Michigan. It's an easy mistake to make, especially since they play in a conference where Ball State, Toledo, and Central Michigan are more likely to see their names in lights.
However, don't be fooled: Western Michigan has a few players of its own to tout—QB Alex Carder immediately comes to mind. Who is Carder's favorite target? Jordan White—he's been outstanding for the Broncos this season and he continues to go about his business with ease. He's No. 1 in the MAC in receiving yards (No. 4 in the nation), and is helping his quarterback set a few records along the way.
2010 Stats: 27 receptions, 382 yards, and three touchdowns.
Tim Fugger, DE: Vanderbilt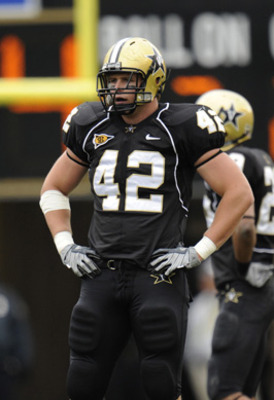 Tim Fugger plays for a team that, perennially, doesn't get taken as seriously in the SEC as they might like. It's not for lack of quality athletes or tough play; on the contrary, the Commodores field some very competitive teams each season—despite what their record suggests.
So, to find a gem like Fugger sitting pretty on their defensive line isn't nearly as surprising as the fact that he's gone unnoticed on a national level for as long as he has. He's got good speed off the edge (he's a converted TE and is relentless as a pass rusher), and he's developed tremendously over the last season. He's now beginning to hit his stride.
2010 Stats: eight tackles, two tackles for loss (minus 14 yards), one sack (minus 14 yards), and three forced fumbles.
Kyle Martens, P: Rice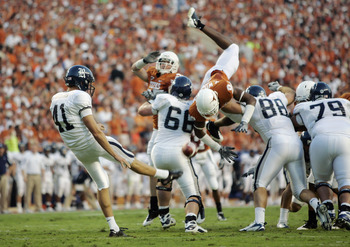 Kyle Martens punts away a ball against Texas.
Brian Bahr/Getty Images
Punters don't get nearly enough love in college football, but field position is a key component of any team's ability to win games. Rice may not have All-Americans playing at every position but, this season, Kyle Martens is doing his part to make sure his Owls at least have the punting game covered.
2010 Stats: 19 punts for 911 yards (47.95-yard average).
Shaky Smithson, WR/PR: Utah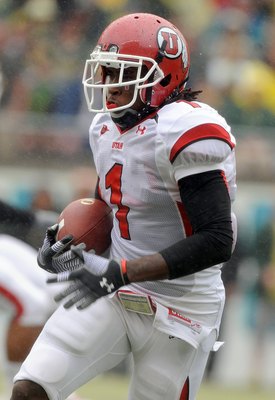 Utah's Shaky Smithson.
Steve Dykes/Getty Images
It seems odd to have a guy named "Shaky" returning punts, but this guy's name speaks less to his catching ability than it does to his ability to shake off would-be tacklers. As the earlier slide stated, field position is a major part of winning football games, and Shaky Smithson has done a very good job of getting his Utes in position to score points.
2010 Stats: 10 returns for 266 yards (26.6 average) and two touchdowns.
B.J. Coleman, QB: Chattanooga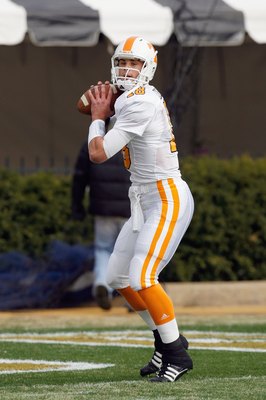 Kevin C. Cox/Getty Images
B.J. Coleman no longer wears the orange-and-white of the Tennessee Volunteers, but he's found new life playing at the University of Tennessee-Chattanooga. He's taken advantage of the opportunity to redeem himself as their starting quarterback.
The Chattanooga Mocs sport a high-powered offense geared towards the pro-style arm of Coleman. They air it out early and often—usually with success. The Mocs recently secured their second win of the season, playing in the well-respected Southern Conference of the FCS, 42-24 over Eastern Kentucky. Coleman's line in that game, 12-of-16 for 375 yards and four touchdowns.
2010 Stats: 57 of 91 for 864 yards, eight touchdowns, and two interceptions.
Daniel Thomas, RB: Kansas State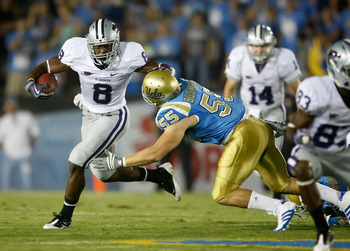 Jeff Gross/Getty Images
It's not that people don't know about Daniel Thomas, it's that they know and aren't talking about him enough. He's been a monster this season—so far—mauling the competition with ease. If he continues at his current pace, he will easily eclipse his respectable 1,200-plus yard total from last year, and could make a strong case for getting some Heisman love.
It's early yet, but Wildcats fans have to be encouraged by his tenacity. He wants the ball as much as he can get it, and his head coach, Bill Snyder, seems more than content to hand it off to him. So far, the reward for that confidence has been a hot start for the Wildcats (3-0).
2010 Stats: 83 carries, 552 yards, and six touchdowns.
Brandon Weeden, QB: Oklahoma State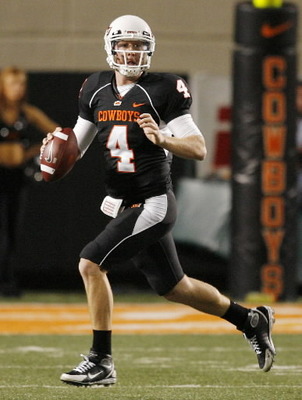 At 26, Weeden certainly isn't your average college quarterback but, then again, neither was Chris Weinke (and he seemed to do all right for himself).
Weeden took over a Cowboys team that had said goodbye to such prolific players as Zac Robinson, Dez Bryant, and Perrish Cox. He was faced with tons of national media who pegged the Cowboys as being in "rebuild" mode. Well, apparently Weeden missed that memo.
His ridiculous numbers for the Cowboys have placed their record at 3-0. True enough, they haven't faced any stout competition yet. Still, you have to give a bit of credit to Weeden for showing that he's not just some old guy trying his hand at football—he's for real.
2010 Stats: 74/101 for 975 yards, 11 touchdowns, and two interceptions.
Marquess Wilson, WR: Washington State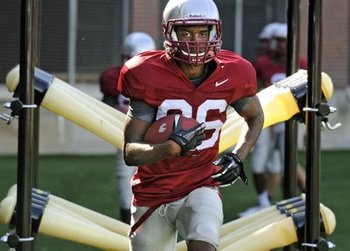 Washington State is not a good football team, but they do have a few shining stars on their roster. One of them is Marquess Wilson—a true freshman. He's had a short learning curve thus far, but he's made the most of a bad situation, flashing some brilliant signs that seem to promise a dazzling future.
Now, if the rest of the team could just get on the right page...
2010 Stats: 13 receptions, 281 yards, and two touchdowns.
A.J. Klein, LB: Iowa State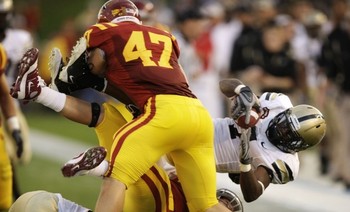 (AP Photo/Charlie Neibergall)
"Individual performances don't matter if you don't win." That was the quote from A.J. Klein following Iowa State's loss to Kansas State this past weekend. Despite his impressive stat line, he wasn't willing to focus on his accomplishments because they meant nothing minus the win. You have to love his attitude at a time in college football when it seems more important to make ESPN than it is to make tackles.
He's only a sophomore, but he's already proven to be an instrumental part of a Cyclones team that is still trying to find its identity. He's yet to become the premier talent at his position that he looks to eventually be, but he's definitely working hard to get there.
2010 Stats: 36 tackles, four tackles for loss (minus 5yards), one interception (69-yarder returned for a touchdown).
Marco Nelson, DB: Tulsa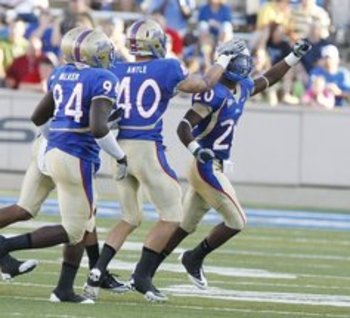 TOM GILBERT / Tulsa World
In just his first season as a defensive player, Marco Nelson (No. 20, above) has been brilliant for the Tulsa Hurricanes. His speed and ability to get to the ball have proven to be an asset for him as he's been a nuisance for quarterbacks this season.
His overall attitude in the locker room and willingness to do whatever it takes to make it happen for Tulsa make him a coach favorite. Being only a true freshman has to give a lot of hope for what he can do in the future.
2010 Stats: 21 tackles, one pass defensed, two interceptions, one touchdown.
Ronnie Hillman, RB: San Diego State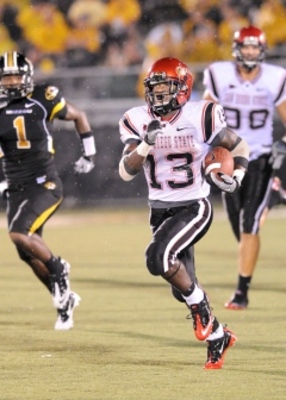 Photo courtesy of Ernie Anderson
He's been named the Player of the Week twice by ESPN and Rivals.com. His colossal numbers last week against the Missouri Tigers speak to his ability to run against just about any team he chooses. There is no doubt that he has both the skills and the drive to be a major part of the Aztecs offense this year. He gains more respect with each impressive performance and, if that continues, it won't be long before his name is a household one in the Mountain West—and the nation.
2010 Stats: 60 carries, 443 yards, and seven touchdowns.
Jordan Todman, RB: Connecticut
Andy Lyons/Getty Images
Perhaps it's just tough to exist in a league where both Dion Lewis and Noel Devine are household names. Or maybe it's the fact that Connecticut is still searching for some respect—despite what Randy Edsall has accomplished. Whatever the case, people are still sleeping on Jordan Todman.
Ask the everyday football fan to name ten running backs in the country, and Todman's name isn't likely to warrant even a mention. He might get a sniff at the top 15, but he's more than likely going to slip from the minds of most fans every. single. time.
Wonder if anyone realizes that Todman is currently ranked No. 4 in the nation for yards gained? No. 4 in average yards per game? Statistically better than Trent Richardson (Alabama), Dion Lewis (Pittsburgh), Noel Devine (West Virginia), and John Clay (Wisconsin)?
If they realize it, we sure haven't been hearing much about it.
2010 Stats: 61 carries, 448 yards, and five touchdowns.
Lyle Leong, WR: Texas Tech
Thomas B. Shea/Getty Images
Red Raider fans already know all about Lyle Leong. Chances are, a few Michigan State fans know all about him, too, after his big catch against them in the Alamo Bowl. The rest of the country, maybe not so much.
Leong's coming-out party began in 2009 and hasn't stopped yet, as he is well on his way to eclipsing his numbers from last year. He's not the most noticeable player on the field, but his work ethic and dedication to becoming the best player he can be for the Red Raiders have been tireless.
So far in 2010, he's scored six times (No. 2 in the nation), and he's gunning for more as his team continues to grow into the Tommy Tuberville era of Texas Tech football.
2010 Stats: 20 receptions, 251 yards, and six touchdowns.
Justin Washington, DT: Arizona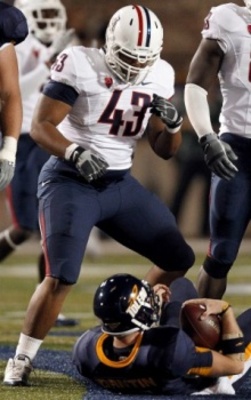 Kelly Presnell/Arizona Daily Star
Washington has come a long way since the spring, and it is clear that his focus is playing good football. He plays a position that takes spectacular stats to be noticed, but it's obvious that he is an important part of Arizona's defense this season.
It will be interesting to see if he can keep up this pace for the whole season but, so far, he looks like the real deal.
2010 Stats: 13 tackles, five tackles for loss (minus 27 yards), and four sacks.
Dan Persa, QB: Northwestern
Jonathan Daniel/Getty Images
Poor Dan. He exists in a conference where he is, essentially, nonexistent. It's got to be a tough deal playing in the shadow of Ohio State's Terrelle Pryor—no way Northwestern can get much pub when that team in Columbus gets all the love. Not to mention, some kid named Denard Robinson takes the rest of the spotlight by being some kind of wunderkind—what's a guy gotta do to get a little attention over in Evanston?
Don't worry Dan, you just keep putting up those wins and—sooner or later—somebody will notice you're doing one phenomenal job for the Wildcats this season.
2010 Stats: 62/76 for 769 yards, six touchdowns, and 0 interceptions.
Taiwan Jones, RB: Eastern Washington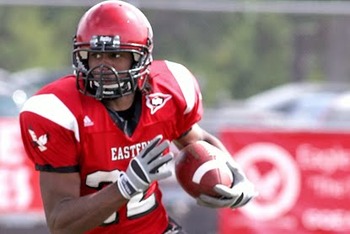 Eastern Washington is a tough team to watch play at home—due mostly to that headache-inducing red turf—but Taiwan Jones makes the sore eyes bearable. The junior back for the Eagles is a well-known playmaker in the Big Sky conference and has been since day one. He's a weapon in every phase of the game and already has close to 1,000 all-purpose yards this season—after only three games.
Some are convinced that Jones is every bit as good as some of the best players in the FBS, especially after the show he put on in his team's season-opening loss to the Nevada Wolfpack (yes, the same Nevada Wolfpack that recently upended Cal). Jones didn't go down without a fight that day and, by the end of the game, he had over 300 yards of offense all by himself.
2010 Stats: 53 carries, 455 yards and three touchdowns. Nine receptions, 215 yards, and two touchdowns. Eight kicks returned for 165 yards and five touchdowns.
(This article appears courtesy of The Lady Sportswriter)
Keep Reading