West Virginia Mountaineers Push for Big East's No. 1: CFB Power Rankings, Week 3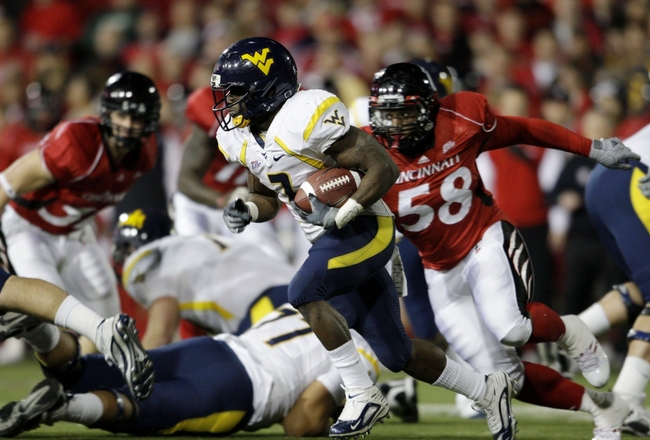 Andy Lyons/Getty Images
It was another disappointing week in the Big East.
While the perception of the league has been less than positive for a while, it would seem that the quality of play has finally caught up with the overblown criticism that has dogged the league for the last half-decade or so.
The only real bright spot for the conference in Week 3 was West Virginia's manhandling of Maryland. With that win, they've staked a claim to the top spot in this week's power rankings, but was it good enough to surpass Pittsburgh, who was off this week?
No. 8: Louisville Cardinals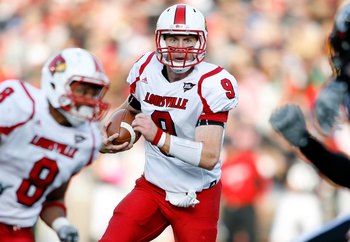 Andy Lyons/Getty Images
It's extremely tempting to move Louisville up a spot in light of the Cardinals' performance on the road against Oregon State this week.
They lost, yeah, but traveling to Oregon to take on the No. 25 Beavers is not an easy thing to do. The Cards showed some real fight in this one, particularly on offense. They moved the ball extremely well all night, running up a total of 453 yards.
They were done in by a couple turnovers, but could have won this game with a few less mistakes.
Maybe the Cardinals are beginning to turn the corner? We'll see; I'm still a tad skeptical after their lackluster performance against EKU last week. With a solid performance and, of course, a win against Arkansas State next week, they could be primed to make a jump out of the Big East basement.
No. 7: Rutgers Scarlet Knights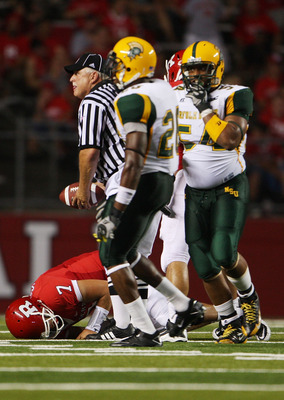 Andrew Burton/Getty Images
The Knights were off this week, and with the sixth- and eighth-place teams from last week's power rankings winning and losing, respectively, Rutgers stays in seventh for the time being.
Though the Scarlet Knights are 2-0 right now with wins over Norfolk State and Florida International, they've looked pretty bad for stretches in both games. Their offense looks like the worst in the league, thanks mostly to a tissue-paper offensive line.
They'll have an opportunity to prove themselves a bit more when they lay off the true cupcakes and host the depleted UNC Tar Heels, who are off to an 0-2 start. A win isn't going to make anyone think they're destined for BCS glory or anything, but they certainly can't afford to lose this one.
No. 6: Cincinnati Bearcats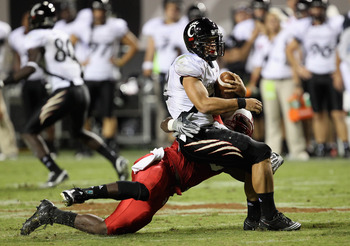 Streeter Lecka/Getty Images
Watching the Bearcats play NC State on Thursday night, I couldn't help but think to myself, Brian Kelly really must be a genius to have won with these players.
This one was just ugly.
Cincy staged a bit of a rally in the fourth quarter, just to make the score look somewhat respectable, but the 'Cats were never really any threat to win the game. Their defense is horrendous and their offensive line is almost the defense's awful equal.
Zach Collaros is still a fantastic quarterback and he does have a couple of weapons around him, but they aren't going to win many games this year if they're going to give up nearly 500 yards of offense to teams like NC State and Collaros has to pick himself up off the turf on every play.
No. 5: Syracuse Orange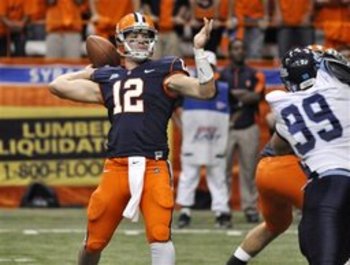 AP Photo/Kevin Rivoli
Let me be clear here: I would love nothing more than to put my Syracuse Orange fourth, or maybe even third in this power ranking. I believe there is a possibility that they could very well find themselves in the top half of the league at the end of the year, considering how dreadful the conference has been thus far.
The Orange sit at 2-1 with two dominating victories over Akron and Maine, and their lone blemish came courtesy of Jake Locker scorching the Syracuse secondary last week in Seattle.
So far this season, redshirt sophomore Ryan Nassib has completed 59 percent of his passes for 691 yards, eight touchdowns, and only two interceptions. He's also managed 68 yards and a touchdown on the ground.
Nassib makes good decisions, is fairly mobile, and has the arm and the accuracy to hurt opposing teams deep.
With a couple solid receivers in Van Chew and Alec Lemon, a workhorse running back and 1,000-yard rusher in Delone Carter, an improving offensive linem and a solid defense, the Orange aren't the Big East's punching bag anymore.
No. 4: UConn Huskies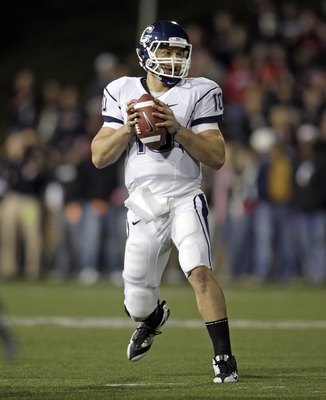 Andy Lyons/Getty Images
Well, so much for me telling anyone who would listen that the Huskies had a great chance to win the Big East this year.
That could still come true, I suppose, but if it happens it'll only be because the rest of the league is truly awful this year and not because UConn has ascended to the level of the BCS elite.
I figured that UConn had simply been too shocked and awed in the Big House when Denard Robinson made the defense look silly. Then, it looked like the Huskies managed to redeem themselves a bit by torching Texas Southern and I figured they had gotten themselves on track.
Then this week, they lose to Temple, a team that was once kicked out of the Big East for being, well, awful. Obviously, we're not talking about the same Owls that received the boot years ago, but it's still pretty stigmatizing.
No. 3: South Florida Bulls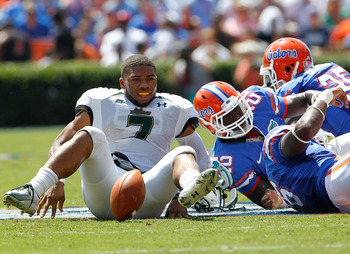 Sam Greenwood/Getty Images
Here is a telling sign of how bad the Big East has been so far this year:
I can't think of a compelling argument for why anyone ranked fourth through eighth on this list (except maybe Syracuse) should be ahead of a 1-1 South Florida team that was mediocre last year, lost a TON of defensive talent, had to fire and replace its head coach, and is led by a quarterback who only completed five of his 20 pass attempts with four interceptions last week.
What can I say? The Bulls have risen through the rankings simply because while some of their Big East brethren were getting embarrassed this week, the Bulls got to take this Saturday off.
Well, that and because while they got annihilated in their one loss, it was against Florida, a team that is most likely better than any team a Big East school has been destroyed by this season.
No. 2: Pittsburgh Panthers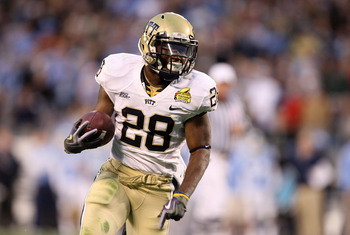 Streeter Lecka/Getty Images
Like South Florida, Pitt had this weekend off. Unlike South Florida, however, the Panthers dropped in this power ranking due to what happened while they were resting up.
I maintain that their overtime loss to Utah on the road was not as catastrophic as some others seem to think. It was the first game of the season, the Panthers were breaking in a new starting quarterback, and they had to travel all the way across the country to play in an extremely hostile environment.
The Utes are also 3-0 now and ranked No. 13 in the land.
With that said though, the Panthes are 1-1 with their only win coming over an FCS opponent, New Hampshire.
So, for now at least, Pittsburgh falls to No. 2.
No. 1: West Virginia Mountaineers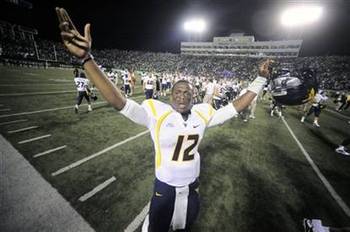 Jeff Gentner/ AP
Only in the Big East could you go from nearly losing to Marshall one week to finding yourself at the top of a power ranking the next.
On Saturday, the Mountaineers proved to be a terrible host as Maryland dropped by to visit Morgantown only to get steamrolled.
Now, it's important to keep in mind that Maryland probably isn't very good. However, the Terrapins are still a member of the mighty ACC (a phrase I use sarcastically), and WVU's win is the only one for the Big East against a Big East opponent so far this season.
Also worth noting, quarterback Geno Smith is legit. So far this season he's completed 70 percent of his passes for 800 yards and seven touchdowns. He's getting better every week.
At 3-0 now, the Mountaineers are officially the frontrunner in the Big East and will have an opportunity to make a statement at LSU next week.
Keep Reading

WVU Football: Like this team?