Top 10 College Football Coaches List: Early Season Surprises Cause Movement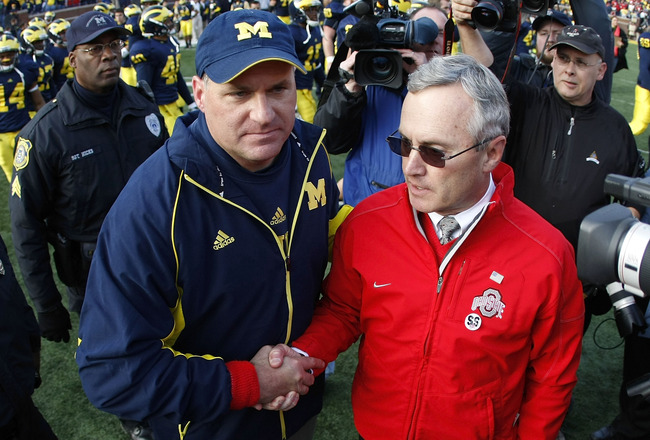 Gregory Shamus/Getty Images
Trying to decide the top 10 coaches in college football is more an art than a science. A coach might be a great fit for one school, but a terrible fit for another.
One coach might excel at recruiting, while being average at best at maximizing the talents of his players. Dave Wannstedt would be in this category. Another coach might be a mediocre recruiter or struggle with recruiting due to the school's reputation or size, while making the most of the talent he's got.
You have to measure a coach based on what the expectation should be for a given school based on their student body, fanbase, and facilities.
When factoring in all considerations, this is my top 10 list of coaches from 10 to one. There is some movement here based on the early season with some coaches moving up, while others have slid out of these rankings.
There are plenty of other coaches who perhaps deserve to be here, but either don't have quite the body of work yet to make the case or are coming up just a little short. A few who bear watching are Nebraska's Bo Pelini, Oregon's Chip Kelly, Nevada's Chris Ault, Air Force's Troy Calhoun, and Notre Dame's Brian Kelly.
10. The Ole Ball Coach, Steve Spurrier, Still Has Some Gas in the Tank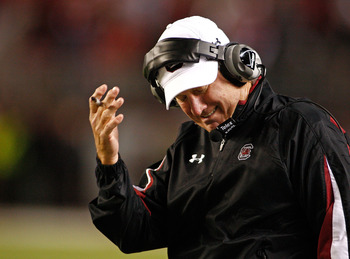 Mike Zarrilli/Getty Images
Steve Spurrier was the face of the Florida Gators for 12 years, making them one of the most fun teams to watch. During that time, they won a national championship and were frequently in the conversation. They were also one of the most colorful teams to watch and Spurrier could always be counted on for a great sound bite.
Like Petrino, Spurrier parlayed his success into an NFL head coaching stint that was a disaster.
He returned to the college ranks and took over the South Carolina Gamecocks, where he has been modestly successful but unable to recreate the magic he had in Gainesville. He followed another famed coach in Lou Holtz, who also struggled to succeed as a Gamecock.
Spurrier's Gamecocks have been ranked in the Top 25 at some point during five of his seasons as coach while scoring some big conference wins along the way. But the team has not lived up to the high expectations that came with Spurrier.
But this year's Gamecocks look like they are ready to take a step forward and may challenge in the SEC East, particularly with Florida looking vulnerable. This also returns Spurrier to the list of the college coaching elite, although South Carolina will have to do a bit more before he can climb higher.
9. Bobby Petrino Has Hogs Ready To Challenge Big Guns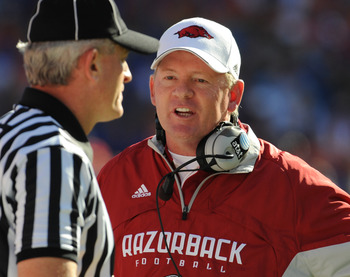 Al Messerschmidt/Getty Images
When Bobby Petrino was the head coach at Louisville, they were one of the top teams in the Big East every season. He traded his success at Lousiville into an unsuccessful NFL head coaching stint, made worse by the perception that he abandoned a sinking ship in Atlanta.
Coaching at the college and NFL levels are two entirely different animals. Success at one level rarely translates into success at the other level, with rare exceptions like Jimmy Johnson.
In Petrino's absence, Louisville devolved into a punching bag in an already weak conference.
Petrino now has the Arkansas Razorbacks poised to challenge in the nation's top conference. The team has consistently improved during his tenure there, winning the Liberty Bowl last season and beating former SEC heavyweight Georgia this Saturday.
Next up is a date with Nick Saban's Crimson Tide in Arkansas. Win this one and a couple things happen. Ryan Mallett becomes a Heisman favorite and Petrino fully regains the reputation he once carried as Louisville's head coach. Oh, and Arkansas becomes a potential national championship contender.
8. Paul Johnson Turns Around Two Programs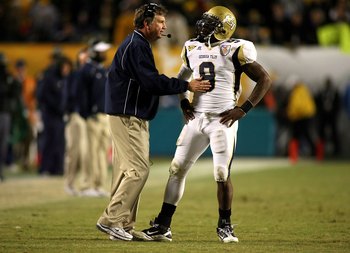 Marc Serota/Getty Images
Paul Johnson has put together a superb body of work at Georgia Southern, Navy, and Georgia Tech.
At Georgia Southern, his teams captured two Division I-AA national championships.
When Johnson took over Navy, they were heading nowhere. Plenty of people were wondering if they should even be a Division I-A school in football. The only team they seemed capable of beating was Army, which wasn't saying much.
He completely turned the program around.
In 2004, the Midshipmen won 10 games, tying a Navy record that had stood since 1905. He made the Navy football squad regular visitors to the White House to collect the Commander-In-Chief's trophy, which had been treated as Air Force's personal property since they won it every year. Navy continues to be an overachieving football team even after his departure thanks to the people he brought in.
Johnson has also been very successful since taking over Georgia Tech. He was named ACC Coach of the Year during both his seasons at Georgia Tech. While the Yellow Jackets looked bad in a loss to Kansas with Johnson at the helm, they won't stay down for long.
Johnson earns extra consideration for taking on teams with low expectations and turning them into teams that consistently overachieve.
7. Jim Tressel Restores Ohio State As Class of Big Ten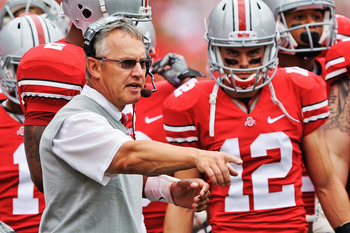 Jamie Sabau/Getty Images
Ohio State is now the class of the Big Ten. It is easy to forget that this wasn't always the case. John Cooper consistently fielded incredibly talented Buckeyes teams who, with equal consistency, lost to Michigan and disappointed.
Tressel took over a struggling Buckeyes team coming off a loss to unranked South Carolina. Two seasons later, the Buckeyes were stunning a powerhouse Miami to win a national championship. Since then, Ohio State has been the undisputed class of the Big Ten with Michigan now in catch-up mode.
Tressel's success started long before his Ohio State years. He took over a floundering Youngstown State team and turned them into a Division I-AA national power, winning four national championships with the Penguins and bringing his total number of titles to five.
Ohio State looks to challenge for another one this year.
Tressel is also an excellent recruiter, winning the battle for several prized recruits against rival conference heavyweights.
6. Mack Brown Turns Texas Into Perennial Power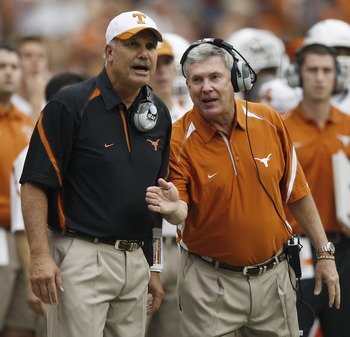 Bob Levey/Getty Images
Mack Brown's teams have been a model of consistency.
He made a name for himself after taking over a wretched North Carolina team. In fact, it was so bad that Brown recorded all of two wins in his first two seasons.
He would stay with the Tar Heels for a decade, turning them into one of the better teams in the ACC, a distinction that did not last after he left.
As with his stints at Tulane and North Carolina, Texas became a much better team shortly after he got there. They have won at least nine games for 10 straight years (with the only 9 win season being 2000) to include one national championship. They have been in the discussion as a national championship contender almost every one of those years. Brown's Longhorns also own the best winning percentage among schools from major conferences during the last decade.
Why isn't Brown higher on the list? The primary reason is that Texas should be a national power with a huge fanbase, great recruiting location, and first class facilities. Brown is a great coach, but other coaches have done just a bit more with less. Brown is a prime candidate who could move up on this list, particularly if the Longhorns beat the Sooners and challenge for the National Championship.
5. Bob Stoops Turns Sooners Into Model of Consistency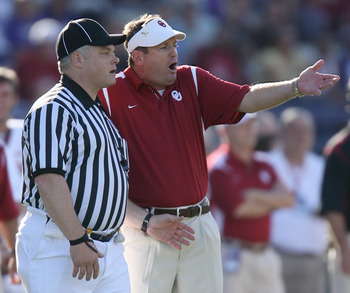 Otto Greule Jr/Getty Images
Bob Stoops earned his chops as a defensive coordinator before landing his current job as Oklahoma's head coach. He proved to be the missing ingredient that finally got Florida over the top, earning a national championship ring with Steve Spurrier's Gators while running his defense.
He also was instrumental in turning around Kansas State's defense under Bill Snyder.
Stoops has returned Oklahoma, who had struggled prior to his arrival, to a permanent home among the football elite, winning a national championship and six Big 12 championships. His Sooners have been almost unbeatable at home and consistently very good. He is tied with Mack Brown for the most wins by a school from one of the major conferences during the last decade, although Brown has the better winning percentage.
The biggest knock on Stoops is that his team has often struggled in its biggest games. He has played for four national championships, winning one of them. But that fails to recognize just how many times he has had his team positioned to compete for college football's biggest prize. Still, he wins two more of those games and he sits comfortably atop this list.
4. Gary Patterson Is the Perfect Horned Frog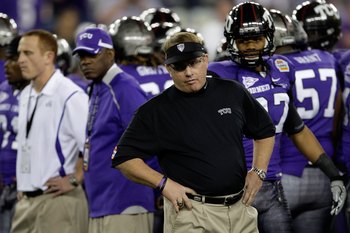 Jamie Squire/Getty Images
Gary Patterson has turned a lower profile school into a consistent national power. That is an incredible achievement. His team won the Mountain West championship in their first year of league play and never looked back, becoming a consistent conference power.
Coaches are judged by how their teams perform against their expectations. Patterson has exploded those expectations.
Patterson's Horned Frogs have consistently beaten the big guns, enjoying consistent success against the Big 12. He turned down considerably more money in an offer from Minnesota to remain with the Horned Frogs. His defenses have been nothing short of fantastic.
TCU is in the national championship discussion for the second year in a row. Not bad for a small school with an undergraduate enrollment of around 7,500 students.
3. Nick Saban Just Wins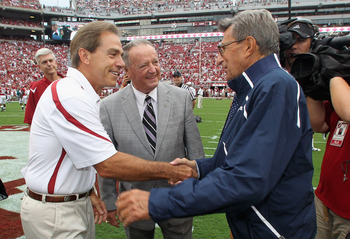 Handout/Getty Images
While Nick Saban, like Petrino, has been questioned for his loyalty, nobody questions his ability to put together a championship caliber football team. He is the only coach on this list to win national championships with two different schools.
He is also the third coach on this list to jump to the NFL, largely fail there, and return to the college ranks.
Saban has coached three relatively big name programs in Michigan State, LSU, and Alabama. He was moderately successful at Michigan State, finishing 9-3 in his final season with a team that had struggled as a middle of the pack Big Ten team at best before his arrival.
He was very successful at LSU in his five years there, splitting a national championship with USC in 2003 after beating Bob Stoops' Sooners.
His greatest success has come at Alabama, which was struggling before his arrival. He won last year's national championship after leading Alabama to an undefeated season in the nation's strongest conference and has the Crimson Tide back at the top of the polls again.
2. Chris Petersen Turns Team From Boise Into National Phenomenon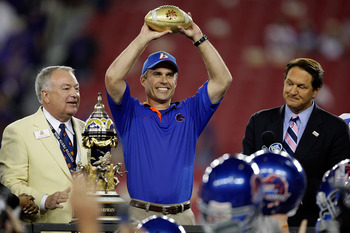 Jamie Squire/Getty Images
Chris Petersen has turned Boise State from a quaint and interesting team who plays on a blue field to a national power. Twice his teams have finished in the Top Five and highlighted the unfairness of the current system. Twice in his four years, his team has finished the regular season undefeated.
If there eventually is a playoff system, credit Petersen and Boise for making the case for one with their play on the field.
Petersen sits so high on the list because of the expectations/performance equation. His teams are consistently overprepared. If there is a weakness, they will exploit it, and Petersen will pull out all the stops in putting his team into a position to win big games.
I don't think Patterson is far behind in this department and it will be interesting to see how these two coaches and their teams fare against one another with the Broncos moving into the Mountain West along with a dangerous and also well-coached Nevada team.
1. Urban Meyer Stands Atop the Mountain...at Least For the Moment
Kevin C. Cox/Getty Images
While Nick Saban may be the only coach on the list to win national championships with two different teams, Urban Meyer should have had the same opportunity. His undefeated Utah team in 2004 was denied the opportunity to compete for the championship by college football's antiquated power structure.
Meyer has had real success at three programs as he worked his way up the food chain. His success at Bowling Green translated into a job as the head coach of Utah.
In his two seasons with the Utes, he lost all of two games and became the original BCS buster.
In his five seasons at Florida, he won two national championships, one more than Spurrier won in over twice as long. He has made the Florida faithful largely forget the iconic Spurrier.
With Florida not hitting on all cylinders just yet this year, the rest of the conference better hit them while they are down. With Meyer, it is unlikely they'll be down for long.
Keep Reading

Florida Gators Football: Like this team?