Denard Robinson and the Top 20 College Rushing Quarterbacks of the Last 30 Years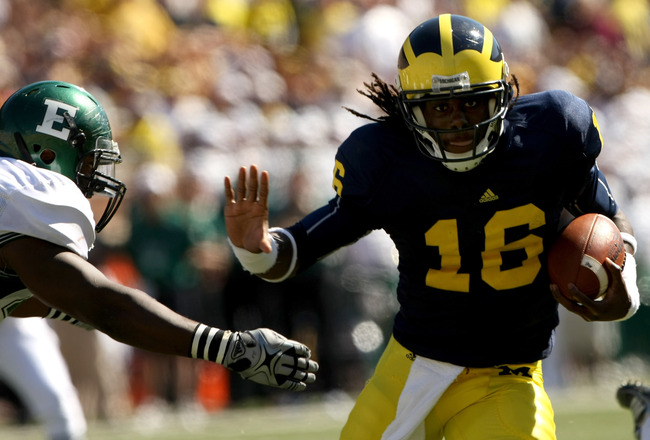 Stephen Dunn/Getty Images
It may be too early to declare Denard Robinson the next legend in college football amongst quarterbacks with the ability to run as well as pass.
However, he reminds fans and analysts of past frontmen with the ability to scramble like a mother of four at Wal-Mart on Black Friday.
With that in mind, here are other quarterbacks, in no particular order, with speed boost enabled while escaping from the pocket and heading toward the end zone.
Michael Vick, Virginia Tech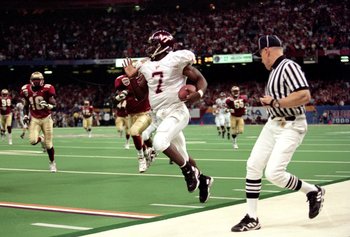 Brian Bahr/Getty Images
Vick made a name for himself with his strong arm and his ability to escape the pocket and turn a sure loss into a big gain.
Vick won't be in any record books for rushing yards by a quarterback; he left college after two active years to declare for the NFL draft.
Vick tallied 1,216 yards in two seasons on the ground, with a collegiate career high in 2000 of 210 yards in a game against Boston College.
Pat White, West Virginia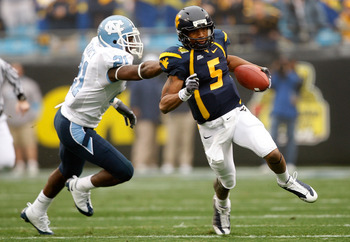 Streeter Lecka/Getty Images
Pat White currently holds the NCAA Division I record for rushing yards by a quarterback with 4,480 yards.
White's breakaway speed allowed him to become a QB/RB hybrid for the Mountaineers from 2005-2008.
The swift-footed QB was drafted out of high school by the Los Angeles Angels of Anaheim but chose to pursue a college football career instead. White was eventually drafted by the Miami Dolphins in 2008 but is currently a minor league outfielder in the Kansas City Royals organization.
Tim Tebow, Florida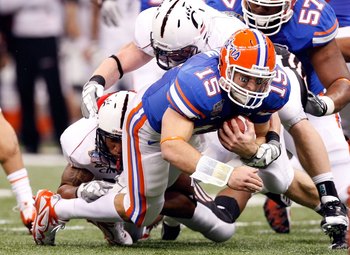 Kevin C. Cox/Getty Images
Vince Young, Texas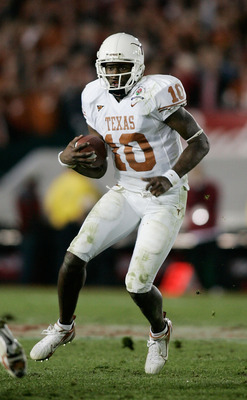 Donald Miralle/Getty Images
Young rushed for 3,127 yards and 37 touchdowns in three seasons for the Texas Longhorns, while leading them to a national championship in the 2006 Rose Bowl.
He won the Davey O'Brien Award, given to the best collegiate quarterback in the nation, but finished second in 2005 in the Heisman voting to Reggie Bush.
Randall Cunningham, UNLV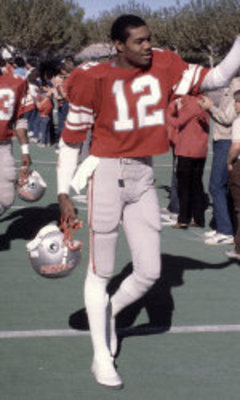 While at the University of Nevada-Las Vegas, Cunningham became known for his ability to escape sacks and make plays. He skipped his senior year to enter the NFL draft.
He is widely regarded as one of the best scrambling quarterbacks in the history of college football and continued to run during his career in the NFL, mostly with the Philadelphia Eagles.
Eric Crouch, Nebraska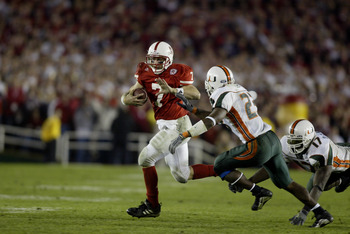 Robert Laberge/Getty Images
Crouch played for the University of Nebraska from 1998-2001 and won the Heisman Trophy in 2001, his senior year. He rushed for 1,115 yards his senior year and also won the Davey O'Brien Award.
Nebraska's option-style offense allowed Crouch to show off his running abilities, which he used to take the Cornhuskers to the Rose Bowl national championship game against Miami, but the Hurricanes won the game. Crouch had 114 yards rushing in the game but did not score a touchdown.
Brad Smith, Missouri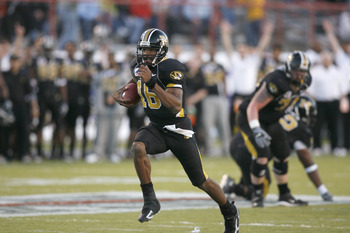 Chris Graythen/Getty Images
As a redshirt freshman, Smith passed for 2,304 yards while rushing for 1,301 yards, becoming the first quarterback in FBS (Division I) history to pass for over 2,000 yards and rush for over 1,000 yards in the same season.
Smith is currently in the NFL with the New York Jets.
Antwaan Randle El, Indiana University
Matthew Stockman/Getty Images
Randle El finished his collegiate career with 3,895 rushing yards and was the first player in Division I history to pass for 40 career touchdowns and score 40 career rushing touchdowns.
Josh Cribbs, Kent State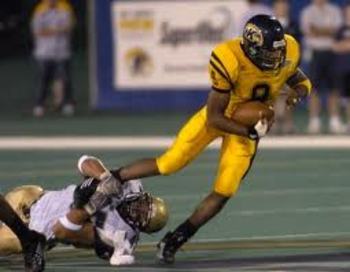 Cribbs is the Kent State all-time total offense leader with 10,839 yards and also holds school records for rushing touchdowns (38) and points scored (246).
Seneca Wallace, Iowa State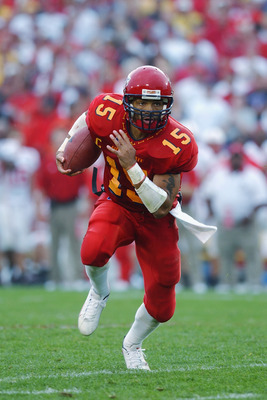 Matthew Stockman/Getty Images
While not a true rushing quarterback, Wallace had the ability to scramble. The infamous play known as "The Run" would forever solidify his place among the elite scramblers in college football history.
Dennis Dixon, Oregon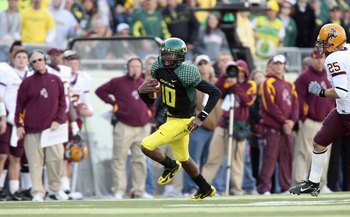 Otto Greule Jr/Getty Images
Dixon is another college athlete with two-sport abilities. He was drafted by the Atlanta Braves but returned for his senior season at Oregon in 2007 having experienced limited success in professional baseball.
Dixon guided Oregon to a No. 2 national ranking in 2007. He recorded 141 yards rushing against Houston, the most ever by an Oregon quarterback in a single game.
Jayson Foster, Georgia Southern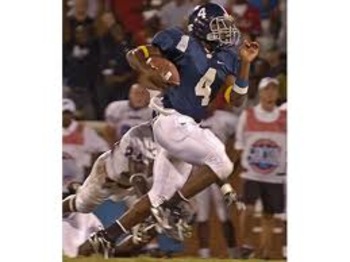 Foster is the only player in Georgia Southern history to ever score a touchdown five different ways: rushing, passing, receiving, kick return, and punt return.
Foster set a conference rushing record for scoring a touchdown in all 12 games, the only player in I-AA (now FCS) to accomplish that feat.
Ricky Dobbs, Navy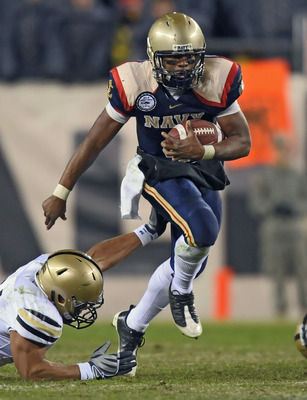 Drew Hallowell/Getty Images
In 2009, Dobbs broke the single-season college football record for most rushing touchdowns by a quarterback with 27 and rushed for 1,192 yards.
The triple option-style of offense at Navy allows Dobbs to show off his speed and elusiveness. Already this season, he has run for 67 yards against Louisiana Tech and scored a touchdown.
Matt Roe, Augustana College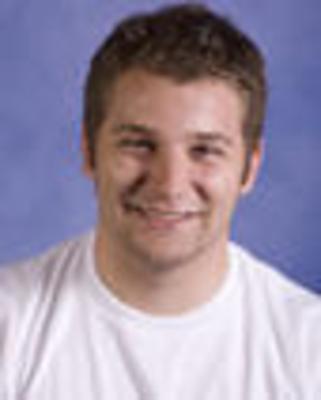 Matt Roe set the NCAA record for quarterbacks in 2004 with 342 yards rushing against Wheaton. He ran for 786 yards and 13 touchdowns in 10 games that season.
NOTE: Where is Augustana College? Find out here:
Kordell Stewart, Colorado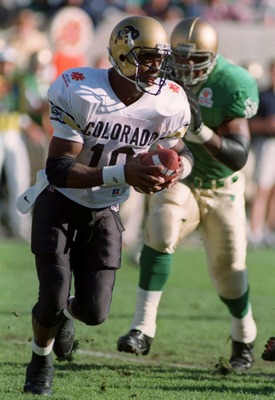 Otto Greule Jr/Getty Images
Stewart, sometimes known as "Slash" for his ability to play quarterback, wide receiver, and punt returner, was a prolific runner in his college days with the Colorado Buffaloes. Stewart reached the NFL and played multiple positions.
Daunte Culpepper, Central Florida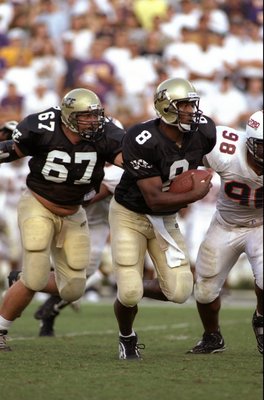 Scott Halleran/Getty Images
"He joined only two other players in NCAA history to pass for over 10,000 yards and rush for over 1,000 yards during the course of their careers."—Answers.com
NOTE: Pro video only.
Donovan McNabb, Syracuse
Vincent Laforet/Getty Images
McNabb was a college powerhouse for total yards and is third all-time in the Big East for total yards in a single season with 9,950 (behind Matt Grothe and Pat White).
His awareness and ability to escape a collapsing pocket land him on this list.
Tyrod Taylor, Virginia Tech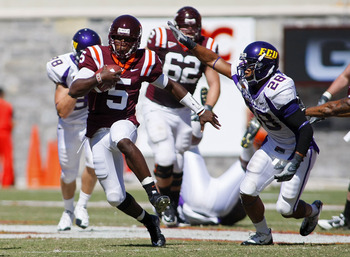 Geoff Burke/Getty Images
Entering the 2010 season, in three seasons with Virginia Tech, Tyrod Taylor has racked up 1,537 yards on the ground and 18 rushing touchdowns.
He has drawn countless comparisons to Michael Vick and will certainly be remembered as a swift rushing QB when his collegiate career is over.
Ell Roberson, Kansas State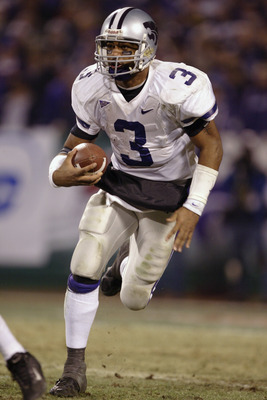 Brian Bahr/Getty Images
Roberson claimed 2,818 yards and 40 TDs on the ground from 2000-2003 for Kansas State, with a 4.7 yards per carry average.
Roberson benefited from K-State's option-style offense and is one of the best rushing quarterbacks of the last two decades.
Armanti Edwards, Appalachian State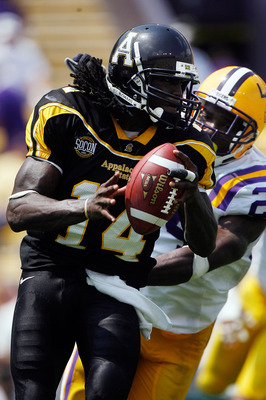 Chris Graythen/Getty Images
4,361 yards rushing in four seasons at Appalachian State is phenomenal. Add 65 rushing touchdowns to it and you have one of the most prolific rushing QBs in collegiate history.
Keep Reading