Mountain West Football Week 3 Preview; The Good, the Bad and the Ugly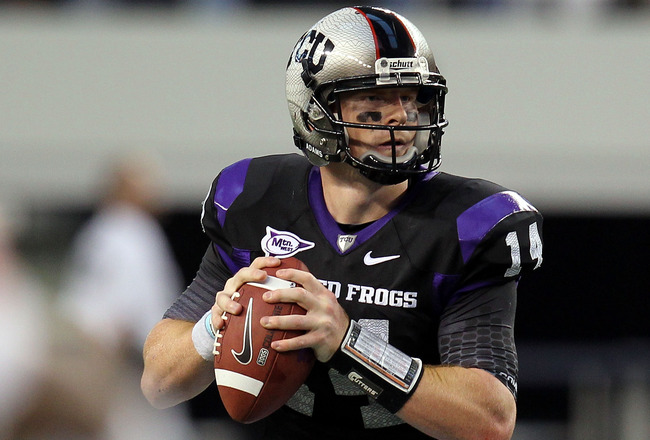 Ronald Martinez/Getty Images
It is still 95 degrees here in Fort Worth as we head into Week 3 of the football season.
Sooner or later it will cool off...but the football continues to heat up. Several key contests are on tap for the Mountain teams.
So here are the predictions for the games...good, bad, and plain ol' ugly.
Good: Baylor at TCU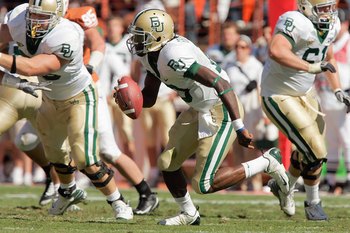 Brian Bahr/Getty Images
Baylor takes the trip 80 miles up I-35 from always exciting Waco (also known, due to it being about halfway between DFW and Austin, as the world's biggest rest stop).
They are led by Robert Griffin III, who Baylor fans think walks on water, can part the Gulf of Mexico, and feeds the masses with a single Whataburger and Dr. Pepper (this being Baylor, none of that wine stuff is allowed).
Bear fans are also giddy with delight that their improved defense has not allowed a touchdown in two games—against FCS Sam Houston and MAC punk Buffalo.
OK kiddies, time for a wake-up call.
This is, after all, a D that was 11th in the Big 12 last year and only returned two starters. As well, Griffin is a great athlete...but a look at his stats shows that he rings up his yards against inferior opponents.
Texas, Oklahoma, and Texas Tech all held him to less than 100 yards passing.
TCU's offensive line will make the Bears their...uh, rhymes with rich. And run, run, and run some more.
TCU 41, Baylor 17.
Which, for the Mountain West, is good.
Good: UNLV at Idaho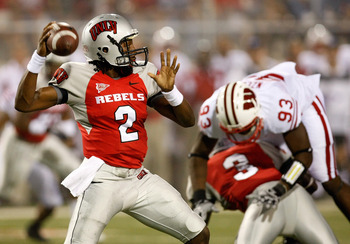 Ethan Miller/Getty Images
UNLV has had a tough start, getting blown out by a couple of Top 20 programs.
Big Ten Wisconny put a 41-21 opening day beating on them, and soon to be Pac-whatever Utah opened league play by whupping them 38-10.
UNLV still has non-league games at West Virginia and Hawaii scheduled, along with in-state rival Nevada at home.
Plus, of course, TCU, Air Force, and BYU.
And oh yeah, they have 13 games scheduled rather than the usual 12.
They may be in for a very long season.
Idaho, however, does represent a chance for them to pick up a win.
The Rebels return 16 starters from last year and have some talent on offense. They are facing a Vandal team that opened up with a big win against FCS North Dakota but just came off a smackdown by Nebraska, 38-17.
This may be a chance for the Rebels to catch Idaho when they are still licking their wounds.
Prediction: UNLV 31, Idaho 28
Bad: BYU at Florida State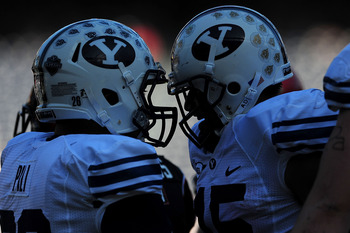 Jacob de Golish/Getty Images
What we have here is an early season gut check.
The Seminoles came stormin' into Norman last week, ranked in the Top 20 and ready to recapture the swagger that made their obnoxious tom-tom drum Indian chant get on the nerves of football fans coast to coast.
The Noles, who opened up with a scrimmage against Samford, found out that it ain't that easy when you play a real team and got taken to the woodshed by OU 47-17. The Sooners shredded the Nole secondary, exposing weaknesses and lack of one-on-one coverage ability repeatedly.
Normally that would be good news for the Cougars.
After a solid 23-17 opener at home against Pac-10 Washington, the Cougs were feeling pretty good about themselves. Then came a visit to Air Force...and a 35-14 spanking.
Not only did Air Force run all over the BYU defense, they also stymied the BYU passing attack. The Cougars were held less than 100 yards passing, completing just 10 of 25.
Coach Bronco Mendenhall has been alternating between freshman Jake Heaps and junior Riley Nelson. Both pretty much sucked wind against the Falcons, and maybe it is a time for him to dump or get off the pot and make a decision.
Right now, the alternating thing sure ain't working.
This could be bad, facing a Florida State team that got spanked and needs a comeback win in its house.
Prediction: Florida State 28, BYU 10
Bad: Air Force at Oklahoma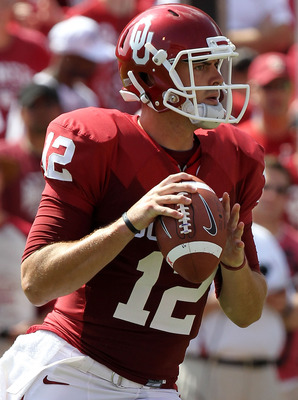 Ronald Martinez/Getty Images
Air Force beat BYU, breaking a six-game losing streak against the Cougars, and did it in convincing fashion, 35-14.
The Zoomies ran the ball well, forced turnovers, and held the Cougs to less than 100 yards passing.
It was a big win for the program and the first time in three years that one of the "big three" of TCU, BYU, and Utah lost to a non-big three conference opponent.
Turn out the lights—the party is over.
Air Force visits the Oklahoma Sooners this week, and their passing game, led by Landry Jones, is a bit better than BYU's.
They proved that by going around, through, and over the Florida State Seminoles last week (interestingly, the four teams are switching opponents, with BYU and Florida State squaring off this week).
While Air Force is looking good, an upset of the Sooners in Norman is highly unlikely. The Sooners have just too much talent.
Too bad for Air Force...only one week to savor that win.
Prediction; Oklahoma 38, Air Force 17
Bad: San Diego State at Missouri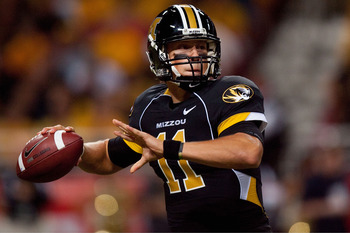 Dilip Vishwanat/Getty Images
The Aztecs have started out 2-0 versus easy competition (FCS Nicholls State and always lousy New Mexico State) but do have some real talent. They should be able to score points and sport an improved defense.
Missouri, for its part, is returning 18 starters from last year's 8-5 team.
They started with an unimpressive 23-13 victory over a mediocre (at best) Big Ten Illinois squad and then rang up a ton of points in a rout of FCS McNeese State.
Still, the Tigers are a dark horse candidate for the Big 12 North, based on their returning starters, and they certainly can move the ball with their spread offense.
This shindig is in Missouri. (The Tigers, taking the wimpy path of a lot of BCS league schools, refuse to play out of conference games away from home...Tigers? Pussy cats is more like it.)
Expect to see Mizzou wear down the Aztecs at home. Still, if I had to pick one upset special, this would be it.
If the Aztecs bring their "A" game and get some breaks...probably not, however.
Prediction: Missouri 33, San Diego State 24
Ugly: Boise State at Wyoming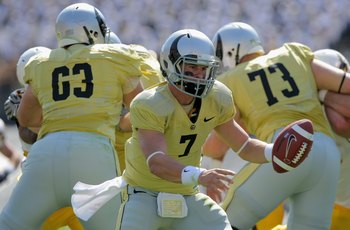 Doug Pensinger/Getty Images
Pity the Pokes.
After travelin' down to Austin and getting spanked by the Longhorns 34-7, they get Top 5 Boise State.
Who have had an off week.
And who will be all pumped up to show that their opening week victory over Virginia Tech has not been tainted by Tech's subsequent tanking against an FCS team.
Which means they are going to try to score lots and lots of points.
Boise, unlike TCU, never lets off the gas, and they do not say, "I'm sorry." They'll call a timeout in a blowout to score again.
Well, at least it is a home game for the Pokes.
This should be a sellout since it is a doable drive for all those Orange and Blue clad fans from the Gem State.
Cool.
Prediction; Boise State 48, Wyoming 10
Ugly: Colorado State at Miami of Ohio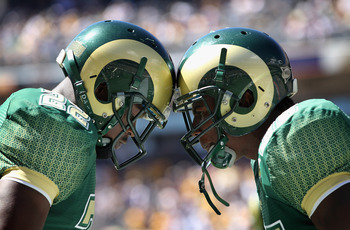 Doug Pensinger/Getty Images
The Rams have looked real lousy so far.
Offensively, they have been putrid.
They scored three points in their opening game to cross-state rival Colorado in a 24-3 loss. This, I will remind you, is a Colorado team that had over 50 points scored on them the very next week against Pac-10 California.
The Rams followed this up with a 51-6 debacle against Nevada.
Now they travel to face a 1-1 Miami RedHawk squad that played gamely in an opening day 34-12 loss to Florida and notched a 28-21 win over Eastern Michigan last week.
The RedHawks are not a powerhouse by any stretch of the imagination.
Colorado State, however, will be hard pressed to win any games this year (other than New Mexico) if they cannot find an offense, and find it quick.
Doubtful.
Prediction; Miami of Ohio 31, Colorado State 9
Really Ugly: Utah at New Mexico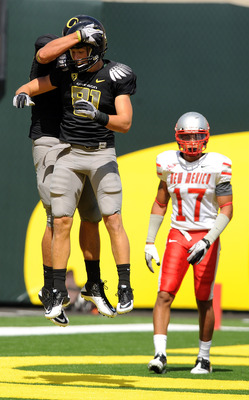 Steve Dykes/Getty Images
The Utah Utes have been flexing their muscles, with a chip on their shoulder to prove they are worthy of the invitation to join the Pacific Athletic Conference that was extended to them.
Despite blowing a 10-point lead, they managed to hang on and grab an overtime opening day home victory over a Pitt program ranked in the preseason Top 20.
In Week 2 they dominated UNLV to open up at 1-0 in the Mountain West.
With games against Big 12 Iowa State and Notre Dame still on the schedule, plus Top 10 TCU, the Utes are saying, "Why not us?"
If they run the table, beating the teams above (plus a decent Air Force and BYU), would their schedule merit not just a BCS bowl but, perhaps, a chance at the big enchilada—the BCS championship?
Their credentials would be better than Boise, they'd have beaten TCU, and their schedule would be pretty darn good, provided Pitt and Notre Dame have decent seasons (along with BYU and Air Force).
Never say never, but first they need to take care of business—which means they need to crush New Mexico.
Not beat handily. Not dominate. Crush.
Because New Mexico is looking, quite simply, like the worst team in major college football this year.
Week 1 was a 72-0 beating by Oregon—Week 2 a 52-17 drubbing by Texas Tech.
That's 124 points given up in two games! Holy cow.
Expect more of the same.
Prediction: Utah 59, New Mexico 13
Keep Reading