College Football Rankings: Five Coaches That Earned Pink Slips in Week 2
Christian Petersen/Getty Images
Two weeks into the season and the talk of making a coaching change is starting to heat up around some college campuses.
These days coaches are given a 3 or 4 year plan to take their teams to the next level, and now more than ever the coaching carousel is moving at a rapid pace.
After this past weekends games, several coaches may have sealed their fate come season's end.
Here are 5 of them that are on the hot seat now more than ever.
Stan Parrish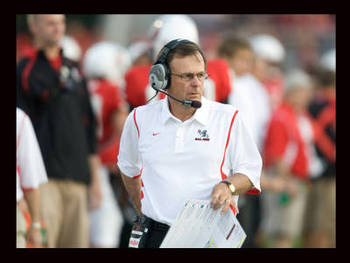 For those of you who may not follow MAC football, you probably don't know, or maybe even care who Stan Parrish is.
Parrish was the Ball State OC in 2008 when the Cards made their run at a BCS at large before flopping in the MAC title game. He was named interim coach when Brady Hoke pulled a Benedict Arnold and left for San Diego State.
Since then he saw his team get trounced in the GMAC bowl, got hired as the permanent head coach, and has won a meager 3 games total in Muncie.
Sure this is only his 2nd season at the helm, but the guy only has 5 wins total in his career that spans more than 4 decades.
The Cardinals have not been able to recruit under Parrish, and have watched what was once a potent offense go stagnant.
The most recent embarrassment was this past weekend where the FCS Liberty Flames came in to Muncie and beat Ball State.
Simply put, this program is heading back to the dark days of the late Bill Lynch era that saw them lose 20+ games in a row and be the laughing stock of college football.
Stan Parrish will be and should be gone before the Cards take the field in 2011, if not sooner.
Mike Locksley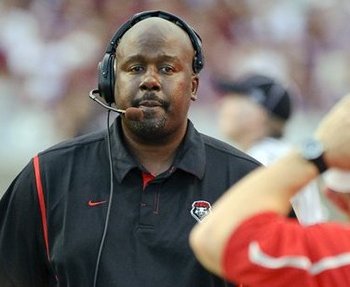 Our next seat at the hot seat table goes to New Mexico head man Mike Locksley.
Locksley took over for Rocky Long, who had a winning record in the MWC throughout his career, and led the Lobos to 5 bowl appearances. Prior to being named head man he was the OC at Illinois under Ron Zook and benefited from the Illini's improbable run to the Rose Bowl in 2007.
Locksley has only won one game, which is equal to the number of allegations he has faced for hitting assistants in Albuquerque.
This season he has seen his team get curb stomped in Oregon 72-0, and trounced 52-17 in their home opener to Texas Tech.
Defensively they are one of the worst teams in the country and offensively they do not have the fire power to compete at a very high level.
Locksley may be a quality offensive coordinator at the D-1 level, but not quality enough to be a head man for the Lobos.
Paul Wulff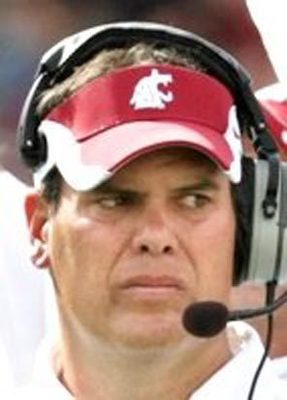 At 4-23 in his 3rd year at Wazzu, Paul Wulff is certainly not making too many friends in Eastern Washington.
During his tenure with the Cougs they have been outscored by hundreds and hundreds of points and have given up hundreds and hundreds of yards per game.
This season hasn't been any better as Kendall Hunter and the Oklahoma State Cowboys went for 65 points and 544 yards in the opener. That was followed up by a come from behind victory over FCS Montana State 23-22 in which they gave up 407 yards of total offense.
Simply put, Wulff is not that guy to get the most out of his team like a Mike Price did. He has not figured out how to build this program and seems to not know how to get on track.
Wulff will be gone at season's end, especially if the Cougs follow through and go win-less in the Pac 10.
Tim Brewster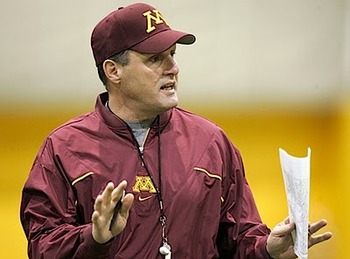 Tim Brewster is not a fan favorite in Minneapolis right now.
When he was hired in 2007 he vowed to Gopher nation that they were ready to move into the upper echelon of the Big Ten. So far 15-25 is not very upper echelon.
The most recent debaucle was yet another loss at home to a Dakota school, South Dakota this time, 41-38.
Brewster has not been able to recruit as well as what was thought, despite having one of the nation's best on campus stadiums, and has not been able to get the most out of the talent on his team.
Hopefully Brewster saved some of his millions as many expect him to be jobless come early December.
Frank Beamer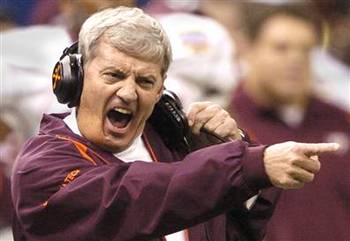 Our final entry is not a likely candidate to be on a hot seat, but at 0-2 for the first time since 1995, Frank Beamer and the Hokies are not who we though they were.
The latest loss was a home embarrassment to James Madison.
There were already questions about the coaching staff's play calling after the Boise State loss, but now there are questions about if Beamer still "has it".
Joe Paterno experienced this a few years ago and he was able to rebound from season's that saw the Lions finish at the Big Ten basement.
Beamer should be okay and be able to "right" the ship, but he is on the hot seat now more than he ever has been in the last 15 years.
Other Notables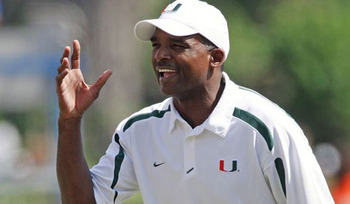 There will certainly be more than 5 coaches on this list when all is said and done, but here are a couple of other guys that may be on the brink.
Randy Shannon has recruited as well as any other Miami head coach, but has yet to taste the fruits of his labor. Miami has won many of the games it should, but has lost as the underdog in most, with a few upset losses along the way. If the U is going to make its comeback Shannon is going to have to find a way to get better and more consistent play out of his top notch recruits.
Steve Fairchild had a horrible 2009 campaign going winless in the MWC, and 2010 has been no better as they were drubbed by Colorado in the opener and spanked in Reno in game 2. Granted Fairchild is going through some growing pains with talent as he is starting a freshman QB, but another winless MWC year and he may be gone.
So who else might you put on the hot seat?
As always feel free to post your comments below and we will see who is first to get the axe this college football season.
Keep Reading