Wisconsin Football: 10 Former Badgers To Follow During Sunday's NFL Action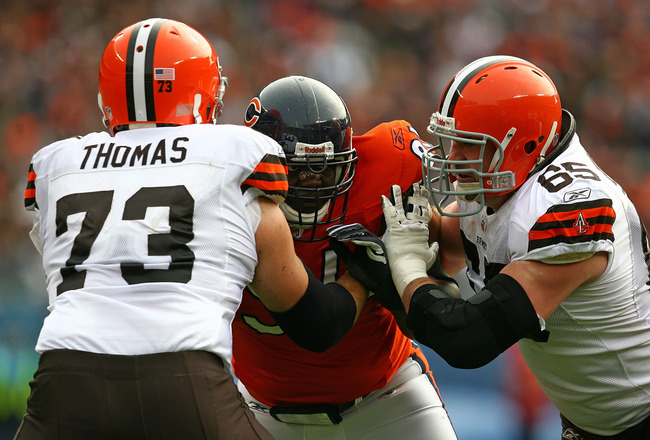 Joe Thomas May Be The Best Badgers Player To Enter The NFL
Jonathan Daniel/Getty Images
Over the years, Wisconsin football has had many things attached to it. Great offensive linemen. A reputation for hard hitting safeties. A reputation for bruising runners.
And, as the years pass, each draft class proves these to not only be connotations of the Badgers football program, but to be accurate reminders of what it means to play Badgers football.
Playing hard, for 60 minutes.
Giving 110%, when your 100% won't do.
Staying long hours in the gym or film room, to be better than the opponent, knowing what he will try to do before he tries to do it.
These, are the benchmarks of a Wisconsin football player over the years, and the following 10 players who are actively in the NFL have proven time and again, their hard work and ability allow them to play the game they love at a high level.
If you're wondering who's Badger football skills have carried over to the NFL, check out this list of who to watch for in today's NFL action.
10. O'Brien Schofield, Arizona Cardinals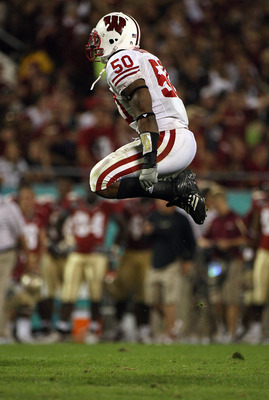 Prior To His ACL Tear, Schofield Had a Great Vertical Leap, Didn't He?
Sam Greenwood/Getty Images
O'Brien Schofield was and still is, my favorite Badgers defensive player in a long time.
His nack for a big play, his nose for sniffing out the run and taking down the ball carrier, as well as his ability to get to the quarterback made him a defensive machine for the Badgers.
He would have been a 1st/2nd round selection in the draft, but in the weekly workouts prior to the East-West Shrine Game, where Schofield was trying to show his worth at linebacker to NFL scouts, he tore his ACL.
He won't be playing week one, but he's expected to return to football and get some on field action for the Cardinals at outside linebacker near the end of the 2010 season when his injury has been fully recovered from.
I know, I know. Why put him on the list if he's not playing week one?
If he were, he'd be a key to victory for the Cardinals, without a doubt. With him on the field, their defense is that much more aggressive, and capable of a drive changing play. That gets him in the top ten.
9. Michael Bennett, Oakland Raiders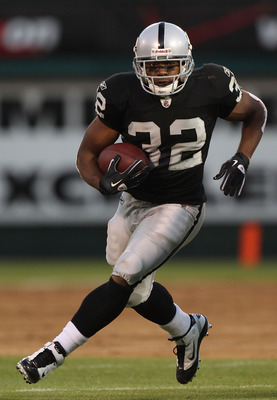 Bennett's Final Stop May Be In Oakland
Jed Jacobsohn/Getty Images
After a stud draft workout, Michael Bennett was drafted by the Minnesota Vikings, impressed by his nfl-record 4.13 40-time.
He's shuffled around the NFL throughout his career in large part due to nagging injuries, but now finds himself a member of the Oakland Raiders.
Might be interesting to watch if the Raiders' coach Tom Cable will give him some carries.
He doesn't figure to get much playing time, with the exception of an injury. He's fourth string right now.
8. Garrett Graham, Houston Texans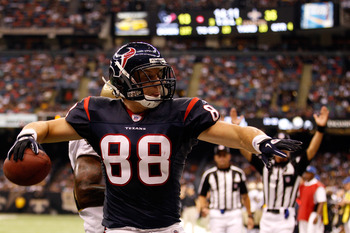 Former Wisconsin Tight End Garrett Graham Scoring a Touchdown For Houston Texans
Chris Graythen/Getty Images
Garrett Graham was a very good tight end with the Wisconsin Badgers for his collegiate career, totaling 121 catches, 1,492 yards, and 16 touchdowns, over his 3 years seeing action on the field.
He was drafted by the Houston Texans in 2009, and is currently the fourth string tight end.
He may work his way into the game on kick offs and punt coverages.
7. Casey Rabach, Washington Redskins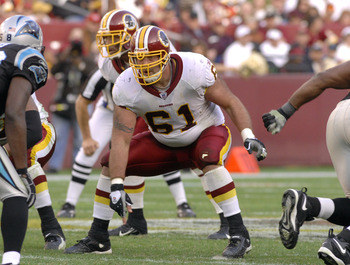 A. Messerschmidt/Getty Images
Casey Rabach, one of the many offensive lineman along Wisconsin's drafted lineage, is still a very solid offensive lineman for the Redskins, now entering his 10th NFL season.
The former Badger has started 95 games straight, since becoming a full time starter for the Redskins.
Look for him to bully some defensive linemen in today's game against Dallas.
6. Jim Leonhard, New York Jets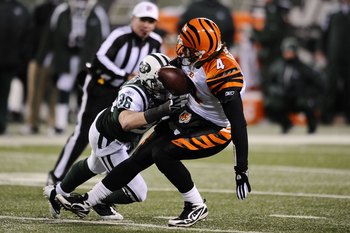 Former Badgers Saftey Jim Leonhard Doing What He Does Best: Hitting People Who Have The Ball. This Time, His Victim Was J.T O'Sullivan
Jeff Zelevansky/Getty Images
Originally a member of the Buffalo Bills after his stellar playing days in Madison for the Badgers, safety Jim Leonhard now is a key member of a hardnosed New York Jets defense.
Sharing the field with the likes of Darrelle Revis, it's easy for Leonhard to fall out of the spotlight—but that's where he thrives.
His 53 tackles, 2.5 sacks, one inteception, and one forced fumble in 2009, were a direct display of his Wisconsin Badgers past.
He played well, because he hit hard, defended well, and kept his head about him. All of these, are traits attributable to any quality Badgers football player.
He's expected to start for the whole season at strong safety.
5. Chris Chambers, Kansas City Chiefs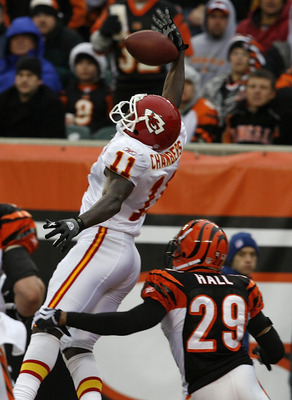 The Badgers' Best Wide Receiver in Ten Years, Chris Chambers Going Up For a Touchdown Catch
John Sommers II/Getty Images
What can one say about Chris Chambers that hasn't been said before?
"One of the Badgers's best receivers since Al Toon"
"Great hands, loads of talent"
Etc, etc, ad nauseum.
He is now a member of the Chiefs, after a very respectable career in Miami, and a shorter stint in San Diego.
Chambers finished ranked fourth on the school's all-time list for receptions and yardage, and fifth in receiving touchdowns, at 2,004 yards, and 16 touchdowns.
He's listed as a starter for the Chiefs entering the season, and with Dwayne Bowe still coming into his own, expect a lot of targets on Chambers, from quarterback Matt Cassell in week one.
4. Lee Evans, Buffalo Bills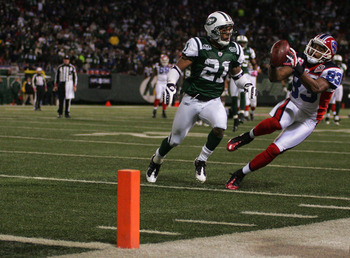 Lee Evans Makes A Nice Grab, Falling Towards The Sideline and Away From The Ball
Jared Wickerham/Getty Images
Again, in the discussion for best Badgers receiver since Al Toon.
Lee Evans finished his collegiate career with 25 touchdowns and 3,306 receiving yards.
He then was drafted by the Buffalo Bills, and soon became a fan favorite.
He's scored two 80-plus yard touchdowns in a single quarter, and has totaled more than 260 yards in a single game, both Bills records.
Look for him to get some chances at the endzone if the Bills offensive line can give the passing game a chance to develop downfield, where Evans thrives.
3. Mark Tauscher, Green Bay Packers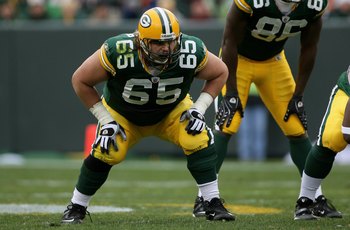 No, Mark Tauscher Isn't Out Of Breath Here, He's Just That Big.
Doug Pensinger/Getty Images
At six-foot three, 313 pounds, it's safe to say that Mark Tauscher has gotten in the way of quite a few defensive lineman hot on the trail for a sack.
Tauscher's last season is likely this one, as his age is catching up to him. His legs have failed him recently, but he appears in good shape to start the 2010 season.
The former Badger is just one of the many NFL products that the offensive lines have produced over the years in Madison, but he's definitely one of the more memorable ones, even if it's only because he stayed "home" and was drafted by the other beloved Wisconsin football team, the Green Bay Packers.
He'll be protecting Aaron Rodgers this week against a Philadelphia defense which would like to see nothing more than Rodgers screaming for mercy on his back. "Tausch" might have something to say about that.
2. Owen Daniels, Houston Texans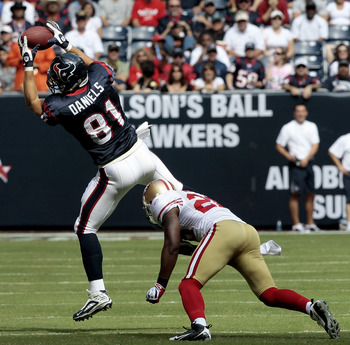 Owen Daniels is Now Joined By Fellow Badgers Tight End Garrett Graham
Bob Levey/Getty Images
Houston has never regretted their selection of Owen Daniels, one of the more prominent current Wisconsin players in the NFL.
He was a 4th round selection in 2005's April draft, but he's played better than his draft slot.
For the Texans, He's totaled 2,500+ yards, 207 catches, and 15 touchdowns in his five NFL seasons.
Look for Matt Schaub to look his way early and often against a softer Indianapolis linebacker core during today's game.
1. Joe Thomas, Cleveland Browns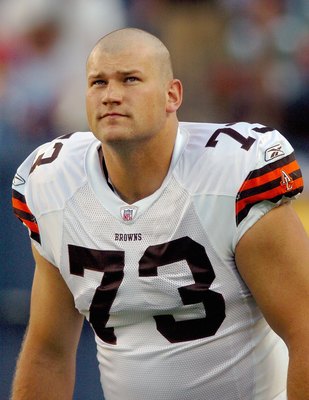 Steve Dykes/Getty Images
Is it any surprise, that after being selected No. 3 in the 2007 NFL Draft, that Joe Thomas would place so high on this list?
He's got tremendous upside, and he's already a premier left tackle.
His Wisconsin days were dominant, as he caved in defensive lines paving running lanes for PJ Hill in Thomas' final season with the Badgers, which saw his return, mainly because he had tore his ACL late in the previous year, and wanted to enter the NFL strong and be physically ready for the next level.
After rehabbing his injury, he came back better than ever, and led the way for a Badgers team which beat then-Darren McFadden led Arkansas in the Capital One Bowl.
He's an intimidating force on the Browns line, and can put just about any defensive lineman on his back.
He's going to be around for a long time, and he'll carry on the long running tradition of great Wisconsin linemen.
Keep Reading

Wisconsin Badgers Football: Like this team?