AP College Football Poll 2012: Winners and Losers from Week 4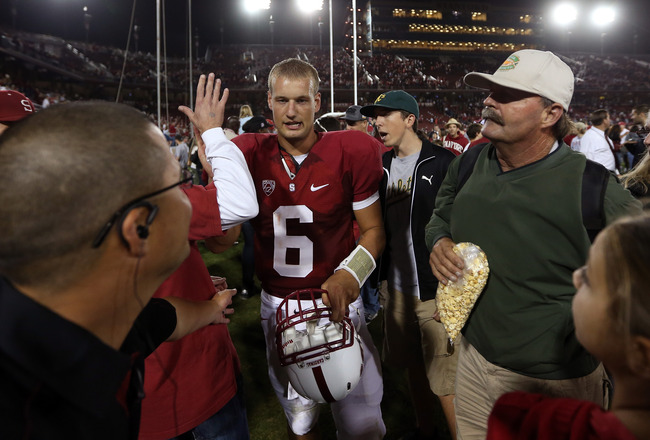 Ezra Shaw/Getty Images
Another college football week has come and gone with more winners and losers of the most recent Associated Press poll.
New in the poll are Mississippi State, Boise State and Nebraska; gone are Tennessee, Virginia Tech and BYU.
However, with the introduction and departure of those teams, there were five winners and five losers we will take a look at.
Winner: No. 24 Boise State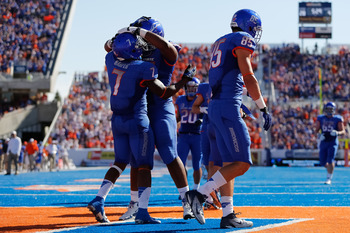 Otto Kitsinger III/Getty Images
The Broncos have a lot to be happy about by getting back into the AP Top 25.
After their opening loss to Michigan State, and with the Spartans getting dominated by Notre Dame at home, 20-3, the voters could have kept Boise State from re-entering the poll.
Surprisingly, after a 39-12 victory over Miami (OH) University, the voters felt Boise State was among the 25 best teams in college football.
Looking at Boise State's schedule, it looked as if it would get back into the polls if it could beat BYU this week. However, the AP voters jumped the gun by putting the Broncos in now, making them a winner.
Loser: No. 16 Ohio State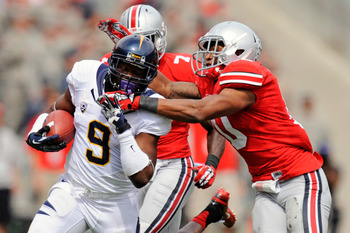 Jamie Sabau/Getty Images
Last week, the Buckeyes were at No. 12 in the rankings and looked like they could be a potential Top 10 team if they could defeat the Cal Bears.
They did get past Cal, winning 35-28 to maintain their perfect record of 3-0.
However, the voters were not impressed with their thrilling fourth-quarter victory, dropping them down to No. 16.
For those keeping score at home, even if you win by a touchdown over a BCS school, you will get dropped in the polls.
Winner: No. 21 Michigan State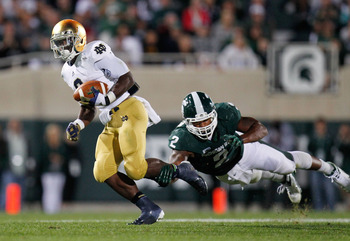 Gregory Shamus/Getty Images
I can hear what you are saying right now as you see Michigan State as a winner in this week's poll:
"Wait, didn't the Spartans get killed at home by Notre Dame?"
Yes, they did, but they didn't get dropped from the polls altogether.
Two weeks ago, Arkansas suffered an overtime loss to Louisiana-Monroe, and the result was the Razorbacks getting dropped from No. 8 to completely out of the poll. Michigan State got off lucky after its poor performance, only dropping from No. 10 to 21.
Their dropping means the Spartans still have a great chance to be a Top 10 team by November.
Loser: No. 6 Oklahoma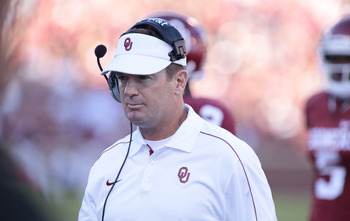 Brett Deering/Getty Images
It's one thing to get moved down in the polls after winning, but it's another thing to get moved when you didn't even play a game.
Oklahoma sat idle this week and saw its ranking drop from No. 5 last week to No. 6 this week. The Sooners were bumped because Georgia destroyed the powerhouse that is Florida Atlantic, 56-20.
Oh wait, that's right. Florida Atlantic went 1-11 last year and is 1-2 through three games this year.
Oklahoma should have stayed at No. 5, while Georgia stayed at No. 6 with the chance to move up later on in the season when the Sooners would have lost.
Winners: Alabama and LSU at No. 1 and No. 2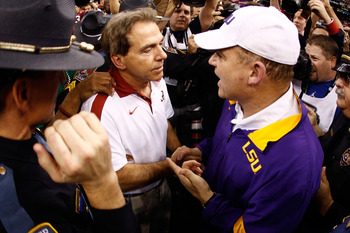 Chris Graythen/Getty Images
Here we go again—Alabama and LSU are No. 1 and No. 2 in the most recent AP poll.
Alabama has allowed only two touchdowns through 12 quarters of football this year while scoring 138 points. It's hard to imagine it, but this year's squad may be better than the last two Alabama BCS championship teams.
While Alabama has taken down Arkansas and Michigan, LSU has risen to No. 2 in the latest poll by thrashing two cream puffs and Washington. LSU's margin of victory is just as impressive as Alabama's; LSU has outscored its opponents 145-31.
Let the countdown begin to Nov. 3 when these two teams meet in Death Valley.
Loser: No. 13 USC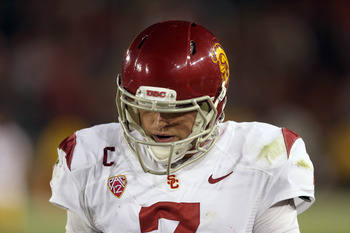 Ezra Shaw/Getty Images
We all knew USC was going to fall in the latest polls, so its fall to No. 13 wasn't that surprising.
However, what makes its tumble down in the polls a loser this week is because it allowed LSU and Alabama to hold on to the top two spots.
Instead of looking forward to Alabama or LSU facing off against USC, Oregon, Florida State or even Oklahoma in the BCS National Championship Game, we will now get to hear how we should have a rematch of last year's game.
USC is a loser in this week's poll, and quarterback Matt Barkley lost some momentum in the Heisman race.
Winner: No. 23 Mississippi State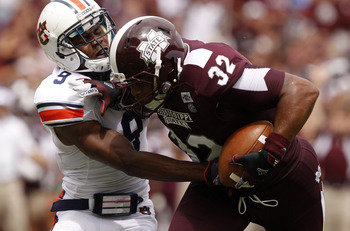 Butch Dill/Getty Images
With the fall of the Arkansas Razorbacks this year, it looks like Mississippi State will fill in its role as the third-best team in the SEC West.
That being said, that is a great role to be in, as the Bulldogs should finish their season with a 9-3 or 10-2 record and a spot in the Cotton Bowl.
Mississippi State has played well through three games this year, as running back LaDarius Perkins has filled in nicely for Vick Ballard, who left for the NFL. Through three games, Perkins has averaged at least one score a game. His breakout game came last week against Troy, where he rushed for 179 yards and a score.
We will find out more about this Bulldogs team in three weeks, when they host the Tennessee Volunteers.
Loser: No. 18 Michigan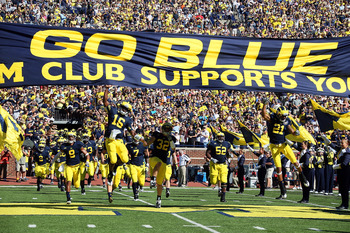 Dave Reginek/Getty Images
This seems to be a recurring theme in this week's AP poll: A team wins, but it loses position in the polls.
On Saturday, Michigan allowed UMass to score a season-high (for UMass) 13 points. The game was never in doubt, as Michigan easily won 63-13. In fact, the closest this game ever got was in the second quarter, when UMass trailed by 29 points.
So, the voters thought winning by 50 wasn't enough and moved Michigan down a spot.
Winner: No. 9 Stanford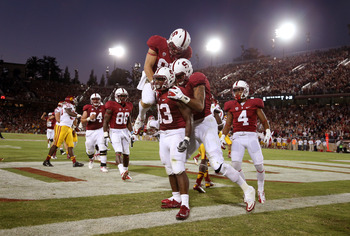 Ezra Shaw/Getty Images
The biggest winner of the week is the Stanford Cardinal.
I, for one, thought this team was going to take a big step backward when Andrew Luck left for the NFL. I didn't feel wrong in thinking this after Stanford struggled in its home opener against San Jose State.
However, this team hit on all cylinders against Duke on Sept. 8, and it shocked the college football world when it took down USC, 21-14.
With that win, the Cardinal rocketed into the Top 10 from No. 21, and they look like a legit contender for the Pac-12 championship.
Loser: No. 25 Nebraska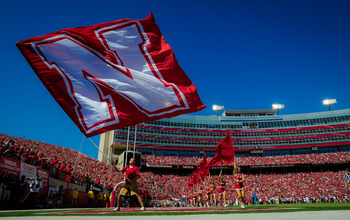 Eric Francis/Getty Images
Nebraska wasn't the biggest loser in this week's AP poll. However, it is a loser this week because it is stuck behind two inferior teams: Boise State and Mississippi State.
Nebraska dominated Arkansas State Saturday with a near-perfect passing game from quarterback Taylor Martinez and a defense that didn't allow a touchdown to the Arkansas State Red Wolves.
However, instead of jumping back into the polls at No. 23 or 22, the Huskers barley made it back in the polls even though they look to be the best team in the Big Ten's Legends Division.
Keep Reading