Six Reasons Why Wisconsin's John Clay Will Win the Heisman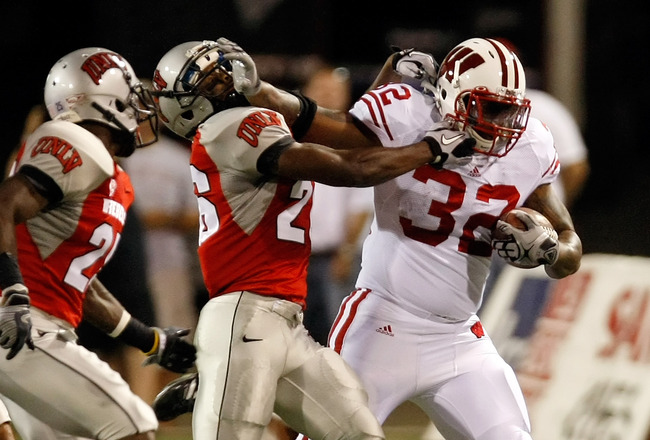 John Clay Has Heisman Written All Over Him After a Dominating Performance In Week One
Ethan Miller/Getty Images
Even after Reggie Bush's Heisman Trophy scandal, the trophy is as special as ever, given to only the most elite of college players.
Tim Tebow, Sam Bradford, and Mark Ingram are just a few of the past winners. This season quite a few players could find themselves raising the trophy in New York, celebrating a special year.
Let me preface my argument by conceding the following:
No, John Clay is not the "best player in college football."
Yes, Clay shares carries, which may take away from his production. (Montee Ball had 2 touchdowns in week one)
No, Clay is not even the "best running back in college football," at least according to most talking heads.
However, Clay has one thing that almost none of these Heisman "front-runners" have: he has arguably the best offensive line in football and as any running back will tell you, if you can get a hole to run through, your job is made that much easier.
So here's my case for John Clay's Heisman chances in 2010 and what he needs to do to win the award.
6. His Opponents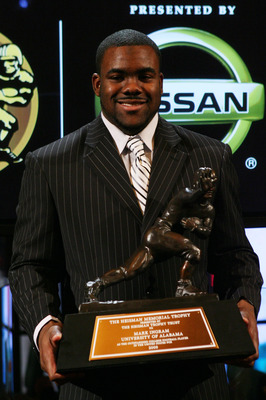 Alabama Running Back Mark Ingram Won the 2009 Heisman
Chris Trotman/Getty Images
The only man to win two Heisman trophies was Archie Griffin.
Alabama's Mark Ingram looked like he could threaten for a second Heisman, but missing the first game and having a very talented backup in Trent Richardson make his repeat nearly impossible.
So, who's in Clay's way?
For starters, this year is very loaded with Heisman worthy quarterbacks.
Jake Locker, Andrew Luck, and Terrelle Pryor all have a valid shot at the 2010 Heisman and maybe a few other awards as well.
There are a few problems for the quarterbacks though.
For one, their numbers (and thus chances in the Heisman race) are determined in large by the talent and production around them. Also, the publicity and national attention their teams receive.
Look, I'm not knocking any of these guys, all of them are very talented and will probably produce well in the NFL.
But, there is a very limited chance that Luck's Stanford squad is making BCS noise while ballots heat up. Or even Locker's Washington Huskies in the weaker Pac 10.
Pryor and Ohio State will be in the mix late into the season, only increasing his chances of winning the award, but that chance could be slimmed if the Badgers can beat the Buckeyes in Camp Randall, on October 16.
Lets just speculate for a minute here: would Clay become a front runner if he were to lead Wisconsin over the Buckeyes in a 31-17 win with three touchdowns and 150+ yards?
That'd be one tall order to accomplish, but with Clay's physical tools he can definitely make it happen.
Conversely, would he fall further behind Pryor (assuming they are in similar standing in the Heisman race when OSU comes to town) if Pryor were to pass for 275 yards, 2 TD's, and add 100+ rushing yards?
That Big Ten match up could have a lot to say about who wins the Heisman this season.
5. His Running Style Suits Him Well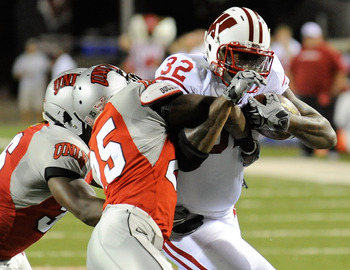 John Clay Plowing Through Two UNLV Defenders
Ethan Miller/Getty Images
His power running style has people comparing him to former Badgers great Ron Dayne and with great accuracy.
They both are/were power runners who prefer making first contact. A punishing running style which made defenders regret tackling them.
Clay is like a freight train. It'll take him upwards of a minute to be stopped before running a person over.
He produces that much power at his top speed, which, although limited, is also enough to make people miss when he's not running them over.
As he's running people over, if you could pan the camera close to the defender he trucked over, you'd likely see a face that reads like "Man, I really wish my assignment wasn't to stop John Clay."
Not only is he a power runner, but he's smart as well.
Clay is able to take advantage of his linemen opening bowling alley-like running lanes for him.
4. The Offense Depends Heavily On Him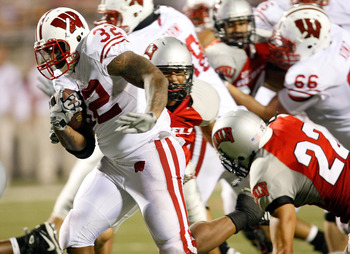 John Clay (Wisconsin) Breaking Tackles and Running For a Big Gain Against UNLV in Week One
Ethan Miller/Getty Images
No offense to Quarterback Scott Tolzien or Wide Receiver Nick Toon, but for the Badgers, the season depends almost entirely on the legs of John Clay.
As Clay goes, the Badgers will go.
He's the defensive target in the gameplan of every opponent the Badgers face in 2010.
In general terms, you stop Clay, you stop Wisconsin.
He's going to pile up the carries as long as the offense is still in competitive games.
Coach Bret Bielema say he's going to play all three guys on the roster (Clay, Ball, James White), but you better believe that if the Badgers are milking clock on a seven point lead late, they'll be handing the ball to their workhorse and most reliable option in the ground game.
Clay will not only be relied on to milk leads, but to create and extend the leads the Badgers have as well.
3. His Production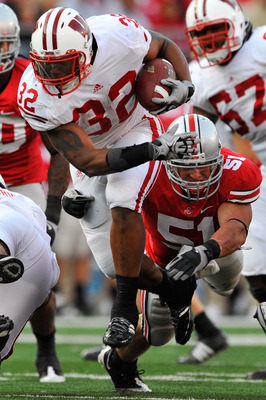 John Clay Will Need a Big Game Against OSU, Oct. 16
Jamie Sabau/Getty Images
Last season John Clay showed why Badger fans should still remember Ron Dayne. His physical running style was a blast from the past for many Badgers fans.
For Clay to win the award, he'll need to put up ridiculous numbers. Reggie Bush put up over 2,000 all purpose yards as a dynamic kick/punt returner, receiver, and of course, running back in his now former Heisman winning season.
Clay doesn't show the burst of speed like Bush, but is far more effective between the tackles. He wins the battle in the trenches.
At 6'1" 255 lbs, he's a dominating tank who will punish whatever stands in his way. However, he's not a threat to run away from anybody.
I once snagged Clay's yellow flag in a game of flag football..
Well, not really. But he's never been mistaken for "fast".
Clay's yards will come between the tackles, making his job tougher. But, he has one of the best (and largest) offensive lines opening holes for him, so it nearly cancels out.
If Clay can take advantage of the gaps created by his linemen, look out for a bigger year than last year's 1,517 yards, 18 touchdowns. I'm talking near or more than 2,000 yards rushing, and 20+ touchdowns.
2. The Badgers' Schedule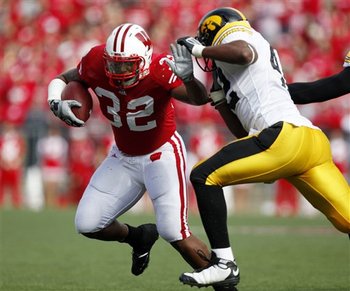 Prominent Games Like Wisconsin-Iowa and Wisconsin-OSU Will Have John Clay in the National Spotlight
Playing Ohio State, Michigan, Iowa, and Michigan State all in the same year, will be a heavy workload for Clay and the Badgers. Can he stay productive through the season, facing the Buckeyes' and Hawkeyes' stout run defenses?
Clay will combat the likes of Adrian Clayborn on Iowa's line, as well as Cameron Heyward of OSU.
It'll be a battle of wills. Will Clay power through the big boys on the D-line? Or will he fall back in the All-American/Heisman races as "just another decent back?"
Facing these tough defenses will go a long way in finding that out.
However, going up against tough competition will also benefit Clay's chances should he do well. I can just hear ESPN now: "John Clay ran all over Adrian Clayborn...Can anyone stop him?" etc, etc...building his hype machine as his team is featured on the national spotlight.
1. Publicity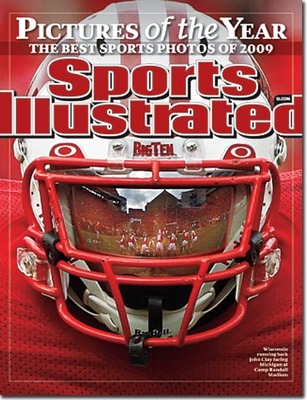 The Media May Have It's Eyes On John Clay, But He's Staring Back.
As with any Heisman hopeful's season, media coverage plays a very large hand in the hype or buzz about the player.
Wisconsin is a relatively well covered school. Being a team in the Big Ten conference, they have games and replays featured on the Big Ten Network.
Also, the team still benefits from ESPN's former crush on the Barry Alvarez Badgers for so many years.
After Alvarez handed down the team to now coach Bielema, the Badgers media support stayed with the team.
Joe Thomas was hyped as one of the best offensive lineman to enter the draft in years, preceding his first round selection by the Cleveland Browns of the NFL.
Tight End Owen Daniels is regarded as a quality tight end at the NFL level for the Houston Texans, so it's no surprise Wisconsin's current tight end Lance Kendricks (and Travis Beckum before him) have been popular tight ends when discussing the top tight ends in the nation.
If not for off field issues (and lack of maturity) P.J. Hill would have stuck on with a team as most likely a backup running back.
Even Brian Calhoun, the transfer (back home) to Wisconsin from Colorado was a popular pick by the Detroit Lions a few years back.
While it's a mixed bag for the results of these selections and players the media has singled out of Wisconsin, the overall point here is that Wisconsin players (with talent) will get their day in the NFL, and their day in the spotlight.
Ever present of course, is digital media. In Clay's Heisman race, the publicity he and the team receive will determine where he finds himself in the final voting. A group of students from the University of Wisconsin have even started a Facebook page supporting his campaign for the Heisman.
You can find the group here.
Clay has every tool necessary to be the dominant runner Wisconsin needs to go far and his production at running back in 2010 (260 yards, 4 touchdowns through week two this season).
If an undefeated Badgers team is playing for the National Championship in January, I'd be surprised if it wasn't with a Heisman winner in the backfield.
If Clay impresses against Ohio State, look for the media's Heisman Watch train to be chugging along with Clay and the Badgers.
Keep Reading

Wisconsin Badgers Football: Like this team?