Miami Hurricanes Vs. Ohio State Buckeyes Key Matchups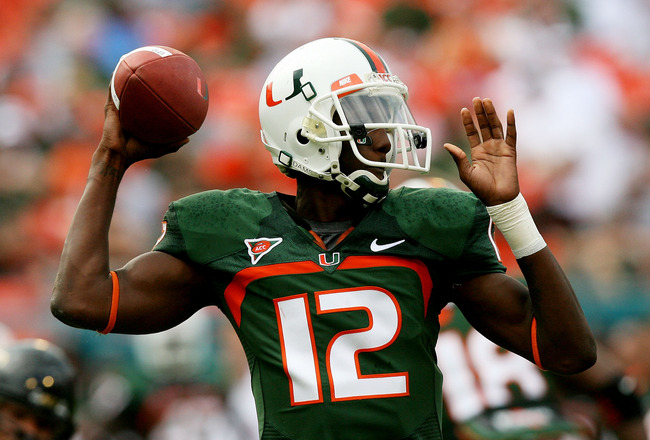 Doug Benc/Getty Images
No one has forgotten the 2003 Fiesta Bowl, especially Canes fans.
The defending National Champion Miami Hurricanes were huge favorites over the Ohio State Buckeyes. Most of the country expected the Canes to take care of business and win their sixth National Title.
But it wasn't meant to be. The Buckeyes would go on to beat the Canes in Overtime after a controversial call by line judge Terry Porter.
Cane fans to this day say it was not pass interference. Buckeye fans disagree.
Nonetheless, these two school have not played since that fateful day.
That will change this Saturday.
In a weekend that is filled with marque games: Alabama vs. Penn State, Oklahoma vs. Florida State, Tennessee vs. Oregon, Notre Dame vs. Michigan... the game everyone is talking about is the #2 Buckeyes vs. the #12 Canes.
Let's take a look at the matchups.
Quarterbacks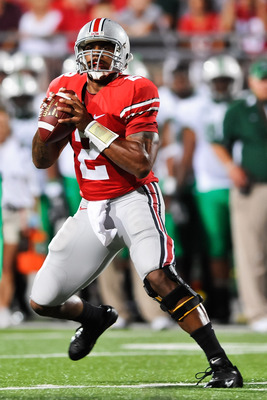 Jamie Sabau/Getty Images
Ohio State's quarterback Terrelle Pryor and Miami QB Jacory Harris have had very similar football careers thus far.
Both were highly rated high school recruits in 2008 (According to Rivals.com national rankings Pryor #1, Harris #206). They each saw early playing time as true freshman (Pryor started 9 games; Harris played in all 13 games and started in two).
Entering their junior year, both are Heisman Trophy Candidates. But most importantly, the two are the unquestioned leaders of their teams. Ohio State and Miami will only go as far as their respective QBs will take them.
So who has the advantage?
Harris is the better pure passer of the two. But the nod goes to Pryor because of his dual-threat ability. Pryor can hurt teams with his arm and his feet. Last season Pryor threw 18 touchdowns and ran for seven touchdowns.
Advantage: OSU
Running Back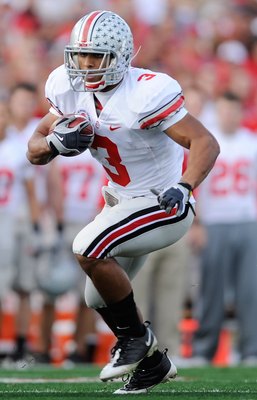 Kevork Djansezian/Getty Images
Even though QB Terrelle Pryor led the Buckeyes last season in rushing (779 yards) Ohio State has two solid running backs to carry the rock. Senior Brandon Saine and Junior Dan Herron are both veteran backs who rushed for over 600 yards last season.
Saine and Herron appear to be 1A and 1B on the depth chart, but the back to watch out for Saine. The senior was named 2nd team Preseason All-Big Ten Team by college football guru Phil Steele. Besides running for 768 yards and four touchdowns, he also had 224 yards receiving with two touchdowns.
Unfortunately for the Buckeyes, there may not be a better stable of running backs in the nation than the Miami Hurricanes. This current group of backs reminds Canes' fans of the 2001 season when Willis McGahee, Clinton Portis, Najeh Davenport and Frank Gore were all on the same team.
The leader of the group is senior Damien Berry who rushed for 628 yards last season and led the team with eight rushing touchdowns. Berry is a bruising back who is almost unstoppable in short yardage situations. Next on the depth chart for the Canes is sophomore Mike James who played fullback last season but switched back to running back. James had incredible spring and summer practices and is looking to continue that success this season.
Redshirt Sophomore Lamar Miller maybe the second fastest Cane after speedster Travis Benjamin. Lamar is literally lighting in a bottle and is always a threat to take it to the house. Fourth on the depth chart the Canes have senior Graig Cooper. How good is he? He led the team in rushing last season and all-purpose yards!!
Ohio State will have a difficult time preparing for these talent Canes backs that all bring something different to the table.
Advantage: UM
Wide Receiver & Tight End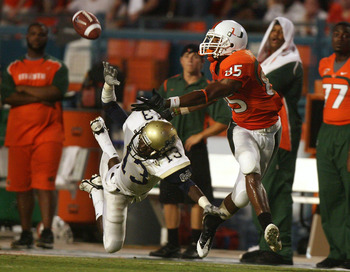 Doug Benc/Getty Images
Terrelle Pryor's number one target is junior DeVier Posey. The first team Preseason All-Big Ten Team caught for 828 yards and eight touchdowns last season. The 6'2" 213lb receiver will be a challenge for Canes' number one cornerback Brandon Harris. Another dangerous weapon for Pryor is wide receiver Dane Sanzenbacher who caught 570 yards last season for six touchdowns.
The Big Ten has always been known for their tight ends. And Ohio State has a real star in the making in redshirt sophomore Jake Stoneburner. This 6'5" 245lbs monster was the 120th national recruit coming out of high school (Rivals.com). Stoneburner played sparingly his first two seasons in Columbus because he was playing behind Jake Ballard. But with Ballard's graduation Stoneburner steps in as the starter. The Canes struggled several times last season against opposing team's tight ends (i.e. Clemson & Wisconsin) and will need to watch out for Stoneburner.
Miami receiver Leonard Hankerson led all receivers last season with 801 yards and six touchdowns. Hankerson decided to return for his senior year instead of entering the NFL Draft last May. And how do you think he feels about that decision? Well after catching for 115 yards and two touchdowns against FAMU, I'm guessing he is feeling pretty good about that decision.
Hankerson has the chance to become a first round pick in this year's NFL Draft if he plays to his potential. After Hankerson, the Canes have receivers LaRon Byrd, Travis Benjamin, and Aldarius Johnson who are all proven players.
The problem for the Canes is at the tight end position. Fifth year senior Richard Gordon really hasn't done much in his time at UM and is unfortunately the only returning veteran. First year JUCO transfer Chase Ford has been compared to former JUCO transfer and Canes star Jeremy Shockey, but his play on the field will determine whether the comparisons are worthy.
The Canes get the nod at wide receiver, but the Buckeyes have the advantage at tight end.
Advantage: Tie
Offensive Line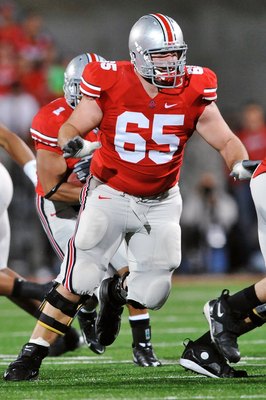 Jamie Sabau/Getty Images
Having a successful offensive line is all about player's having game time experience. There is arguably no football position that relies on game experience more than the big uglies.
Ohio State has a great offensive line because their starters have a combined 82 starts between them. Two of OSU's linemen are named First Team Preseason All-Big Ten and another two are named Second Team Preseason All-Big Ten!
In comparison how many career starts does the Canes' O-line have?
Answer: 39
The only proven lineman for the Canes is senior left tackle Orlando Franklin. The 6'7" 312 lbs will do a good job protecting Jacory Harris' blindside. The problem is that Franklin maybe the only one who can protect the fragile Harris.
The Canes have some great young players at O-line (i.e. Seantrel Henderson & Brandon Linder) but they are two young to be thrown into a starting role.
Advantage: OSU
Defensive Line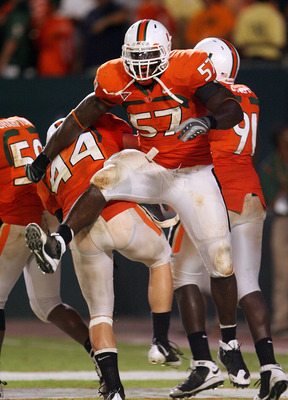 Doug Benc/Getty Images
Senior defensive end Cameron Heyward is the man to watch on this Ohio State defensive line. The 6'5" 288lbs freak is incredibly quick and agile for his size. He also was also named First Team Preseason All-Big Ten after leading the team with 6.5 sacks last year.
Unfortunately for Buckeye fans, the biggest "Freak" on the field Saturday will be Miami senior defensive end Allen Bailey. The 6'4" 285 lbs monster has a 39 inch vertical and runs a 4.6 40 yard dash. The Preseason First Team All-ACC defensive end led the Canes last season with 7 sacks and 11 tackles for loss.
The buckeyes will definitely be looking to double team Bailey, but that will just open up space for the Canes' other talented linemen. Marcus Fortson, Josh Holmes, Olivier Vernon, and Marcus Robinson are all talented linemen who will be looking to get after Terrelle Pryor.
Because the defensive line is all about depth, the Canes win here.
Advantage: UM
Linebacker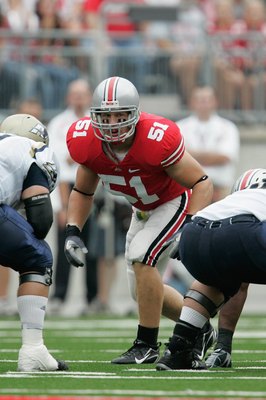 David Maxwell/Getty Images
Ohio State has two absolute studs at the linebacker position. Senior's Ross Homan and Brian Rolle lead the Buckeyes in tackles respectively (108 & 95). Both players were named Preseason First Team All-Big Ten and are two of the best linebackers in the country.
The Canes return two star linebackers of their own in Senior Colin McCarthy and Junior Sean Spence. McCarthy was second on the team last year with tackles (95) while Spence led all linebackers with sacks (3).
Both teams have two of their three starting linebackers set, but the Buckeyes have arguably the best linebacker combo in the nation.
Advantage: OSU
Secondary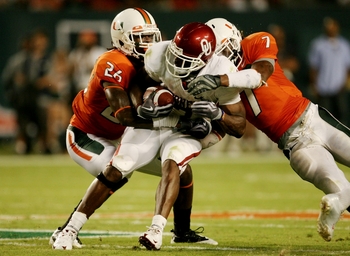 Doug Benc/Getty Images
The Buckeyes have two Preseason First Team All-Big Ten players in their secondary. Free safety Jermale Hines had 68 tackles and two interceptions last season. Defensive back Chimdi Chekwa had 43 tackles and one interception. The two seniors are the veterans of the secondary and will look to contain Miami's explosive receivers.
Miami also has a player with some preseason awards. Defensive back Brandon Harris was named First Team All-ACC and was also named to the Jim Thorpe Watch List which is given to the best defensive back in the country.
Ray Ray Armstrong had a pick six against FAMU and appears poised for a breakout season. The #13 high school player in the nation in 2009 (Rivals.com) has been compared to the late Sean Taylor the second he stepped on campus.
If Armstrong plays to his potential, he could become the next great Canes' safety.
Advantage: Tie
Special Teams
Kevin C. Cox/Getty Images
Senior Devin Barclay is the kicker for the Buckeyes. He walked-on to the team in 2008. Kick returner Jaamal Berry and punt returner Jordan Hall and talented speedsters who are always a threat to take it back for six.
Hurricanes kicker/punter Matt Bosher does everything for the Canes team (he even tackles). Bosher was named Preseason First Team All-ACC as a punter and as a kicker.
Wide receiver Travis Benjamin remains the primary punt returner for the Canes. Players Brandon Harris, Lamar Miller, and Eduardo Clements have all gotten looks at kickoff duty.
In the end, Bosher's consistency along with the fear of walk on kickers gives the Canes the edge.
Advantage: UM
Coach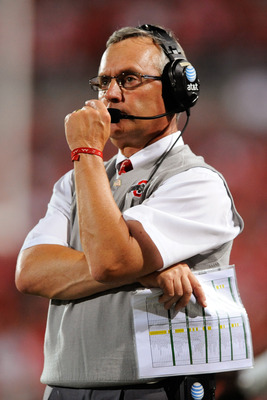 Jamie Sabau/Getty Images
Jim Tressel has been the head coach at Ohio State since 2001. He led the Buckeyes to a win in the BCS National Championship Game in 2002 over the Miami Hurricanes.
Under Tressel's reign, Ohio State has a 31-4 record in regular season non-conference games. He has also led the Buckeyes to at least a share of the Big Ten title in each of the last five seasons.
Randy Shannon is entering his fourth season as head coach of the Canes. He has increased his win total every season but is 0-2 in bowl games. He and the Canes have also failed to win the ACC Coastal Division in his three years.
Advantage: OSU
Keep Reading

Miami Hurricanes Football: Like this team?