College Football: Power Ranking The SEC Pass-Catchers (WR/TE)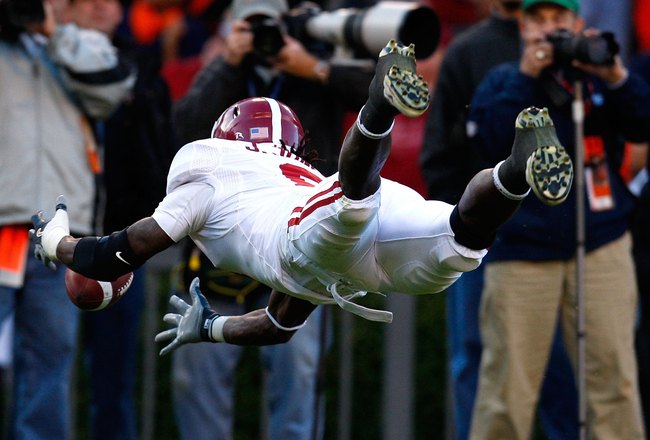 Kevin C. Cox/Getty Images
From the awful performance by the Florida Gators offense against Miami (OH) to Jacksonville State's double-overtime upset of Ole Miss, the season's first weekend was full of surprises for the SEC.
The weekend was also full of a lot of offense, particularly in the passing game as SEC teams averaged 239.8 passing yards and 2.3 touchdown passes per game.
And on the receiving end of those yards and touchdowns were some of the nation's most talented athletes--SEC wide receivers and tight ends.
Here's the power rankings for the best pass-catchers in the SEC.
Just Missed The Cut...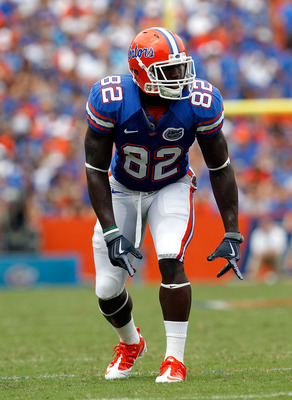 Sam Greenwood/Getty Images
Here are some of the top pass-catchers in the SEC who almost cracked the Top-5 Power Rankings list:
WR Greg Childs - Childs, who caught 48 passes for 897 yards and seven touchdowns last season, is one of the top playmakers in the SEC and joins WR Joe Adams and TE D.J. Williams in the SEC's best receiving corps.
WR Randal Cobb - Kentucky's wide receiver-running back hybrid had quite a season for the Wildcats in 2009, catching 39 passes for 447 yards and four touchdowns as well as rushing for 573 yards and 10 touchdowns on just 94 carries.
WR Alshon Jeffery - After catching 46 passes for 763 yards and six touchdowns last season, Jeffery picked up where he left off in the season opener for South Carolina, racking up seven catches for 106 yards against Southern Miss.
TE/WR Omarius Hines - Filling in for the injured Jordan Reed at tight end Saturday, Hines provided a big target for first-year starting quarterback John Brantley, pulling in three catches for 49 yards and a touchdown.
WR Joe Adams - After catching six passes for 138 yards and two touchdowns in the season opener, Arkansas quarterback Ryan Mallett will look to Adams when the Razorbacks need a big play in the passing game.
5. TE Luke Stocker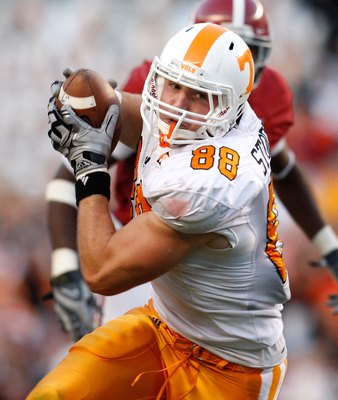 Kevin C. Cox/Getty Images
This big tight end dressed in orange and white was the media's pick as the tight end for the preseason All-SEC team and for good reason.
Named to the preseason watch list for the Mackey Award, given to the nation's best tight end, Hocker has been an important cog in the Volunteer offense during the past two seasons.
In addition to serving as a blocker, Stocker has caught 42 passes for 528 yards and five touchdowns since 2008, leading his teammates by example on the gridiron.
Although he hasn't seen a lot of action so far in 2010 (two catches for 17 yards in the season opener), Tennessee coach Derek Dooley knows that he has a great offensive weapon in Hocker.
"There's no question that Luke's one of our most experienced and certainly one of our best players," Dooley told Wes Rucker of the Chattanooga Times Free Press. "And there's no question that we're going to ask him to do a lot of things for our team."
4. WR Darvin Adams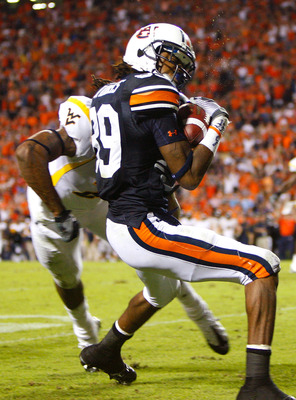 Kevin C. Cox/Getty Images
In a conference with standout wide receivers like Julio Jones and A.J. Green, it's easy for play-makers like Darvin Adams to go overlooked.
However, as unbelievable as it is, Adams actually posted better numbers than both Green and Jones during the 2009 campaign, catching 60 passes for 997 yards and 10 touchdowns for the Tigers.
In one of last season's biggest award snubs, Adams was not named to the any of the three All-SEC teams and didn't even garner a nod in the "Honorable Mention" category.
However, that snub should fuel Adams and make him even more dangerous than last season.
As new Auburn quarterback Cameron Newton readjusts to the speed of SEC football after a year in the NJCAA, having Adams running routes in the Tiger offense will be a welcome sight.
While he may not have the name recognition of Jones or Green right now, watch for the Auburn junior to not only join their company this season, but possibly surpass them.
3. TE D.J. Williams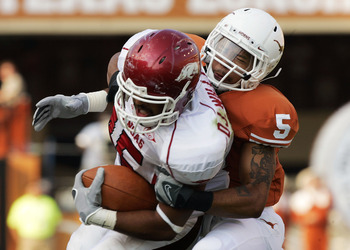 Brian Bahr/Getty Images
When coaches look for tight ends, they want to find big, strong guys who can block well, but are also athletic enough to make a few catches along the way.
With senior tight end D.J. Williams, the Arkansas Razorbacks get much more than that.
Williams made a name for himself during his sophomore season in 2008, leading the Razorbacks with 58 catches for 699 yards and three touchdowns.
However, after his breakout season, defenses began cracking down on Williams in 2009, limiting the tight end to a respectable 32 catches for 411 yards and three touchdowns.
With the emergence of dynamite playmakers in teammates and wide receivers Greg Childs and Joe Adams, Williams expects to see a lot more passes come his way in 2010.
How can quarterback Ryan Mallett resist throwing to a such a big, reliable target coming across the middle?
2. WR Julio Jones
Julio Jones came to Alabama as the nation's top-ranked wide receiver recruit prior to the 2008 season and wasted no time in proving his worth.
The 2008 SEC Freshman of the Year became the first Crimson Tide player to start as a true freshman and with good reason.
Nick Saban's newest playmaker caught 58 passes for 924 yards and four touchdowns during his freshman season, helping earn 'Bama a berth in the SEC Championship Game against Florida.
The following season would prove to be difficult for Jones individually as he struggled with a knee injury, but that didn't stop him from putting up good numbers.
Alabama's star receiver racked up 43 catches for 596 yards and four touchdowns and was a key member of the Crimson Tide's first national championship-winning squad since 1992.
Now in his junior season and fully healthy once again, watch Jones light up opposing secondaries on a weekly basis for Alabama.
1. WR A.J. Green
Many believe that Julio Jones is the top pass-catcher in the SEC and perhaps the best receiver in the nation, but there is a football player in Athens, Georgia, who begs to differ.
That football player is Georgia Bulldogs junior wide receiver A.J. Green.
During his freshman and sophomore seasons, Green has caught 109 passes for 1,771 yards and 12 touchdowns and most of that has been done while facing some of the nation's best defenses in the SEC.
Whether his quarterback is the No. 1 pick in the 2009 NFL Draft (Matthew Stafford) or an inconsistent gunslinger (Joe Cox), Green will put up numbers.
Mark Richt and the 'Dawgs have a green starting quarterback in true freshman Aaron Murray this season and luckily for Georgia, they also have a Green receiver.
Follow Joe Morgan on Twitter: http://twitter.com/joe_morgan
Keep Reading

Florida Gators Football: Like this team?