Tennessee Football 2011: 10 Reasons the Volunteers Can Win the SEC East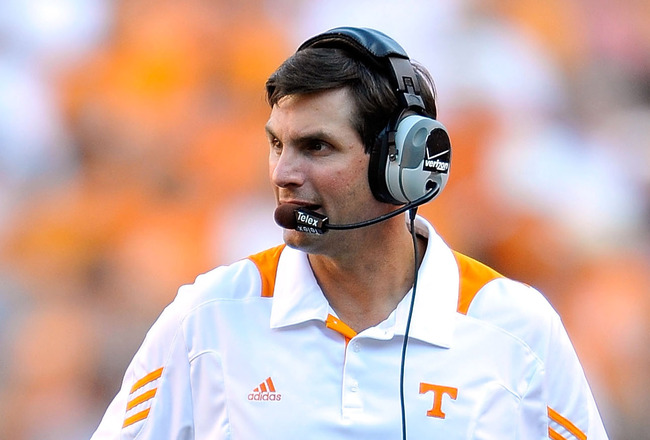 Grant Halverson/Getty Images
After rallying from a 2-6 record in its first eight games, Tennessee made a bowl game by pounding Memphis and Ole Miss and by continuing Vanderbilt and Kentucky's misery versus the Vols.
The most diehard of big orange fans always believe their Vols have a shot to win the SEC, but even the most realistic Vols fan will point to the four-game winning streak and 2010's incredibly talented freshmen contributors on this team as reason to hope for a championship in 2011.
While it's not likely that the Vols contend for the SEC East crown next season, here are 10 reasons this once-proud program could regain some of that pride in 2011.
Tyler Bray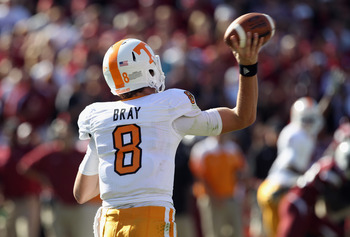 Streeter Lecka/Getty Images
Once the talented true freshman quarterback got his chance, Tyler Bray capitalized in nearly every start down the stretch.
Throwing for over 300 yards in four of his five starts, the California native quickly solidified his hold on the job for 2011 and beyond.
He'll have to start against much tougher competition than Memphis, Ole Miss, Vandy, Kentucky and North Carolina next season. Given the experience that his young offensive line gained in 2010, Bray should stay upright more often in 2011, regardless of the opponent.
Experienced Offensive Line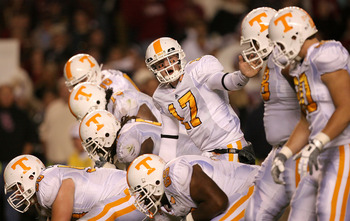 Streeter Lecka/Getty Images
Last year, so many drives were disrupted when the youth and inexperience of the Vols offensive line met the strong, talented and big SEC defenses.
This season, things should be different. With just about every starter returning, this Tennessee O-Line has a shot to become one of the best in the SEC.
Balanced Rushing Attack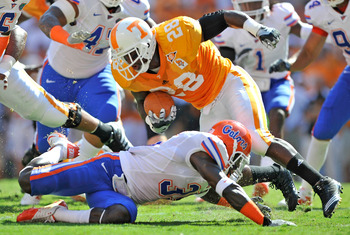 Grant Halverson/Getty Images
Speaking of the offensive line, that unit not only struggled in keeping Matt Simms and Tyler Bray upright, it also had trouble forging lanes for Tennessee talented running backs.
Based on a turnaround year for that unit, Tennessee running backs Tauren Poole and Rajion Neal should be a very nice complement to Bray and the Vols' young, talented receivers.
Speed and Athleticism at Wide Receiver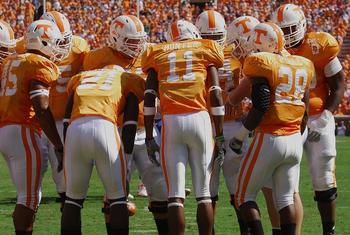 Anyone who watched true freshman Justin Hunter galloping up and down the field in Knoxville last year has to be excited about the future for what was once known as Wide Receiver U.
Hunter's mix of leaping ability and blinding speed should be a lethal combination for any SEC secondary in 2011.
Mix in the speedy Da'Rick Rogers, the lengthy Matt Milton and incoming freshman DeAnthony Arnett, and Wide Receiver U could be on the verge of making a huge comeback.
Energized Coaching Staff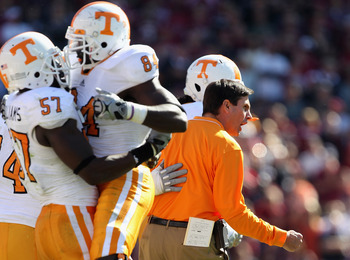 Streeter Lecka/Getty Images
For the first time since 2008, Phillip Fulmer's final season in Knoxville, Tennessee will start a new season with largely the same coaching staff it had the season before.
With such a young, impressionable team, stability on the coaching staff should only help the Vols in 2011.
Strong Secondary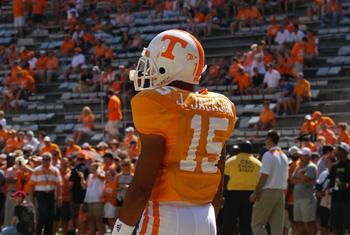 This slide may be contingent upon whether Janzen Jackson returns to school in the fall, but with or without arguably the Vols' most talented player, this secondary has a chance to be one of the best in the SEC east.
Defensive backs Prentiss Waggoner and Eric Gordon combined for seven interceptions a year ago. At safety, Jackson had five interceptions of his own. Brent Brewer contributed back there as well, but his status is in doubt after an arrest for domestic violence a few weeks ago.
Add the influx of talented junior college athletes, Byron Moore and Izauea Lanier, to the existing depth that includes Marsalis Teague, Anthony Anderson, Art Evans, Naz Oliver, Waggoner and Gordon, and this unit could potentially withstand the potential losses of Jackson and Brewer.
Defensive Line Will Be Much Better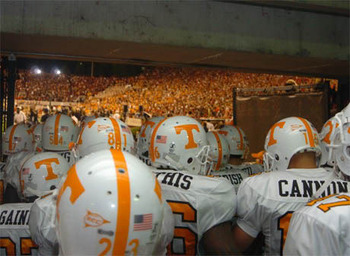 Provided the injury bug doesn't decimate the interior of the defensive line again in 2011 (it may have already started as Ben Martin tore his Achilles again two weeks ago), the Vols should be able to boast a lot more depth on the line this season.
Sophomores Corey Miller and Jacques Smith will anchor the ends. Willie Bohannon will play plenty there as well. At defensive tackle, converted end Malik Jackson will work with Montori Hughes and Marlon Walls.
In addition to the increased talent at the position, former Vols linebackers coach Lance Thompson, has moved to the position where he has seven years experience at various SEC schools.
Eight Home Games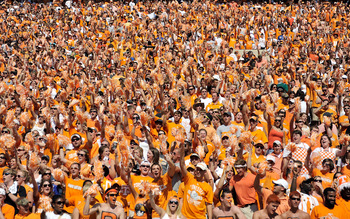 Grant Halverson/Getty Images
There's no place like home, especially when home is Neyland Stadium. While Tennessee's home record in recent years is nothing to write home about, the Vols haven't had this much returning talent in quite some time.
The Vols will play host to Montana, Cincinnati, Buffalo, Georgia, LSU, South Carolina, MTSU and Vanderbilt in 2011. Tennessee will likely be favored in all but one or two of those games.
Not Much Competition in the SEC East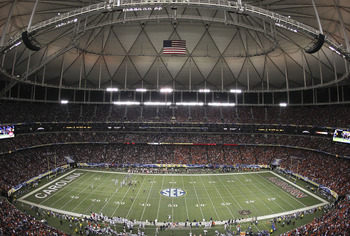 Mike Zarrilli/Getty Images
For the second consecutive year, there will be no behemoth of the East in the SEC. South Carolina won the division by default last year as both Florida and Georgia struggled mightily.
The Gamecocks should be the favorite to take the division again in 2011, but considering this team lost five games last season, they should hardly be considered a great team.
Florida has a brand new coach with a brand new system and Georgia is one more bad season away from a brand new coach/system of its own. I don't think I have to mention Kentucky or Vanderbilt in this conversation, right?
The Cyclical Nature of College Football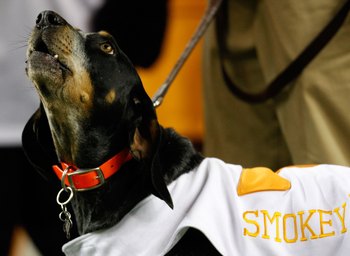 Mike Zarrilli/Getty Images
If none of the previous nine slides will convince you that Tennessee at least has a shot to win the East in 2011, maybe this one will.
College football is cyclical. Power programs just don't stay down that long. Tennessee has been down long enough. Until last season, the Vols represented the SEC East in Atlanta once every three seasons since 1998.
If the cyclical nature of this great game holds true, the Vols could very well be off that pace by just one year.
Keep Reading

Tennessee Volunteers Football: Like this team?