Past Key Wins For BCS Party Crasher Teams Over BCS Automatic Qualifiers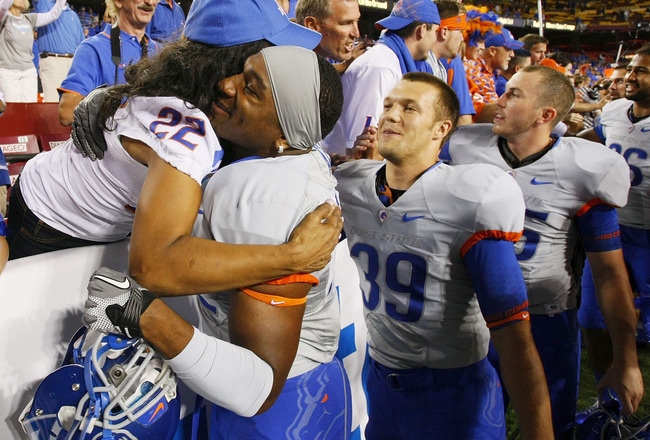 Boise State files in line celebrating with fans
Geoff Burke/Getty Images
Monday night, the hype built up since early February of 2010 had finally arrived.
Spotting themselves a darting 17-0 lead seemingly left Virginia Tech in the dust. Then, the second quarter rolled around.
Talk about a tale of two quarters.
Suddenly, Tyrod Taylor brought the Hokies to life on both ends of the ball throwing the Broncos completely out of whack. The Hokies' defense reverted back to good ole' Beamer Ball days hurrying up Kellen Moore along with clogging up every running lane available turning back Boise's deep backfield depth.
Leisurely, the Boise State lead vanished until finally with 6:34 remaining in the third quarter, the lead was no longer. Taylor had rallied his troops capturing their first lead handing the ball off to Ryan Williams who practically walked into the end zone turning the tide entirely. The Hokies led 21-20.
Virginia Tech's defense ran down every Bronco handling the ball like mad men possessed, closing down every microscopic bit of light through any crack Boise could scope out; but the search for more light found on quit.
Kellen Moore's blood temperature plunged to the freezing point. Not the most secure situation for the opposition.
With just over a minute remaining until the clock struck midnight for Chris Petersen's Broncos, Kellen Moore had one last act of heroism up his wristband. Firing a bullet to all around playa hata Austin Pettis to the back of the end zone, Boise regained the lead for good 33-30 as the Broncos' secondary found their legs and revived their football brains deflecting pinpoint passes from the scorching Tyrod Taylor.
Holding the BCS party crasher card close at hand, you may ask the question; where does this win rank among the non-BCS teams beating BCS automatic qualifiers?
Before you read into the countdown, ESPN college basketball analyst Dick Vitale awarded America his professional opinion regarding the upset situation from college basketball to college football while commentating the No.12 Kansas Jayhawks/No.1 Florida Gators November 25, 2006 basketball game.
"What makes college basketball so special are the upsets we're seeing with Oral Roberts beating Kansas, we see Gonzaga beating North Carolina. That's the beauty and essence of the college game. The elite teams like the North Carolina and Kansas and Florida can get beat by a mid-major. That's not going to happen in football. There's no way a mid-major is going to beat an elite football program like a Michigan-Ohio State or a Notre Dame or Southern Cal."
#11: TCU Takes Down Oregon State In Cowboy Stadium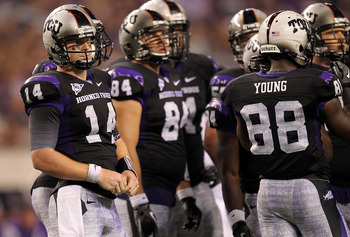 TCU quarterback Andy Dalton awaits call from the sideline against Oregon State
Ronald Martinez/Getty Images
Let's go ahead and activate the countdown.
#11: September 4, 2010- No.6 TCU strengthens the non-automatic qualifier case defeating No.24 Oregon State 30-21 to open up both team's seasons. Though the Horned Frogs had been declared the favorites for the majority vote, tides turned as gameday neared because of the assorted running/passing attack.
#10: Boise State Wins Dispite LeGarrette Blount Sucker Punch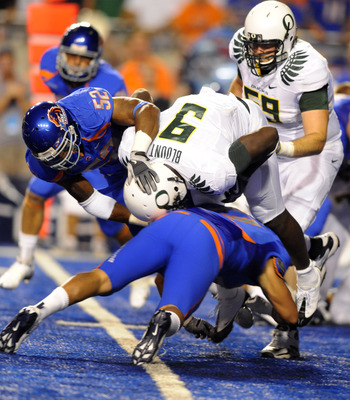 Boise defenders gang up on LeGarrette Blounte prior to the punch heard round the world
Steve Dykes/Getty Images
#10: September 3, 2009- No.14 Boise State overwhelms the No.16 Oregon Ducks 19-8 where the most physical play extended well beyond the clock as Oregon running back LeGarrette Blounte punched Boise State's Byron Hout and then quickly retreating toward his own sideline afterwards.
#9: BYU Cougars De-Fur Oregon State Beavers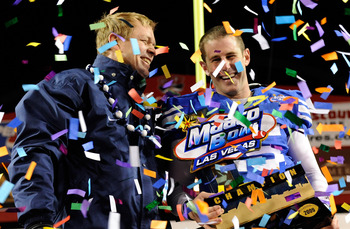 BYU Cougar quarterback Max Hall poses trophy after beating up on Oregon State
Ethan Miller/Getty Images
#9: December 22, 2009- After upsetting the Oklahoma Sooners to kick off their 2009 campaign, No.14 BYU conquers another BCS automatic qualifier in the Oregon State out of the Pac 10 destroying the No.18 Beavers into an oblivion 44-20.
#8: BYU Cougars Knock Off The Oklahoma Sooners In 2009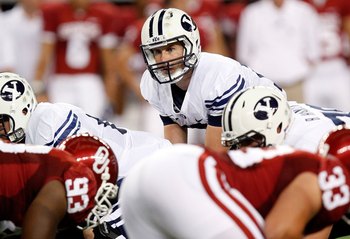 Max Hall under center facing the Oklahoma Sooners
Ronald Martinez/Getty Images
#8: September 5, 2009- No.20 BYU Cougars starves off No.3 Oklahoma 14-13 in a physical game claiming the season of senior quarterback Sam Bradford.
#7: The Utah Utes Upend The Pittsburgh Panthers Opening Night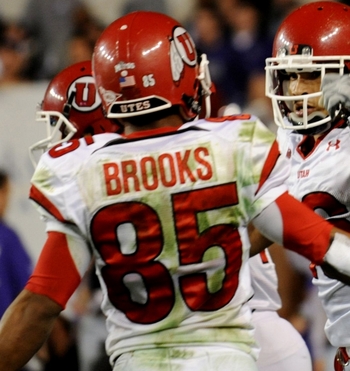 Utah wide recieviers conferring
Ronald Martinez/Getty Images
#7: September 3, 2010- The unranked Utah Utes fend off No.15 Pittsburgh and their smash mouth running game 24-21 courtesy of overtime in the 2010 season opener.
#6: Utes Hammer Pittsburgh In 2004 Fiesta Bowl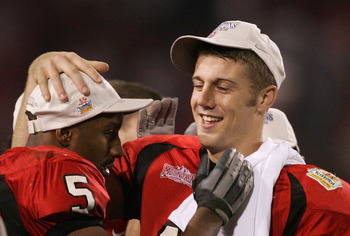 Alex Smith congratulates Paris Warren in 2005 Fiesta Bowl win
Harry How/Getty Images
#6: January 1, 2005- No.6 Utah dismantles the #19 Pittsburgh Panthers 35-7 in the 2004 Tostitos Fiesta Bowl. Utah ends their season unbeaten at 12-0.
#5: Alabama Runs Into a Utah Buzzsaw
Utes celebrate 2008 Sugar Bowl win over favored Alabama
Chris Graythen/Getty Images
#5: January 2, 2009- No.6 Utah upstages convincingly preferred chosen in No.4 Alabama 31-24 in the 2008 Allstate Sugar Bowl. Similar to Boise State's 2006 Tostitos Fiesta Bowl victory, the Utes finish the year undefeated at 13-0, in a dramatic development; Utah actually drew the argument to be voted the nation's top ranked team in the closing polls.
#4: Boise State Runs Buckshot Over the Oklahoma Sooners In 2006 Fiesta Bowl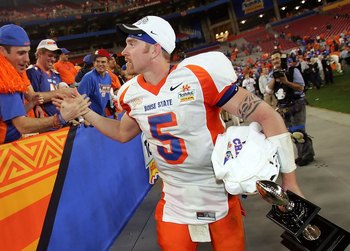 Boise quarterback Jared Zabransky thanks fans after beating Oklahoma
Jonathan Ferrey/Getty Images
#4: January 1, 2007- Smurf Turf longshot No.9 Boise State overturns heavy favorite No.7 Oklahoma 43-42 through two overtimes in the 2006 Fiesta Bowl; capping off Boise's 13-0 undefeated season.
#3: Jacksonville State Snakebites Ole Miss In Oxford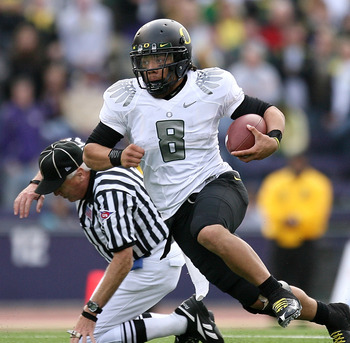 New Ole Miss quarterback Jeremiah Masoli
Otto Greule Jr/Getty Images
#3: September 4, 2010- FCS Jacksonville State rallies from a 31-10 halftime deficit to stun Jeremiah Masoli and Ole Miss 49-48 in the Rebels own backyard.
#2: Boise State Keeps National Championship Dreams Alive In Washington D.C.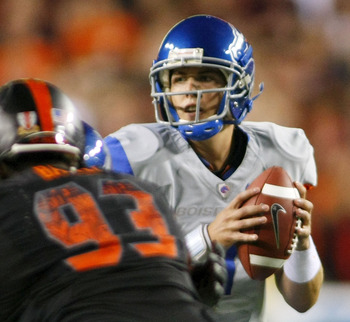 Kellen Moore looks to fire over Virginia Tech's defensive line
Geoff Burke/Getty Images
#2: September 6, 2010: A game that live every bit up it's highly publicized billing down to Virginia Tech's final 4 & 11 gasp. The No.3 Boise State Broncos fought back to edge the No.10 Virginia Tech Hokies 33-30 in a remarkable manner.
#1: Appalachian State Works Michigan in The Big House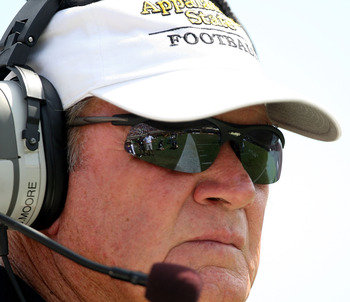 Streeter Lecka/Getty Images
#1: September 1, 2007- FCS Appalachian State shocks the college football world upending the No.5 Michigan Wolverines in the Big House 34-32.
Why Place Tonight's Broncos' Win at #2?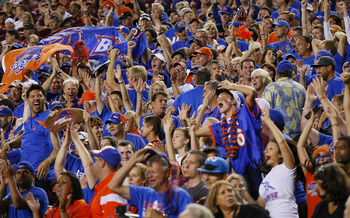 Broncos' Faithful Maintain Reason to Celebrate
Geoff Burke/Getty Images
The September 6, 2010, 2010 Boise State/Virginia Tech game lands in the two spot because of every single circumstance involved inside various aspects of tonight's game.
Traveling to a neutral site inches away from the Hokies' actual property line, Boise staked out to a huge lead, lost it, regained the lead only to let it slip away again. Late game heroics reclaimed the lead in front of a crowd of 86,587 of whom many sided behind Beamer's group.
Predictions and in-detail analysis from the second the Broncos/Hokies match-up had been announced determined Boise over Virginia Tech. As game night loomed closer, minds changed and new theories converted once concrete opinions into jelly. Going from the favorite to the underdog late down the stretch largely factored into the drastic alteration of the BCS Party Crasher Directory.
Agree or not, but watching what the Boise State Broncos pressed through to win this game was without a doubt a beyond belief experience from a spectator's viewpoint.
Keep Reading

Boise State Football: Like this team?