Colorado Football: "T.I.P.S." For Defeating Colorado State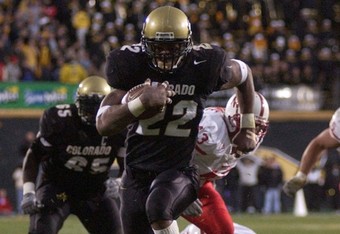 From www.cuatthegame.com
If you are new to CU at the Game, I would like to introduce you to"T.I.P.S.". Each week, I will break down the upcoming game, taking an in-depth look at every Buff opponent, using the four following categories:
* T - Talent. Simply put - Which team has the best horses? Which team has more favorable matchups on the field?
* I - Intangibles. Momentum, home field, weather - outside factors which may play a role in deciding the outcome.
* P - Preparation / Schedule. Is either team coming off of a short week? Are there significant injuries? Does either team have a rivalry game the following week?
* S - Statistics. If you are a regular at CU at the Game, you know that you will always be inundated with numbers.
Game one of the 2010 season is a familiar foe, the Colorado State Rams ...
T - Talent
This is the category which always favors - and should always favor - Colorado. Even though the Buffs have not fared as well recently in recruiting as Colorado fans have come to expect, it is safe to say that Colorado will always be able to recruit a greater number of talented players to Boulder.
Sorry to say, though, that having more talent on the field does not always translate into victories.
In 2009, Colorado State came to Boulder coming off of a 7-6 campaign. For the second year in a row, Ram head coach Steve Fairchild opened with a senior quarterback who was also a first-year starter. Grant Stucker was tabbed to replace the departed Billy Farris, and Buff fans were salivating, thinking about what the CU defensive line might do to get after the rookie quarterback. All Stucker was able to accomplish, however, was to lead the Rams to a score on their opening possession, then to 20 first half points on the way to a 23-17 victory in Boulder. Stucker was an efficient 10-of-17 for 208 yards and a touchdown.
Colorado State started the 2009 season 3-0, only to lose its final nine games of the year. Fast forward to the 2010 opener. The Rams will again be starting with a new quarterback this fall. True freshman Pete Thomas gets the nod, and Buff fans are salivating, thinking about what the CU defensive line might do to get after the rookie quarterback.
Sound familiar?
In 2010, though, there may be a significant difference. In 2009, Colorado State had four senior starters. In 2010, the Rams returns exactly one starter along the offensive line. In all, only four starters return for the Colorado State offense, so the offense that Thomas has to work with is not as polished as the one Stucker led into Folsom Field. Two of the four returning starters are running backs, so look for the Rams to try and establish a running game behind returning starter John Mosure and UCLA transfer Raymond Carter. The passing game, with the first time starter behind center, may be a series of screens and dump-offs to the running backs, as Steve Fairchild tries to give his freshman quarterback his best chance at being successful.
On defense, the Rams are better positioned, with seven starters returning. Still, this is a squad which ranked between 71st and 93rd nationally in all of the significant defensive categories (rushing defense, passing defense, total defense, and scoring defense). The linebackers are especially tough, led by junior Mychal Sisson, who had nine tackles against the Buffs in 2009 (Sisson went on to lead the team in tackles (91) and sacks (six) in 2009). Senior linebacker Ricky Brewer, who sat out all of last season while serving a suspension, will be looking to make an impression in his first game in 21 months.
For Colorado State to defeat Colorado at Invesco Field, the Rams must keep control of the ball, with a strong running game complimented by a short passing game. If the Buffs can force the Rams into third-and-long situations, and can get the lead forcing Colorado State to put freshman Pete Thomas up against the Buffs' senior cornerbacks, Colorado should be successful in keeping the Rams from scoring.
I - Intangibles
As long as Colorado has to play Colorado State in the opener, this category will favor the Rams. Since the rivalry was renewed in 1983, Colorado is 9-5 when playing Colorado State in the season opener; 7-1 when the game has been played after the first game (with the lone defeat coming in the second game of the lost season of 2006). Translation: give an underdog the opportunity to focus an entire fall camp on one game; give the "little brother" with a chip on his shoulder the chance to focus all of their attention for nine months on one game - and the underdog little brother has a much better chance at the upset.
There is also the "can't win" problem for Colorado. The Buffs own a 59-20-2 advantage in the series. A Colorado victory is met with little excitement or enthusiasm. A Colorado State victory, meanwhile, gives the Rams something to crow about for the next 12 months. (If you don't believe me, go to some of the internet boards. Based upon the trash talking being done by the Ram fans, you would think that Colorado State went 9-3 in 2009, not 3-9).
One intangible which I believe does favor the Buffs, though, is actually the 23-17 result in 2009. The fact that the players have had to live with the loss for the past year, and hear about it for the past year, has to weigh on them. It's easier to dismiss an opponent, even a decent opponent, when you have won the last two games in the series (and having done so even with mediocre Buff teams). Now, the Buffs are coming off of a 3-9 season, and have their backs to the wall. It's put up or shut up time for the Buffs - for the coaches, the players, the entire program - and you get the impression from the interviews given this fall that the Buffs are not about to overlook the significance of this game.
P - Preparation / Schedule
Neither team has played since last November, as both were out of bowl contention by late October in 2009. Both teams are heading to the west coast next weekend, with Colorado going to play at California; Colorado State playing at Nevada (ironically enough, both of these non-conference opponents next week will soon become conference opponents, as Colorado is joining the Pac-12; Nevada the Mountain West).
This is actually an improved situation for Colorado when compared to 2009. Last season, the Rocky Mountain Showdown was played on Sunday night, with Colorado playing on the road against Toledo five days later, on a Friday night. Meanwhile, Colorado State did not have to play again until the following Saturday, and only had to prepare for a home game against Weber State from the Big Sky Conference. As a result, while the 2010 schedule is pretty much a push, it is a better situation for Colorado than was the case in 2009.
There are two other factors with respect to preparation that favor the Buffs.
While it is true that Colorado comes into the game off of a 3-9 season, and is currently riding a three-game losing streak, those three losses were by a combined 18 points (against three teams which went bowling in 2009). Meanwhile, Colorado State will enter Invesco Field with a nine game losing streak weighing on their minds. While the Rams stayed close in the final two games of 2009 (29-27 losses to 1-11 New Mexico - yes, the Lobos only win of the year - and 17-16 to 7-6 Wyoming), those losses were preceded by four losses in which the average margin of defeat was 22 points.
A quick aside which I believe is relevant ... I was working the chain gang for the Bozeman High Hawks last Friday night, and the opponent was a Missoula team coming off of a 1-9 season. The opposing sideline (where we were with the sticks) was full of enthusiasm for much of the first quarter. After the Hawks went up 14-0, though, early in the second quarter, you could see the energy wane. After Bozeman scored just before half to go up 21-0, there was nothing left in the Missoula tanks, and the Hawks went on to a 34-0 victory. Moral of the story - both Colorado and Colorado State will enter Invesco on a high on Saturday. Both however, will be operating with a fragile sense of confidence. Whichever team gets down early will have a tough time fighting its way back. Colorado State may well be the team with the false sense of security, and the Buffs will need to exploit that shaky confidence early.
Another preparation advantage for Colorado over last season is that the starting quarterback has been named. You may recall last year that the Buffs, and their fans, were kept guessing as to the starter until the week before the game. This season, Tyler Hansen was named the starter a full two weeks before the opener. He also received assurances from both head coach Dan Hawkins and offensive coordinator Eric Kiesau that he is not on a short leash. For the first time in his career, Tyler Hansen should be able to take the field not looking over his shoulder. The 2010 team is his team. It's time for Tyler to take charge of the Colorado Buffaloes, and make it his team.
S - Statistics
In 2009, behind four senior offensive linemen, Colorado State rushed for 144.3 yards/game, a good 56 yards/game better than Colorado. The passing game, though, was less than adequate, as the Rams were ranked 76th in the nation. With a true freshman at quarterback, and four new offensive line starters, one would anticipate that the Ram game plan calls for a steady dose of runs and ball-control drives. Colorado, 34th in pass defense but 80th in rush defense in 2009, would seem a prime target for such an attack. The question is whether the inexperienced offensive line from Fort Collins can find success against a stronger and deeper defensive line from Boulder. All three Colorado defensive line starters from 2009 - senior defensive end Marquez Herrod; junior defensive tackle Curtis Cunningham; and sophomore nose tackle Will Pericak - are back, and all three started all 12 games last fall. Advantage, Colorado.
When Colorado has the ball, fans should look for the Buffs to seek a balanced attack. The Colorado State defense is not great, but it is not particularly deficient in any one area. The Rams were 71st in rush defense in 2009; 87th in pass defense; 78th in total defense; and 93rd in scoring defense.
The stat of the week may help explain why the last number is worse than the other three ...
In 2009, Colorado State was 120th - dead last - in third down conversion defense. The Rams allowed the opposition to convert an amazing 54.7 percent of the time. By comparison, the Colorado defense gave up a conversion rate of only 34.1 percent, good enough for a No. 21 national ranking.
Another good statistic to share with your Buff friends ... Even though the Rams have stayed close the Buffs in recent years, and have won their share of games, the fact remains that Colorado State has defeated Colorado in back-to-back attempts only once since 1948-49, with consecutive victories coming in 1999 and 2000.
Colorado simply does not lose back-to-back games to Colorado State.
Of course, before last season, Colorado State had only won once in Boulder (1986) since 1958 ...
In 2010, on paper, Colorado has a distinct advantage. The Buffs have an experienced quarterback, speedy new receivers, and a potentially dominant offensive line, going up against a decent, but certainly not great, defense. Meanwhile, the Colorado State offense will try and protect a true freshman quarterback with four new offensive linemen, and do so against a defensive line which returns completely intact from 2009. When asked to pass, Pete Thomas will have to try and out-think two senior cornerbacks.
The Buffs can't lose this game ... can they?
More at www.cuatthegame.com
This article is
What is the duplicate article?
Why is this article offensive?
Where is this article plagiarized from?
Why is this article poorly edited?

Colorado Buffaloes Football: Like this team?